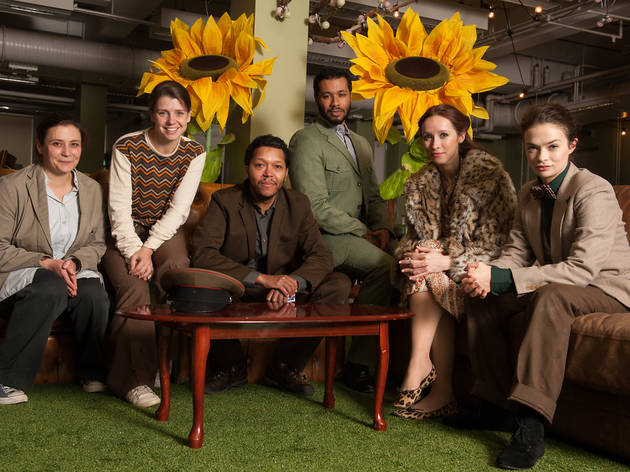 Wanda June herself scarcely appears in Kurt Vonnegut's first play. Run over by an ice-cream van on her tenth birthday, she's in heaven.
Instead, her uncollected birthday cake turns up at a celebration in honour of Second World War hero Harold Ryan (Vincent Jerome). Missing presumed dead, he returns to his prissy suburban family after eight years in the jungle – balls swinging like a Newton's Cradle – to wrench his wife (Alix Dunmore) from her hippyish new fiancé and drill his sap of a son into shape.
Loosely based on the story of Odysseus's homecoming and set in '60s America, Vonnegut's 1970 play regards unchecked masculinity with characteristic disdain. The cross-gender casting of this rare revival perhaps overcooks the sexual politics, but it instils a cartoonish vigour into Ant Stones's production. The net effect is something like 'A Doll's House' after botched hormonal therapy and a fistful of valium.
Still, Vonnegut remains too much a novelist. Character leads where action ought and there's too little dramatic impetus to build a head of steam. His scorched sardonic humour, however, remains as gratifying as ever and it's clearly relished by an animated cast. Particular treats are Emma-Jane Martin's finicky vacuum cleaner salesman and Marcus Powell's dopey ex-airman, fresh from Nagasaki and full of regret.