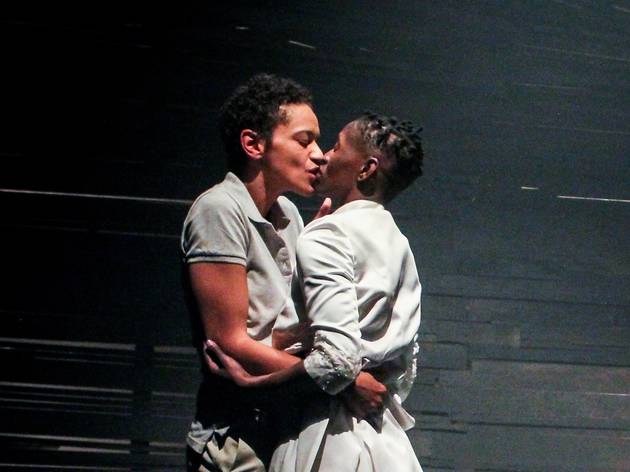 South Africa is renowned for its liberal constitution, and was the first African country to legalise same-sex marriage. So why are its lesbian women living in fear of 'corrective rape', a hate crime described by the men who perpetrate it as a 'cure' for homosexuality and even an act of patriotism?
This is the very real, very raw context for actor-playwright Mojisola Adebayo and dancer-choreographer Mamela Nyamza's extraordinary theatrical duet, which arrives at Ovalhouse following a tour of South Africa – and ballasted by the recorded singing of the Cape Town black lesbian community.
A sort of politically and sexually charged, physically experimental, post-colonial black lesbian 'Ghost', it responds to what's been dubbed South Africa's 'silent epidemic' with a cry of pain and passion, loss and elation, rage and love.
In a church in Cape Town, British-raised Charlie (Adebayo) is waiting to marry her South African girlfriend Zodwa (Nyamza). But she doesn't come. Eventually, no longer sure of anything but her partner's love, Charlie leaves the wedding party to find a policeman.
Until the denouement, in which two speeches are overlaid so that we must strain uneasily for the gory details, the audience don't know quite what has happened to Zodwa either. But she is visible from the start when – in one of the piece's many acts of bravery, flirting as it does with absurd comedy – she emerges from a dustbin in a horribly prolonged, locked-limbed dance. Sweet, proud, statuesque and playful, as she collaborates in the beautifully lit telling of her tragic story, Nyamza's Zodwa blazes.
Writing for and about a country where, in 2008, national footballer Eudy Simelane was gang raped and murdered because of her sexuality, and two of her four attackers escaped prison, Adebayo understandably tips into didacticism. But if violence is first and foremost a failure of the imagination, the piece stands tallest in its presentation of one random single-sex relationship in all its intellectual, physical, sensual and spiritual integrity.
Incredibly, this is Adebayo and Nyamza's first collaboration. Imperfections aside, the political has rarely been made to feel so breath-catchingly personal.
Rating Breakdown
5 star:

1

4 star:

0

3 star:

0

2 star:

0

1 star:

0