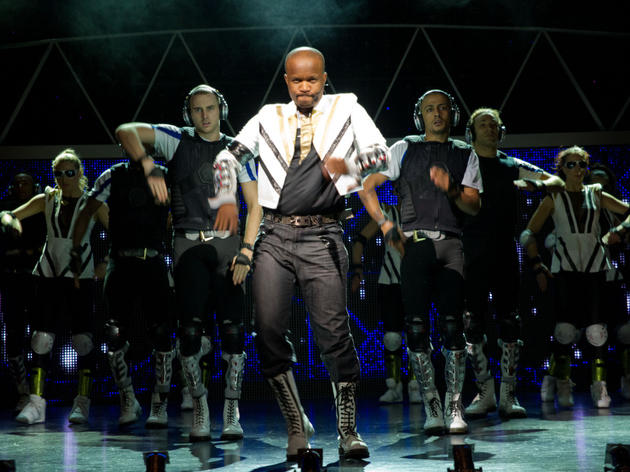 High-skill, low-story, hit-packed concert musical celebrating the live of Michael Jackson
Current cast includes Trenyce Cobbins, Haydon Eshun, MiG Ayesa, Wayne Anthony Cole, Joanna Jones, Britt Quentin, Oggie Iwo, Maria Akpan, Laurie Kay Hue, Asleigh Wadforth Frost, Cassie MacMillan and Libby Hall. This review is from June 2011.
Step inside the Lyric foyer and you'll be greeted by a gleaming Michael Jackson memorial. Enter the auditorium and you'll find another in 'Thriller', a shining homage to The King of Pop. This is a sparkling, singing and shimmying conveyor belt of more than 30 of Jackson's greatest hits. It's a bit like watching an extended episode of 'The X Factor' – except the performers are actually very good and they've all picked Jacko.
What really hits home in this jubilant jukebox show, which recently celebrated its thousandth performance, is the range of repertoire available. 'Thriller' is a reminder of Michael Jackson's versatility and the unique gloss he lent to pop, rock, dance and even the ballad. 'Heal the World' is crooned by a throng of suitably seraphic kids, 'Beat It' is blasted into the gods and a silver-gloved groover glides majestically through 'Smooth Criminal'.
The show, held together by the loosest of narratives, begins with a selection of Jackson 5 numbers. These earlier songs are among the best of the night: pure, funky, relatively simple and uniformly upbeat. Salient facts are flashed furiously across the screens (750 million records sold worldwide!) and the show segues into Jackson's solo career.
Some of these later songs are terrifyingly idiosyncratic – made and moulded for the man himself – and the lead vocalists struggle with the quirkier numbers, such as 'Jam' and 'Dirty Diana'. But it is the dancing that dazzles, no more so than Michael Duke's confident and witty take on 'Thriller' and 'Smooth Criminal'. He slides his way through the tough choreography with bolshy ease, drawing huge cheers for the inevitable but inspirational moonwalk.
It is one small step, at least, towards remembering the man who ventured into uncharted musical terrain.
Average User Rating
3.3 / 5
Rating Breakdown
5 star:

9

4 star:

7

3 star:

5

2 star:

2

1 star:

7