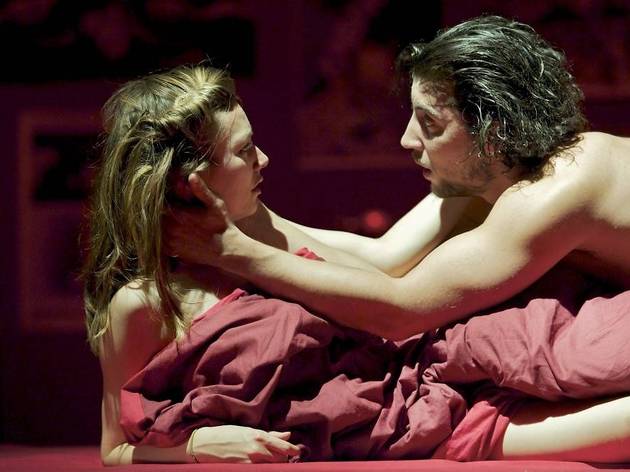 Cheek By Jowl return with this slick, contemporary revival of John Ford's gory incest-fest, starring the wonderful Lydia Wilson.
Rating Breakdown
5 star:

0

4 star:

1

3 star:

0

2 star:

1

1 star:

0
A very disappointing night, indeed. And I say this as a fan of Cheek by Jowl and Donnellan's work. In fact, I always thought he would be the director most up to the task of approaching this anxiety inducing play. A play that does not hide behind, say, the villainy of the incestuous brother (as in Webster) to make things slightly easier for itself and for the audience. This is a play where the incestuous siblings radiate a love that is at once sexual, passionate and pure. Therefore, a really threatening love. They are both fairly decent human beings and they do not have ulterior motives (political influence, hubristic ambition, profit), nor do they barter their love (pregnancy forces Annabella to marry). Ford does not condemn incestuous love, the siblings are brought down by "the laws of conscience and of civil use" [ which "may justly blame us, yet when they but know Our loves, that love will wipe away that rigour, which would in other incests be abhorr'd", says Giovanni], not by the fact/ experience of incestuous passion as such. The production's failure to take on the challenge of the play was painful to watch. It kept flinging at us poor substitutes and compensations for its lack of courage. Thus everything was drowned in choreography and torso baring, and what was tragic in this tragedy didn't even get a mention. Quirky Almodovaresque tableaux vivants, rather than give the play a contemporary aesthetic form, testified to the production's frantic avoidance tactics. We were left with a superficial reading of the play and a failure to match the latter's courage in grasping the taboo with both hands. In this respect, the production for all its post-modern imagery and posturing, is and feels regressive, conservative and cowered, with Ford's play way ahead of its ability (and will) to interpret it.
Anything that Cheek by Jowl comes up is certainly worth a look. This Jacobean tragedy is superbly amped up for the Tarantino generation, with Jack Gordon and Lydia Wilson delivering electrifying performances.