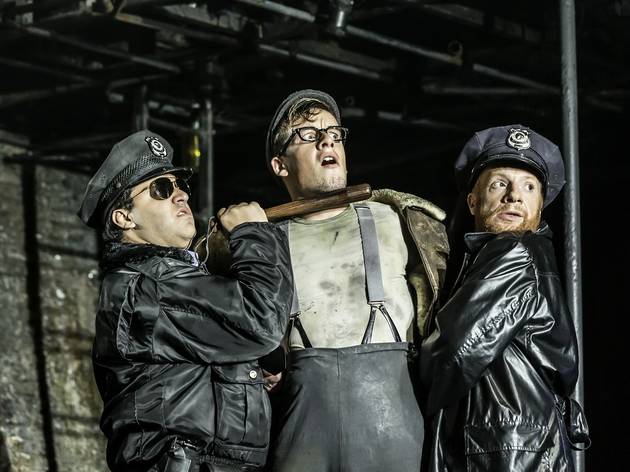 1/10
© Johan Persson
'Urinetown'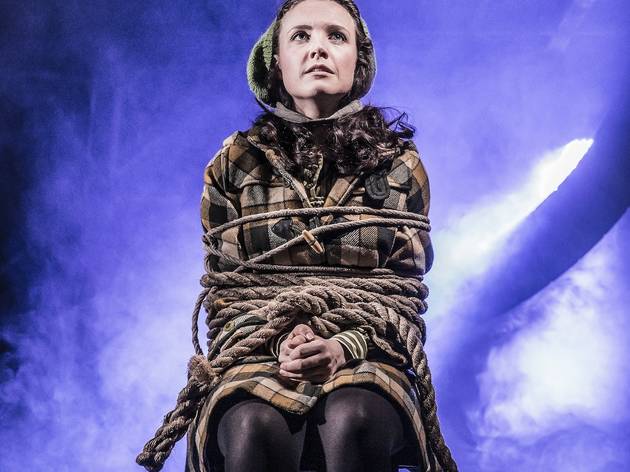 2/10
© Johan Persson
'Urinetown'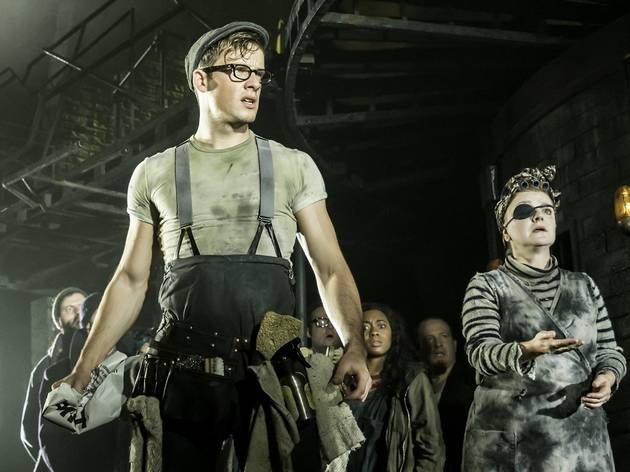 3/10
© Johan Persson
'Urinetown'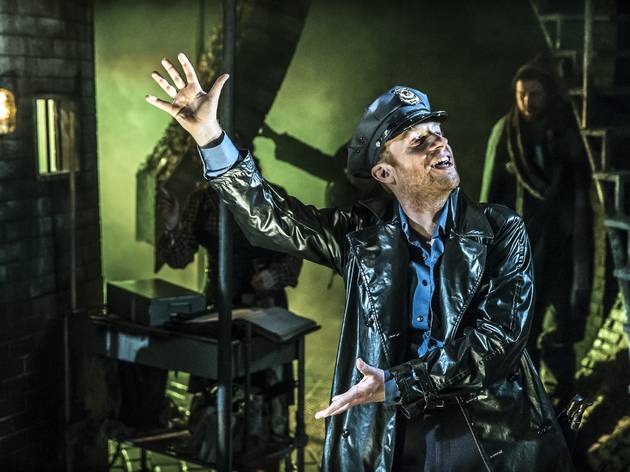 4/10
© Johan Persson
Jonathan Slinger (Officer Lockstock)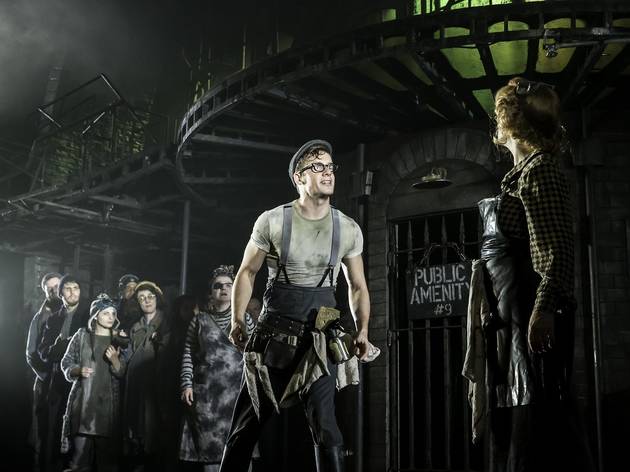 5/10
© Johan Persson
'Urinetown'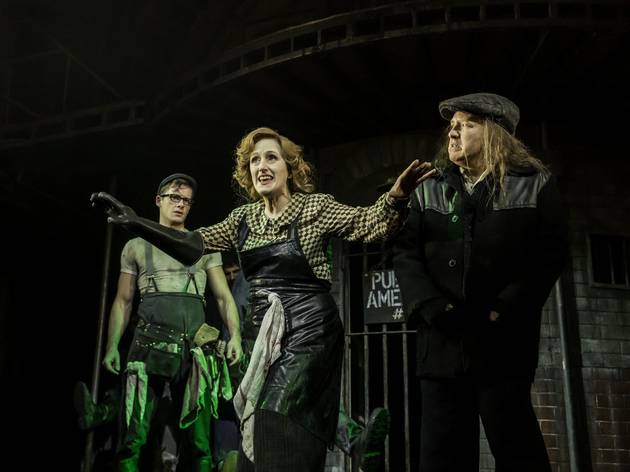 6/10
© Johan Persson
'Urinetown'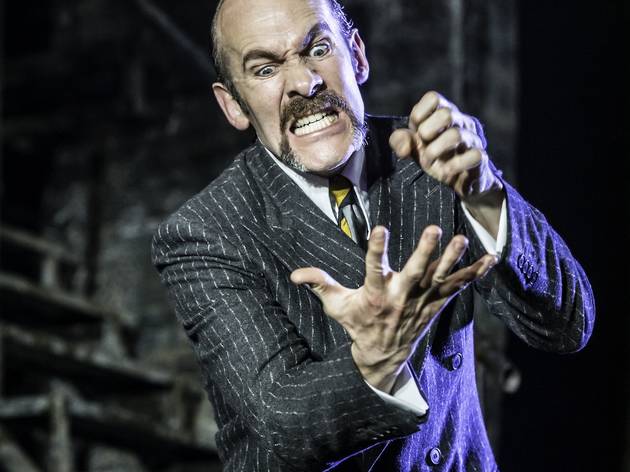 7/10
© Johan Persson
'Urinetown'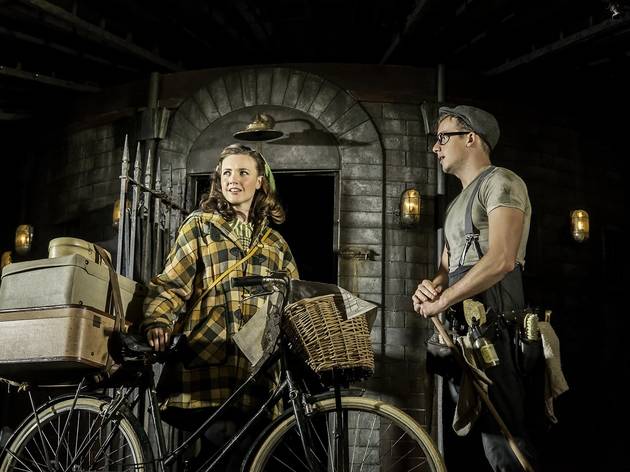 8/10
© Johan Persson
'Urinetown'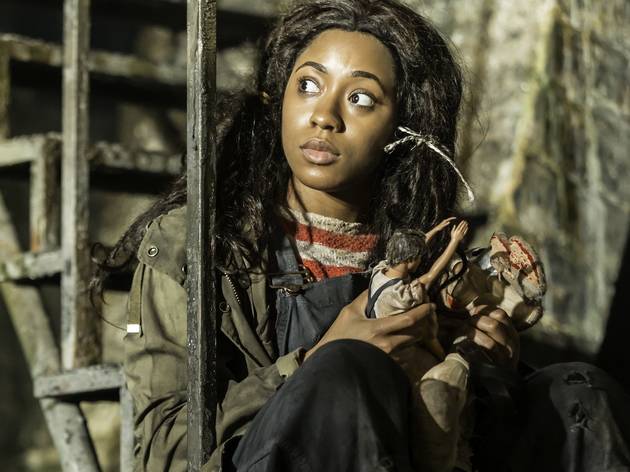 9/10
© Johan Persson
'Urinetown'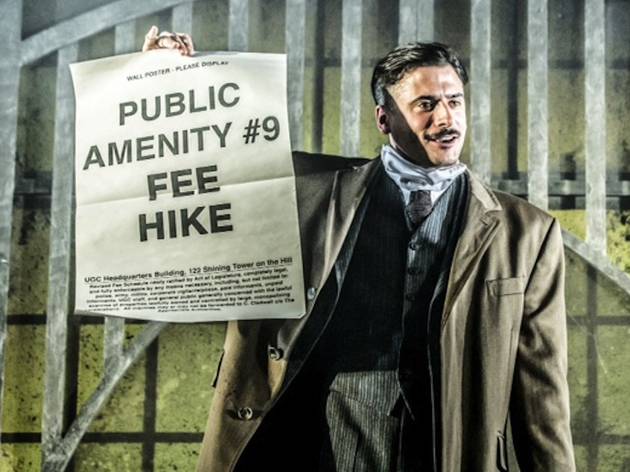 10/10
© Johan Persson
'Urinetown'
This excellent, bleak musical about a dystopian future has a superb cast and plenty of pee-related puns.
Phill Jupitus takes the role of Caldwell B. Cladwell from Dec 1.
For a musical about how the human race is likely to wipe itself out very soon, 'Urinetown' is a whole lot of fun. Mark Hollmann and Greg Kotis's show (golden) showers the audience with pee-related puns and takes the piss out of its own love story with gritty bravado.

The musical is set in a dystopian future where municipal toilets are controlled by Urine Good Company and people are forced to pay to use the loo. When an uprising is led by handsome young toilet attendant Bobby Strong – who falls in love with Hope, daughter of the head of UGC – the town's money-grabbing elite are shaken and everything the townsfolk knew begins to change.

'Urinetown' is an anti-musical. From the beginning, Jonathan Slinger's sullen, snarling cop Officer Lockstock steps through the fourth wall to apologise for ridiculous plot oversights. Jamie Lloyd's slick production plays heavily on these elements: wry appeals to the audience and comic-book double takes abound – it's musicals themselves that are the source of much of the show's satire.

Although there's a lack of individual standout songs, the numbers are bold, big and best when the whole cast is singing. 'It's a Privilege to Pee' is brilliantly rousing. The cheeky energy of soul-tinged 'Run, Freedom, Run' in the second half makes it one of the best tunes of the night.

Slinger is a highlight – his Cheshire Cat smile is horribly foreboding – and there's much to love elsewhere in the cast. The great Jenna Russell is hilarious as toilet mistress Penelope Pennywise while the two lovers, Matthew Seadon-Young as Bobby and Rosanna Hyland as Hope, sing their numbers with pitch-perfect tongue-in-cheek humour.

Soutra Gilmour's hulking designs are the height of sewer chic, but it's Ann Yee's robust, quirky and downright funny choreography that impresses most.

Copious amounts of dread heaped on at the end and a tendency to rush the plot cause the show to feel a little uneven. Nevertheless, I'd certainly recommend spending a penny (and more) on 'Urinetown'.
Average User Rating
4.5 / 5
Rating Breakdown
5 star:

10

4 star:

6

3 star:

1

2 star:

0

1 star:

0