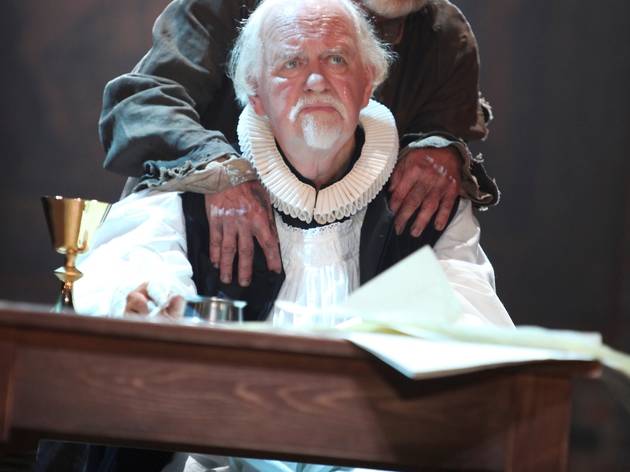 Time Out says
The most poignant moment in David Edgar's superb play for the RSC comes when the little Duke of York tells a bunch of argumentative priests that deciding the wording of the new King James Bible requires them to be as strong and supple as Spanish leather. That boy will grow up to be Charles I, about as supple as an iron cage, and men like these will kill him.
The Civil War is beyond this play's scope: it flits between 1610, where a flock – or should that be a fold? – of clergymen wrestle over the exact wording of the new Bible commissioned by King James I, and the sixteenth century agonies of the Reformation. William Tyndale (Stephen Boxer) is executed in Flanders in 1536 for his belief in a Bible that ploughboys too can read; what are we to make of this, knowing that, a century later, these tussles will lead to the temporary but bloody destruction of England's political hierarchy, and the much longer-lasting sapping of other power structures?
In a sense, we are all ploughboys now. This play – sensitively directed by Gregory Doran – knows itself to be the glass through which we see, darkly: words, however carefully chosen, can only show so much, and a lot depends on how hard we look. Andrewes (Oliver Ford Davies), now Bishop of Ely but once, in flashback, an idealistic and inflexible upstart, is the play's seeker after truth; his intellectual suppleness is admirable and tortured.
It is also a stark reminder that belief in something – a person, a deity, a discipline – which has all the answers, is the hardest of childish things to put away.
Time Out has a special offer of 50 per cent off all tickets for performances up to May 18
Details
Users say