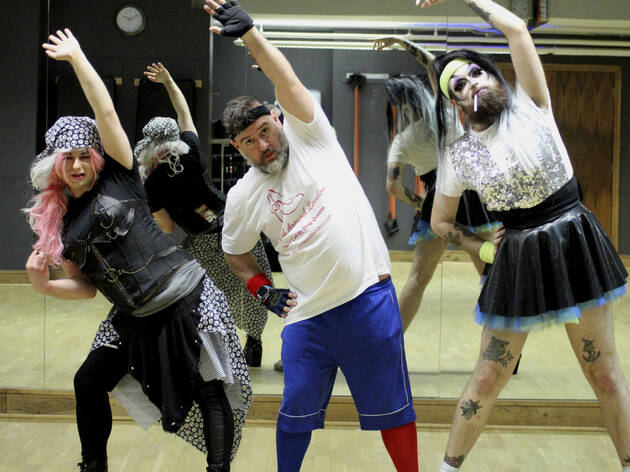 Time Out says
Drag Diva Fit starts like any other regular fitness class: people in Lycra do stretches against the mirrors while our instructor, Jordan, encourages us to choose our weights. But before long, the studio's double doors swing open and in walks Bella U Voyáge, resplendently gothic in black make-up and a flowing dark gown. Behind her comes Mary Poppers, wearing lingerie over her hirsute torso and about seven feet tall in knee-high stiletto boots. Needless to say, Fitness First this is not.
Once the room is full, the class begins. It's aerobics with a RuPaul twist. Exercises include 'Spicy Slut Squats' – your usual squats but with over-the-shoulder glares; 'Giving Face Lunges' – with hand movements straight out of 'Vogue'; and (my personal favourite) 'Bitch out of My Way Fast Feet' – running on the spot while elegantly jostling imaginary passers-by. The music ranges from All Saints to B*Witched, and Jordan's words of encouragement are much-needed: 'You're all Beyoncés!' he shouts at one point. The queens, on the other hand, don't exert themselves too much – instead, they wander around eating chocolate, fanning themselves and shouting at attendees to make more effort. I'm sweating profusely, which makes me glad I'm not the one wearing a full face of make-up.
Before the class ends, we're lined up and prompted to do a catwalk, one-by-one. I hadn't expected this, and feel a bit panicked, but the claps, cheers and wholesome atmosphere encourages me to sashay my way down the studio without a care in the world. Watching my successor get similar treatment, I realise Jordan was right. We are all Beyoncés.
Details
Venue name:
Fit This
Address:
3
Reading Lane
London
E81GQ

Price:
£10-£12
Dates And Times
Best selling Time Out Offers