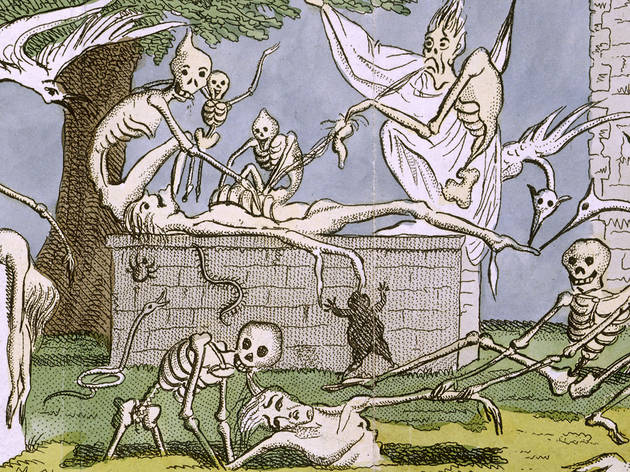 1/12
Tales of Terror, Matthew Lewis, published 1808 © Photography © British Library Board
2/12
Percival Delivering Belisane from the Enchantment of Urma, Henry Fuselli. © Tate
3/12
The Bride of Frankenstein, 1939 © Universal / The Kobal Collection.
4/12
Poster for Alfred Hitchcock's The Birds, 1963. On loand from the BFI National Archive
5/12
Still from The Wicker Man, 1973 © StudioCanal Films Ltd. All rights reserved / The Kobal Collection.
6/12
The Vampire Lovers (1970). Kine Weekly, 24 January 1970. Private collection
7/12
Travelling library of Sir Julias Caesar from Strawberry Hill, acquired in 1757 by Horace Walpole. Photography courtesy of British Library.
8/12
Spring-Heeled Jack, Penny Dreadful No.32. Photography © British Library Board
9/12
The Nightmare, after Henry Fuseli. Print made by Thomas Burke. London, 1783. On loan from the Trustees of the British Museum.
10/12
Poster containing Gothic themes for the play 'Manhood', performed at the Elephant and Castle Theatre in July 1890.
11/12
12/12
© Dave McKean
© Dave McKean
Lovers of B-movie monsters and chilling Victoriana get to explore the Gothic originals at this British Library exhibition
October 2014 will see the start of the UK's most comprehensive show of Gothic literature. Terror and Wonder will explore the enduring influence the genre has had on literature, film, fashion, music and art, 250 years after Horace Walpole's The Castle of Otranto crept out of the shadows. Doubts about the significance of Walpole's invention? It birthed Bram Stoker's Dracula, Mary Shelley's Frankenstein and Robert Louis Stevenson's Jekyll and Hyde, as well as inspiring artists such as Blake and Fuseli, all of them represented in this show, along with work by their modern descendants: Angela Carter, Mervyn Peake, the Chapman Brothers and Stanley Kubrick. To coincide with the exhibition BBC Four will be broadcasting a season of programmes, in autumn 2014, about the gothic imagination.