Chickens
Thu Aug 29, 9.30-10pm, Sky1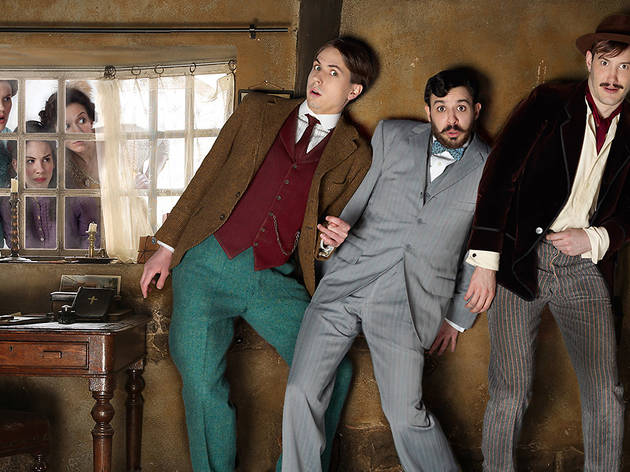 Series one, episode two
It's so slight it's in danger of drifting away on the lightest breeze. But in a year when the best TV has generally ranged between solemn and devastating, it feels good to have something as blithe, breezy and just plain daft as 'Chickens' to provide some light relief. This is one of those TV experiences which manages to be enjoyable without leaving any real mark on your memory whatsoever. To see it is to forget it.

Tonight, the chickens' water has gone brown. But they aren't practical types and, with Rittle-on-Sea's menfolk off at the front, there is every prospect of this hardship continuing. Elsewhere George is going to have to relax his principles and cane a miscreant schoolboy if he wants to stay engaged. But might he get a taste for it? Simon Bird, Joe Thomas and Jonny Sweet share an enviable comic chemistry; this more than anything is the key to 'Chickens' transient charms.
Sponsored listing
'Smiths' of Smithfield Farringdon
Since this review was published, 'Smiths' of Smithfield Farringdon has undergone refurbishment. Time Out Food editors, April 2018. There are four different levels to this Smithfields spot, encompassing a ground floor cafe and bar, a first-floor bar dedicated to craft beer, a second-floor dining room and a third – and top – floor given over to food of a more fine-dining bent. There are private rooms to hire, too.  Largely, the menus here focus on British produce and dishes. Expect bacon sandwiches, full English breakfasts and mushrooms on toast on the ground floor, steaks, burgers and seared scallops with black pudding, bacon and cauliflower purée in the second-floor dining room, and veal sirloin, cod with langoustine and roast monkfish with caramelised cauliflower, leeks, cockles and ham on the top floor.  More than 60 craft beers feature in first-floor bar. Brewers include Five Points, Bru, The Kernel, Hiver and Hammerton. Cocktails, wines and an interesting selection of spirits also feature.
Venue says: "After an extensive refurbishment, our doors are once again open and the long-awaited evolution of Farringdon's iconic site is finally here."
You might also like