Not Going Out
Fri Apr 12, 9.30-10pm, BBC1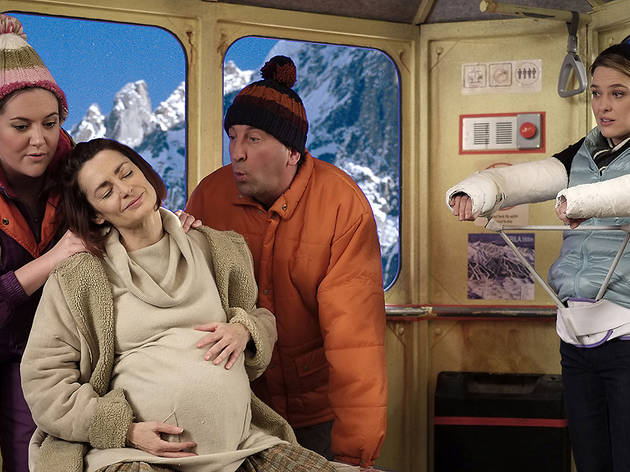 Series six, episode two
This show could have been made at any time in the last 40 years, which should tell you all you need to know. Lee Mack is the Mr Reliable of British comedy and 'Not Going Out' continues to deliver his stock in trade: traditional, unremarkable humour with a high gag density that just about makes up for its lack of real inspiration.

Tonight Lee, Lucy and Daisy go skiing. This episode plays out in real time, entirely inside a cable car which counts as significant stylistic innovation in trad sitcom world. The trio cause a mechanical breakdown, endanger a bird and incur the wrath of the stern eastern European woman with whom they're sharing the ride. Oh, and the woman is pregnant – if you've ever seen a cookie-cutter prime-time sitcom, you can probably imagine where this might be going. It doesn't disappoint.
Sponsored listing
Marco Pierre White Steakhouse
This Islington steakhouse, located at the DoubleTree by Hilton, comes from one-time enfant terrible of the British culinary landscape, Marco Pierre White. It's one of a number of UK restaurants bearing his name.   The main menu here focuses on steak, with fillets, sirloins, rib-eyes, T-bones and chateaubriands sourced from the Campbell Brothers butchers, and served with triple-cooked chips, grilled tomato and onion rings. Sauces to accompany include bordelaise butter, garlic butter, peppercorn sauce, wild mushroom sauce and béarnaise.  Outside of the steaks the menu offers French onion soup with gruyère and croutons, brandade of smoked mackerel, salmon steak with pomme frites, and a macaroni of wild mushrooms, poached egg, olive oil and crystal salt.  Afternoon tea also features, as well as set menus and special offers. 
Venue says: "Three course dinner for £25. Choose three courses for just £25! Available all week, 5.30-10.30pm."
You might also like