Playhouse Presents: Hey Diddly Dee
Thu Apr 18, 9-9.30pm, Sky Arts 1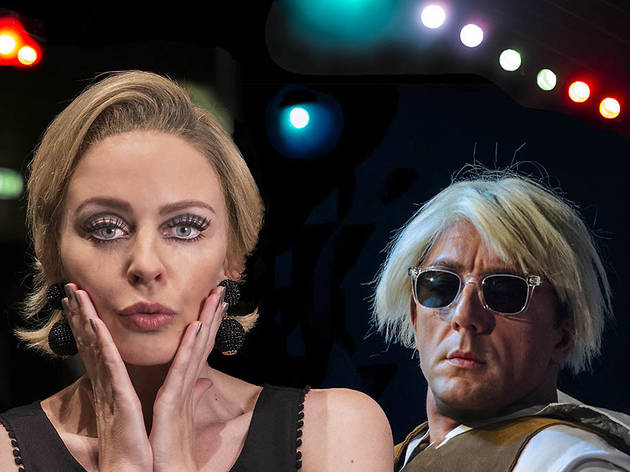 Series two, episode one
Kylie Minogue, Mat Horne and Peter Serafinowicz? Maybe we shouldn't be surprised. With casting coups including Emma Thompson, Harry Shearer and Daniel Radcliffe, the first run of 'Playhouse Presents' established itself as an amiably eccentric short-drama strand to watch.

This series opener, written and directed by Marc Warren, is a messy curio, but not without merit. Serafinowicz is the stage star with an ego inversely proportionate to his talent; Kylie his vampish co-star with a secret; and Horne the gofer with acting ambitions of his own. All three are brought together under flailing director David Harewood (excellent) for a doomed fringe production based on Andy Warhol's life.

It's an odd blend of slapstick, satire and 'Twilight Zone'-ish mystery, and showcases Warren's direction more flatteringly than the uncertain writing. The pacing and tone are haphazard, but occasional sequences impress (in particular the Warhol 'Venus in Furs' montage which plumbs remarkable depths of intentional awfulness) and the performances just about hold it together.
Sponsored listing
Ember
A short walk from Monument station is this trendy basement hangout: a low-lit, vaguely opulent space filled with the steady thump of house music. Home to City workers during the week, and Essex out-of-towners at the weekend. The menu pairs European and East Asian flavours with the usual mixed successes of fusion cuisine. The flavours in chorizo and prawn sui mai were too overpowering for dumplings; duck confit didn't quite knit with its orange and beetroot salad. Kangaroo wellington had to be tried for obvious reasons – but while the pastry was crisp and on-point, marsupial meat turns out to be far too chewy a choice for such a pristine dish. If the deliciously fatty, fiery beef cheek rendang is anything to go by, it's the curries that you should gravitate towards. They do some nifty speciality cocktails too: a negroni-ish Kitsune was fantastically bitter. It makes for a versatile spot too, if mainly for local professionals. You can eat a decent after-work meal here, or pick at a few small plates at lunchtime if you don't want to fall into a food coma back at the office. Oh, and take note of the whisky bar: it's not a bad first-date spot.
You might also like