The cast of 'Dates' talk about their own dating experiences
The stars of C4's new series from the creators of 'Skins' open up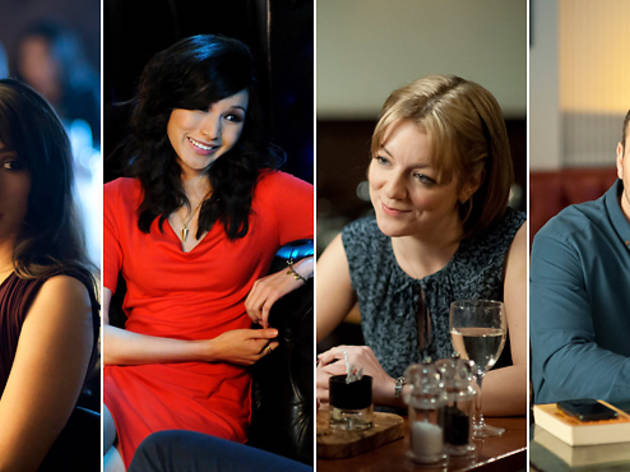 'Many years ago I went on a blind date with a very short Vietnamese lady who turned out to be married. But I've been quite lucky, although when I was younger I went on those horribly awkward dates where no one really says anything. I'd advise watching your body language, being open and chatty, giving people a chance but not meeting anyone again if they're awful. And don't drink too much. I'm ticking off my own dating mistakes here…'

'I've never actually been on a date. I don't know what that says about me. I just go [points] "Strip!". But I did sign up for online dating as research for the show. It was the most difficult paragraph I've ever had to write. I got to build my own fantastical human being and had a few responses, but no one really lived up to expectations.'

'She was a dancer in a musical I was doing. I asked her out to Cafe de Paris and we both brought a friend – I'd ordered champagne, trying to impress her. I don't even like champagne! But we were having a great time, then she went to the toilet. On her way back, she was bouncing off the walls, throwing up, all decorum lost. Her mate accused me of drugging her drink! She later explained she hadn't eaten all day and it all hit her at once. So we went to a restaurant for the next date: we're married now with two kids.'

'I've never been on a proper date, but a girlfriend went on a blind date with a guy with a metal leg, which he hadn't mentioned during their correspondence. He was also a bit of a dick, so she wanted to go but didn't want him to think it was because of the leg, so she stayed for a really awkward dinner. I'd be terrified on a blind date. I'm more of a "get me drunk at a party and you might get a snog" kind of girl [laughs].'

'I've been quite lucky on the dates front – I haven't been on too many, but they've been pretty uneventful. Certainly a contrast to the ones on the show! Although I met my current partner through friends; we went for a drink on a sort-of date and it was pretty instant.'

'I went on a date with this lovely guy who'd been drinking this red cocktail. We left this bar and were walking through the night, and I thought, "This is going to be a bit romantic". We got on the night bus and as we're swaying about holding on to the bar, I could see him turning green. Before I knew it, I had red sick all down my dress. I don't think I've had worse than that. Yet.'

'Dates', C4. Starts Mon June 10.

Read our reviews of 'Dates', episodes one and two
Will Mellor and Oona Chaplin play the pauses of a first date beautifully, as the initial fireworks fizzle out into resentful silence. But then, even if we don't exactly root for them, our interest in their fates is certainly piqued. A smart idea, cleverly executed.
Read more
Sometimes opposites attract. But realistically, more often than not, they absolutely don't. This object lesson in dating misery is played out by Sheridan Smith and Neil Maskell (both excellent) as teacher Jenny and city boy Nick.
Read more
Sponsored listing
We Built This City
London souvenir shops have never been cool. They're usually the home of sharp-elbowed tourists, barging their way through aisles of wind-up London buses, unofficial royal memorabilia and Lil' Wayne vests. Until now... We Built This City is the kind of gift shop you're happy to take your cousins to when they come to visit. After a successful stint in a pop-up venue, it's returned to Carnaby for the long haul, selling a selection of curated pieces from London artists inspired by the city around them. Red, white and blue are banned. Artists regularly drop in for live sessions, and you'll find art and design workshops in store, too. East London artist Camille Walala has even given the shop a super cool graphic look both inside and out. Put down the Kate and Wills tea towel, drop the Harry Styles mask and give We Built This City a go. 
Venue says: "London-inspired gifts, souvenirs and artwork curated by 250+ artists, designers and makers. Find us at Carnaby Street and online."