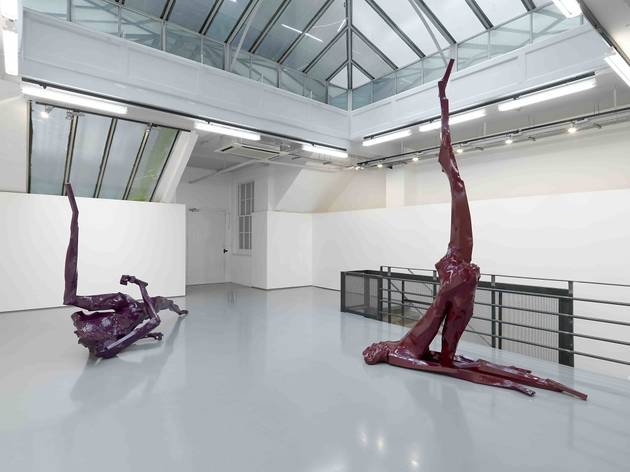 Time Out says
Friendly warning! We're working hard to be accurate. But these are unusual times, so please check that events are still happening.
Caviar and wooden laths or struts often form the basis of Georg Herold's works, forging an unusual coupling of gluttony and frugality. This exhibition of new large-scale canvases and sculptures offers no great departure, with the German master of understatement revisiting both. For over three decades such re-workings by this artist have shaped and highlighted some of the most remarkable conceptual developments of recent years. Consistently simulating political and art historical currents, his awkward wooden compositions and sardonic fish-egg works – which in the past have embodied portraits of Barry White and Yasser Arafat and here echo the abstraction of the art informel movement of the 1950s – have worked to negate artistry at every turn.
Dominating this show are the out-stretched, athletic figures fashioned from Herold's signature slats. Like public statues of over-sexed Olympic mascots – the sort you might expect to see spring up on roundabouts or shopping mall forecourts over the coming year – these skeletal bodies are covered in stretched, lacquered canvas and posed in various states of spread-legged discomfort. So banal are these sculptures, it's easier to outline what they don't do, than to attempt to discern their effect.
Projecting no otherworldly illusion, these forms offer no real sense of beauty or repulsion. Their abstraction is not so total as to sit them outside of reality, but neither do they draw you in.
Herold's heaving masses of cheap wood appear as slippery impositions or obstacles put before the viewer. So it's natural to feel dumbfounded by the persistently trite nature and lacklustre finish of these sculptures and their resistance to unequivocal interpretation. But perversities and a dark irreverence take centre stage here, especially so in Herold's uneasy positioning between a practice that is indebted to dense art histories, including arte povera and conceptualism, and one that ceaselessly repels them
Details