Coachella 2013: Local concerts by Coachella 2013 artists
Can't make it out to Indio this year? You can still catch all the festival talent with our list of local concerts by Coachella 2013 artists. See the same big names, sans the $400 price tag and fringe-clad crowd.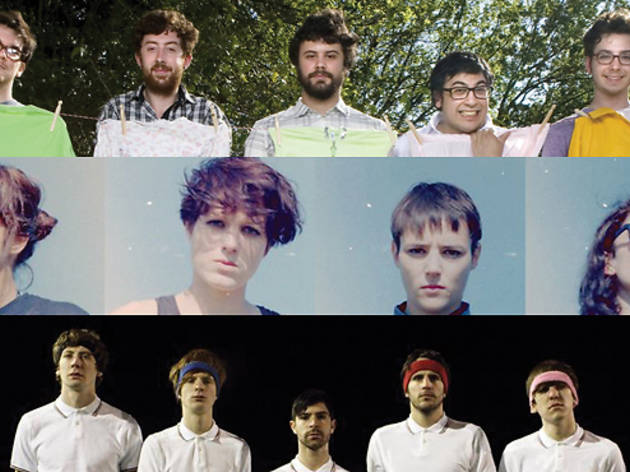 This alt-rock group is associated with LA's 1980s Paisley Underground scene (think the Bangles or Dream Syndicate). Expect to hear psychedelic pop rock with a punk energy—a sound that may have been more original in the '80s, but is still pretty fun today.
Read more
The Baltimore duo released Bloom, its fourth album of stunning textured dream pop, earlier last year. Beach House, having truly bloomed recently, has the potential to transform any venue into a hazy bedroom of its own design.
Read more
How to Destroy Angels—Trent Reznor, Mariqueen Maandig and Atticus Ross—released its self-titled six-song debut EP in 2010, and their newest, Welcome oblivion, in March. They have an eerie tone with a heavy industrial sound reminiscent of NIN, only now with a female vocalist, and percussion sequences that are sure to get stuck in your head.
Read more
Phoenix, while relatively more noticeable overseas than here in the States, exploded on both fronts with 2009's Wolfgang Amadeus Phoenix, a record brimming with shimmering guitar lines, irrepressible hooks and awash with brightness. At this pre-festival gig in Pomona, the French group will surely preview tracks from their latest effort, Bankrupt, scheduled to drop a few days after the Coachella lights go out.
Read more
Arty local indie faves Yeasayer support their latest, Fragrant World, during this show. Just don't expect a set of anthemic pop songs. Their latest album release skews toward dark, R&B-tinged—and compulsively listenable—material, although we're sure they'll throw in some poppy, sing-along hits like "Ambling Alp."
Read more
Masters of summer pop (the indie Bee Gees?), Passion Pit have finally delivered the follow-up to their awesome 2009 album, Manners, with a lush new disc, Gossamer. Fans of singalong choruses, Phoenix, MGMT and strolling in the moonlight in the middle of summer (or a cool night in California in April) will love it.
Read more
2-Tone Records veterans, pop/ska outfit the Selecter—still fronted by Pauline Black—plough on through their 33rd year. They are responsible for ska classics such as "On My Radio," which we just may be lucky enough to hear during this show.
Read more
Ghost B.C. (a.k.a. Ghost) are an anonymous, underground Swedish metal band. They gained a serious amount of cred with their first album, Opus Eponymous, and the hype has only increased since the release of their sophomore Infestissumam.
Read more
Andy McCluskey and his Orchestral Manoeuvres in the Dark celebrate over 30 years in the business of making intelligent synth pop, once again reunited with Humphreys, Holmes and Cooper, who quit in 1989 but rejoined a few years ago. While waiting to shimmy to Pretty in Pink classic "If You Leave," expect to hear tunes from the band's twelfth studio album, English Electric, due to hit the airwaves this April.
Read more
Show more