LA's best dishes: Chocolate milkshake smackdown
Who blends the best chocolate milkshake in LA: Beverly Hills Hotel's old school diner Fountain Coffee Room or the Brentwood Country Mart's Sweet Rose Creamery?
Milkshakes are what Grease-era, diner dates are made of (double straws and jukebox, optional). Beverage or dessert? We'd like to nominate the frosty blend for both, the perfect sweet treat to go steady with.
RECOMMENDED: More of LA's best dishes
Restaurants, Coffee shops
The pale-colored frosted drink ($6) doesn't scream chocolate, but a milkshake that's still blended using homemade ice cream served at the Beverly Hills Hotel's 100-year old diner speaks volumes.
Restaurants, Ice cream parlors
The tiny Brentwood Country Mart storefront may look modest, but Zoe Nathan's ice cream shop scoops out dozens of homemade, seasonal flavors made with farmer's market ingredients. We would expect no less than E. Guittard chocolate—in both the ice cream and drizzled syrup—in this drinkable chocolate lover's dream ($7.50).
Winner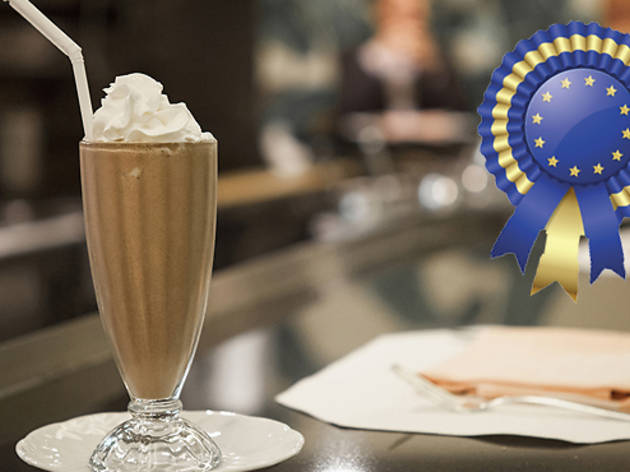 Restaurants, Coffee shops
We're on the fence on this one. Sweet Rose came out swinging with its quality chocolate and its creamy full-fat—versus Fountain Coffee Shop's non-fat—Clover milk. While the ultimate for chocolate hounds and those looking for more dessert than drink, it was deemed too decadent for our modest blood. Fountain's version, however, was slighty malty, not too rich, and—served with the unreplicable charm of the Beverly Hills Hotel diner—perfect alongside an order of nostalgia.
More to explore