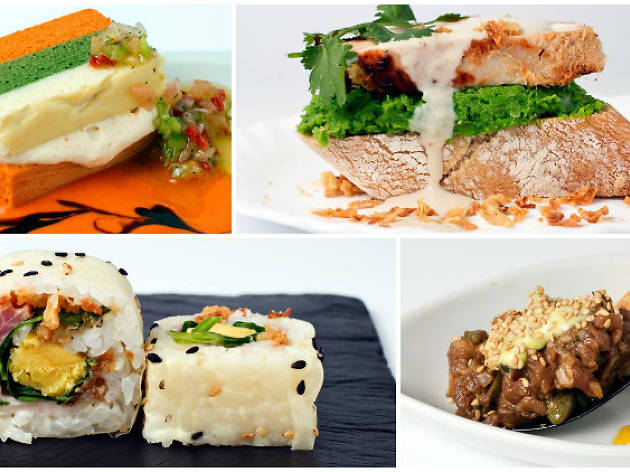 Tapapiés 2015: Madrid's big tapas and music festival in Lavapiés
The Madrid neighbourhood of Lavapiés bubbles over with concerts, parties and an irresistable tapas route where you can get a tapa and a beer for €2.50 in more than 90 bars and restaurants!
Madrid's most famous tapas route is back! The fifth edition of Tapapiés returns to fill the neighbourhood of Lavapiés with gorgeous food and drink, fun open-air concerts and a big party atmosphere over two weeks in October. Specifically, the big event is on from Thursday the 15th to Sunday the 25th in more than 90 bars and restaurants in the area, as well as another 17 venues and gourmet shops in the Mercado de San Fernando.

More than 100 tapas will compete to be the best and most popular among those who go along and gobble them up. A jury made of restaurateurs and journalists who cover the food and drink sector will select the three winning tapas from ten finalists. Even better for you, when you vote for your favourite via a free app for mobiles and tablets, you enter to win one of two iPad Air tablets. And since music is also part of Tapapiés, you can also watch videos by participating artists and vote for your favourite live performance.

Spread throughout the main streets and squares in Lavapiés you'll find 60 concerts over the weekends of the 16th to the 18th and the 23rd to the 25th, from noon until well into the night. Rumba, blues, swing, funk, Afrobeat and samba are among the styles you'll be dancing around to, brought to you by more than 20 Spanish bands, including Swingdigentes, Alpargata Band, Los Widow Makers, Les Pompettes and Odé Zulé, among others. You'll also be treated to street circus performances, kids' theatre, and microtheatre productions in spaces such as El Umbral de Primavera for just €2.50. And over the two weeks of the festival, some 30 neighbourhood businesses will offer discounts in line with the Chollopiés initiative.

But gastronomy is still king during Tapapiés, and this year the huge multicultural offering from the bars and restaurants in Lavapiés also includes the presence of South Asia, with the incorporation of 15 new restaurants specialising in cooking from India, Bangladesh and Pakistan. Tapas are fused with world cuisine with the tradition of freshness from Spanish cooking. So this year you may notice the price has gone up a wee bit (50 cents) – each tapa costs €1.50, and for €1 more you can wash it down with a small bottle or draught glass of Estrella Damm.

Now dig in to our selection of some of the tapas you'll find in this fifth edition, and if you're hungry for more, you can download information about Tapapiés 2015 as well (in Spanish).