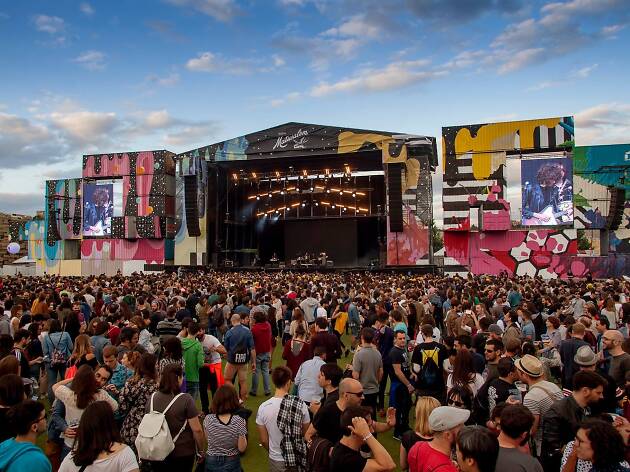 Music festivals in Madrid
Your guide to the biggest music festivals in Madrid featuring local and international acts you won't want to miss
Who said Madrid doesn't have music festivals? Mad Cool, Mulafest, Download Festival and newcomers added nearly every year make up these big gatherings of musicians spanning genres and eras who perform all around the region throughout the year. From huge stadiums to intimate theatres to botanical gardens, the venues are as varied as the musical styles. Take note of these top music festivals in Madrid, mark your calendars and get your tickets early!
ATTENTION: Festivals in this list are subject to cancellation or postponement due to recent preventative health measures taken in Madrid.
RECOMMENDED: Meanwhile, tune in to some amazing live-streaming concerts and DJ sessions that artists are offering up around the world for your at-home enjoyment.
Madrid music festivals
Madrid dresses itself in electronica once again for this festival that gets better every year. For this third edition, the bar is raised with FKA Twigs, whose album 'Magdalene' was one of the best of 2019. The line-up so far also includes Bufiman, Charlotte Adigéry, Christian Löffler, Jon Hopkins, Roman Flügel, Waajeed, Kaytranada, Kruder & Dorfmeister, 070 Shake, Apparat, DJ Koze, Princess Nokia, Låpsley, Denis Sulta, Baiuca, Avalon Emerson b2b Roi Perez, Dazion, John Gómez, Buscabulla, Chico Blanco and Akkan. And as usual, art, food and gaming will have their place at the festival as well.
From mid-June and throughout the month of July 2021, Noches del Botánico celebrates its fifth edition (moved from 2020). The 2020 line-up, which the organisers will try to keep as much intact as possible, already included Wilco, Belle & Sebastian, Cat Power, Estrella Morente, Woodkid, Tom Jones, Asaf Avidan, Dido, Jessie J, and more. Noches del Botánico is always an eclectic collection of artists who encompass jazz, rock, pop, Latin music, flamenco and electronica, with the Alfonso XIII Royal Botanic Gardens as the backdrop.