Madrid's best cheap eats
Find the best cheap restaurants in Madrid where you can fill up with delicious, quality food and stay in your budget.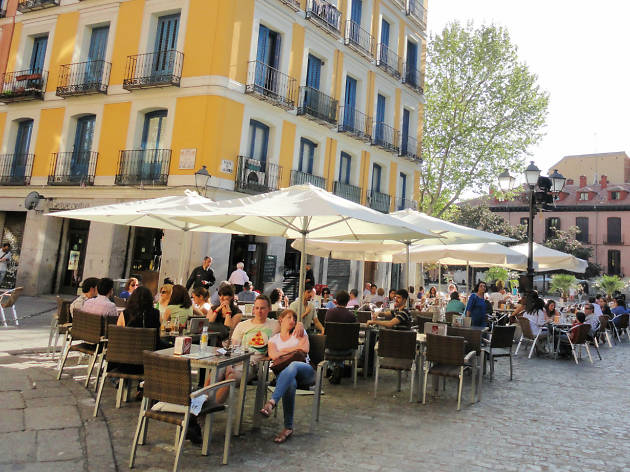 Set lunch menus for less than €10, budget dishes that don't skimp on servings, free tapas when you buy a drink.. Going out for lunch or dinner in Madrid without spending a fortune is possible when you know where to find the deals. One of the ways Madrid's restaurants have dealt with the economic recession is to offer cheap eats to their clients. Head out for a meal at the weekend and still be able to stay within your monthly budget with these spots where you can find quality food, pleasant surroundings and prices that will make you and your wallet happy.

If you can actually make it through the door, order a beer or a cider and marvel at the hefty tapas that come with it – patatas bravas, jamón serrano, Spanish omelette… it's all free, and each plate varies (and gets bigger) with each round. The bar itself is incredibly noisy and always absolutely rammed. But it does disprove the theory that there's no such thing as a free lunch.
After an enforced closure thanks to some overzealous licence enforcing by the city council, La Musa Latina is open once more. The menu has lost a few favourites, such as the selection of tapas, but there's still plenty here to enjoy. The mixed grill and the roasted vegetables make a great combination, plus there are plenty of indulgent desserts to choose from – go for the chocolate brownie. Waiters are super cool but friendly, and the diners are a mixture of the well-heeled and the clubby crowd. Given the choice between this and its sister restaurant in Malasaña, pick this one – it's roomier.
Another Madrid classic, with wonderful tiling outside and rows of dusty beer steins inside, La Dolores has been serving ice-cold frothy beer since the 1920s. There's a short list of tapas, which are good if a bit overpriced. Specialities are smoked fish, anchovies and 'mojama' (wind-dried tuna).
The speciality of this diminutive bar is the 'pincho Los Madriles', with red pepper and anchovies. Also worth trying are the tuna and prawn pinchos, the fried potatoes and the 'callos' (tripe delicacy). Decorated with hundreds of black-and-white photos of its regulars as kids, this old-style bar can get a bit cramped, but there are tables outside in summer.    
With their reputation for staying out all night, the good people of Madrid are popularly known as 'los gatos' (the cats), and there's nowhere better than here to begin a night prowling the tiles. The bar is hung with all manner of paraphernalia from gramophones to choirboy mannequins, but what really counts is you can get a selection of tasty canapés, and a good frothy beer.
Easily missed, this co-operative-run fair-trade café and shop is an absolute gem. All profits go to good causes, with products such as Mecca Cola (20 percent to Palestinian kids) given top billing. The charming co-owners take turns in the kitchen, each lending ideas from their home country to the daily-changing menu, so chicken in peanut sauce from Equatorial Guinea sits alongside Senegalese 'bobotie' and Mexican chicken 'mole'. Highly recommended.    
This right-at-home restaurant with a French touch (also in terms of the distance between customers) is a place where you can eat well without paying too much. Dedication, simplicity and willingness to please are evident in their dishes. The set lunch menu is their strongest point, and allows you to get an idea of their a la carte menu and their style of cooking.    
A diamond in the rough, the diminutive Casa Camacho has changed little since it opened in 1928, except for the addition of a fruit machine and a TV – both in constant use. Pre-war dust coats the bottles and plastic flowers on display and the floor is a sea of toothpicks and crumbs, but for a slice of real neighbourhood life it can't be beat, though nowadays it tends to fill up with local hipsters. Make sure you try a 'yayo'.