Heads up! We're working hard to be accurate – but these are unusual times, so please always check before heading out.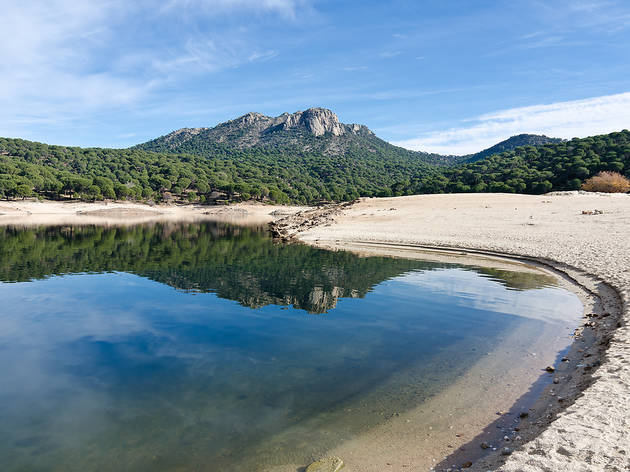 The best swimming pools in Madrid
Scorching summer temps with no beach relief? You can have fun and cool off at these fantastic swimming pools in Madrid
Friendly warning! We're working hard to be accurate. But these are unusual times, so please check that venues remain open.


Summer is here! Everyone to the beach! Oh. Everyone in the pool! That's right, Madrid may not have a coastline, but there are some great outdoor swimming pools where you can get out of the summer heat and splash around in the pool. From Olympic-size swimming pools in sports centres to exclusive swims on hotel rooftops and natural pools in nature, Madrid offers you plenty of ways to cool off.

RECOMMENDED: Full guide to the best things to do in Madrid
Best swimming pools in Madrid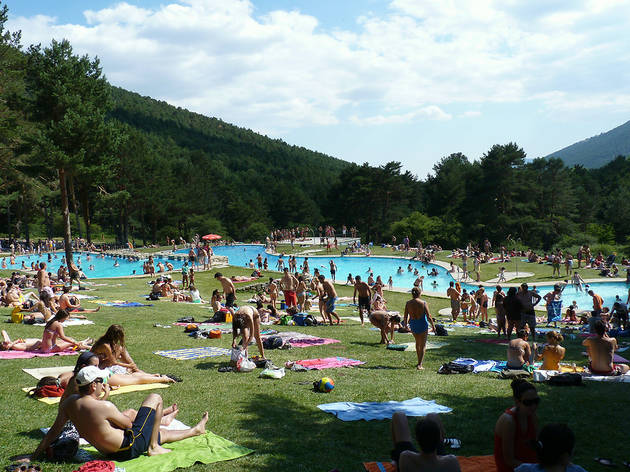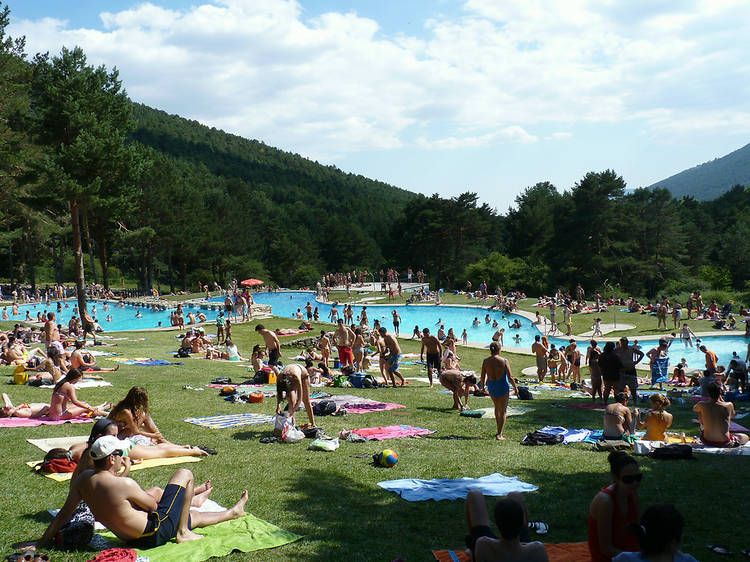 Photograph: Tinnyaw
Cercedilla is one of the spots that's most frequented by Madrid residents in the summer. In the Fuenfría Valley you'll find these pools located along the Arroyo de la Venta river. They were created in 1978 and, although the water is now chlorinated, they started out as completely natural swimming holes. The Las Berceas recreational complex also has a snack bar, lawn areas, bathrooms, changing rooms and a sickroom. It's open from 10am to 8pm until the end of August from, and admission costs €6 on weekdays and €7 on Saturdays, Sundays and holidays. Children under 14 and adults over 65 pay €4.
Better known as the 'Piscina de Lago' ('Lake Swimming Pool'), these facilities are mainly specialised in water sports. It boasts a 50-square-metre pool, another that's 33 metres, and a children's pool. There's also a 25-metre indoor pool and weight rooms. The setting, right in Casa de Campo, can't be beat. This spot has traditionally been a meeting place for the gay public, though in recent years more and more straight couples as well as families with children have been coming for a swim.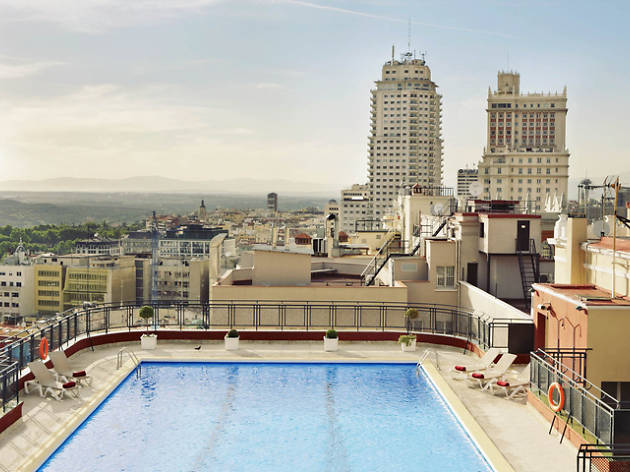 The Emperador makes up part of the Gran Vía skyline, and got itself back in the limelight after musicians and media darlings Mario Vaquerizo and Alaska got married on its rooftop. Its swimming pool, located on the tenth floor, is the largest in Madrid and is open from 10am to 9pm (until 8 pm in May). It's free for hotel guests, but if you're not staying there and you fancy a swim, be prepared to pay to use the exclusive space, as it'll set you back €50 from Monday to Thursday and €63 on Friday, weekends and holidays. From 2.30pm Monday to Thursday there is an option to enjoy the pool with a set lunch menu included for €65, or if you prefer you can always enjoy their cocktails and gourmet bites. You can also opt for a multi-day pass for €210 (valid for five days' use excluding Fridays, Saturdays, Sundays and holidays).
The Parque Deportivo Puerta del Hierro is one of the most complete sports parks in Madrid, and one of the city's biggest. With over 300,000 square metres of green on the premises, you can play golf, paddle tennis, rugby or tennis, do athletics or archery, and even go canoeing. It's well-known for its outdoor pool, which, at over 130 metres long, is one of the largest in Europe. In summer it's full of families who want to get away from the sweltering centre of town for a refreshing day out. There's a grassy area, changing rooms and a children's pool in summer. In winter, canoes and kayaks rule the water.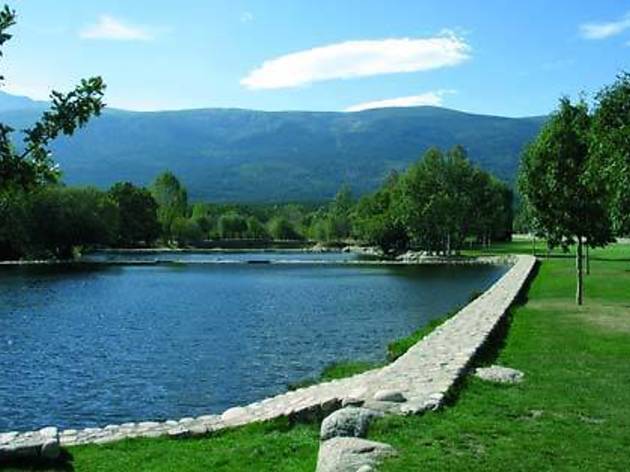 Photograph: Rascafría
Las Presillas in Rascafría
The Paular Valley is home to the natural pools of Rascafría, with water so crystalline you can easily see the bottom, though you might not be able to enjoy it for too long as it's very cold. The area is divided into three pools located in the Lozoya river bed, with wide green meadows that fill with families and groups of friends every summer. Admission is free, though you'll pay €9 per car per day to park. The area is open every day during the summer months from 10am to 9pm and has tables, snacks, toilets and rubbish bins. This is a great option if what you're after is a nice day out and a dip to cool off surrounded by nature.
Though the pool at Room Mate Oscar isn't Olympic sized and only 35 people are allowed per day, it's still worth heading up to the top floor of this hotel to have a swim, enjoy the views and dedicate yourself to some sweet relaxation time on one of the loungers or beds surrounded by artificial grass with design by Tomás Alía. Spending a full day between Monday and Thursday will cost you €40, while you'll pay €60 for the day on a Friday, Saturday or Sunday. There's also an option to book part-time at weekends (from 10.30am to 2.30pm or from 3pm to 7pm) for €35. In addition to the use of the pool, the prices also get you a spot in the solarium, a towel, the use of a locker and a welcome glass of cava.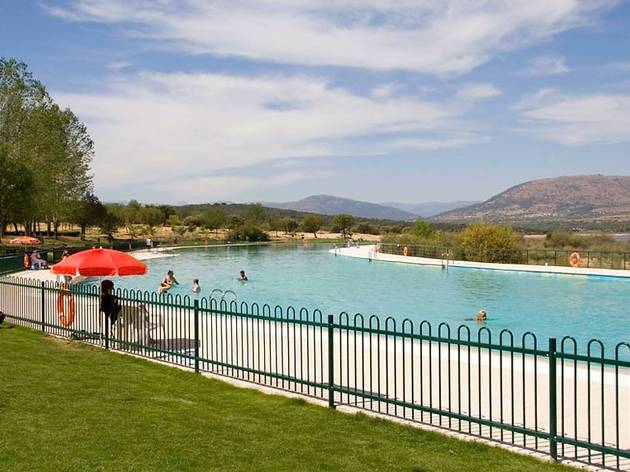 Photograph: Riosequillo Reservoir
North of the capital city, in Buitrago del Lozoya, is one of the largest natural pools in all of Madrid. The water comes directly from the Riosequillo reservoir. The natural pool is about 4,500 square metres in size, and despite the fact that its water is chlorinated, it is still as cold as the river water. The complex features rest areas and picnic areas, toilets, changing rooms, a poolside snack bar, indoor football and basketball court, and a children's play area. It's open from mid-June to the end of August, every day of the week except Monday, from 11am to 8pm. Admission costs €5 for adults at weekends (€4 on weekdays), €3 for kids, and €3.50 for those over 65.
In this sports centre you can practise almost any sport you can imagine. Football, handball, basketball, skating, beach volleyball, tennis, water polo, swimming, gymnastics ... its facilities occupy more than 70,000 square metres. In summer, its two 50-metre pools and children's pool attract families and groups of friends that come for a swim with the Four Towers in the background background or to cool off in the shade, out of the stifling Madrid summer heat.
A must visit during the summer in Madrid. Few parents and grandparents haven't taken their families to this reservoir situated between San Martin de Valdeiglesias, El Tiemblo, Cebreros and Pelayos de la Presa to cool off. With 14 kilometres of beaches, it's the only reservoir in Madrid where swimming is allowed. The areas for water sports are well defined and separate from the swimmers. It's important to follow the safety recommendations as the depth can reach up to 70 metres in some areas. It's usually very crowded on the weekends between June and September, so you'd better go early or you won't find a place to lay down your towel.
The old Luna cinema has been converted into this 'lounge resort' that has a gym, a restaurant, a space for events, and an impressive terrace from where you can enjoy a view of the streets of Malasaña while you cool off in the pool that's open every day from noon. With a bit of a futuristic air about it, the rooftop of this innovative building boasts a bar that serves cocktails, coffee, and shakes/smoothies all day long and all year round.
Very close to the bustling shopping area of Serrano, this NH hotel gives you a place to unwind after a tiring day at the shops you to enjoy after a tiring day of shopping – that is, if your budget allows it. The quiet pool area (open from 11am to 8pm) provides a place for you to relax and disconnect in the inner courtyard of the hotel's rooftop terrace. There's also a solarium-terrace and a simple menu based on sandwiches and snacks. If you're not staying at the hotel, you can get a monthly pass for €200 one for the entire season for €400.
The swimming area at this university is one of the most popular in summer, not only because of the two huge pools there (you can even practise your dives from the plaforms), but also because it's surrounded by trees and grass just a few metres from Moncloa. Where it was once only for use by students and teachers, it's now open to the public for a fee of €5 per use, or you can get pack of ten entries for €40.
More outdoor life in Madrid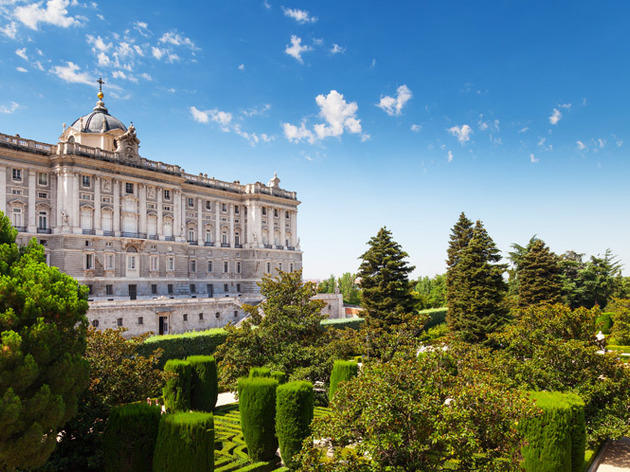 We've got something to say to those who think Madrid is just a city of concrete and smoke. Although you might not notice at first, there are actually numerous parks and gardens around the city; some are hard to miss, and some are tucked away, the kind you can get to only if you know where they are. The result of our extensive search for green spaces in Madrid is this guide to 23 uniquely wonderful public parks, from the centre to the outskirts (and we all know there are many more).