Where to have afternoon tea in Manchester
Spend your afternoons sipping on tea and indulging in elegant bites at the best tea rooms in Manchester
From its rich musical heritage to its modern clubbing meccas, the city might be well-established as a haven for nightlife and bars—but if you're looking fort he best things to do for an altoghether more civilised excursion, you'll want to visit the best places to have afternoon tea in Manchester.
From cafés embracing the classic version of the stuff to restaurants giving a whole new twist on the experience, here are the top options the city has to offer. Time for tea? Oh, yes indeed.
Best afternoon tea in Manchester
1
Photograph: Courtesy Booking.com
The Tea Room at The Midland
Why go? 100 years practice in the game can't be bad.
First opening its doors in 1903, The Midland Hotel has the title of Manchester's oldest. Since the beginning, it's also offered afternoon tea – an experience described as "a stalwart of the Manchester social scene", so they say. And while the glitterati of the city may no longer flock to coo over tiny sandwiches, their recently refurbished tea room and array of actually-rather-forward-thinking menus are still worth the trip. You can nab vegan and gluten-free options, as well as their traditional and 'Royal' selection.
2
Photograph: Courtesy Yelp/Vanessa Z.
Why go? To fall through the looking glass with a Wonderland-themed afternoon. If you've ever fallen in love with Lewis Caroll's weird and wonderful world of Alice in Wonderland (and, frankly, who hasn't?), you'll understand the lure of immersing yourself in your very own Mad Hatter's Tea Party. At the Richmond, you can do just that, with themed décor and a host of different tea options devoted to the main characters. A Hatter's will get you scones and sarnies, while the Queen's option adds some fancy pastries into the mix.
3
Photograph: Courtesy Yelp/Shrimoyee C.
Why go? Gourmet treats in opulent Grade II-listed surrounds. Held in the elegant, South East Asian-inspired Long Bar in the ever-so-fancy Grade II-listed Grand Pacific, this afternoon is a treat for the eyes as well as the taste buds. Look around and you'll feel like minor royalty, lunching in style. Look down, and you'll find all kinds of culinary delights – from crumpets with Cornish crab butter, to smoked salmon potato cakes to jasmine tea bread
4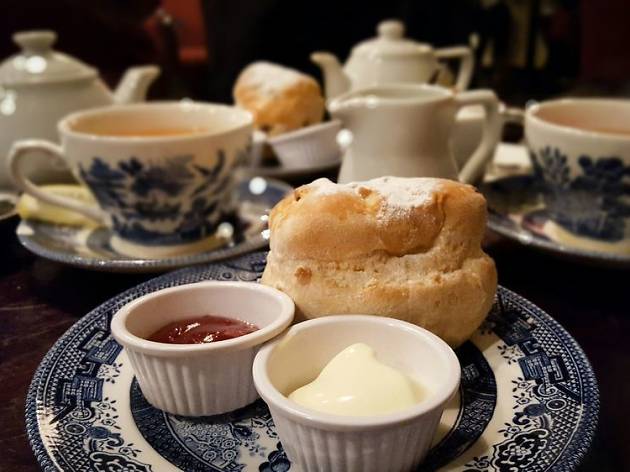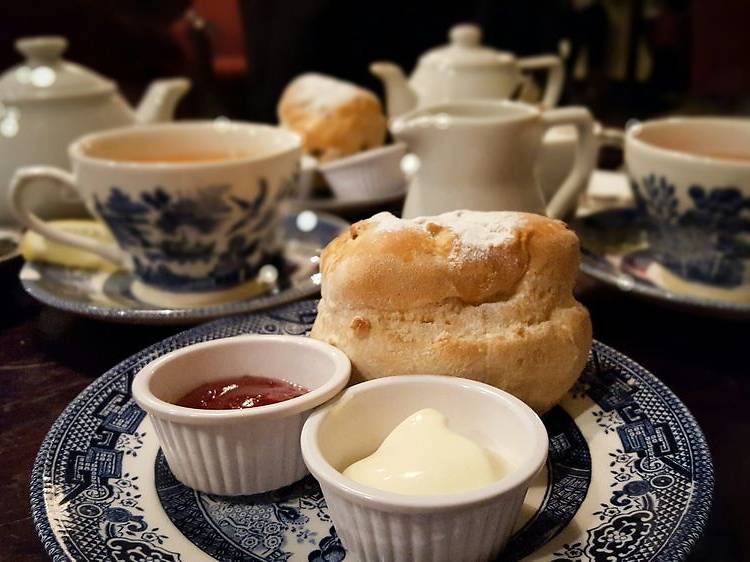 Photograph: Courtesy Yelp/Jessica C.
Why go? For award-winning grub, as decided by you. Winner of the People's Choice award for best tea room in the Manchester Tourism Awards, Annie's isn't just a great little spot – it's certifiably one of the top dogs. It's easy to see why, too. Ditching fancy pants glamour in favour of something altogether more comforting and homely, its prerogative is to make you feel like you feel welcomed and relaxed. Plus, it's owned by Corrie star Jenny McAlpine (aka Fiz Brown)!
5
Photograph: Courtesy Yelp/Shenae D.
Why go? For chocolate, chocolate and more chocolate. As you might have gathered from the name, this West Didsbury joint has got a penchant for all things chocco. Their afternoon tea, coming in at a very reasonable £16.95 per head, is no different. You'll get the usual finger sandwiches and the like, but when things get sweet then they go cocoa loco for brownies, mini ganaches, mini choux and more. Willy Wonka's got nothing on this one.
6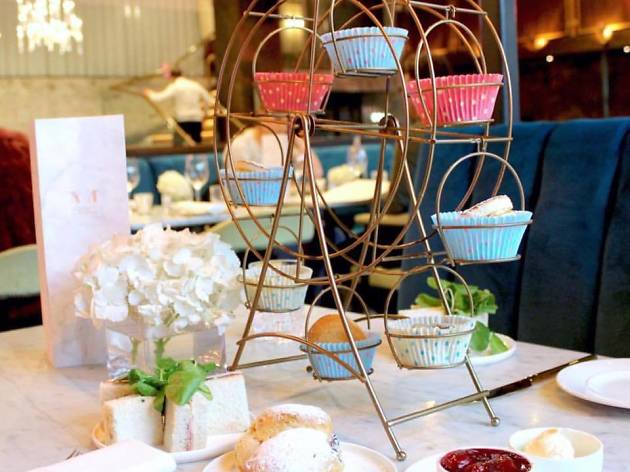 Photograph: Courtesy Menagerie
Why go? To fill the 'gram with snaps of an actual FERRIS WHEEL of cake. In 2018, presentation is key. Sure your Nana's little square sarnies might taste nice, but are they gonna cut it on social media? Sorry Betty, we think not. Cue Menagerie: who have upped their afternoon tea visual game and then some, with a tiny ferris wheel full of edible delights. Spin it to find brownies, scones and the like - but don't forget to take a snap first.
7
Photograph: Courtesy Vienna Coffee House
Why go? For a touch of Austrian romance in the heart of Manchester city centre. Drawing influence from the coffee house scene of the Austrian capital, this cafe in the heart of the city is a low key gem. It also, despite the caffeine preference its name might predispose, does a mean high tea - with a series of classics including its award-winning deli ham sarnies.
8
Photograph: Courtesy Yelp/Lauren W.
Why go? For posh booze, great views and delicious choux. At Lounge on 12, the fancy bar situated on the - you guessed it - 12th floor of Manchester House, they know how to turn things up a notch. As well as the pleasure of lunching with a view over the city, you can also upgrade your afternoon to a special cocktail pairing menu. That'll get you a series of specifically chosen beverages - including a mouth-watering champagne and cucumber number - to perfectly compliment the tasty morsels on offer.
9
Photograph: Courtesy One88
Why go? Mix things up with a variety of menus to suit the whole gang. If you've got the kind of friend group that tends to spend hours arguing over where to go on any given weekend, then One88 might be the tea spot for you. For the laid back ones, you've got a traditional prosecco version. Not into bubbles? Opt for the gin and tonic option. Far too blokey for that kind of thing? Then there's a gents tea too, that swaps out delicate sarnies for pork pies, sausage rolls and more. Now, everyone's happy.
10
Photograph: Courtesy Yelp/Cindy L.
Why go? Vintage-inspired surrounds make this one a kitsch, cute delight. Naturally drawn to life's old timey pleasures? Then take a trip to Sugar Junction (don't worry, it's nothing like TOWIE's Sugar Hut). There, you'll find vintage wallpaper, mismatched crockery and enough nostalgia to make you wonder what decade you're really in. The menu's pretty trad, too - but expect a couple of surprising treats to whet your whistle.
11
Photograph: Courtesy Yelp/Steve M.
Why go? To sup on a brew in the historic surrounds of Manchester Cathedral. If you, like us, believe that afternoon tea is not a meal to be taken lightly, then Proper Tea should give it the gravitas that it deserves. Located in the yard of Manchester's historic centrepiece, you can munch on scones and some posh brews (you know they're fancy when they come with a tea timer), all while gazing up at the magnificent architecture. Lush.
Looking for more must-do's in Manchester?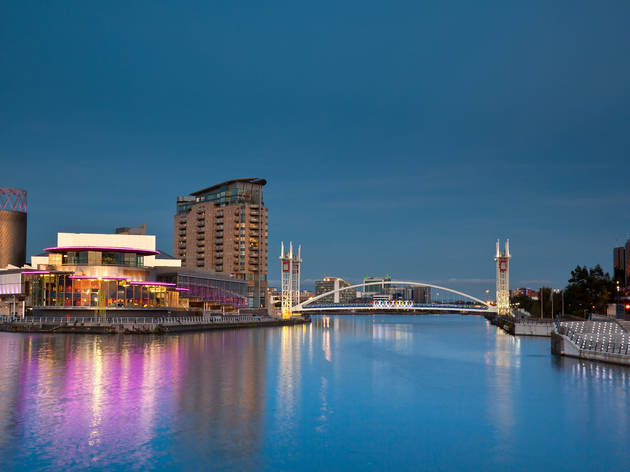 From classic concerts in ancient meeting houses and history lessons at famous museums, to flicking through stacks of vinyl or enjoying an evening out at one of its many restaurants and bars. The list of brilliant stuff to do goes on and on.