The 13 best restaurants in Memphis
The best restaurants in Memphis are sure heavy on the barbecue, but local chefs also serve top-notch ethnic cuisine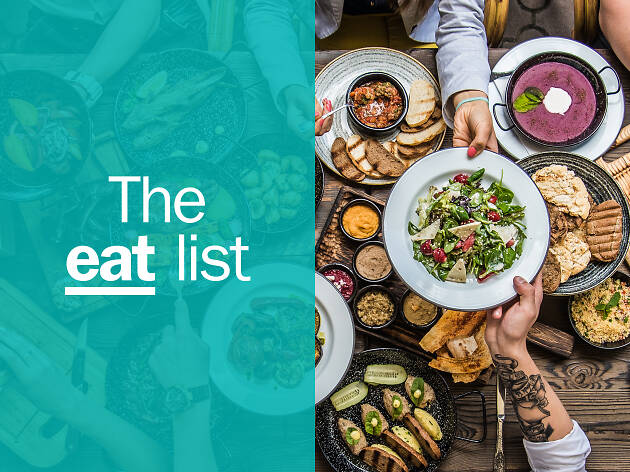 The best restaurants in Memphis are known for one thing: barbecue. A pillar of the South's relationship to all things gastronomy, the cuisine enjoys a cult status of sorts: ribs, shoulders, dry-rub wings, smoked sausage, pork shoulders and ribs get the royal treatment here. Word to the wise: don't eat all your BBQ in one place. Rather, spread the love and visit all the local eateries that offer the stuff to truly enjoy the scope of the fare.
But Memphis isn't all about the BBQ: the city's talented chefs show off their expertise in traditional ethnic cuisines and fine dining propensities as well. So, after checking off each item on our best things to do in Memphis list, head back to your hotel room to recharge and get ready to devour some oh-so-delicious food upon venturing out again. Happy eating!
Best restaurants in Memphis
1
Photograph: Courtesy Yelp/Kontji A.
Flight's elegant two-level downtown dining room serves all dishes and beverages in flights, so you have a chance to try trios of soups, entrées, wines, desserts and more. Choose from a carefully curated selection that includes the steak flight—with a boursin-stuffed filet, Kahlúa-glazed elk tenderloin served with truffle macaroni and the bison rib-eye with wild mushroom risotto—or create your own meal with small portions of different dishes.
2
Photograph: Courtesy Yelp/Michael U.
Andrew Michael Italian Kitchen
A converted East Memphis home featuring several cozy dining rooms and a rustic minimalist bar area, this eatery serves as the flagship restaurant from famed local chefs Andrew Ticer and Michael Hudman. The menu is a uniquely Southern-meets-Italian fine dining experience focused on fresh, handmade pastas, creative pork preparations and seafood dishes paired with fine imported wines and craft cocktails.
3
Photograph: Courtesy Yelp/Greg G.
Memphis chef Kelly English combines his New Orleans background with his appreciation for modern Southern cooking at this cozy-house-turned-fine-dining-spot near the bustling Overton Square. Impeccable service in comfortable quarters are paired with flavorful dishes like the lobster knuckle sandwich and a fried oyster and blue cheese stuffed New York strip. Yum.
4
Photograph: Courtesy Yelp/Josh O.
A faded, hand-painted sign and cornflower-blue awning greet guests of this charmingly shabby-looking BBQ joint downtown. The Cozy Corner serves Memphis barbecue classics like ribs and pulled pork sandwiches, but the restaurant truly shines when focusing on other unique offerings. Go for the barbecue cornish game hen slathered in sauce, the barbecue spaghetti and the delectable banana pudding—you won't regret it.
5
Photograph: Courtesy Yelp/Helen T.
This swanky Cooper Young restaurant is located in the former beauty shop where Priscilla Presley styled her beehive. The 1950s style hair dryers, washing sinks, mirrors and mint-green mod features are still on display. The menu offers a truly eclectic mix of international and Southern cuisine that includes a watermelon and hot wings plates, daily crepe specials, grilled whole fish dinners and a popular cosmopolitan brunch.
6
Photograph: Courtesy Yelp/Bruce K.
Those who know Memphis quirkiness won't be surprised to find delicious eats in a humble building in a Lowe's parking lot, nor will they bat an eye when sitting at picnic tables to enjoy the big flavors of Elwood's huge menu. Think fish tacos made with steelhead trout, a 7-Up biscuit sandwich stuffed with bacon and pimento cheese, grilled beef franks slathered in BBQ sauce and blue cheese jalapeño slaw, and the must-try barbecue ribs and brisket.
7
Courtesy Yelp/Nate V.
This colorful soul food restaurant may remind you more of the family dining room than a popular downtown lunch destination, and that's part of the charm. Look around while you wait for a table, as owner BJ Chester-Tamayo personally greets diners with a hug before taking orders and cooking the meals herself. The menu is full of mouth-watering Southern comfort food like fried chicken, catfish, yams, spaghetti (as a side) and meatloaf.
8
Photograph: Courtesy Yelp/Jacob R.
The fifth Memphis eatery from James Beard Award-nominated chefs Andrew Ticer and Michael Hudman, The Gray Canary's mix of industrial modern and Old World decor is the perfect background to a menu focusing on small plates inspired by the chefs' Italian roots and the use of local ingredients. A raw bar and classy cocktail program round out the stellar experience.
9
Photograph: Courtesy Yelp/Ivan S.
Gus's World Famous Fried Chicken
There's an addictive quality to the perfectly crispy, amazingly moist and slightly spicy chicken that Gus's fries up daily for hordes of Memphians and visitors from all around the world. The batter recipe is a carefully guarded family secret and the downtown Memphis location is a classic hole-in-the-wall boasting checkered tablecloths, neon beer signs and world-famous fried chicken served with a slice of white bread and sides like greens and fried okra. What else could your palate ever wish for?
10
Photograph: Courtesy Yelp/Brian K.
Many have tried, but no one has yet created a scientific rubric to determine Memphis' best barbecue restaurant. Still, the local consensus must count for something and that's why Central BBQ deserves your attention. The casual joint—at each location, walls are filled with employee photos and Memphis Tigers memorabilia—earns its popularity thanks to the smoked pulled pork, tender dry rub ribs, BBQ nachos, hot wings and legendary mac and cheese that diners love.
11
Photograph: Courtesy Yelp/Hazim J.
Folk's Folly is a beloved Memphis steakhouse boasting a traditional atmosphere and fresh prime cuts of succulent steak paired with sides and appetizers that shine, like the she-crab soup and au gratin potatoes. The skilled staff and their impeccable preparation techniques (try the popular bone-in filet and New York Strip) make this a spot for celebrations large and small.
12
Photograph: Courtesy Yelp/Lucky Cat Ramen
This ramen spot that started as a weekend pop-up now has a permanent space on a busy corner in midtown, with plans to expand. Lucky Cat's pork broth is made with local Marmilu Farms pork bones, simmered for days and seasoned with barrel-aged soy sauce imported from Japan. Choose classic or special ramen bowls, or go for the inventive steamed buns like crispy pork belly bao or octopus with fried tomatoes.
13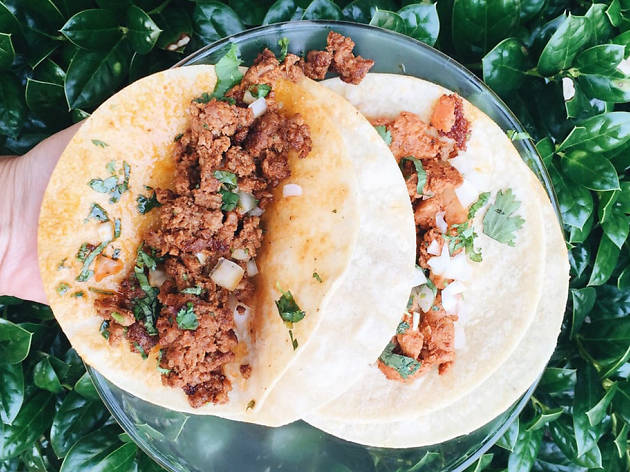 Photograph: Courtesy Yelp/Christine L.
With many excellent Latin cuisine options in Memphis, Maciel's stands out with fresh, made-to-order authentic Mexican street food at the two area locations, one a casual cafe in the heart of downtown Memphis and the other, a large and colorful space with a bar and patio on the Highland Strip. Spicy shrimp tacos, enormous tortas and chicken chipotle soup are just few specialities.
Discover Time Out Market: the best of the city under one roof
More of the best in Memphis
To most of the world, Memphis means rock & roll music, Beale Street and barbecue served in awesome restaurants across town. It's time you dig deeper into the soul of the city.