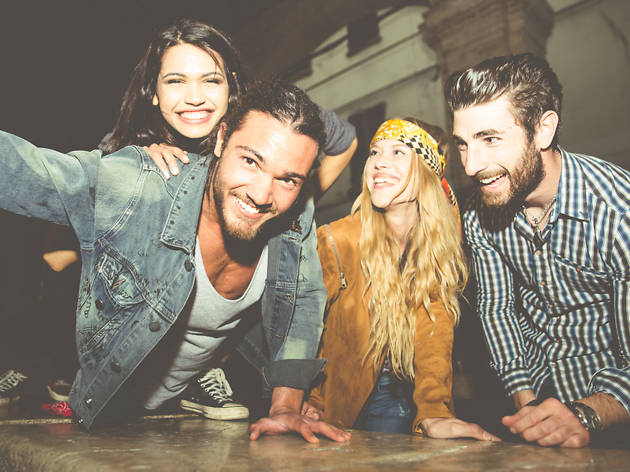 Six places to meet singles in Miami that aren't a nightclub
Posted: Wednesday February 22 2017, 12:45pm
Finding yourself suddenly single (or forever alone) in a big city like Miami can be scary, especially when you consider that most opportunities to meet new people revolve around South Beach clubs and parties. In fact, when Time Out polled people from around the world for its City Index survey it found that Miamians (along with New Yorkers and Angelenos) are the least happy with their city's dating scene. Has looking for love in the Magic City left you feeling desperate? Perhaps you need a different approach to meeting other singles: Miami meetups, networking events and free gatherings that don't require bottle service, loud music or the use of a dating app to meet new prospects.
Fancy Footwork
On the third Wednesday of each month, Fred Astaire Studio instructors lead a free dance class at Hotel Colonnade Coral Gables, which is open to couples and singles. Show up solo to be paired up with a stranger and prepare to spend the next two hours learning how to salsa (or samba or merengue, as class themes change each month) and getting to know each other. The hotel bar also offers some sort of drink special after each lesson, which will give you the perfect excuse to stick around and chat it up longer. The first class takes place tonight at 7pm but future times will vary.
Wok Star cooking class
You've tried pasta making, now it's time to step outside your culinary comfort zone and learn to use a wok. Classes are small and led by Wok Star Eleanor Hoh, a brazen instructor who won't just teach you how to cook but also encourage shy students to mingle with their fellow chefs. Dates and locations change each month, so be sure to check Hoh's site for details.
Drunk bingo
If seniors can bond over bingo, surely you can score a date at one of Miami's boozy bingo nights. On the third Sunday of the month, the Standard Spa, Miami Beach puts on Not Your Standard Bingo Night, featuring local drag icon Shelley Novak, DJ Jody McDonald and lots of prizes—from a one night stay at the hotel to spa treatments. It's free to play and there are plenty of stools available for single gamers. For a locals-only experience, head to Gramps on Wednesday nights for Bingo With Miss Toto, hosted by the stiletto-wearing, gender-bending hostess Miss Toto. You'll play against Wynwood's cool kids for prizes you'll really love, like a bar tab. Things are known to get wild between number calling, so use the opportunity to strike up a conversation.
A Different Kind of Ladies' Night
Mina's Mediterraneo's lesbian takeover, happening the third Thursday evening of each month, is a way to encourage local women to network and meet in a laid-back environment outside of a nightclub or bar. Ladies enjoy drink specials as they mingle under bistro lights on Mina's lush terrace. Bring your friends and make it a girls night out.
Hotel pools
Not all hotel pools in Miami have Vegas-style parties on the weekends. Some, like Atton Brickell, are laidback and open to locals who are interested in lounging poolside on a weekend afternoon. On Saturdays, Atton's new weekly sunset party features half-price drinks, a menu of small plates and DJ-spun tunes from 2 to 7pm. If you rather go off the mainland, the Confidante in Miami Beach is open to non-guests and offers weekly specials like $40 bottles of rosé—which doubles as an icebreaker when you share it with your fellow pool guests.
Networking events
Let's be honest: networking events aren't just for finding new jobs. Miami offers plenty of tech and fashion events where like-minded locals can come together and connect socially and romantically. If you're not the type to show up to an event alone then consider CreativeMornings breakfast lectures, where you'll have the opportunity to scope out the room and mingle over snacks before introducing yourself. To find more citywide gatherings, check out our list of Miami networking events.
Want more? Sign up here to stay in the know.
Share the story