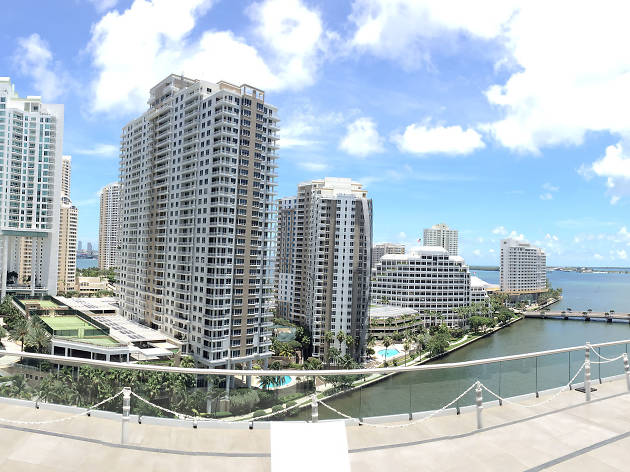 10 awesome spots to check out in and around Downtown
Posted: Thursday March 22 2018, 9:59am
Voting is now open for the first ever Time Out Love Miami Awards, and we're asking you to nominate your most loved local venues. But in a city with so many awesome spots, we know it's tough to narrow it down to just a few—so we've sought inspiration from several local bloggers and influencers who keep steady fingers on the pulse of Miami. Giving us her favorite places of to eat, drink and hang out in and around Downtown is baker, writer and Time Out Miami contributor is Amber Love Bond. This girl doesn't miss a beat.
Most loved coffee place: All Day
The locally owned coffee shop is home to some of the best coffee in Miami. Whether you're looking for drip coffee or nitro cold brew, they've got your caffeine fix. The coffee is on constant rotation featuring the best roasters in the country, including some local names like Per'la Specialty Roasters.
Most loved restaurant: Zuma
While Zuma isn't an everyday option for most, it's always a worthy splurge. From cocktails at the bar to a full-fledged chef's table experience, you can always count on Zuma for creating a true Miami love affair.
Most loved park: Museum Park
Museum Park is one of the most serene spots Downtown. It's also host to plenty of Miami's events. Days at Museum Park can be filled with free-flowing champagne during Veuve Clicquot Carnaval parties or sometimes it's all about being healthy with free yoga. Plus, it's right on the water — what more could you ask for?
Most loved movie theater: CMX Brickell City Centre
Gone are the days of basic movie theaters, especially once CMX Brickell City Centre opened. The ultra-luxurious theater has a full restaurant and bar inside, seats that fully recline, and in-movie ordering. It doesn't get better than that.
Most loved brunch spot: La Mar
In a city where brunch is the most loved meal, there are bound to be plenty of options. La Mar located at the Mandarin Oriental hosts a brunch that makes everyone feel like royalty. For under $100 guests can enjoy unlimited drinks, a serious ceviche and raw bar, an entree of their choice, and a dollhouse filled with desserts for each table. Then there are the views—it's the Miami skyline and the bay. Need we say more?
Most loved music venue: Blackbird Ordinary
If you're in Brickell and looking to dance, Blackbird Ordinary is the place to be. From live bands, to killer DJs, and even a weekly karaoke night, the music found in this come-as-you-are venue is second to none.
Most loved club/party: E11EVEN
Only in Miami will you find the world's only 24/7 ultraclub experience. E11even is the kind of place you never mean to end up at, but once you do, you know it means you've had a great night.
Most loved landmark: Freedom Tower
It's nearly impossible to miss the red-lit building across from the Port of Miami. It's considered the "Ellis Island of the South" for its role from 1962 through 1974 as the Cuban Assistance Center. Cuban or not, Miamians can relate to the Freedom Tower and what it stands for.
Most loved culture spot: PAMM
The Perez Art Museum Miami is one of the city's most loved museums. The exhibits change seasonally, making it a place to visit again and again. Thursdays are extra special as the first Thursday of the month offers free admission and the third is host to Poplife's Third Thursday parties with happy hour drink and food specials and art-making and gallery scavenger hunts for prizes.
Most loved place to drink in the sun: Sugar
Sugar is perched 40 stories high on top of the EAST, Miami. The 360-degree views of Miami are hard to beat and with its Asian inspired cocktail menu and delicious bites, there's nowhere else you'll want to be.
Want more? Sign up here to stay in the know.
Share the story