It's winter in Miami which means you can usually find us frolicking in Miami parks or taking in the views at the city's best outdoor restaurants. But even as we bask in this gloriously mild and sunny weather, we're not exempt from longing for a little dose of that classic, cozy winter feeling from time to time. Luckily, we don't have to hop on a plane and risk the travel woes that come with polar vortexes, bomb cyclones and whatever else our northern neighbors have to contend with year after year. Minus the snow, Miami is sprinkled with all sorts of things to help get you in that snug, warm and fuzzy mood when the temperature drops.
View this post on Instagram
1. Sip cocktails by the fireplace at The Commodore
You won't find many bars in Miami where you can warm up by a fire, but The Commodore inside The Ritz-Carlton Coconut Grove is one of them. This speakeasy-style cocktail lounge serves up all the classics plus a few wintry signature drinks like the Carajillo, made with espresso, anisette and Liqueur 43.
View this post on Instagram
2. Go ice skating at Basement Miami
It's no Rockefeller Center, but ice skating underneath a bougie hotel on the beach is an undeniably cool novelty on a chilly Miami night. Ice skating at Basement costs $30 per guest per half hour and includes rental skates. Stop by on select Thursdays for Disco Skate, when a local DJ sets the vibe with funky beats from 10pm to 2am.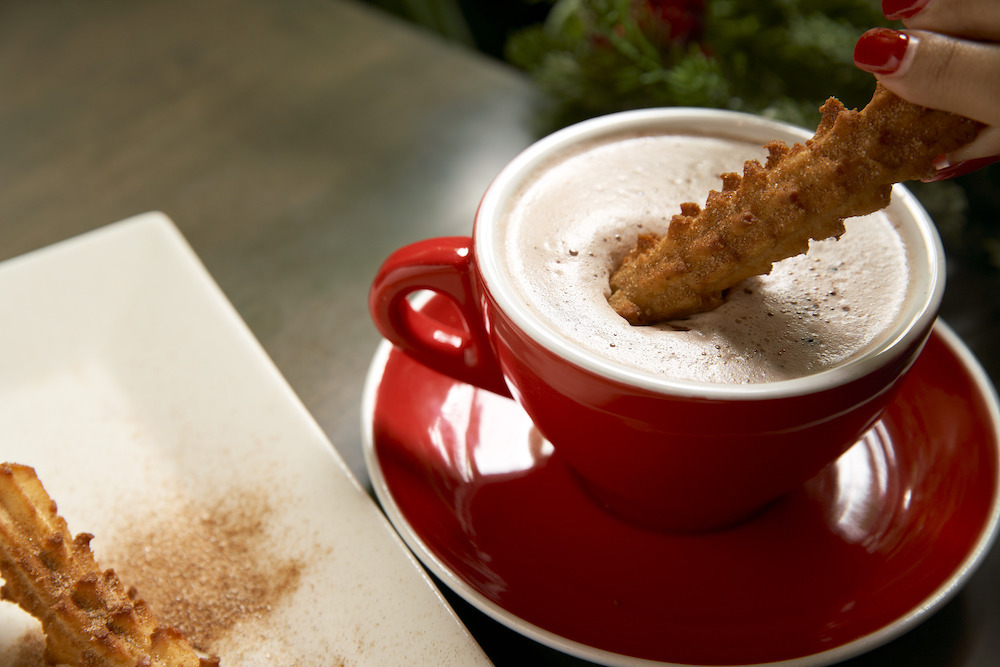 3. Dunk churros in hot chocolate at Latin Cafe 2000
Lean into Miami's next cold front at Latin Cafe, the homegrown Cuban-American chain. At their Brickell location, choose between regular hot chocolate and churros ($5.99) or go for the spiked version, made with Havana Club Añejo Classico and fire-torched marshmallows, for an additional $3. The Le Jeune and Hialeah locations are only offering non-boozy hot chocolate with their churros.
View this post on Instagram
4. Take in jazz in the garden at Understory
Located in the former Center for Subtropical Affairs space, the recently rebranded Understory remains a swoon-worthy option in Little River for enjoying cocktails, live music and other artsy activations in a lush and relaxed garden setting. These cooler Miami nights are the perfect time to don your winter layers and cozy up on the mismatched lawn furniture, especially for Thursdays' eclectic Jazz in the Jungle series ($15 cover).
View this post on Instagram
5. Sample spiced ciders and meads at Ceiba
Stop by this intimate Westchester winery to try out a variety of Miami-inspired meads, fruit wines and ciders. Something about the Old World brewing methods and deep, spiced flavor profiles of Ceiba's offerings just scream winter. Still wines on tap include the seasonally flavored 524 with notes of blueberry, tangelo, vanilla and chocolate mead. Bottled meads feature combinations like ginger and cinnamon.
View this post on Instagram
6. Make the obligatory cinnamon bun pilgrimage to Knaus Berry Farm
There's nothing quite like a hot, gooey cinnamon bun from Knaus Berry Farm on a brisk Miami morning. For maximum effect, bundle up, drive down to Homestead and wait in line to take home a dozen of their famed pastries (but definitely eat at least one while they're still fresh). If you'd rather skip the journey, you can now get the rolls delivered in 30 minutes from GoPuff—as long as you manage to order before they're sold out.