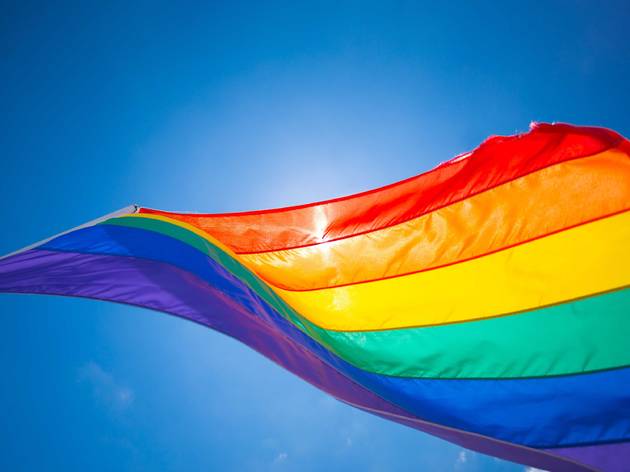 The 6 best LGBTQ+ things in Miami that you can do right now
June is National Pride Month—and we're celebrating virtually!
Posted: Tuesday June 2 2020, 6:55pm
April was supposed to mark the 12th annual Miami Beach Gay Pride—a weeklong celebration of the city's LGBTQ+ community filled with parties, galas and an epic parade down Ocean Drive. Sadly, the shutdown shut it all down. (Can you believe this year would've marked our first-ever death-drop competition, too?)
RECOMMENDED: Pride Worldwide 2020
We get a second go at it this June for LGBT Pride Month, when most of the world's major cities would've hosted their own colorful fêtes. Our worldwide community is joining forces for the first-ever virtual global pride. While you won't see any marches or shablams IRL, in Miami we're choosing to highlight the fabulous people thriving online and their contributions to culture through innovative virtual and socially-distanced creations.
Watch The Real Dragwives of Miami
If you like the Bravo franchise, you'll love this hysterical drag parody starring Miami's most well-known queens. The YouTube series, co-created by Nicholas Pineiro, who also stars in the show as Celia Booze, chronicles the often flashy and always ridiculous lives of these fierce ladies. The first episode and a handful of funny promos (including the tagline, which we won't spoil for you) are up online now.
Party at Hotel Gaythering digitally
The South Beach hot spot Gaythering, where once upon a time hip gays flocked for a good time, takes its programming online. Favorites like karaoke, trivia and bingo are back and streaming live on the internet until we ride this thing out. A full rundown of events can be found here, but do follow @gaythering for the latest.
Check out a drag show online
Karla Croqueta—one of Miami's hardest-working queens—kicked off lockdown with a drag performance on Instagram live. Since then, she's turned the shows into regular, biweekly gigs on The Corner's Instagram, featuring all sorts of special guests performing alongside with her.
View this post on Instagram
Support Miss Toto's online wrestling gigs
Local bodybuilding drag queen Miss Toto takes her talents to new digital fundraising platform Fundi, hosting a wrestling show and fitness session this week for her nearly 18,000 followers. Fundi requires viewers to sign up and pay up before watching—a feature that Miss Toto is fully taking advantage of to raise money for organizations supporting the Black Lives Matter movement.
View this post on Instagram
Join in on a virtual happy hour benefit
Every Friday this month, Pride Collectives live streams highlights from virtual pride celebrations around the world alongside fresh DJ sets, concerts and more festive programming. The two-hour broadcast (5 to 7pm) is free to watch but 100-percent of donations collected during the show will go toward providing pandemic relief.
View this post on Instagram
Hit the town for a good cause
Lips, Fort Lauderdale's famous dinner drag show, reopens on June 25 and it's dedicating its first night back to raising money for its employees. If you're ready to dine out, make it Dinner with the Divas—a themed night of performances by Cher, Pink, Donna Summer and more fabulous ladies.
Want more? Sign up here to stay in the know.
Most popular on Time Out
-This directory details over 100 black-owned Miami businesses to support
-Get excited for discounted dining—Miami Spice is starting two months early
-These Miami malls are reopening, but here's what you should know before you go
-Miami hotels are reopening on June 1—and here's what you can expect
-Masks are now required at Miami restaurants, plus more new dining guidelines you should know
Share the story