The best gay clubs in Miami for hot singles
Our guide to the best gay clubs in Miami for dancing, drag and meeting a cutie or three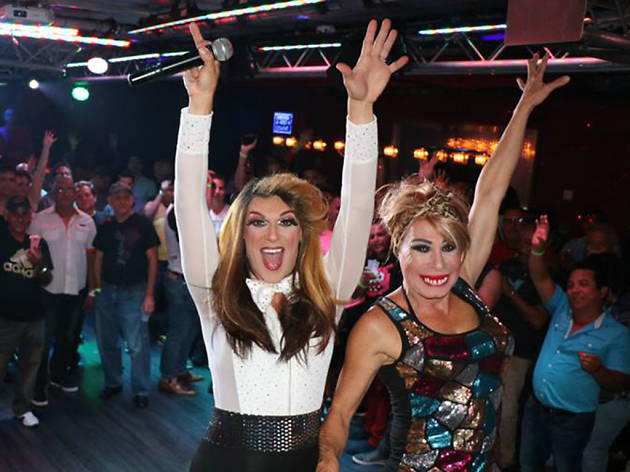 Let's be clear: without the legacy left behind by the best gay clubs in Miami, there would be no Miami nightlife as we know it today. The queer club scene showed this city how to party and each one of the best clubs in Miami, the best clubs in South Beach and even South Beach itself owes a huge thanks to Miami gay culture. And though Miami nightlife has grown more inclusive throughout the years, blurring the lines between gay club and straight club, these spots carry on the best of gay nightlife in the 305.
Best gay clubs in Miami
Twist is one of the most storied gay spots left in Miami Beach, a reliable joint for any gay man to end the night. The multi-floor space has seven bars to choose from. Shirts have a tendency of coming off and Sabroso Thursdays with Sazon Latino showcase Miami gay culture with a Latin flare.
When to go: Thursday nights
Though we had a not-so-tiny panic attack when we learned Palace's original location was going to be shutting down, we quickly recovered when we learned the iconic drag brunch bar was simply moving a few blocks away on Ocean Drive. Now, at 1052 Ocean Drive, you can find the same sidewalk drag shows and gallons of mimosas that started the drag brunch trend in the first place.
When to go: Sunday brunch
Think of Score like a sort of sister club to Twist. Slightly chicer, Score is perfect for chilling, cruising and you are unlikely to ever find the dance floor empty. Score remains a powerhouse of gay party fun, bringing in international DJs who know how to keep things moving.
When to go: Friday nights
Hotel Gaythering's bar is a fab place to start the night off with a cocktail. The chill gay hotel is a great place to meet visitors and get the lay of the land from savvy locals. And, why yes, the vending machines do provide glass dildos and buttplug alongside lemonade.
When to go: Thursday nights
A hotspot during Pride Week, Basement is very LGBT-friendly 365 days a year. You will often find drag queens slaying it over by the rainbow bowling lanes and same-sex couples killing it on the dance floor. Ice skating anyone? Basement has that too.
When to go: Wednesday nights
Broward County might be a bit of a drive, but if you want a taste of South Florida gay culture, you've got to see Wilton Manors, one of the gayest cities in the United States of America. When the sun goes down in Wilton, all restless bodies head to the Manor, the neighborhood's biggest and wildest club that boasts a killer sound system and decor.
When to go: Saturday nights
Nightlife, Clubs
Shenandoah / Silver Bluff
All of our gay options aren't on South Beach. Azucar, just off Coral Way, is a home for Miami's Latin LGBT population. The curious should check out Sunday night's sultry noche de cabaret. It's an art you can appreciate without a translator.
When to go: Sunday nights
If you're looking for a gay-friendly pool party in architecturally stunning surroundings, look no further than the Vagabond Hotel on the first Sunday of the month. The MiMo-style hotel hosts a monthly poolside bash called Vagabundos that draws too many six-pack abs to count.
When to go: Sunday, all day
Photograph: Silvia Ros
So, Club Aqua isn't so much a club—rather an old-school bathhouse. Does that make it any less fun? Hardly. You come here to get just clean enough to get dirty again. But at this secret Coral Way spot you can also jam out on Friday nights to DJs and mingle with barely-dressed singles. This intimate spot first opened its doors '72 at Club Body Center, before many of those who frequent it today were even born.
When to go: Friday nights
Want to find more places to party?
Some of the best things to do in Miami are best done after dark.