The best steakhouses in Miami for hungry carnivores
The best steakhouses in Miami offer thick cuts of fresh beef that'll have the meat-lover in your life drooling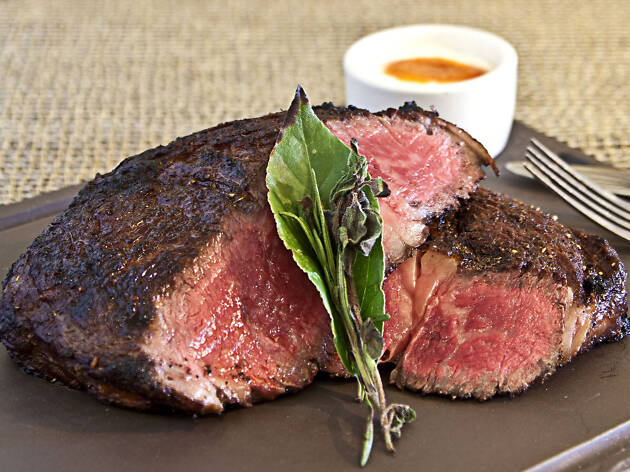 June 2019: No matter how health conscious we are as a city, steakhouses in Miami never go out of fashion. We updated the list and kept all the mainstays save for the Forge, which is temporarily closed for its own refresh. We also introduced a few favorites, including the low-key Fiorito in Little Haiti and the upscale Los Fuegos inside the fabulous Faena Hotel. And because it serves one of our favorites cuts of beef in the city, we introduced Time Out Market's Leña. It's not traditional, but it hits all the right notes for meat lovers.
We tend to think about the best steakhouses in Miami whenever a special occasion rolls around. Birthdays, graduation, anniversaries—they call for something a bit more extravagant than the best tacos in Miami. There's something about the steakhouse that just makes us feel all tingly with anticipation. It's an American tradition that plenty of places do just superb in the Magic City. Of course, this being Miami, our steakhouses tend to have a flare to them. Some are flashy and modern, housed in the best hotels in Miami. Others are old school and have been around for decades. But, they all have one thing in common: they're delicious.
The best of the city under one roof
What is it? While not a proper steakhouse by most accounts, Ariete's little sister ticks off all the boxes of what we look for in a steak joint: fire-grilled meats, starchy sides and portions that make us want to take a nap after consuming.
Why go? Leña serves something called pastrami short rib, a Flinstone-sized slab of beef that takes nine days to brine and nine hours to cook. Oh, and there's flan. Good luck finding flan somewhere more traditional.
Best steakhouses in Miami
Meat not your thing?
Plant-based eaters, these restaurants are for you.