The 11 best Miami Airport restaurants to visit before your flight
Hungry at the terminal? Here are the best Miami Airport restaurants to check out before reaching your gate.
If we had to pick between eating on the airplane and packing our own food, we'd take a hard pass on both. There are so many great Miami Airport restaurants that we don't have to choose. Instead of sneaking a slice of Miami's best pizza past security, we can slide right into the terminal outpost of one of Miami's best Cuban restaurants and sit down to a proper meal. Unlike other big-city airports, Miami's is brimming with places to eat and drink, especially American Airlines' Terminal D. And even if what you're craving is more than a few gates over, you can always hop on the free shuttle and scratch the itch before take off.
Miami Airport restaurants
1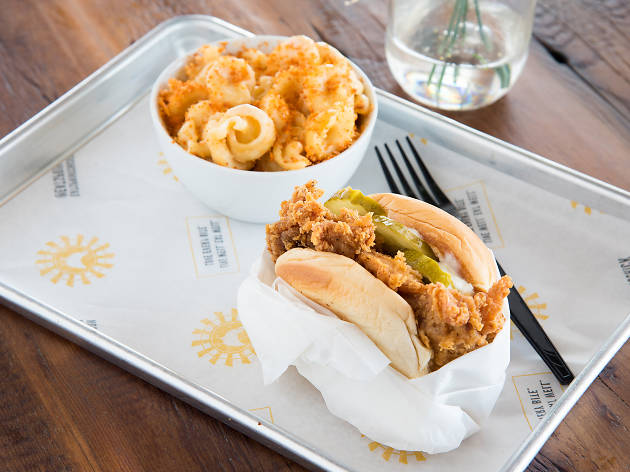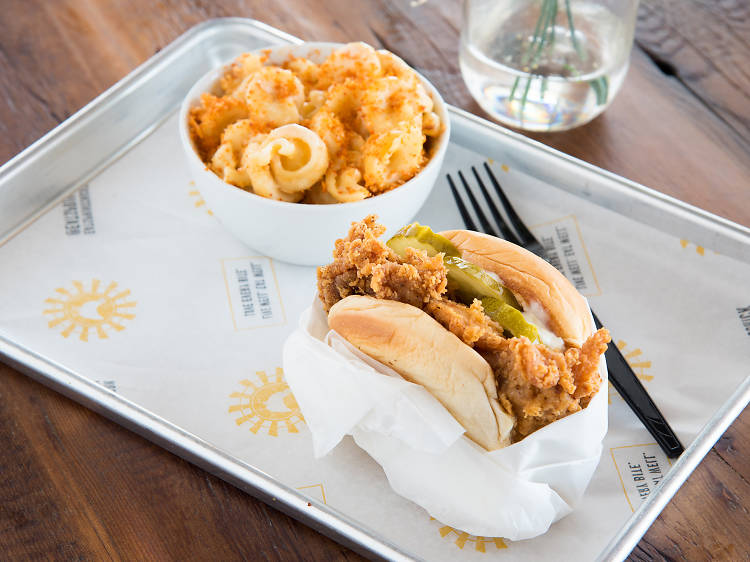 Photograph: Courtesy Spring Chicken/50 Eggs
The popular fast-casual concept from the 50 Eggs group (Swine, Yardbird, Spring Chicken) opened an MIA outpost in April of 2018—and there've been fewer hungover folks roaming terminal D ever since. The menu is nearly identical to its Coral Gables sister, featuring fried chicken, biscuit sandwiches, macaroni and cheese, tater tots and much more. This one serves more than wine and beer, like Yardbird's sweet blackberry bourbon lemonade. Knock a few of these back and say goodbye to any pre-flight jitters. Daily 6am–10pm; terminal D-22.
2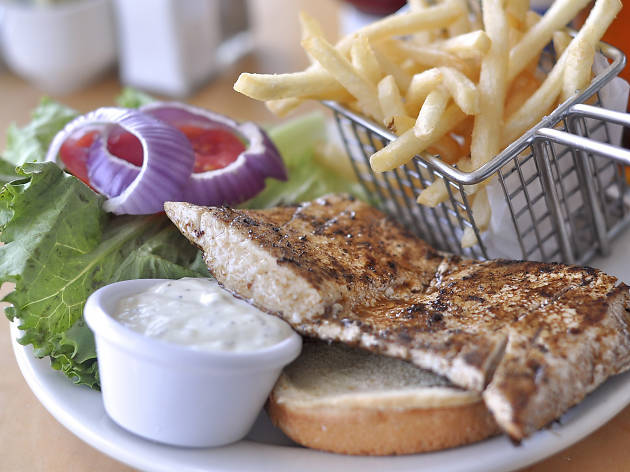 Photograph: Courtesy CC/Flickr/James
Like a cool, Florida Keys fish shack, this place serves baskets of fried seafood, grilled fish sandwiches and more island-style dishes. The laid-back spot also features burgers, ribs and even steak to complement the assortment of cocktails, craft beers and wine on the menu. Find it near the rocking chairs at the edge of the terminal. Daily 5am–11pm; terminal D-4.
3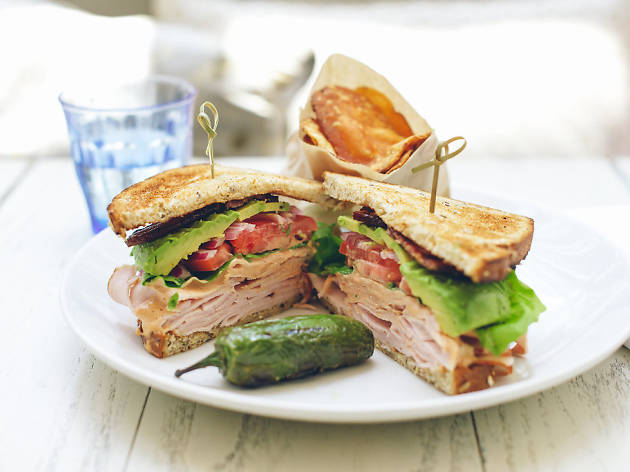 Photograph: Courtesy Icebox Cafe
Save your calories for vacation. Icebox Cafe offers all sorts of healthy grab-and-go items, including sandwiches, salads, charcuterie and cheese platters and fresh juices. Travelers with a few minutes to spare should try one of the specialty items like the curried chicken breast or a hearty breakfast scramble (only available in the AM). Fans of the Sunset Harbour restaurant's famous layered cakes will be happy to find the assortment of fresh-baked desserts that made it past security. Dialy 6am–10pm; terminal D-8.
4
Photograph: Courtesy Yelp/Shula's Bar & Grill
Open early as well as late, depending on MIA's ever-changing flight schedules, this airport outpost of one of Miami's longest-standing steakhouses is your best bet for something substantial between trips. Feast on wings, six kinds of burgers, a handful of sandwich options and even surf and turf. Yes, you can get decent steak when you fly. Various hours; terminal D-17.
5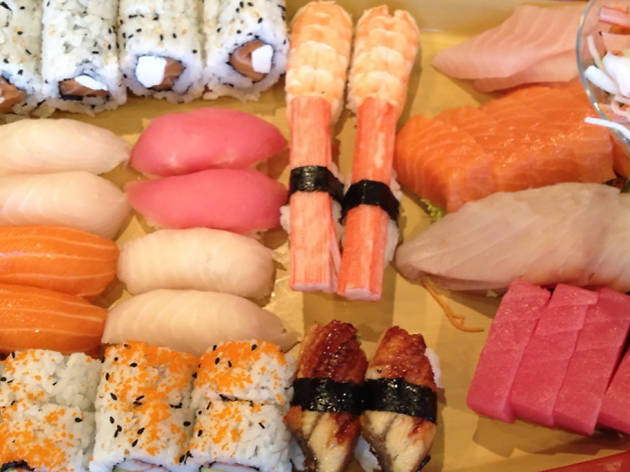 Photograph: Courtesy CC/Flickr/David Berkowitz
Boasting five restaurants plus outposts across South Florida Whole Foods, the major local universities and now at the airport, this Miami-based chain keeps the city swimming in sushi. Pick up trays of its most popular rolls, as well as salads and poké bowls at terminal D. This one serves a standard breakfast, like scrambles and sandwiches sans raw fish. Daily 5am–10pm; terminal D-29.
6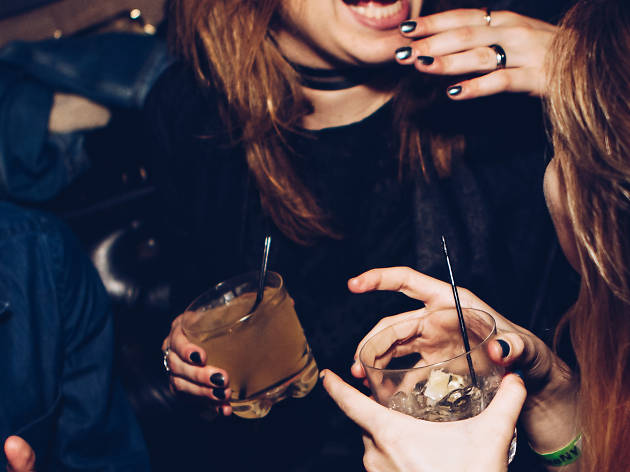 Photograph: Unsplash/Michael Discenza
Located near MIA's gate D-36, TGI Fridays offers weary travelers a place to eat, drink and sort of relax—it's just as rowdy as the Fridays you find in the wild. The restaurant, open since 2011, serves a full menu, from ribs and burgers to salads, and beer, wine and cocktails. Daily 6:30am–10:30pm; terminal D-36.
7
Cuban food dominates the restaurant scene at MIA, and here's yet another option for Cubanos, arroz con pollo and the like. It's more expensive than Versailles or La Carreta—breakfast will run you about $20 per person—but Ku-Va features a greater selection of entrees, like masitas de puerco and ropa vieja, and will not turn you away for ordering rice and beans before an early morning flight. The abuela dummy near the hostess stand is especially creepy after a few mojitos, which you can get here, too. Daily 6am–11pm; terminal D.
8
Photograph: Courtesy Yelp/Earl G.
We love this place for its massive breakfast buffet, where you can load up on scrambled eggs, grits, bacon, buttery Cuban toast and so much more. Though you won't go hungry if you visit after the morning rush. La Carreta MIA offers the same quality Cuban food available at its other Miami restaurants, so expect to find oversize portions of rice, beans, stewed meats and more. Daily 5:30am–10:30pm; terminal D-37.
9
Photograph: Courtesy Yelp/Richard L.
Pretend for a minute that you're still sprawled out under an umbrella in South Beach. Now snap back to reality and get yourself one of those giant Corona margaritas you had on Ocean Drive before your Miami vacation is actually over. This casual spot serves its namesake beer, frozen cocktails and a variety of Baja-style eats—think tacos, flautas, guac and more. Daily 6:30am–10pm; terminal D-23.
10
Photograph: Courtesy Yelp/Madison C.
If someone blindfolded you and brought you here, you might not think this Irish pub was located in a busy terminal. But it is, and it serves truffle fries! Fancy potatoes aside, the burgers, sandwiches and soups are also pretty decent here. There are a number of TVs throughout, making this a popular spot when the game's on. Daily 6am–midnight; terminal D-30.
11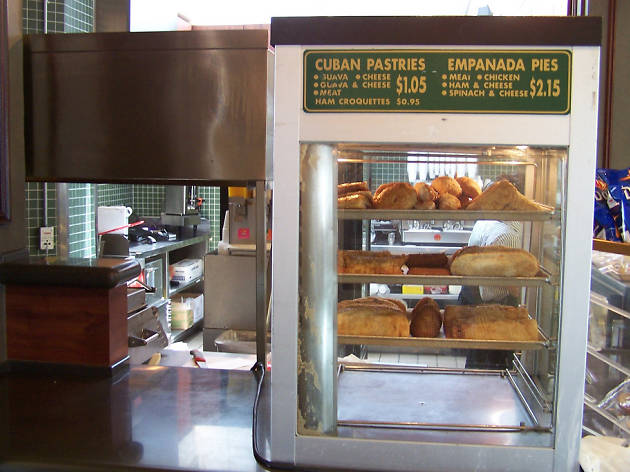 Photograph: Courtesy CC/Flickr/Chris Gebert
Your favorite Calle Ocho ventanita pops up three times in terminal D, slinging cafecito, pastelitos, croquetas, ready-made Cubanos and more Little Havana specialties. If you spot a long line and a warmer filled with pastries, you know you've reached Versailles. Daily 5am–midnight; terminal D.