Little Havana neighborhood guide
Get to know Miami's famed Cuban neighborhood, Little Havana, with our guide to the best restaurant, bars, shops and sightseeing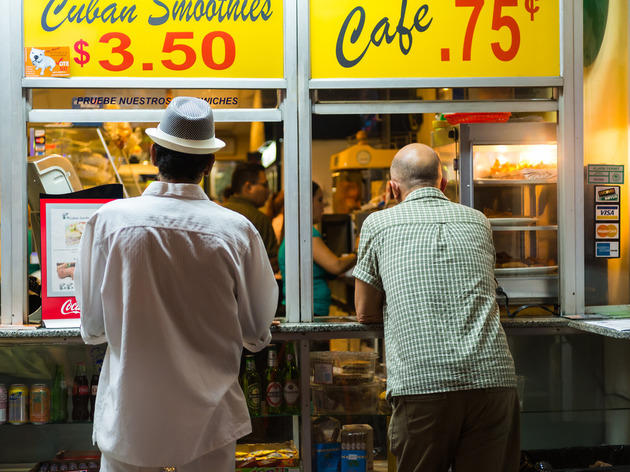 To experience the sights, sounds and smells of classic Miami, there's no better place than Little Havana (aka La Pequeña Habana). Miami Cubans take great pride in this neighborhood just west of Downtown—even if the majority don't live there.

SW 8th Street (commonly known as Calle Ocho), the neighborhood's main drag, and the surrounding area are a testament to the American dream pursued by the hundreds of thousands of Cubans who fled to Miami after Fidel Castro came to power in 1959. Vestiges of the lives they left behind are evident in the many Mediterranean-style coral rock and stucco houses—complete with cane rocking chairs on their pastel-painted front porches—reminiscent of Havana's Vedado and Miramar neighborhoods.

Memorial Boulevard
Most of Little Havana's major "sights" are in the historical district between SW 12th and SW 17th Avenues, on and off Calle Ocho. Where Memorial Boulevard meets SW 13th Avenue is the Brigade 2506 Memorial, an eternal flame that burns in memory of those killed in the disastrous Bay of Pigs invasion.

As you walk down the boulevard, you can't miss the large ceiba tree right in the center. Practitioners of the Santería religion consider it sacred, leaving offerings of chicken bones and cloth bundles for their deities. Local botánicas are stores catering to Santería followers, selling religious articles, oils and candles and offering spiritualist readings by the local santero.

Calle Ocho
Most of the early Cuban exiles have now moved on, but some of their children and grandchildren, particularly those with an artistic bent, have been seduced by the faded charm and cheap prices of the neighbourhood and have started to return.

The stretch of Calle Ocho from SW 12th to 16th Avenues is particularly vibrant, with the air of rich tobacco wafting from new cigar shops, and Cuban music coming from the open doors of Latin record stores. Although you can't buy an authentic Cuban cigar in the US, Little Havana's tobacco factories sell handmade cigars, many with tobacco grown from Cuban seed.

At the corner of SW 14th Avenue, the combined clatter of clacking domino tiles and Spanish chatter announces Máximo Gómez Park. Cuban retirees have been gathering on this corner to play dominoes and drink coffee for decades; it was designated a city park in 1976 and is popularly called Domino Park. The Tower Theater (1508 SW 8th Street, at SW 15th Avenue), half a block west of the park, was the only movie theater in Miami to show English-language films with Spanish subtitles in Little Havana's heyday. These days it is Miami's only theater dedicated exclusively to foreign language films.

As you walk up and down SW 8th Street, you'll notice that the sidewalk is marked with pink marble stars, making up the Calle Ocho Walk of Fame. This Little Havana version of the Hollywood attraction began as a way to recognise Cuban celebrities. Cuba's most famous salsa singer, Celia Cruz, who died in 2003, was the first to be immortalised in 1987, and since then singers and soap stars from all over Latin America have been honored. For a look at another Cuban-American drama, pay a visit to the Bay of Pigs Museum.

A 15-minute ride from central Little Havana (take the no 8 bus), is the neighborhood's most famous culinary landmark, Versailles (3555 SW 8th Street). This huge, mirror-lined restaurant is packed with loud families on weekends, and during the day older Cuban men hang around the coffee counter outside and talk (Cuban) politics. The food may not be anything special, but, like the rest of Little Havana, at its best this kitschy Cuban exile stalwart is truly memorable.
Things to do in Little Havana
This museum has a small but interesting collection of ephemera and memorabilia relating to the failed Bay of Pigs invasion of 1961, when a small brigade of Cuban exiles in Miami was trained by the CIA as part of a covert operation to invade the island and restore US interests. But the 1,300-strong force, known as Brigade 2506, was met by the Cuban army soon after landing at the Bahía de Cochinos (Bay of Pigs). Almost 100 were killed and the rest—including the father of pop singer Gloria Estefan—were taken prisoner. Perhaps the most notable exhibit is a Brigade 2506 flag held up by President John F Kennedy during a speech at the Orange Bowl in 1962, welcoming the survivors back to Miami.
Read more
Greyhound racing has been popular in Florida since the 1930s. Gambling enthusiasts still flock to the tracks; they also offer year-round poker and simulcasts of pari-mutuels. The Flagler Dog Track is one of the most venerable such institutions in the city, hosting comedy shows and other special events alongside the races.
Read more
More things to do in Little Havana