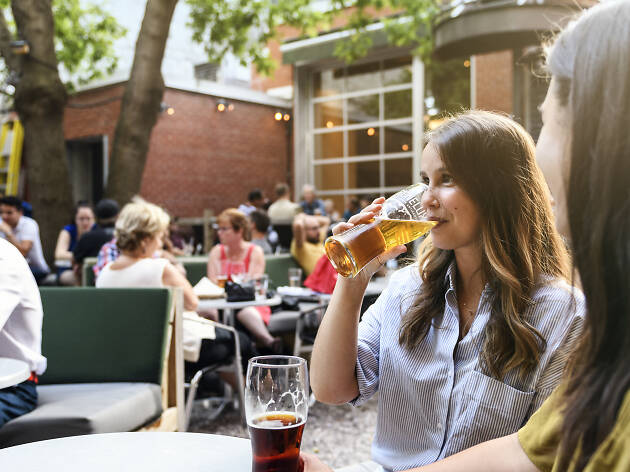 The best beer in Montreal
Look no further than these bars, breweries and taprooms located across the city where you can drink Montreal's best beer
It's true that the city has its French connection to the great traditions of drinking at fine wine bars and cooking French food in its best restaurants. When it comes to the best beer however, Montreal's bars are in a class of their own—especially when followed up with the best poutine. Visit any neighbourhood and you won't be far from a frosty, delicious pint, often brewed just a few feet away from the tables. Pull up a stool, make yourself comfortable and enjoy the bars with Montreal's best beer.
RECOMMENDED: Full guide to the best bars in Montreal
Best beer in Montreal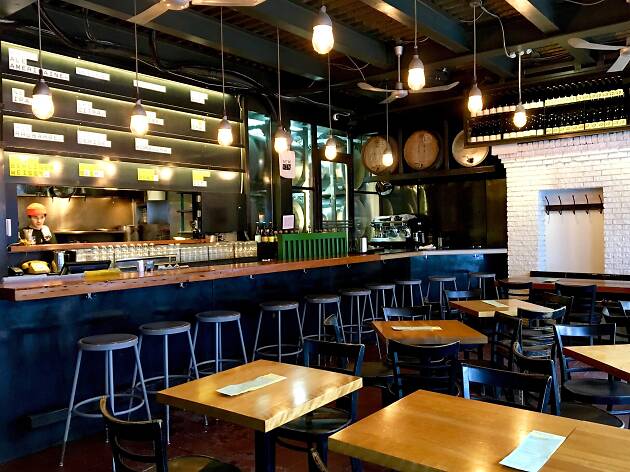 Photograph: Courtesy Réservoir
An old brewpub classic of the Plateau streamlined with modern decor, this bar's in-house beers and limited collaborations with guest brewers are masterfully made. Be sure to try the food by one of Montreal's most sought-after chefs here , Marc-Alexandre Mercier of the gone-but-not-forgotten Hôtel Herman. The pilsner here's is a go-to all year round, but picture yourself chilling on the rooftop terrace watching the world go by with a cold pint of their grapefruit IPA in hand. Now that's summer.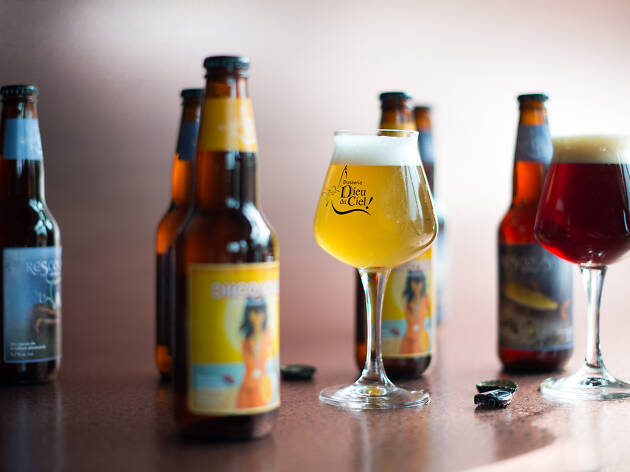 Photograph: Samuel Joubert
Veteran craft brewery Dieu du Ciel! is one of Montreal's most iconic and revered breweries that's been hard at it for over two decades. Order the 20 consistently rotating beers on tap by the pint or tasting tray, or choose from the highly curated list of bottles either made in-house or imported from some of the world's finest breweries. Sure, you can find their beer in corner stores all over the city, but nothing beats a pint right from the source.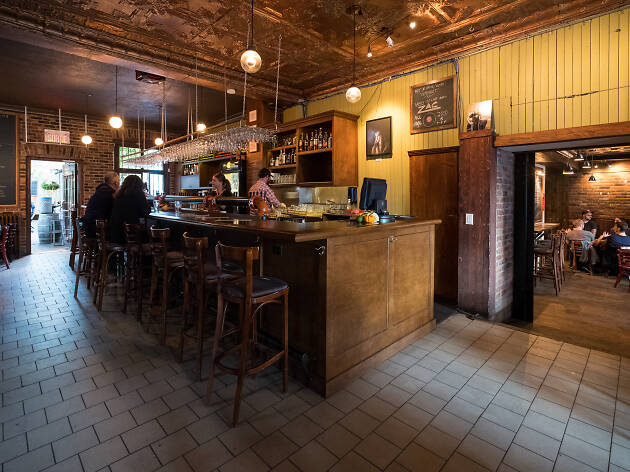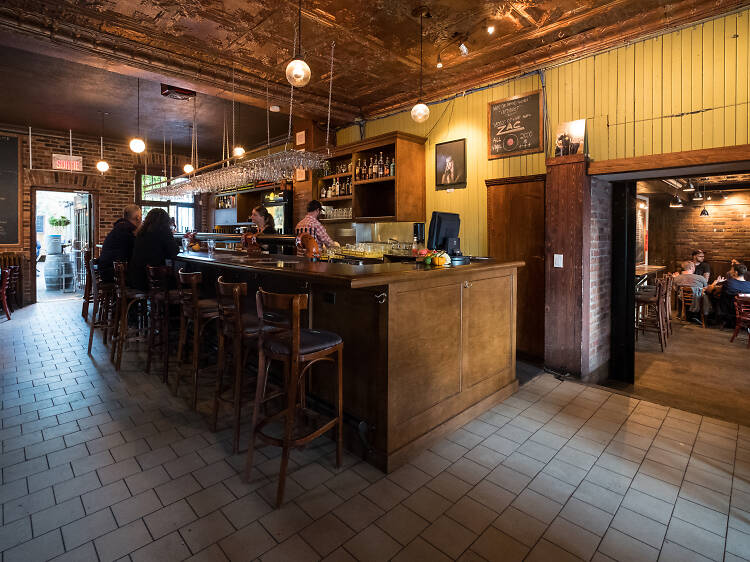 Photograph: Olivier Bourget
This one's the city's clubhouse for beer nerds. With 40 craft brews on tap that change every day, this is where you come to taste the best of what the province—and the world—has to offer. For the past 15 years, Vices & Versa has been Montreal's house of hops, frequently being the proving grounds for up and coming breweries and a point of access to rare and highly sought-after suds from the likes of Cantillon and Evil Twin.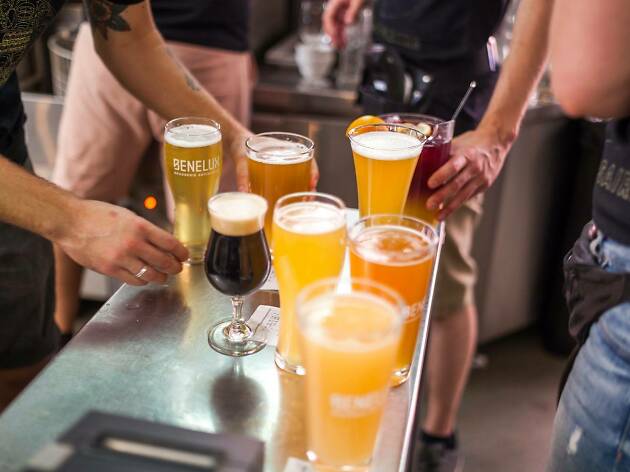 Photograph: Courtesy Benelux
The amalgamated name for Belgium, the Netherlands and Luxembourg, this brewpub with locations in downtown and Verdun focuses on the styles of beer hailing from its namesake countries. Grab a hotdog from the kitchen and wash it down with a pint from the dozen house-brewed beers available on tap. The Sherbrooke location is popular with a McGill University student crowd, so expect it to be packed on weekends. Due to the popularity of that location, you might be better served at the more spacious spot in Verdun.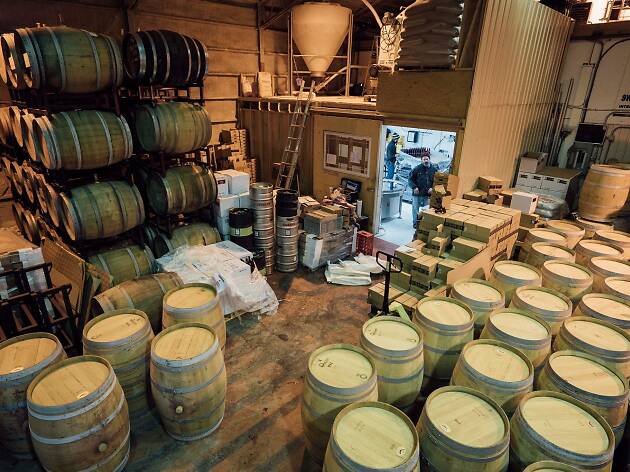 Photograph: Courtesy Brasserie Dunham
Take a trip outside the city to Dunham where you'll find one of Quebec's most celebrated breweries. Best known for their bottles and wild labels, Brasserie Dunham is the kind of experimental brewery that makes some of the most innovative beers you're likely to ever taste. Props go to a sour foeder-fermented grisette brewed with plums called the Funk Royale and the Vini Viti Vici, a collaboration with beers aged on the lees of grapes from various Quebec winemakers. Open since 2001, Dunham has been brewing some of the region's best brews in styles that suggest nothing is off-limits.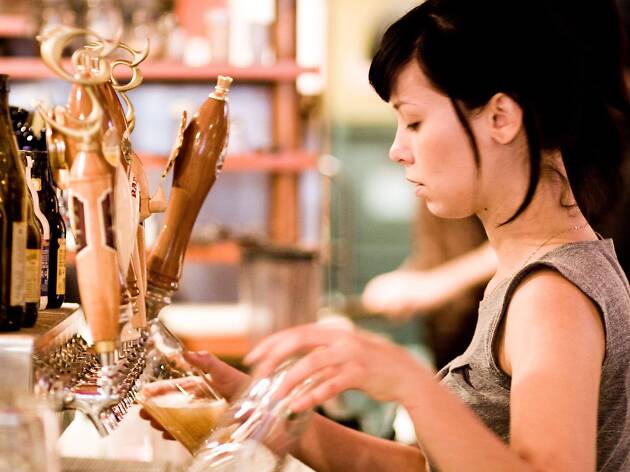 Photograph: Courtesy Le Saint-Bock - Brasserie Artisanale
This ultra-popular Latin Quarter brewpub is a classic of the genre. While the décor might be a little lacklustre, it's the 40 plus beers on tap—many of which are brewed on site—that keep the bar full night after night. Settle into a nice hoppy New England IPA, or if you're after something with even more funk, don't shy away from Malédiction framboise, a milk stout blended with raspberry purée. Check in for regular tap takeovers where breweries from all over Canada and beyond come and sling special suds.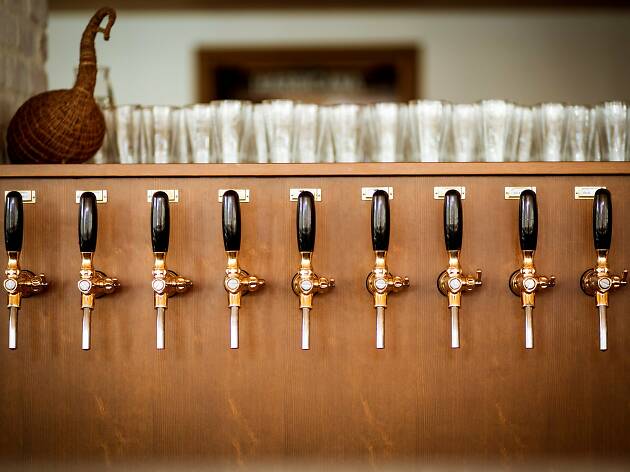 Photograph: Courtesy Brasserie Harricana
It's got all the trappings of a classic tavern with big round wooden tables, roasted chickens served whole and frothy pints of ale, but it's also stylish: Pastel pink leather armchairs, bartenders as polished as the glasses and tasteful kitsch hung on the walls suggests as much. As for the beer? Expect anything from an ultra-classic English bitter to a saké-fermented blonde. Though the bar may seem ultra-modern with its futuristic flux capacitor carbonation system, the brewery takes its roots and name from owner Marie-Pier Veilleux's small town family brewery that operated from 1975 to 2013.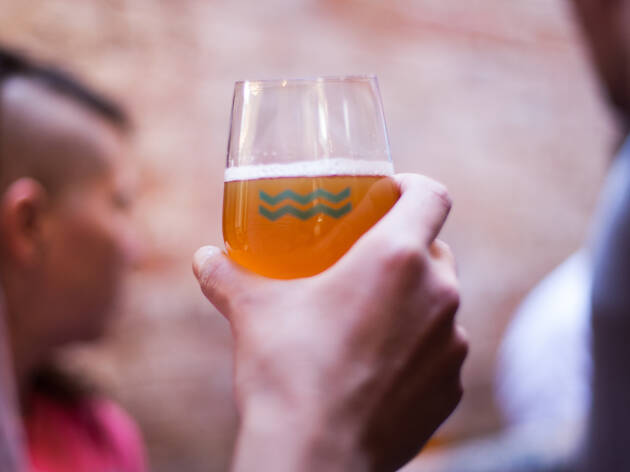 Photograph: Fanny Côté
The 150-seat brasserie opened by six beer fanatics may seem enormous but sitting by the bar on a packed Friday night will feel more like grabbing a pint at the local than at one of the city's most vibrant breweries. The two dozen taps are loaded with rotating brews made in-house and across the province with a strict focus on highlighting Quebec breweries. Beer may be the draw here, but the food deserves a mention as well with dishes like ricotta gnocchi and escargot or a Thursday-only burger made from beef aged 60 days.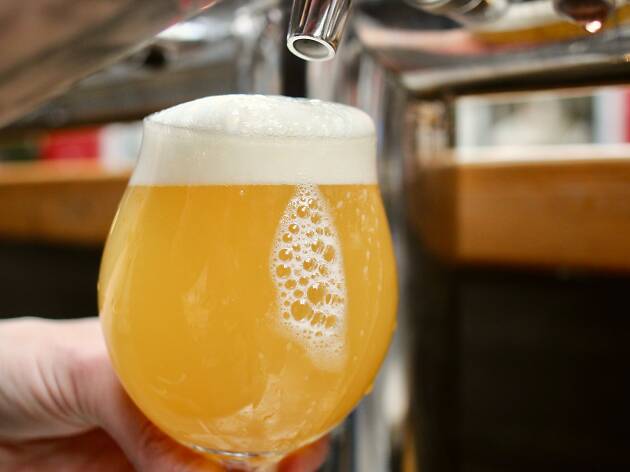 Photograph: Courtesy MaBrasserie
Open seven days a week, this collaborative brewery offers off-site brewing services for some of Montreal's best brewpubs in addition to brewing their own creations. Stop by the tasting room to sample brews made on-site from their 32 taps. For those who brew in their spare time, MaBrasserie will even brew your beer for you, provided you run your recipe by one of their brewers.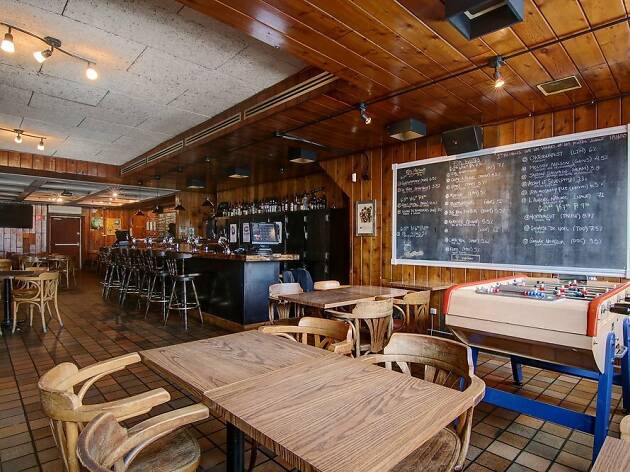 Photograph: Courtesy Yelp/Daniel E.
In their own words, Brouhaha has been a true beer temple since 2008. The Rosemont gem pours tap house classics and homemade concoctions from 11 a.m. until late from its 24 taps. For beer lovers looking for a comfortable no-frills bar that pours a perfect pint, look no further than this honest gem. Although the original location is hard to beat, the Brouhaha team opened a location in Ahuntsic to serve those looking for a cold one farther north on the island.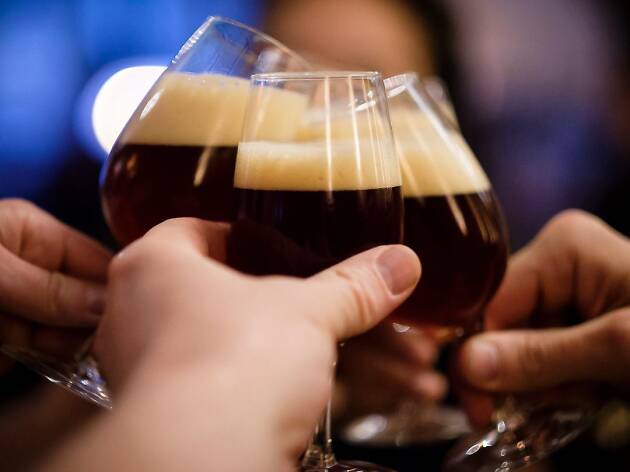 Photograph: Pub Pit Caribou Montréal
11. Microbrasserie Pit Caribou
For the serious beer drinker with refined taste, look to this is Montreal outpost of the infamous Gaspésienne brewery, considered one of the best in North America. The pub offers 24 taps with some of the finest beers in the world, including the Brown Ale Américaine which garnered a gold medal at the World Beer Awards. Those looking for something extra special should check out their selection of small batch and rare bottle-only brews, some of which are spontaneously fermented or aged for prolonged periods in whiskey casks.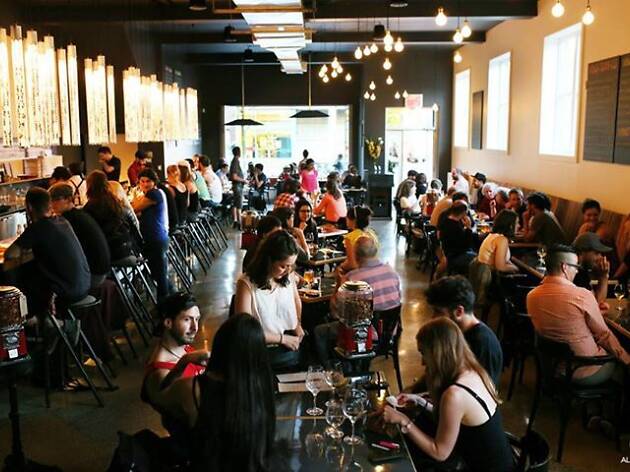 Photograph: Courtesy Yïsst
The 24 taps here feature all kinds of Quebec producers, but focus primarily on small scale brewers located within the city's limits like Brasserie Oshlag and Avante-Garde. They're also pouring pints of their own that are made in collaboration with sister brewery La Succursale. Bonus points go to how this bar strives to offer snacks that are as interesting as the fine beers they serve. We recommend ordering up a pint of La Funk et La Furie from Brasserie Avante-Garde, paired with a bowl of their Californian ranch party mix.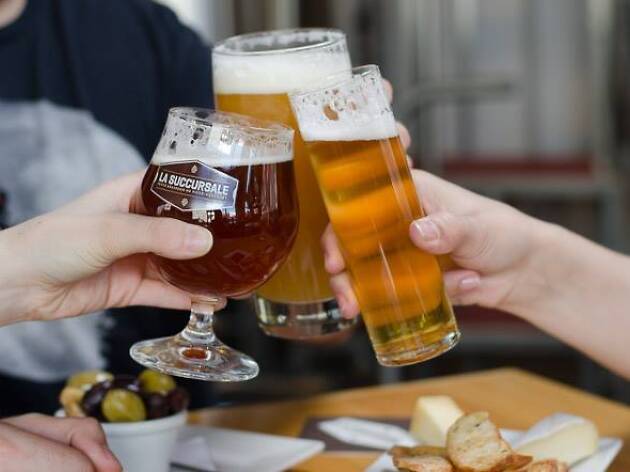 Photograph: Courtesy Brasserie artisanale La Succursale
This Vieux-Rosemont pub is for classic beer lovers. Anyone looking for a well-made beer devoid of any funk—brews more akin to the mainstream than science experiments—should head here to knock back a refreshing kölsch or hearty English Ale. For the truly curious, the brewery is enclosed in glass, allowing patrons a full view of the brewing process. Grab a pint and watch what's in your glass get made.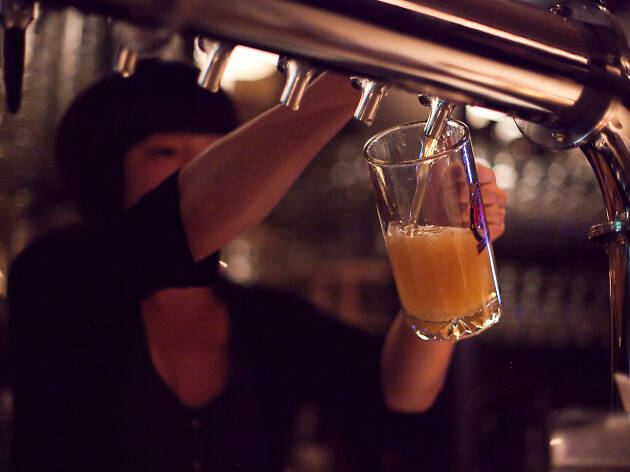 Photograph: Bistro Brasserie Les Soeurs Grises
Drinking in a former convent may feel sinful, but this spot takes its name from a group of 18th century women who illegally sold black market booze to the French aristocracy, who eventually went on to form the religious order of Les Soeurs Grises. With that in mind, there's no shame in enjoying one of their 10 homebrewed tipples in good faith. Feeling peckish? The kitchen is equipped with an industrial smoker that churns out some especially delicious pork-ribs as well.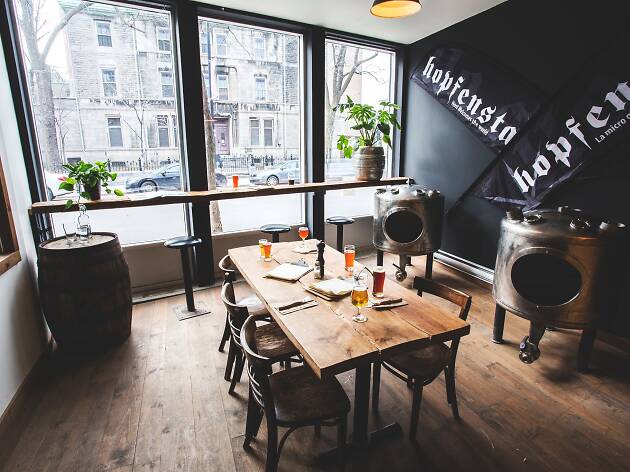 Photograph: Station Ho.st
Although the beer may not be brewed on site, Station Ho.st is the flagship bar and first point of access to its parent brewery Hopfenstark, which has been making fine Quebecois brews since 2006. Touted as Quebec beer with flavours of the world, Ho.st's 25 taps pour a mix of Hopfenstark classics such as Station 16, a spiced farmhouse ale and beers from some of the most beloved brasseries from across the province.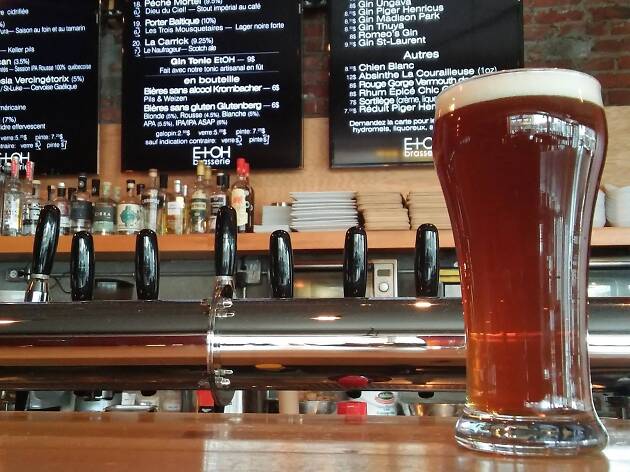 Photograph: EtOH Brasserie
A space dedicated to one of the world's finest alcoholic beverages, EtOH takes its name from the scientific shorthand for the "ethyl" and "hydroxyl" properties of grain alcohol. 20 beers here are available on tap but you won't find them divided by style. Instead, the list separates beers by their optimal service temperature, and they offer flights that allow you to taste their beers exactly as they were meant to be served. Really liked something you tried? Bring it home with you, as this bar offers growlers filled on premises and available to go.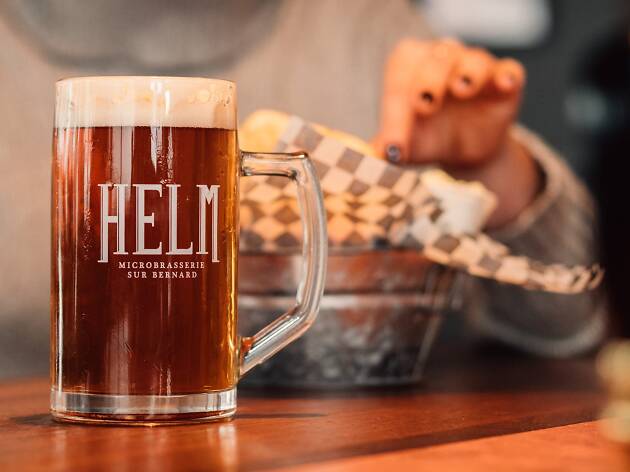 Photograph: HELM microbrasserie sur Bernard
This Mile End staple is a neighbourhood favourite for craft beer. Its name is an acronym for the French words for hops, water, yeast and malt, the four indispensable ingredients for brewing beer. Helm's 10 brewed-on-site beers stay close to home as they focus on using Quebec-grown ingredients, and the beers themselves offer a crash-course in Mile End geography by being named after different nearby streets. A local watering hole in the truest sense.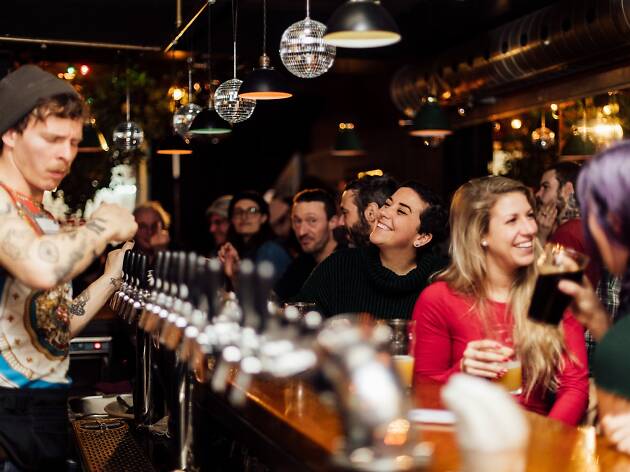 Photograph: Katya Konioukhova
Sort of like Hochelaga-Maisonneuve's town square, this address is more than just a bar. It's also a brewery and a meeting place for people from around the community. With a strong focus on light and easy beers with a bias toward the ultra-refreshing sour varieties, you can be sure that beers here will keep the conversation rolling with ease. Far more than just a one-note brewery, while their sours may be the most well-known, the brewpub features a number of clever, inventive and unusual creations: Our favourite's the Tusmami, a saison brewed with seaweed and green tea.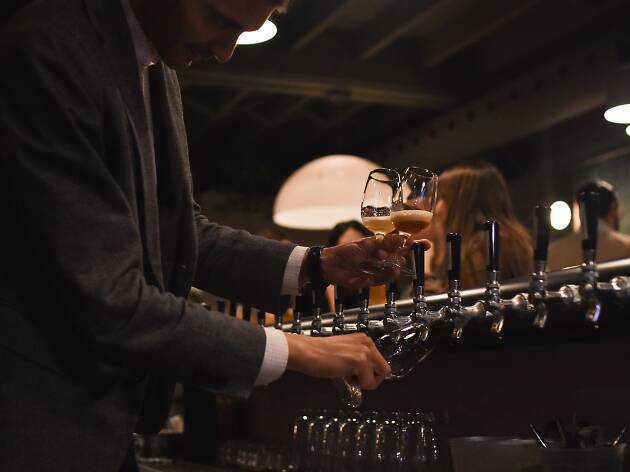 Photograph: Phil Nadeau
A vibrant and polished spot on the craft beer scene, this is the confluence of a bar and a restaurant unlike any other in town. On the bar side there's principles from the popular tiki bar Le Mal Necessaire, and in the kitchen there's chef Pelo Brisson-Tsavoussis of Joe Beef, all forming the team behind this wonderful beer bar. The menu's a gallery of the range of styles found among breweries from within the city and reaching as far as the Gaspésie. Don't miss the kitchen's wood-fired oven churning out Caribbean-inspired fare with international twists.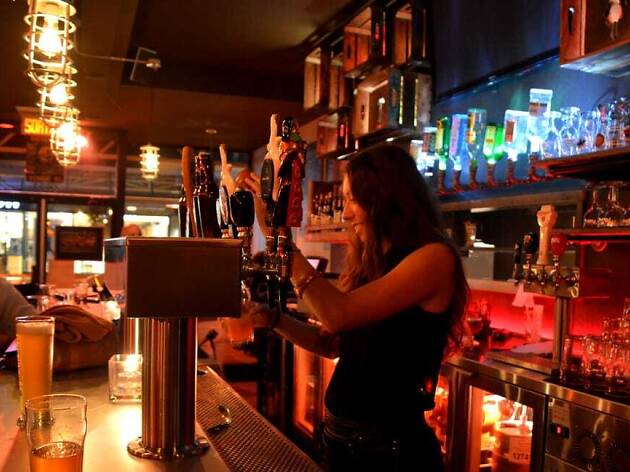 Photograph: Courtesy Yelp/Le Vestiare
For a night out on the plaza, hit Bar le Vestiaire. While it's not the most polished bar in the city, it's certainly one of the liveliest. Although many fine Quebec beers are poured on tap, it's the private import Belgian stuff that sets this bar apart. Grab a bottle or two of the 3 Fonteinen Oude Geuze and work up the courage to belt out a drunken rendition of Piano Man on their karaoke nights.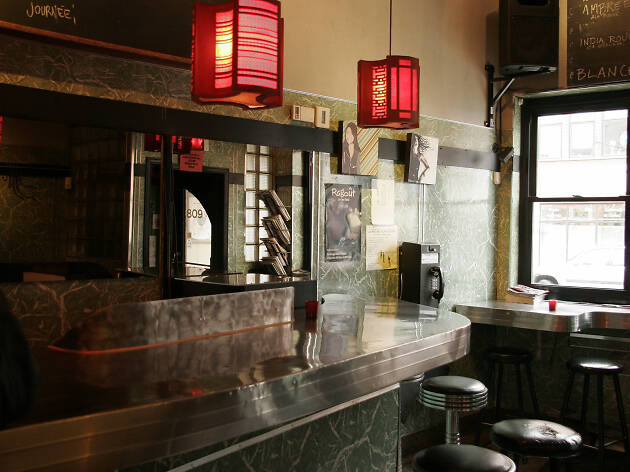 Photograph: Marco Campanozzi
The Belgian style white beer from this bar's one of the most iconic craft beers in Quebec. A Latin Quarter brewery that's been in operation since 1987, it's also one of Quebec's oldest craft breweries. The beer they make is available in every corner store across the city, but the beer brewed at this bar's only available for on-site consumption. Nothing speaks to the old French expression "le plus près la plus fraîche" (the closer the fresher) more than a pint of classic brew, straight from the horse's... tap.
Still thirsty?
From jungle-inspired tiki dens to classics served up in Victorian mansions, there's more than enough to go around, so there's no reason to settle for a bad drink. The top mixology of Montreal cocktail bars offers up the classy and the classic in hotels, speakeasy bars and more.