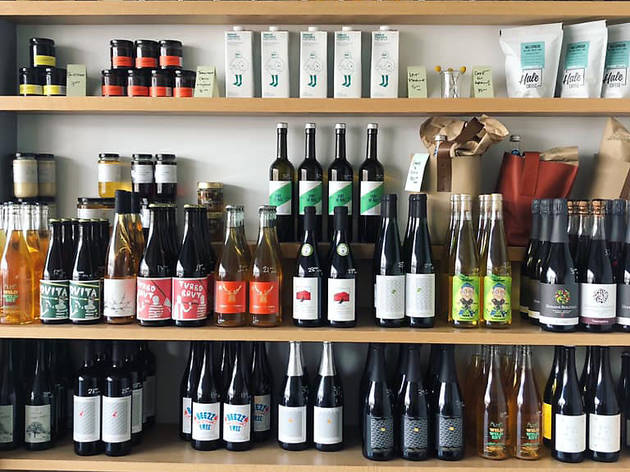 Looking for groceries? Get them from these Montreal restaurants turning into dépanneurs
Posted: Friday March 27 2020, 3:32p.m.
If you're thinking of visiting any grocery stores in Montreal right now, you're probably worried about fighting over the last bag of flour or can of beans. Instead of looking to stock up there as you continue to spend Time In, why not fill your pantries and fridges with proteins, produce, ready-to-eat meals, bottles of wine and more from some of Montreal's best restaurants?
Premier Legault asked that all non-essential businesses close up shop on March 23rd, and that meant that restaurants could only feed people in the form of takeout and delivery in Montreal. There's a lot of good food out there to eat à la minute, but a lot of restaurants are also pivoting to taking inventory—sourced from a lot of the best farmers' markets in Montreal—and selling it to the public. This is high grade stuff you won't be finding at any big box outlets.
If you choose to grab groceries from one of these restaurants, you'll be supporting more than one restaurant or one farmer; every dollar goes around, and in some cases it support multiple restaurants. Toqué!, for example, includes operations like the flagship, Laprise's new restaurant Beaumont and places like Brasserie T!. There's also Martin Picard's Au Pied de Cochon, whose operations include the famous sugar shack and Cabane d'à Côté. Here are the details:
If you don't know, now you know: Au Pied de Cochon has developed a lot of products in the time the popularity of the brand has increased. That means there are—of course—a lot of cans of maple syrup worth picking up for your pouding chômeur recipes, but things like terrine, cretons and freshly baked bread are available too alongside wines and ciders. This is where you want to go for a one-stop-shop of all your Quebec classic repasts.
At their latest operation Beau Mont, chef Normand Laprise has been working with his operational teams to offer up takeout menus in addition to a range of Quebecois products that you'll be hard-pressed to get your hands on elsewhere. This includes a lot for carnivores and vegetarians alike, from a selection of choice proteins (meat and seafood) that are carefully sourced to ready-to-eat pies, soups and more. Don't forget that Laprise has dipped his toes in the wine industry as well, and that means there are a lot of vintages to enjoy as well from their cellar.
One of our favourite restaurants on the eastern side of the island was quick to flip their restaurant into a takeout-only restaurant alongside offering a range of the products they use in their menus for dinner and brunch. Breads and pastries, produce and proteins, fresh pastas; all of it's available in ways that make it easy to pop in and pick up to make dinner at home. Just keep in mind that it's hard to walk in here without picking up some freshly baked croissants. You've been warned (but really, just grab some to heat up with butter in the morning).
Gourmet Portuguese fare, anyone? The restaurant Café Ferreira has moved operations over to its neighbouring Portuguese chicken operation Campo to sell a whole range of ready-to-eat meals. You'll find a lot of goods like braised meats—we're talking melt-in-your-mouth amb and wagyu beef—on the menu right now alongside salads and more. Don't forget operations are in Campo, so that means great grilled chicken and a sturdy booze selection to round it all out.
Get it while it's hot at this Cambodian spot. Les Street Monkeys has become an amazing addition to Verdun's selection of restaurants—and Montreal as a whole—since it opened. Thankfully they've flipped their kitchen to produce a lot of ready-to-go sauces, sous-vide proteins, vegetables and easily cooked brochettes to help tide you over. We won't knock the above restaurants, but knowing we can dip into the aromatic, savory eats of chef Tota Oung in times of self-isolation is pretty reassuring.
We've known Le Butterblume to have a small bespoke grocery side to its amazing restaurant, but with a forced closure on their hands, that means the restaurant has doubled its efforts to feed us all. The building blocks of their fantastic brunch menu—like cauliflower cheesecake or their boudin—is now something you can grab and go, as well as breads, pastries, beers, wines, ciders… even a little bit of reading material.
Share the story