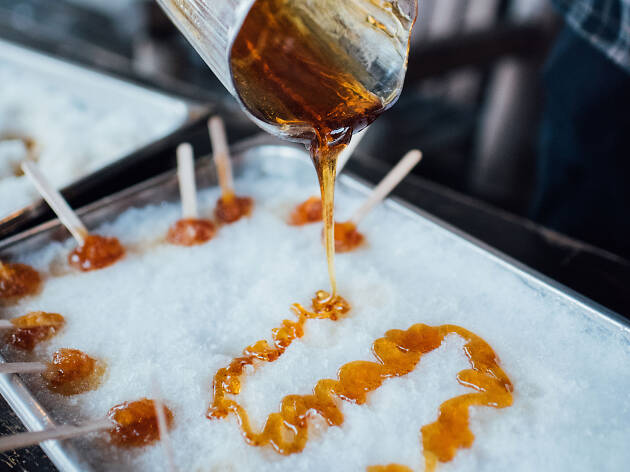 The best sugar shacks Montreal has to explore and enjoy
There's nothing quite like visiting a Montreal sugar shack—few experiences in Québec are as essential as this
If you haven't experienced it, the sugar shacks Montreal offers are an absolutely essential experience. While there are more urban venues offering it, the best way to do it is to explore off-island and bask in the rurality that supports this great city. Nothing beats slipping into the countryside and tasting the local bounty available at the very end of February into late April when spring brings the seasonal opening of the sugar shacks. It's hands-down one of the best things to do in Montreal in winter, one of the best things to do with kids in Montreal and among the top options for day trips from Montreal. Producers throw their doors wide open, offering sleigh-rides, hiking, games, tastings, demonstrations and most importantly, truly decadent maple-based meals that can rival even the best brunch and dinner services found in the city.
RECOMMENDED: Full guide to the best things to do in Montreal
Where to find the best sugar shacks in and around Montreal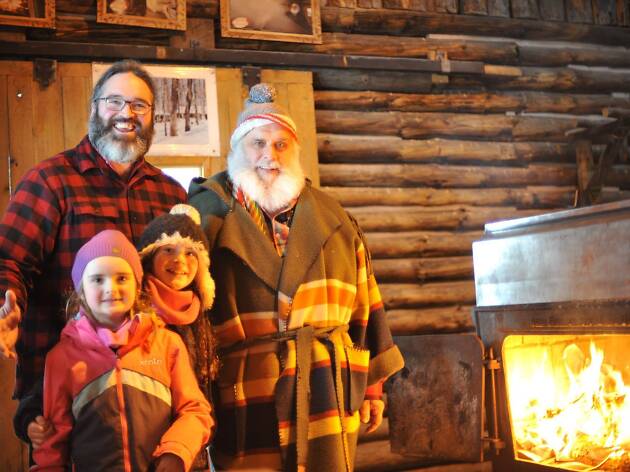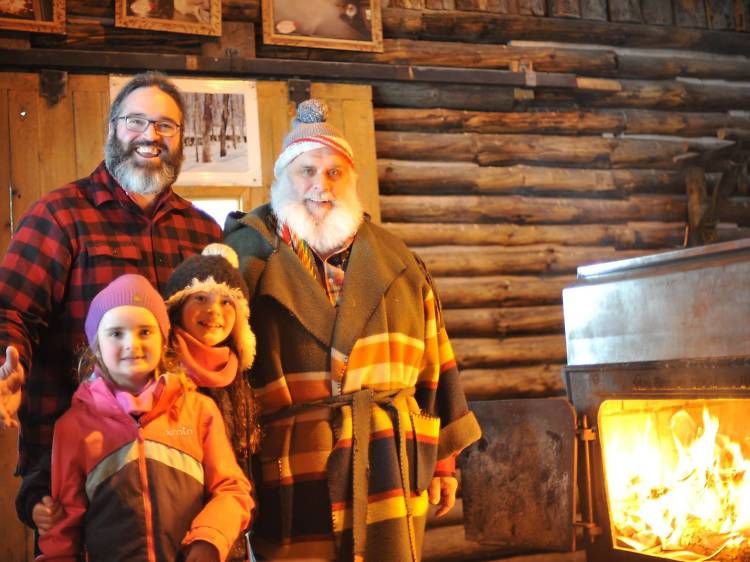 Photograph: @laSucreriedelaMontagne
1. Sucrerie de la Montagne
Off the western tip of the Island, down the Ottawa River in picturesque Rigaud, that's where Sucrerie de la Montagne plies their trade. Resembling a small village lost in time, Sucrerie de la Montagne employs old-fashioned techniques and machinery to produce their famous maple products, lending the entire operation a tangible authenticity. Although everything is made in-house and of extremely high quality, it's certainly their old-fashioned bakery and the bread it produces that somehow manages to generate the most excitement year after year—especially when topped with a generous spoonful of maple butter.
Travel time: 1 hour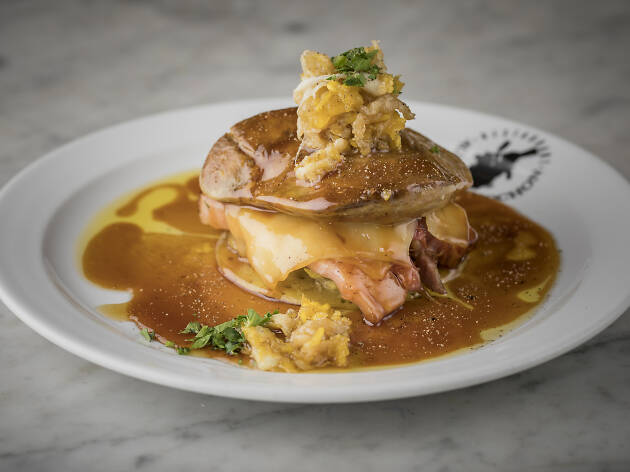 Photograph: André-Olivier Lyra
2. Cabane à Sucre au Pied de Cochon
Unless you've been living under a rock, you've likely heard its name bandied about: The Cabane à Sucre au Pied de Cochon is a mythic temple of gastronomic overindulgence, owned and operated by celebrity chef Matin Picard as a complement to his famed Plateau restaurant Au Pied de Cochon. It may lack the sleigh-rides and petting zoos, but the Cabane à Sucre au Pied de Cochon is all about the food. In addition to hyperbolic examples of traditional Quebecois seasonal fare, the Cabane à Sucre au Pied de Cochon is a cutting-edge food laboratory and a harbinger of exciting future trends.
Travel time: 45 minutes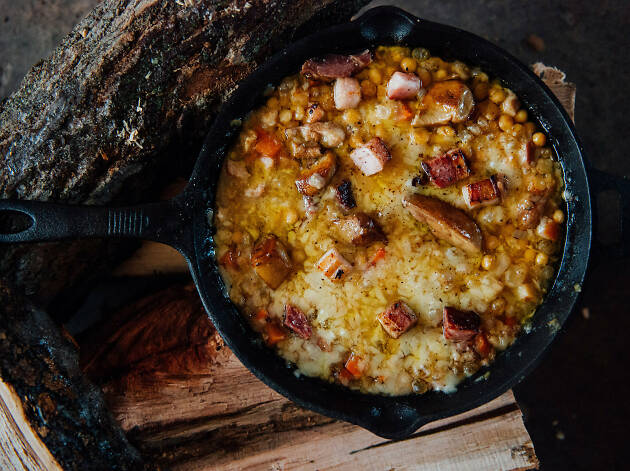 Photograph: Alison Slattery
Next to a scenic orchard of apple, plum and pear trees, Martin Picard and his former sous-chef Vincent Dion-Lavallée opened this cozy 38-seat wood fire-heated space just paces from the Cabane à Sucre au Pied de Cochon. Built with the aim of providing a more traditional, less overtly experimental sugar shack dining experience than that of its sister enterprise, the emphasis remains on quality and locality, with many of the ingredients coming from the property's garden, farms and the woods nearby.
Travel time: 45 minutes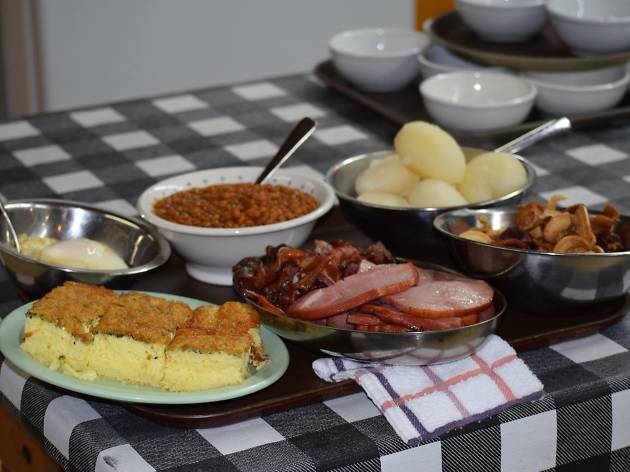 Photograph: L'Hermine Cabane à Sucre / @lhermine3358
4. L'Hermine Cabane à Sucre
On the South Shore in Montérégie, this family-run sugar shack offers the expected nap-inducing meal and has an in-house shop crammed with syrup, candies, fudges, caramels, toffees, pies, jams and more with which to reinforce your pantry. That being said, this particular sugar shack is likely best known for its rentable marriage hall, ideal for couples with a sweet tooth looking to tie the knot in true bucolic splendor.
Travel time: 1 hour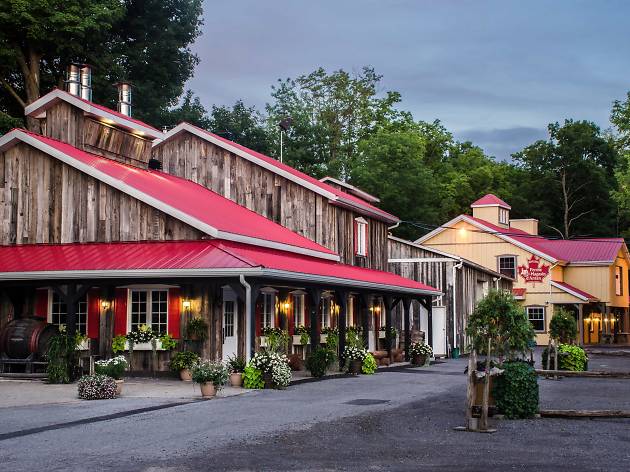 Photograph: Famille Constantin / constantin.ca
The Famille Constantin sugar shack is the perfect remedy for families with restless kids who have saved up a whole winter's worth of pent-up energy. The grounds feature inflatable bouncy castles, puppet shows, a doll museum and a petting zoo for younger children as well as an ATV circuit and an after-dinner dance party for older kids. If all those activities don't knock the kids out, the hearty meal certainly will. A trip will guarantee a peaceful car ride back into town.
Travel time: 40 minutes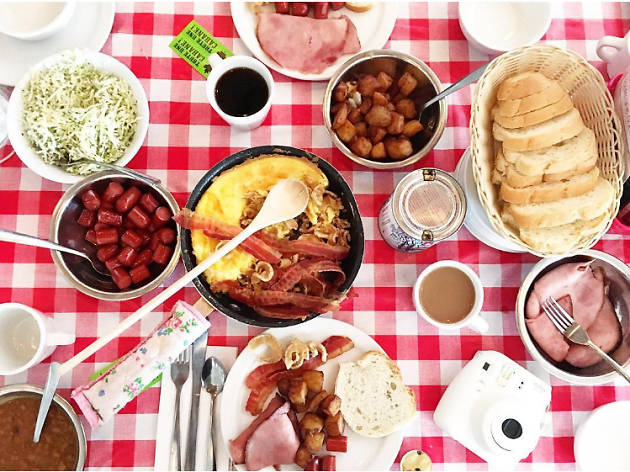 Photograph: Le Chalet des Érables / chaletdeserables.com
A deep-woods sugar shack with miniature train rides, carnival games, a petting zoo and classic maple-taffy tastings, this spot has also—also!—carved a special niche for itself in the crazy world of weddings by providing customizable key-in-hand ceremonies for newlyweds to be. The team at Le Chalet des Érables are experts in the field with in-house caterers and a variety of venues ranging from pristine white chapels to hidden forest glades with capacities ranging from an intimate 50 to a regal 1000, offering idyllic boreal destination weddings without straying too far from home.
Travel time: 40 minutes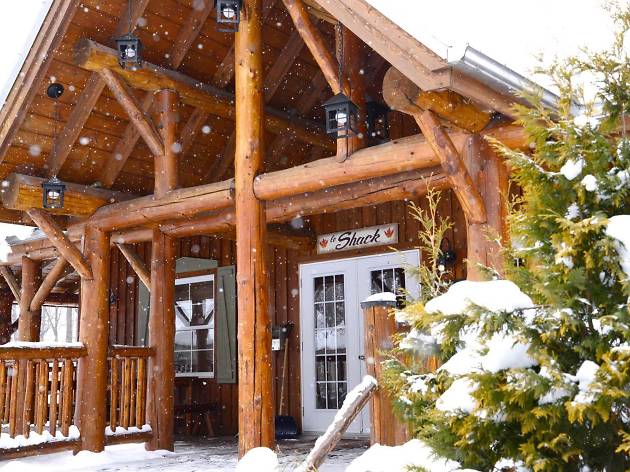 Photograph: Érablière Charbonneau / erablierecharbonneau.qc.ca
The Charbonneau sugar shack is a classic sugar shack with a dangerous all you can eat format. An endless stream of maple house staples issue from the kitchen including pea soup, pork sausages, traditional tourtière, beans, creton and famously, their singular, much lusted-after, oven baked omelettes. If you're making the trip, be sure to arrive hungry.
Travel time: 35 minutes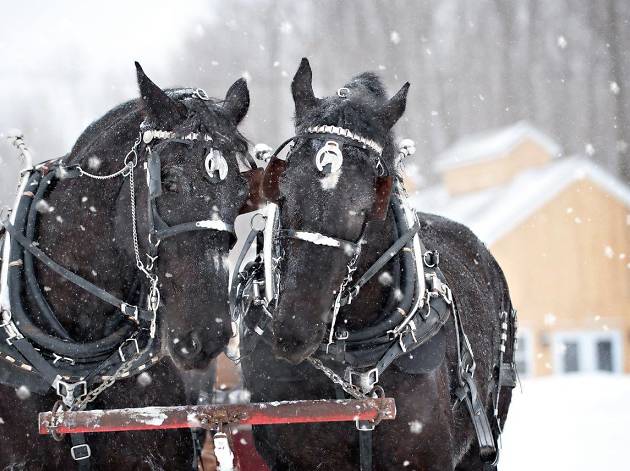 Photograph: Érablière Sous-Bois
This lively sap house is another kid favourite with a petting zoo, makeup artists, caricatures, balloons, sugar toffee tastings, dancing in the evenings and endless music. For adults, there are winding hiking trails through the grounds, full demonstrations of both maple syrup and maple butter production, in-house cider tastings and—of course—the main meal itself. That features nearly forgotten old-fashioned classics like the grand-père au sirop d'érable, delicate dumplings boiled in maple syrup.
Travel time: 45 minutes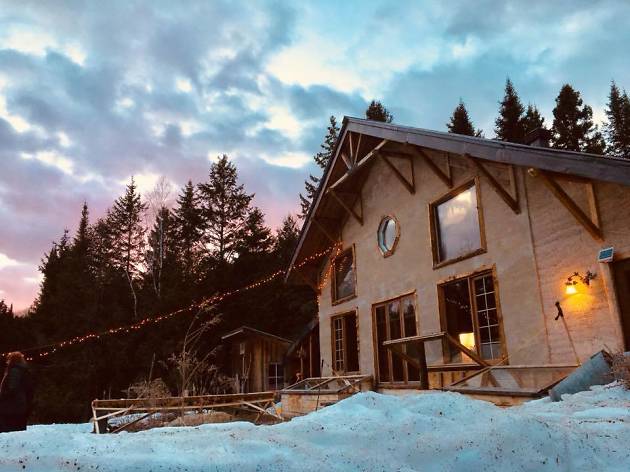 Photograph: La Cabane à Tuque
La Cabane à Tuque is pioneering a novel, ecologically-conscious, 100% vegetarian approach to sugar shack culture. Their harvest is collected in the truly old-fashioned style, with buckets and a whole lot of hard labor while the guesthouse itself is hempcrete-insulated with radiant-heated adobe floors and features walls made up entirely of recycled bottles. The menu is at turns familiar and revolutionary, achieving many of the same classic sugar-shack flavours using exclusively vegetarian and often vegan ingredients that includes tempeh, millet, buckwheat and chaga fungus.
Travel time: 1.5 hours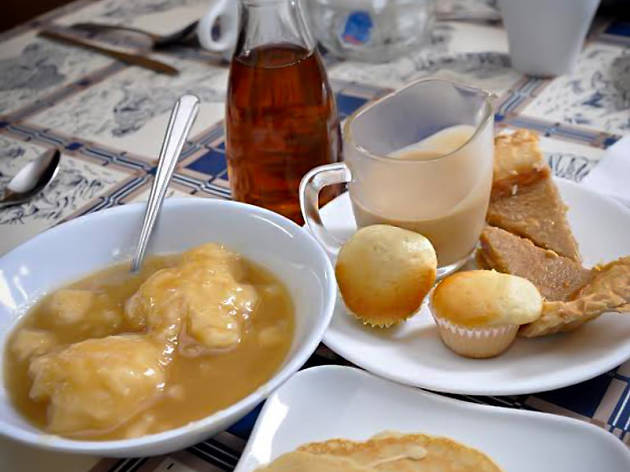 Photograph: Érablière au Palais Sucré / aupalaissucre.ca
10. Érablière au Palais Sucré
Another quintessential Montérégie sugar shack, L'Érablière au Palais Sucré has a bevy of activities for young and old including tractor rides through the grounds, a small zoo with chickens, goats and ponies, and maple taffy tastings made on fresh snow. Most important though is the meal itself which is not for the faint of heart, or really, for vegetarians: The menu is pretty heavy on delicious animal proteins, but there are thoughtful accommodations for the lactose and gluten intolerant among us.
Travel time: 45 minutes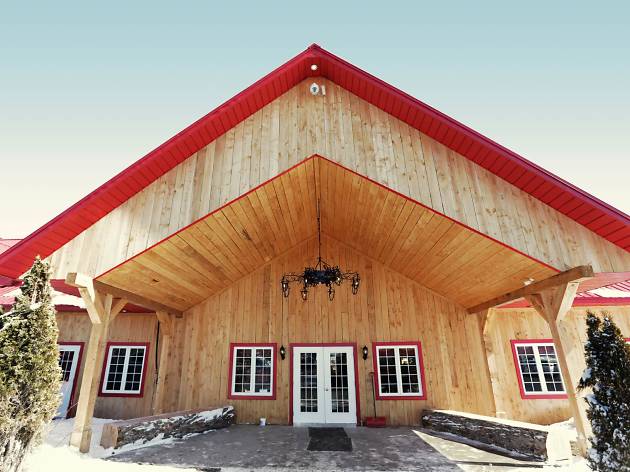 Photograph: Sucrerie Bonaventure / sucreriebonaventure.ca
Sucrerie Bonaventure has recently undergone major construction in an effort to limit some of the more extreme rustic realities of the traditional sugar shack experience, including replacing their previously muddy yard with a paved parking lot, the inauguration of a brand new dining room, an exterior foyer heated with a magnificent fireplace and even a DJ to replace the fiddle bands of yore. All the regular trappings are here, including the fabulous meal. It's perfect for those who want a sugar shack experience without the mud on their boots.
Travel time: 40 minutes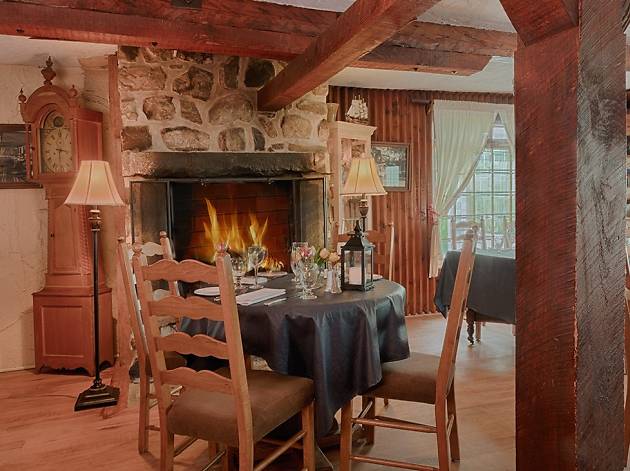 Photograph: Anka Buzolitch / abfoto.ca
A Saint-Marc-sur-Richelieu institution, the Auberge Handfield is a delectable all-you-can-eat buffet-style sugar shack open for breakfasts, lunches and dinners with a prodigious, fully customizable menu. The Auberge's grounds feature event spaces designed with weddings in mind, as well as rooms uniquely tailored to business meetings and conferences. The most exciting feature however is the on-site spa, offering whirlpool baths, chocolate body wraps, massages and more; all with a view onto the Richelieu River slowly rolling by.
Travel time: 40 minutes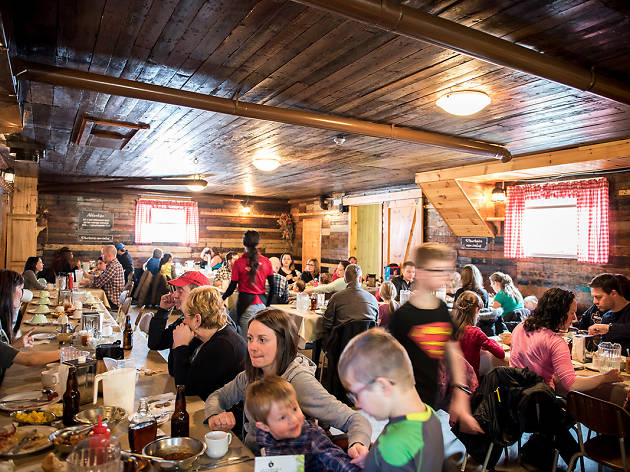 Photograph: Domaine Labranche / labranche.ca
Situated in Saint-Isidore-de-Laprairie just south of Montreal, the Domaine Labranche sugar shack has been run by the Desgroseilliers family for eight generations. The family has certainly diversified since those early days and part of what makes the Domaine Labranche so unique is that in addition to its maple production, it operates a winery as well as an apple orchard, producing a range of exceptional products. This family farm is the perfect destination for anyone interested in discovering additional pillars of Quebecois agricultural production adjacent to the maple industry.
Travel time: 30 minutes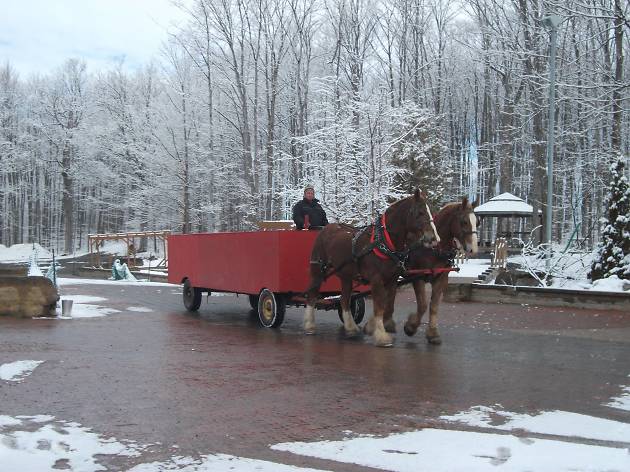 Photograph: Cabane à Sucre Lalande / @lalande1913
14. Cabane à Sucre Lalande
Having just celebrated their 105th anniversary, the Saint-Eustache-based Cabane à Sucre Lalande has a wealth of experience in the maple industry. This experience has guaranteed its position as a popular seasonal pilgrimage for both locals and Montrealers alike because of their horse rides, fresh taffy, traditional meals, legendary Mother's Day brunch and dynamic rotation of live entertainment.
Travel time: 40 minutes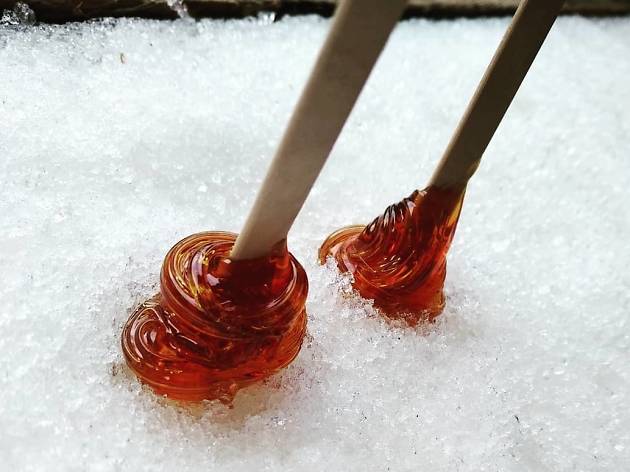 Photograph: Les Délices De Rosa / @DelicesDeRosa
15. Cabane aux Délices des Sucres
Hidden in a copse of dense maple in the heart of the Laurentides, the Cabane aux Délices des Sucres serves up faithful renditions of Quebecois classics in an intimate, familial cabin just paces from the actual production and pumping facilities. The dining room has total capacity of only 70 though, so reservations here aren't such a bad idea. A pleasant albeit unusual surprise for a sugar shack, the Cabane aux Délices des Sucres is also a BYOB restaurant, so don't forget to pick up a good bottle on the way for the full experience.
Travel time: 45 minutes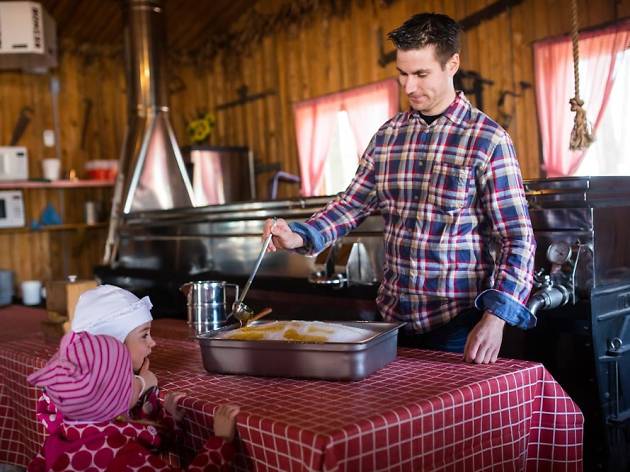 Photograph: Érablière Meunier / erablieremeunier.com
Right off the Richelieu river, the Érablière Meunier is a large maple operation with over 6000 trees that vaunts an impressive array of family friendly attractions from hiking and off-road biking trails to sleigh rides, bean bags, hopscotch, inflatable bouncy castles, DJ-hosted dance parties, fresh donut and taffy tastings, face painting and more. Their menu is straightforward but full of mouth-watering classics, and if for whatever reason you can't make it out to them, they have a full catering brigade to bring the sugar shack to you.
Travel time: 30 minutes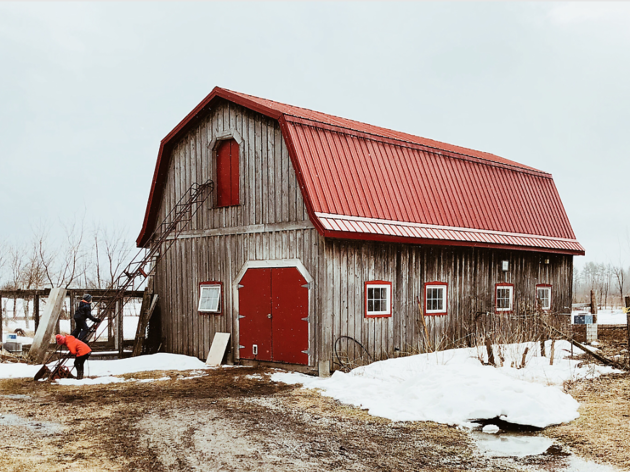 Photograph: @namouric
17. La Ferme les Fardoches
La Ferme les Fardoches in Mirabel, just Northwest of Montreal, is at first glance a very typical sugar shack whose sticky meals are the stuff of dreams. And while it's true their meals are exceptional, La Ferme les Fardoches is secretly at the spearhead of an evolving food culture with a dedication to the production of fully certified organic products and a passion for providing hungry, maple-loving visitors dedicated vegetarian and gluten-free menus in addition to more traditional preparations.
Travel time: 45 minutes
Photograph: Caroline Perron
18. Cabane Panache et Bois Rond
Sometimes, the idea of heading out of town for a maple tasting excursion, however tempting it may be, just isn't a realistic proposition. If you find yourself in this situation, the southwestern Montreal neighborhood of Verdun puts on a yearly "lumberjack party" with square dancing, oodles of maple syrup treats, woodcutting competitions, festive music , traditional gastronomy and more. The festival runs in late March and is the perfect excuse to don your finest Sunday flannels and experience the plenteousness of the sugar shack season in the heart of the city.
Travel time: Accessible by metro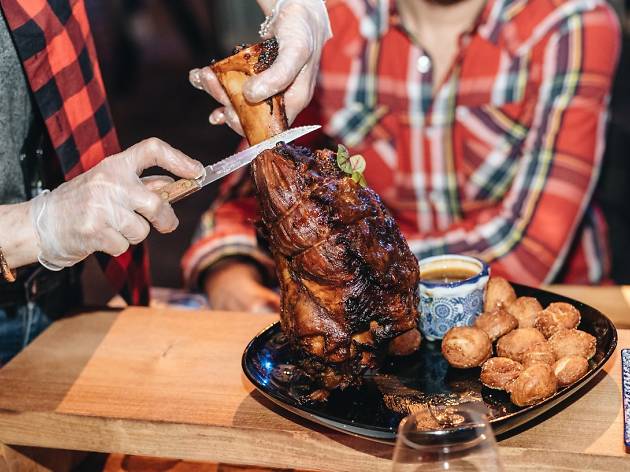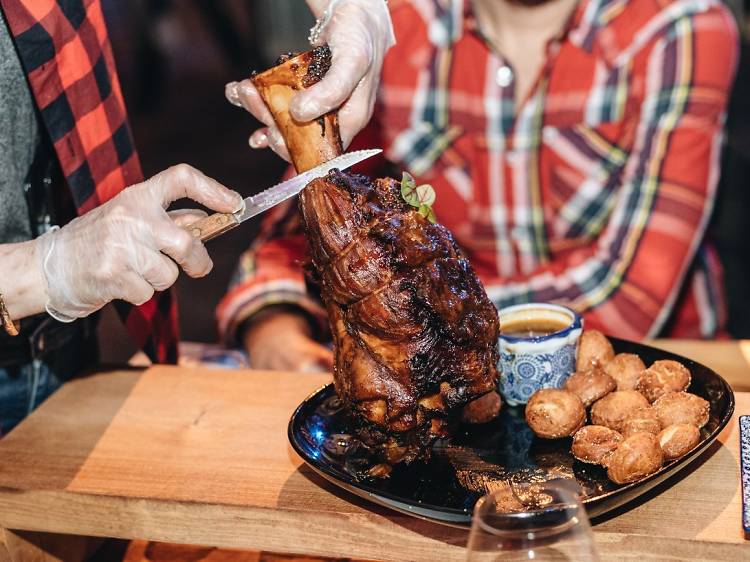 Photograph: Scena / @ScenaMTL
19. Un Chef à l'Érable (Pop-up La Scena, Old Montreal)
Once more, for those who for whatever reason can't get out of town to experience an authentic sugar shack in the countryside, Un Chef à l'Érable proposes a temporary sugar shack themed pop-up restaurant from mid-April to mid-March right in the middle of Old Montreal. 2019 marked the event's 8th year running and each year a guest chef takes up the reigns and transforms the Scena event venue into an eatery that endeavours to create a balance between traditional and trailblazing maple-based concoctions, all while using exciting international flavours and unlikely techniques.
Travel time: Accessible by metro
More great things to do in and around Montreal
Best selling Time Out Offers