Heads up! We're working hard to be accurate – but these are unusual times, so please always check before heading out.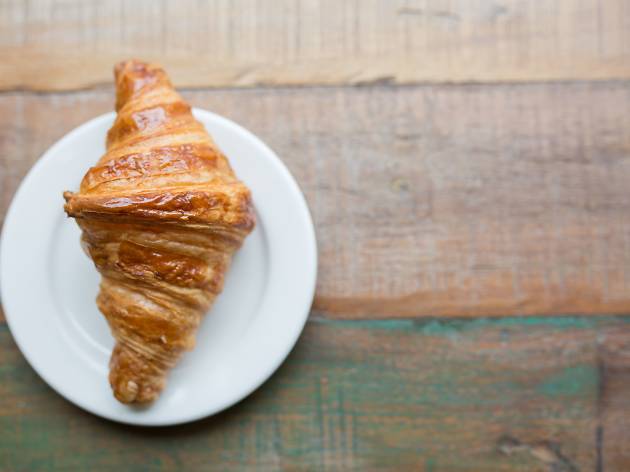 Where you'll find the best croissant in Montreal
Hurry up with my damn croissants—here's where to find the best croissant in Montreal from master bakers and pastry chefs
There is no better way to start a day than breaking into the best, freshly baked croissants in Montreal made by of the city's best bakeries. While other cities may devote their breakfast carbs to less finessed goods like donuts or scones, the first move in Montreal is always the croissant. When done well, the crackle from the layers of laminated dough emanate a sweet buttery aroma from the pastry's soft interior. While it is difficult to find a bad one here, this guide will help you to find the best croissants. If you want to try your hand at making your own, the best baking classes in Montreal will serve you well.
RECOMMENDED: Full guide to the best restaurants in Montreal
Where to find the best croissants in Montreal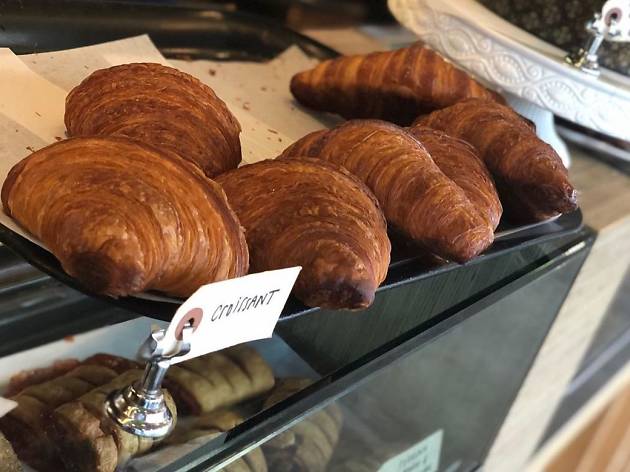 Photograph: @sabin_hwang
All conversation surrounding croissants in Montreal begins and ends with the illustrious Hof Kelsten bakery. It is a textbook croissant in every sense of the word: The quality of the golden sheen of their crisp exteriors is rivalled only by how soft and fluffy the interior is, the whole package radiating the scent of quality butter. If you don't feel like trekking to the Plateau to try one of their croissants, not to worry! They sell wholesale to many of Montreal's best third wave coffee shops, and they're available at their new Time Out Market Montréal concept Hof SuCrée.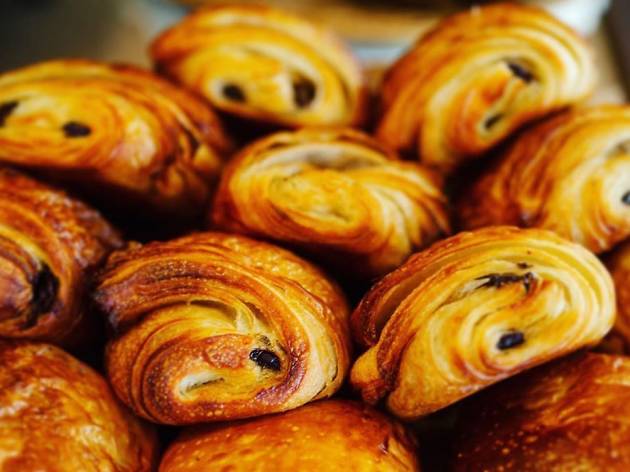 Photograph: Olive et Gourmando / @olive_et_gourmando
Finding quality food of any variety in Old Montreal can be a tough task without the right reservation, let alone finding croissants on demand. Many bakeries looking to take advantage of over-eager tourists are hawking baked-from-frozen croissants, some even being made—we're not kidding—without butter. That makes it all the more remarkable that Olive et Gourmando continues to serve an amazing croissant amongst other fine food.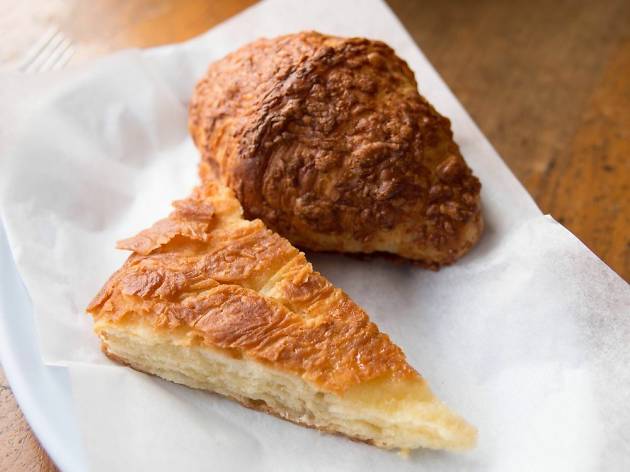 Photograph: Courtesy Yelp/Randy F.
The menu here is quite short, with much of the menu devoted to croissants or variations on the croissant. Their croissants boast the buttery aroma, as well as the one million layers you would like to see in such a pastry. Their namesake pastry the kouign amann has come into vogue in the past couple of years in North America, but they have been executing mastery of the form for years both in the eponymous pastry and their croissants.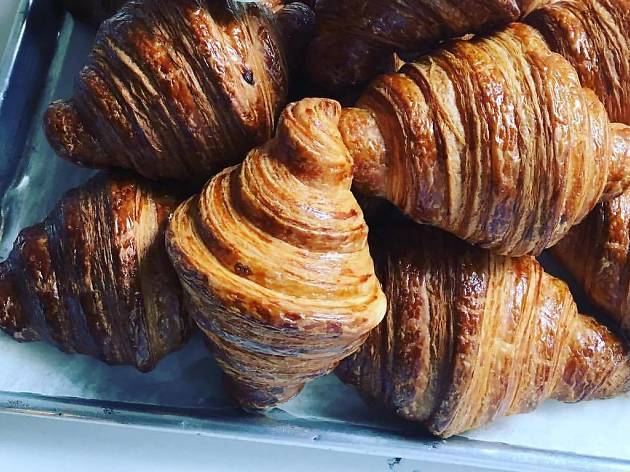 Photograph: Patisserie Rhubarbe / @patisserierhubarbe
Upon walking into Rhubarbe your eyes will most immediately be drawn to the towering piles of eye-candy pastries staring back at you from the glass case by the cash. While it would certainly not be a bad idea to opt for one of those, the croissants that chef Stephanie Labelle makes are also incredible. Why argue? We suggest going for one of both!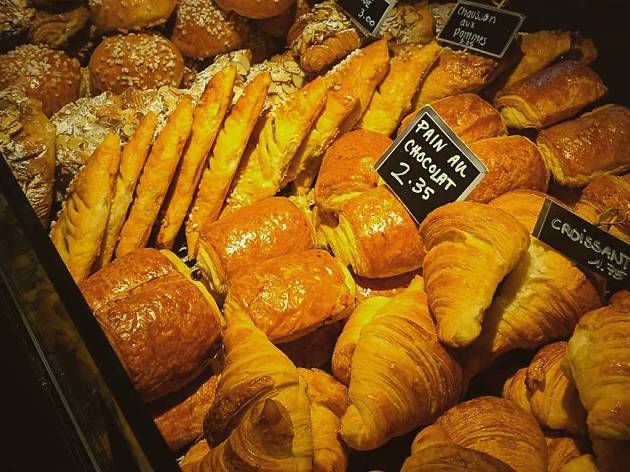 Photograph: La Bête à Pain / @beteapaingriffintown
Marc Andre-Royal has built himself quite the empire in the city with his flagship restaurant Le St-Urbain, and now three locations of his fantastic bakery. The location in Griffintown sports a chic warehouse space producing croissants with an irresistible lacquered crust. If you're craving something stronger than coffee with your croissant, this bakery also has an excellent natural wine list—not a bad way to start the day.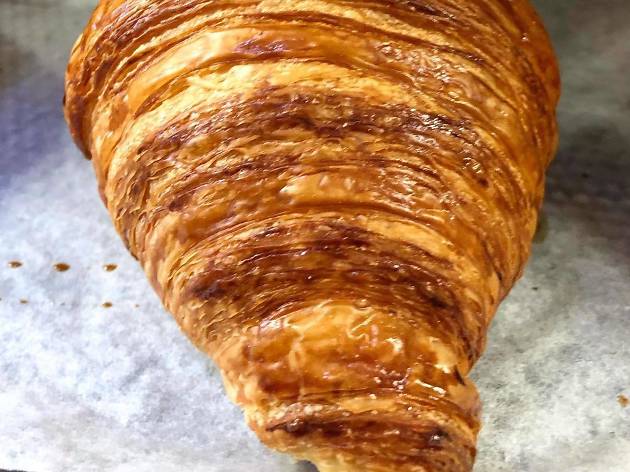 Photograph: Automne Boulangerie / @automneboulangerie
This Rosemont bakery does not hide its obsession with quality. They are so proud of their commitment to using the best ingredients that they place their stone flour mill right in the middle of their dining area. While owner and head baker Julien Roy has made his name more for his bread—among the best in the city!—it would be unwise to skip over this bakery's croissants.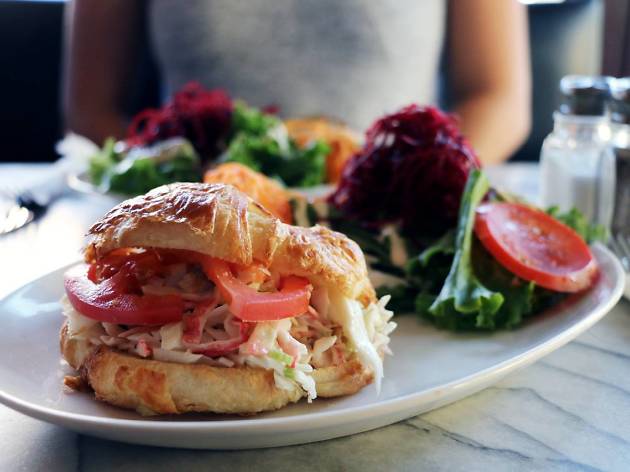 Photograph: La Croissanterie Figaro / @LaCroissanterieFigaro
7. La Croissanterie Figaro
We all have that dream of spending our morning reading a novel, sipping a cafe latte and pulling at a croissant in a quaint French space. Few places can provide that fantasy as completely for us as Figaro does, especially with its fantastic service. If a name that conjures a croissant singing with flavour isn't enough reassurance, trust us when we say the croissants themselves are reliably delicious—amongst a spread of other lovely café fare.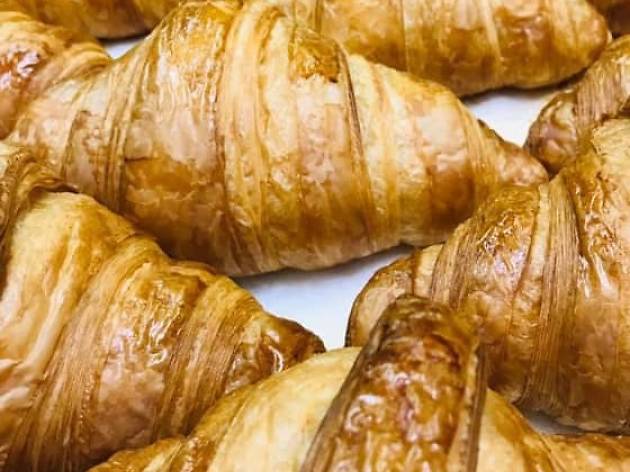 Photograph: Justine Marc-Aurele
8. Le pain dans les voiles
Due to the overwhelming quantity & quality of bakeries in Montreal, it is easy for places like Les pain des voiles to fall under the radar. It truly can be a shame because this bakery from two lifelong friends is producing some of the city's best baked goods, and that most certainly includes croissants. Luckily for us, they are located just north of Jean-Talon Market, so you can grab your morning pastry here and avoid the chain alternatives in and around the farmers' market.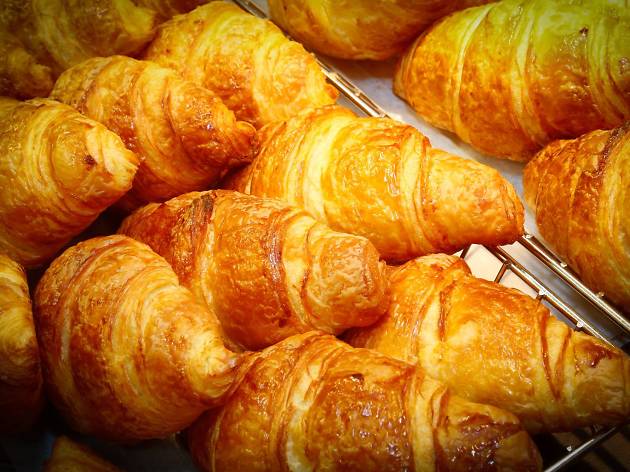 Photograph: Claude Rigaud Photographie
A lawyer emigrating from France may not be the most likely candidate to turn out one of the city's finest croissants, but that is certainly the case with Chez Fred. While the croissants here lack the burnished crust produced at places like Hof Kelsten, the generous size & rich dough more than make up for it. Note that while the croissants are great, the true golden grail at Chez Fred is the sheer perfection of their chocolatine.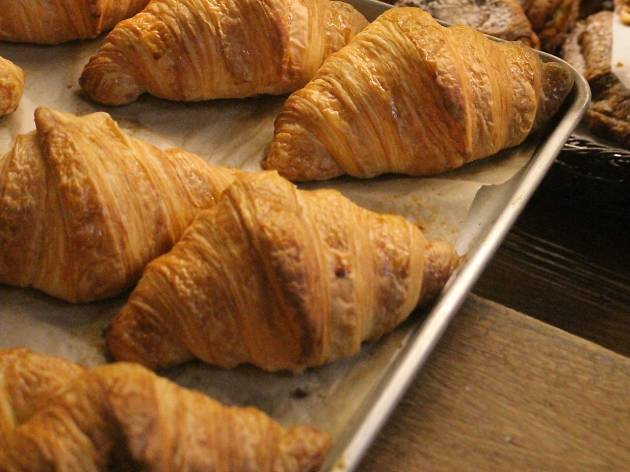 Photograph: Mamie Clafoutis / @mamieclafoutis
Despite having spread its reach to 9 locations around the island of Montreal (not to mention a new outpost in Toronto), Mamie Clafoutis has retained a commitment to quality that is immediately recognizable in its croissants. Unique to Mamie Clafoutis is their pistachio croissant, filled with a glowing green paste of rich pistachio. Few alternatives to the classic butter croissant get as luxurious as that.
More amazing eats in Montreal
Uptown to downtown, filter to lattes, these are the top-tier roasters and grinders of the best coffee in Montreal.
The best desserts in Montreal are found in the work from masterful pastry chefs and bakers to ice cream and donut shops.
It doesn't need to be summertime to enjoy the best ice cream in Montreal, from soft-serve swirls to creamy gelato.