The best breakfast in Montreal
Whether it's starting days off right or repairing last night's damage, go to the best breakfast restaurants in Montreal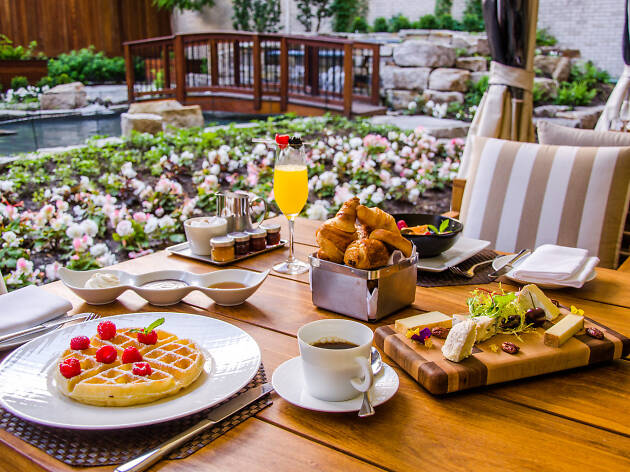 Brunch in Montreal may take up the spotlight for early (early-ish?) meals, but breakfast is the most important meal of the day, if not among the most satisfying. After all, what's not to love about endless drip coffee and decadent sweet-and-salty fare (and the best bagels)? It should come as no surprise that Montreal does breakfast well, thanks to its rich tradition of diners and French flair. This city's got what you need, whether it's for bacon and eggs or more refined fare like Belgian waffles coated with whipped cream.
RECOMMENDED: Full guide to the best restaurants in Montreal
A breakfast spot we love so much that we welcomed them into Time Out Market
If you ever find yourself on the streets of Old Montréal wondering what's causing a long line of locals and tourists to snake up the street, this café from Dyan Solomon and Eric Girard is the reason. They have been serving insatiable crowds their breakfast, brunch and lunch offerings for more than 20 years. Time and again, folks make return trips for as many choice cups of coffee and hot-out-of-the-oven pastries in the morning as they will for gooey paninis, the savory sandwich Le Cubain and refreshing salads in the afternoon. No matter the time of day, it all comes with highly satisfying results.
Best breakfast in Montreal
1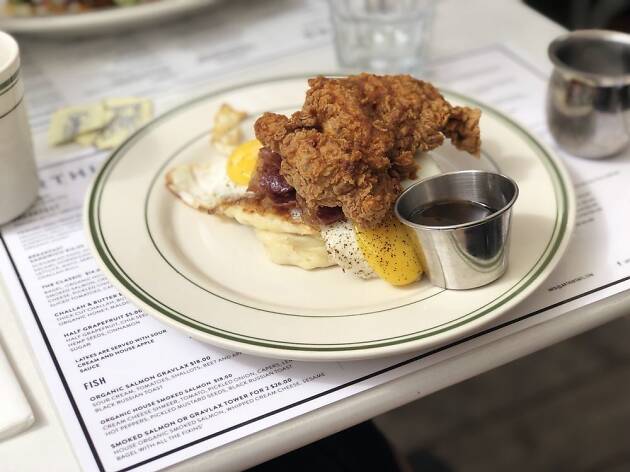 Photograph: Courtesy Yelp/Yutong Y.
Provided you can nab yourself a table at this Saint-Henri Jewish diner, you won't be disappointed with dining at this restaurant serving up diner fare that's been upscaled through the deft touch of a chef's hand. Available all day from the morning 'til late afternoon, healthy options like their quinoa bowls are just as valuable as the classics coming hot off the flattop, whether it's eggs and salami or the McArthur, a chicken schnitzel sandwich with shredded iceberg slaw, mayo and pickles on toasted challah.
Reason to get out of bed: Syrniki cottage cheese pancakes, the McArthur or the latke smorgasbord
2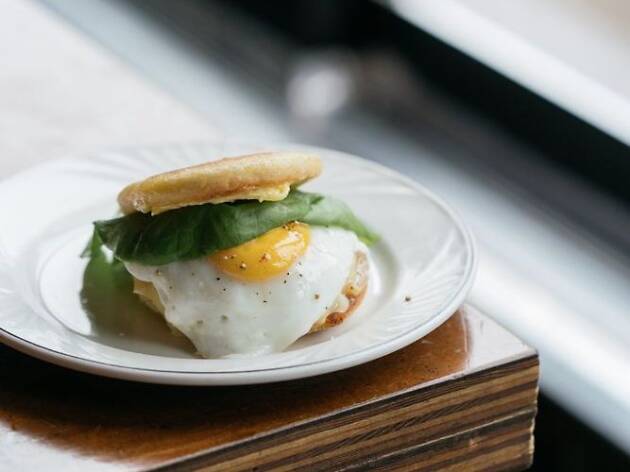 Photograph: Courtesy Yelp/Larrys
The little brother to the lunch-brunch-and-dinner restaurant Lawrence, this wine bar, café and bistro rolled into one does its breakfast particularly well. Apart from the perk of serving their morning repasts both day and night, it's a charming and unpretentious place for locals to enjoy an English-influenced spot with Welsh rarebit toast, fried mushrooms, bubble and squeak and crumpets alongside an amazingly good breakfast sandwich.
Reason to get out of bed: That breakfast sandwich, no jokes
3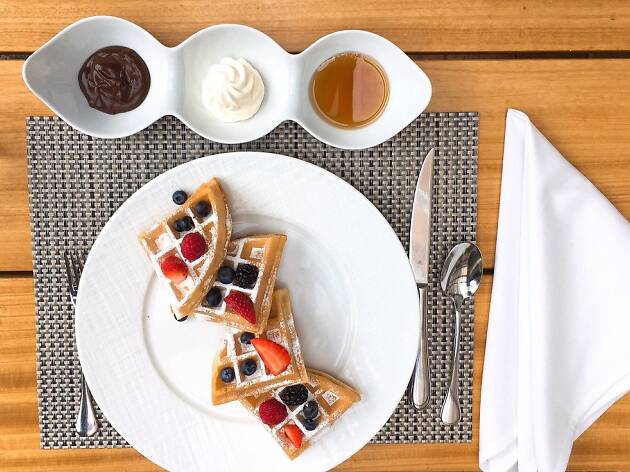 Photograph: Courtesy Yelp/Adele Z.
Located inside the gilded Ritz-Carlton Hotel on Sherbrooke Street, Michelin-starred chef Daniel Boulud's restaurant delivers high-class offerings of classics. Familiar dishes are given upscaled touches, like Belgian waffles topped with whipped Chantilly cream, classic eggs getting paired up with the likes of Toulouse sausage or smoked Gaspor Farm ham. All this is served in a cozy atmosphere, albeit it's about as 'cozy' as an elegant dining space can get.
Reason to get out of bed: The breakfast buffet
4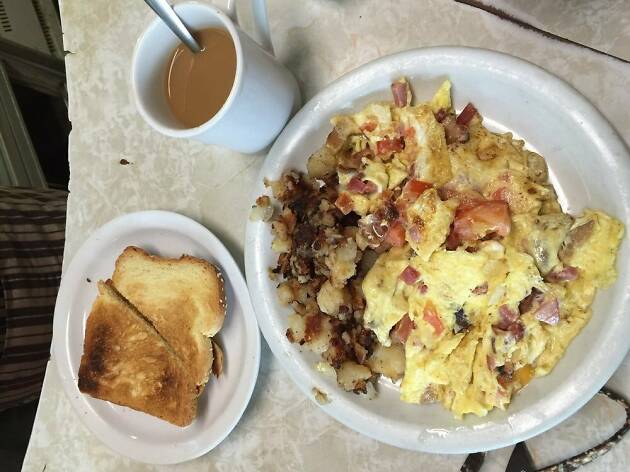 Photograph: Courtesy Yelp/Katie Z.
This essential greasy spoon—its founder was given the moniker of 'Man of Grease' by a documentarian—is easily one of the busiest spots in NDG come breakfast time for good reason. Boasting a mere 11 seats, it's a no-frills neighbourhood restaurant offers hefty dishes like a mish-mash omelette with chopped sausage and salami or breakfast sandwiches, all served with superb breakfast potatoes that are part tater, part onion, part magarine. Artery-clogging goodness.
Reason to get out of bed: The Creation breakfast sandwich or mish-mash trio
5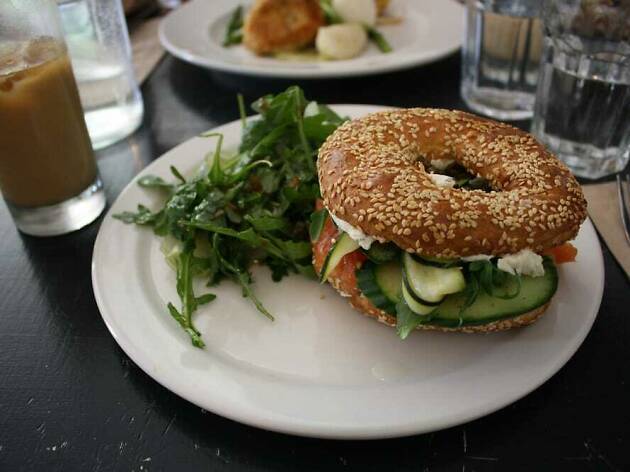 Photograph: Courtesy Yelp/Jessica M.
Unless the name doesn't make it clear enough, this restaurant's a bohemian-leaning joint for the Plateau full of excellent food on the cheap. Bonus points go to how much their breakfast menu closely resembles that of a brunch menu, bursting with options like shakshuka, cod cakes with dill mayonnaise or a breakfast poutine we can't stop going on about: Home fries topped with curds, duck confit, poached egg and hollandaise.
Reason to get out of bed: The breakfast poutine
6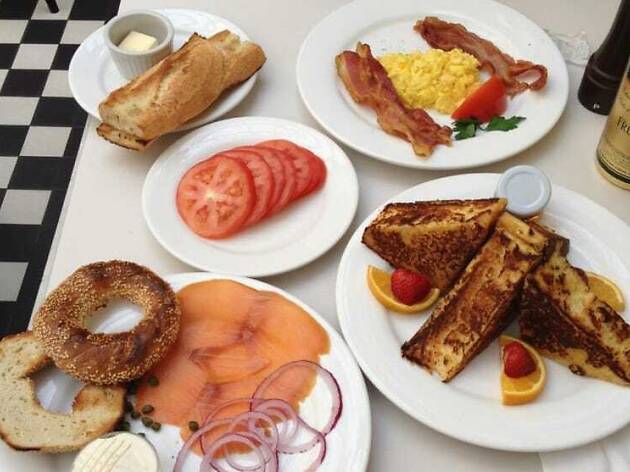 Photograph: Courtesy Yelp/Mathieu L.
This iconic Parisian-style bistro is best known for its evening and late-night services, but its breakfast fare is just as good. Offering a completely different vibe at 8 a.m. thanks to its light-flooded bay window, L'Express dishes out a superb petit déjeuner that's plain and simple. Expect early morning classics like French toast, assorted pastries and freshly squeezed orange juice alongside quickening cups of espresso.
Reason to get out of bed: Croque-monsieur, egg platters and mimosas
7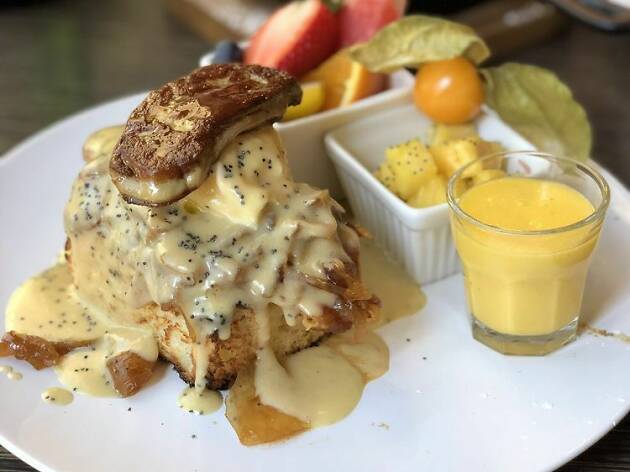 Photograph: Courtesy Yelp/Rosy L.
A neighbourhood favorite in the Gay Village, this popular bistro gets a lot of love for how it covers all the local classics like breakfast poutine and bagels with smoked salmon. It's the in-the-know diners, however, who flock to this spot for its innovative dishes like Eggs Benedict with foie gras or poached eggs topped with pulled pork from Gaspor farms, pancetta chips and fresh green peas in a white port sauce.
Reason to get out of bed: Eggs Benedict with foie gras
8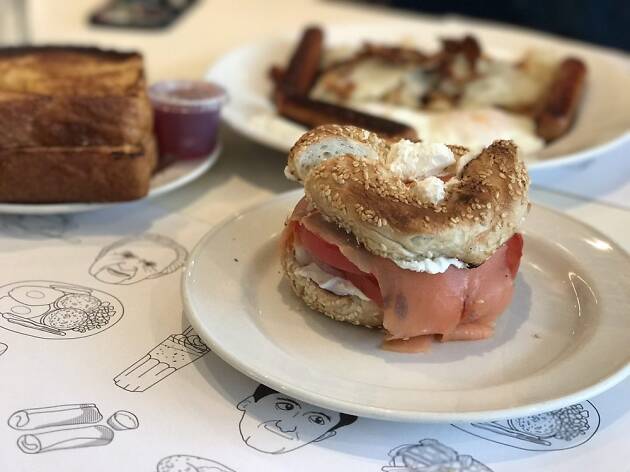 Photograph: Courtesy Yelp/Alexander M.
Locals will be the first to tell you: This breakfast and lunch landmark is a Mile End institution. Open since 1942, if the T-shirts of its storied owners or the kitsch on the walls don't give it away, you'll quickly discover the charm of this diner through its own well-loved classics: Mish-Mash omelettes with chopped sausage and salami or a Beautys breakfast melt that ring in around the same price of a specialty latte from down the street.
Reason to get out of bed: Beautys special, Mish-Mash or a SuperBeautys 2 Platter
9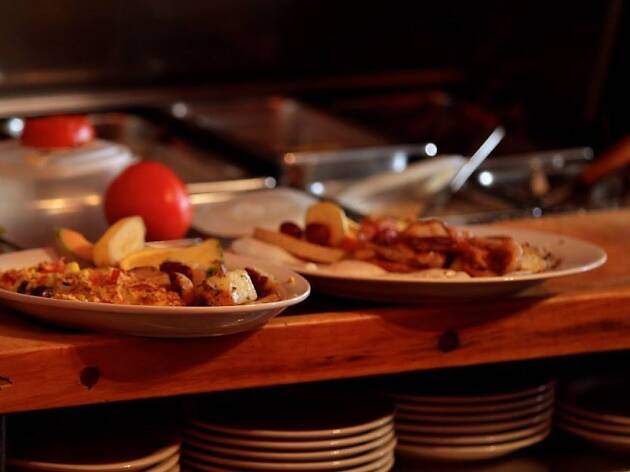 Photograph: Courtesy Café Joe
Diners will spend hours tucked into the nooks of this vegetarian-friendly breakfast joint located at the edge of Saint-Henri. It's got all the carnivorous fixings you might be looking for in spades, but its cozy and unpretentious vibes are also complemented by offerings like vegetarian sausage with tofu scramble, as well as classic breakfast sandwiches on house bread. If you're looking for a place with a nice bohemian-friendly feel to it, you come here.
Reason to get out of bed: Two-egg breakfast platter with grilled cheese
10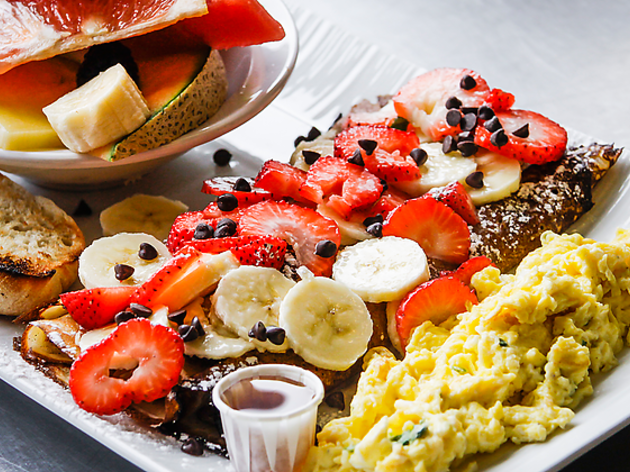 Photograph: Courtesy Bistro Tôt ou Tard
Blink and you might miss this neighbourhood bistro, quietly tucked into an unassuming apartment complex in the Plateau. Frequented for its early morning specials and creative breakfast cocktails, it's good for both breakfasts and brunches with its Eggs Benedict, crêpes and French toast plates. Its light-filled dining space fills up quickly on weekend mornings. Get there early or make a reservation.
Reason to get out of bed: Petit déjeuner du pêcheur, two poached eggs on bagels with lox, provolone and hollandaise
11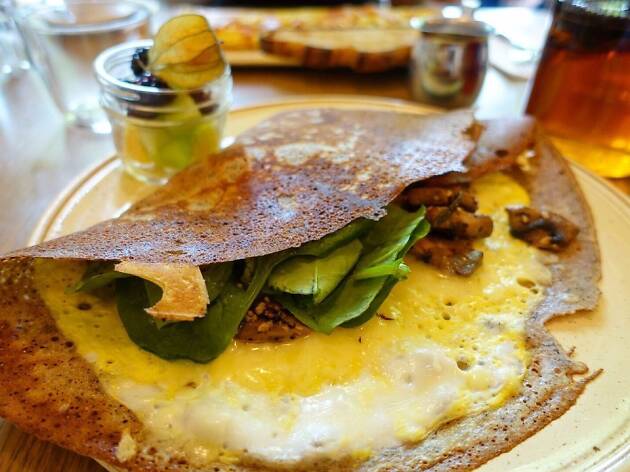 Photograph: Courtesy Yelp/Clea C.
Among the usual pancake lovers, gluten-free folk will also appreciate this specialty crêpe restaurant. With a seemingly endless list of possibilities—think caramelized bananas with rum or smoked salmon with arugula and fresh cream—this bustling breakfast spot just down the street from Joe Beef and Vin Papillon comes alive on the weekend, especially in the summertime when the back of the restaurant opens into a charming, tree-lined terrace.
Reason to get out of bed: Crêpes both savory and sweet, or a slice of crêpe cake
12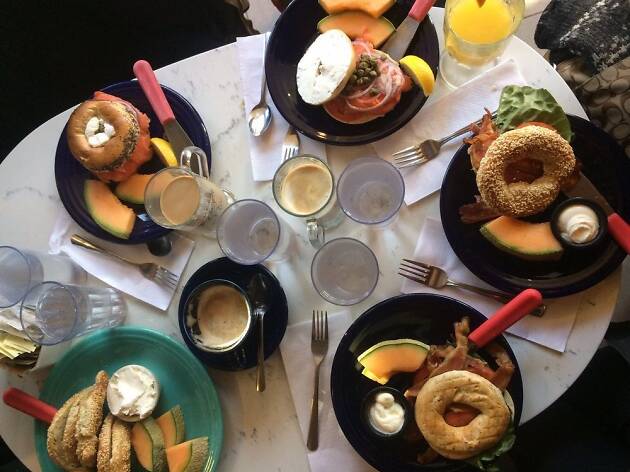 Photograph: Courtesy Yelp/Katrina G.
While Montrealers will be mourning the loss of the St-Viateur Café on Monkland in NDG, the West Island's Pointe-Claire rendition of the bagels-and-more restaurant serves as a very welcome institution in what's otherwise a food desert. Expect all the classics here plus to-go items like jams, cream cheese, and packaged coffee beans in a light-flooded, distinctly industrial-feeling space. Few can go wrong with getting fresh bagels with your breakfast either. Don't forget the location on Mont-Royal either if you're Plateau-bound.
Reason to get out of bed: Freshly-baked bagels with your breakfast
13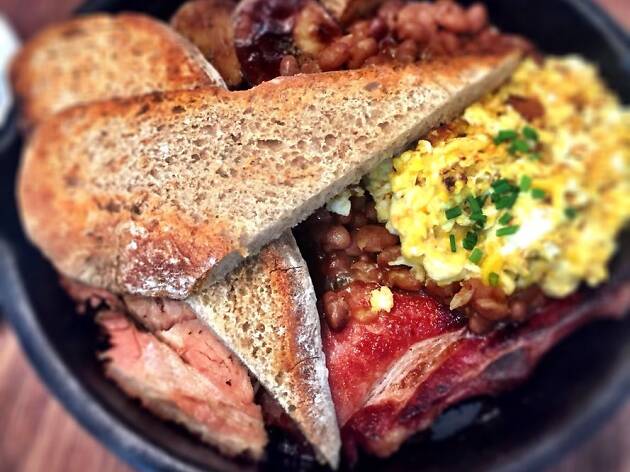 Photograph: Courtesy Yelp/Amanda L.
This refined bistro in Old Montreal serves up elevated takes on breakfast classics like poached eggs with smoked salmon and goat cheese, potatoes in duck fat and French toast with honey, hazelnut and apple butter. Locals and tourists alike prefer this address for its terrace in the summertime for just the right ratio of sunlight-to-people-watching in a more relaxed part of its tourist-heavy borough.
Reason to get out of bed: Avo toasts, egg platters and extras galore
14
Photograph: Courtesy Yelp/Céline D.
Oftentimes there's a place you find that you wouldn't want anyone to find out about, lest it gets overrun and congested. Consider this our gift to locals and tourists looking for new spots to check out: On the edge of the Gay Village, this Montreal outpost of a popular Quebecois breakfast-focused franchise does generous breakfast platters right, if not worth it for an amazing home fries recipe, poutines and their tartines (open-faced sandwiches, a Quebecois smørrebrød).
Reason to get out of bed: Anything off the tartine section of the menu
15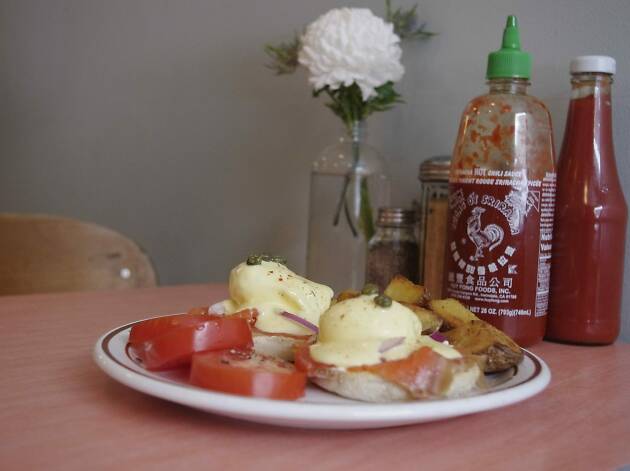 Photograph: Courtesy Le Vieux Vélo
Running from the early morning until the late afternoon, this restaurant does a service to its neighbourhood by offering more than breakfast options on its menu, but it's really the breakfasts that you want when you come here. Eggs Benedict comes in several different varieties, and damn it, this restaurant deserves a key to the city for how it keeps the prices down while keeping the quality up.
Reason to get out of bed: All the Eggs Benedict options for cheap you can dream of
16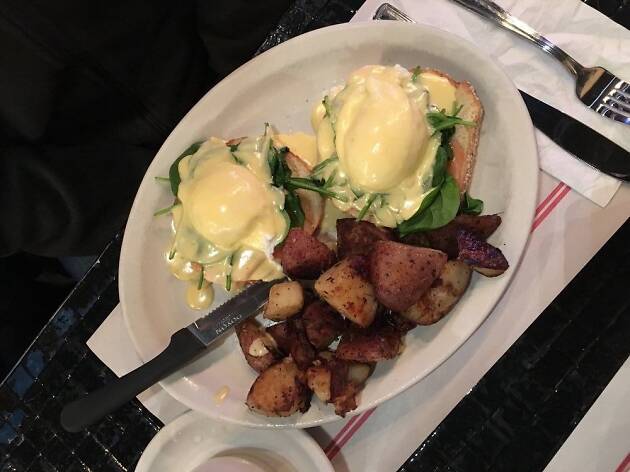 Photograph: Courtesy Yelp/Joy S.
If you're looking for a unique spot for a quick bite, look no further than this quirky joint on St-Laurent. Victorian-style furniture, red leather booths and elevated window seating await, alongside greasy spoon classics and of course, bagels. Also a popular spot among those tracing the footsteps of Leonard Cohen, who was known to frequent this spot regularly when in town.
Reason to get out of bed: Classic and reliable American breakfasts
17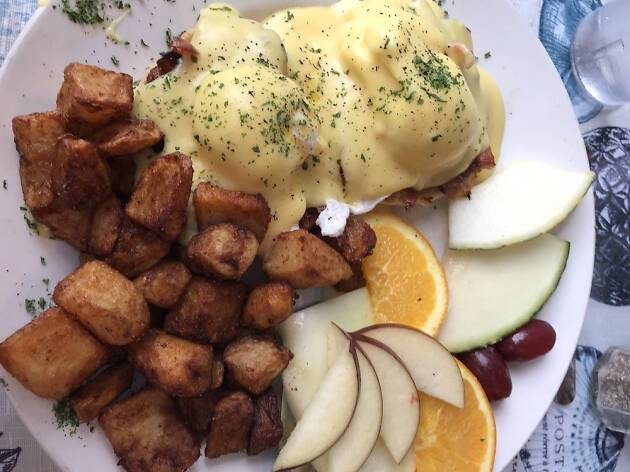 Photograph: Courtesy Yelp/Amber H.
Few neighbourhood breakfast joints can claim as much reliability as this restaurant themed after Îles-de-la-Madeleine with nautical fixture. Open every day of the week at a stone's throw away from the Verdun metro stop, this breakfast joint makes it equal parts fast and fresh for all the classic American options, in addition to crêpes, French toasts and Eggs Benedict. Word to the wise: Order up an extra cup of cretons to spread over your toast.
Reason to get out of bed: Lobster Eggs Benedict or simple egg platters
18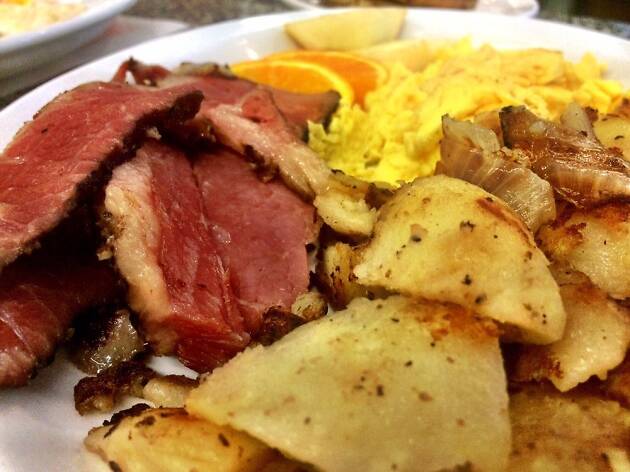 Photograph: Courtesy Yelp/Jack D.
A breakfast restaurant with history, this institution has been feeding locals since its inception in 1946. Locals come to its humble diner for two things: Smoked meat sandwiches—some say its quality bests the likes of the popular Schwartz's—and solid greasy spoon breakfast fare.
Reason to get out of bed: Two-egg breakfast with smoked meat on the side
19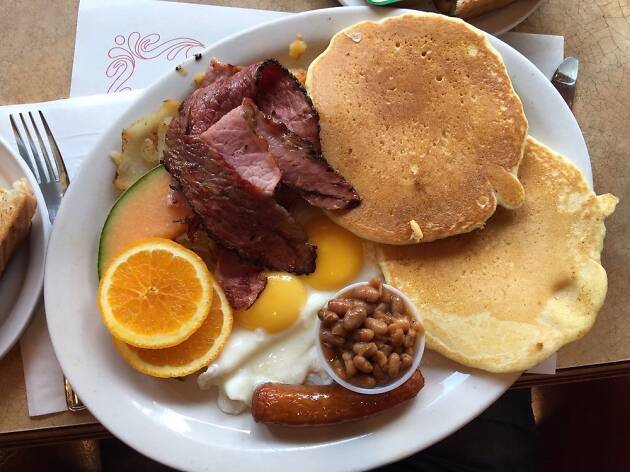 Photograph: Courtesy Yelp/Fouad B.
Retro era lovers love this old school diner that's been hoisting fry baskets and flipping sizzling patties since 1947. From the vintage signs and leather booths that come equipped with vintage jukebox machines (that no longer function) to their timeless and tasty diner fare, this beloved greasy spoon is an undeniable landmark of Saint-Henri.
Reason to get out of bed: All-day breakfasts
20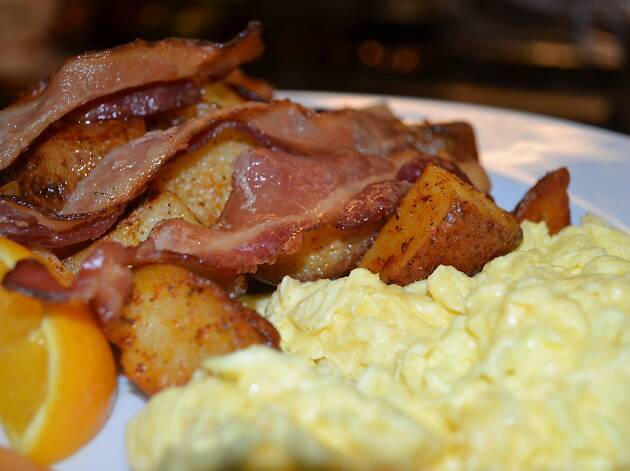 Photograph: Courtesy Orange Café
Folks who find themselves in NDG with a hankering for breakfast might content themselves with waiting in line at restaurants along Sherbrooke, but this classic not far off the thoroughfare's just as good—if not better—for the classic breakfast platters brimming with your order plus fresh fruit and every condiment under the sun. There's something to be said for a place willing to do one thing (breakfast) and do it well.
Reason to get out of bed: Anything on the menu, reader's choice
Don't like getting up that early?
This list of the best brunches in Montreal is all you'll need to find the booziest, sweetest most savory weekend meals.