Heads up! We're working hard to be accurate – but these are unusual times, so please always check before heading out.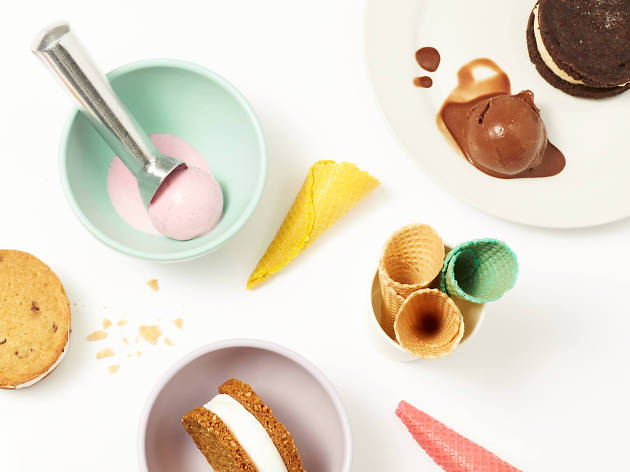 The best ice cream in Montreal that will keep you cool
It doesn't need to be summertime to enjoy the best ice cream in Montreal, from soft-serve swirls to creamy gelato
Montreal may be better known for ice hockey than it is for ice cream, but the best ice cream in Montreal ensures the city has stars on ice in every season. Once the city starts to thaw, the city's ice cream shops spring out of hibernation, dust the frost off their old-school awnings and flick on their neon signs, ready to sell some of the best desserts in town. Whether you prefer the hard stuff or you're a downright softie, there's something for every cold heart and sweet tooth, from frozen curry custard to maple taffy gelato. Here's the scoop on the hottest spots to cool down in Montreal this summer, from Mile End champions to Little Italy darlings and Old Montreal standbys.
RECOMMENDED: Full guide to the best restaurants in Montreal
An ice cream spot we love so much that we welcomed them into Time Out Market
It takes some serious skill to make ice cream, gelato and sorbet tempting for Montréalers who spend half their year in sub-zero temperatures. That means restaurant veterans Michael Dalla Libera and Nick Rosati had to offer something special at Dalla Rose, and, go figure, it's their whole menu: Whether it's by the bowl, cone or between two cookies, every scoop of ice cream, sorbet and gelato from Dalla Rose—made with a range of fresh fruits, spices, nuts and candies—is sure to satisfy.
Where to find the best ice cream in Montreal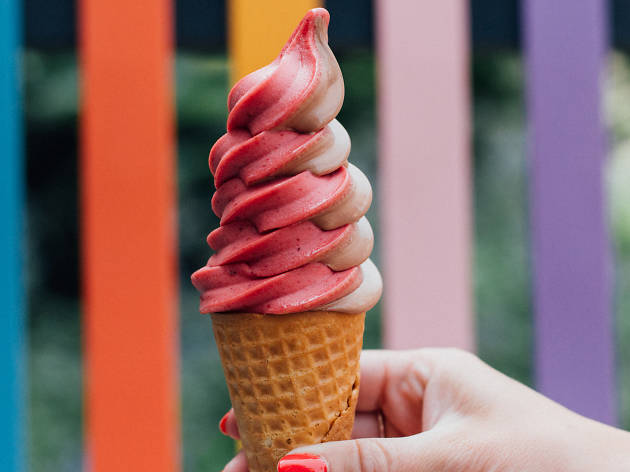 Photograph: Alison Slattery
Summer in Montréal unofficially begins in April when Ngoc Phan and Vincent Beck, the husband and wife team behind this Mile End institution, roll out their sorbet-pink awning and open their lime-green doors. The shop's name translates to "third auntie's ice cream" in Vietnamese, a nickname from Phan's niece that attests to her signature soft serve skills. Made from scratch, the duo's ice cream and sorbet flavours feature fresh ingredients like coconut-mango, passionfruit and lemon, and even durian, all sans artificials and preservatives. Lineups here are so notorious that someone started an unofficial Twitter account that tweets the queue tally, but don't worry, it moves fast.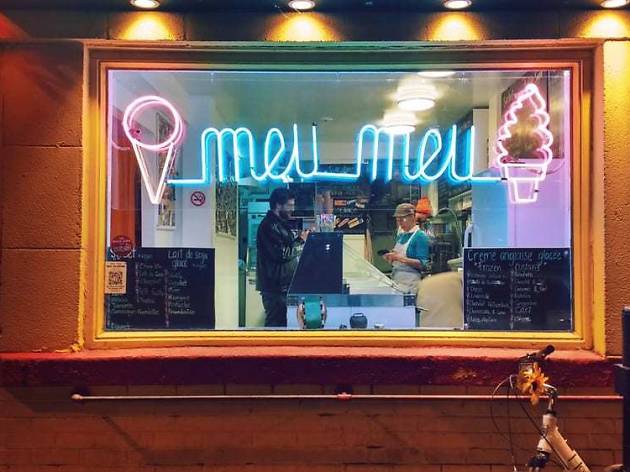 Photograph: Courtesy Yelp/Tina M.
This neon-lit Plateau crèmerie is not your garden variety parlour. For 30 years, Guy Morad has spiced up the city's ice cream scene with a menu that offers zesty ginger, cardamom, curry, and balsamic vinegar alongside classics like chocolate hollandaise and Madagascar vanilla. While these all-natural frozen custards are the main draw, the homey hole-in-the-wall also serves up frozen yogurt, sorbet, soft serve, milkshakes, juices and soy-milk scoops for dairy-free diets. The shop is closed in the winter, but burns the midnight oil all spring and summer long with daily 12am-12pm open hours.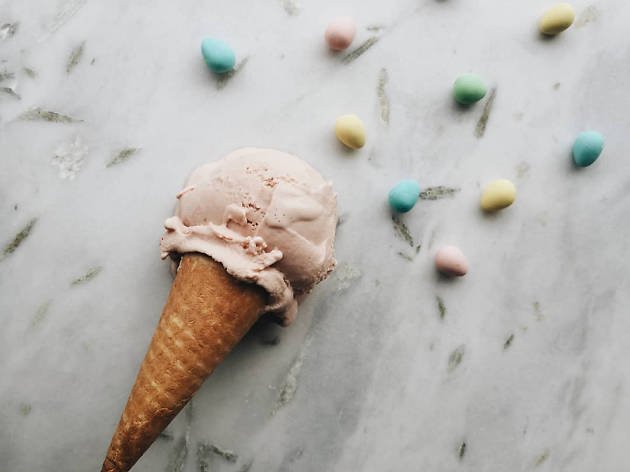 Photograph: @gastronomiaroberto
Come for the coffee and stay for the gelati at this Petite-Patrie-based Italian eatery. Everything from fusilli primavera to cannoli can be ordered from the menu of its upstairs restaurant, but it's the adjoining gelateria that has earned Roberto its reputation. Recipes passed down from the family's gelateria in Italy have been used since 1982 to craft artisanal classics like pistachio, tiramisu, Baci chocolate, mint stracciatella and more. For an icy indulgence, splurge on the famous three-layer gelato cake comprised of thick round slabs of hazelnut, Gianduja chocolate and vanilla.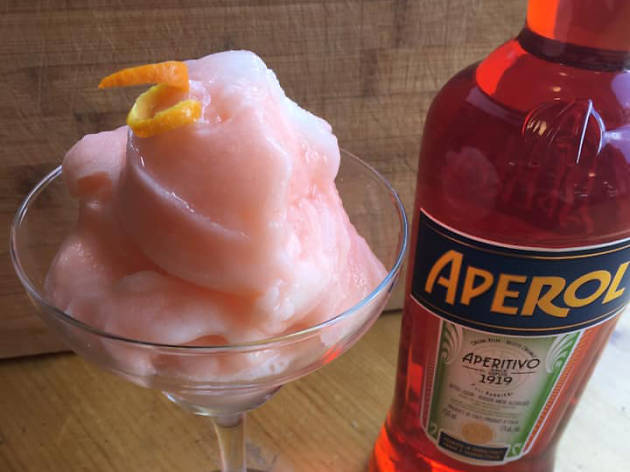 Photograph: @lepecheglace
There are always plenty of flavourful surprises at this under-the-radar Plateau parlour which serves its gelato, frozen macarons, smoothies and crêpes all year long. Mark the calendar for seasonally appropriate specialties like pumpkin to spice up Halloween, candy cane and gingerbread for yuletide festivities and Champagne to ring the New Year. Come spring, the maple-taffy Tire d'Érable pulls no punches. In the summer, enjoy an aperol spritz sorbet al fresco on the patio, or get your greens with a green tea matcha, mojito or avocado gelato.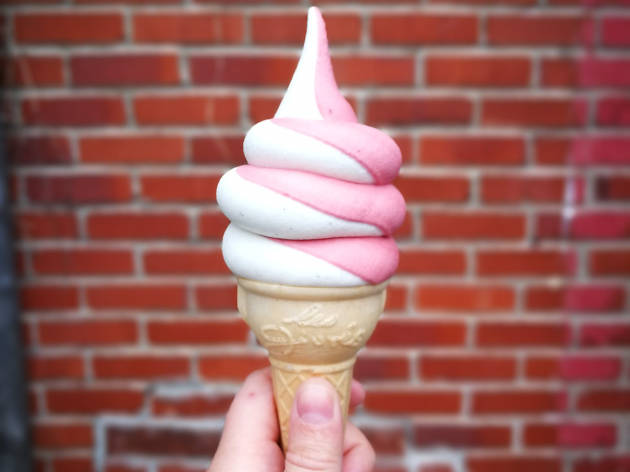 Photograph: @LesGivres
With locations in Hochelaga, Villeray, and Rosemont, plus tubs in supermarkets across the city, Les Givrés has swiftly been embraced as a freezer staple, despite only first breaking the ice in 2010. Made in a Montréal atelier, the artisanal brand boasts saveurs that are proudly local, from bagel and cream cheese with strawberry jelly, to Épluchette de blé d'Inde crafted with roasted Québec corn. Everything from pitounes glacées (chocolate-dipped ice cream bars) to des cornets (cones) are made from scratch, as evidenced by the logo etched on its edges. But newcomers may want to skip the cone for La tournée, a tour de force six-scoop sampler.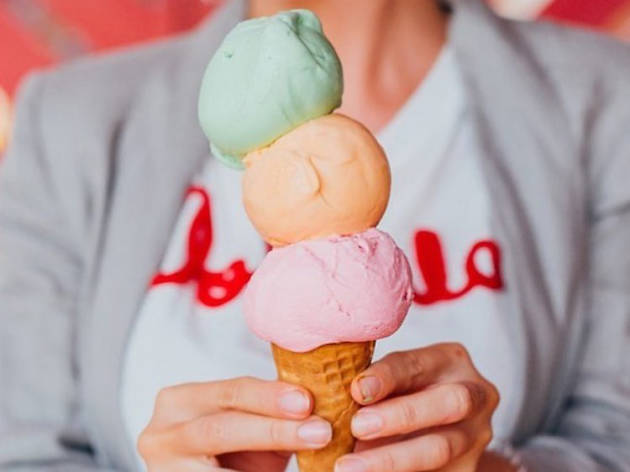 Photograph: Two Food Photographers
From its tiny storefront on Sherbrooke, Ca Lem's Instagram-friendly interiors and rainbow of 18 flavours screams summer to those in the Notre-Dame-de-Grâce neighbourhood. Think Piña Colada, Coconut Key Lime Pie and Cotton Candy Carnival Queen, a swirl of pink strawberry and blue candy floss covered with a confetti of sprinkles. For a breakfast throwback, try the Apple Sorbet Cinnamon Toast Crunch that comes topped with cereal. Ca Lem, which means "ice cream" in Vietnamese, also pays homage to its owner's roots with purple taro, black sesame, coconut ash and other inspired concoctions. Open everyday spring thru fall (even holidays), this artisanal creamery keeps things fresh with new soft serve added every Wednesday.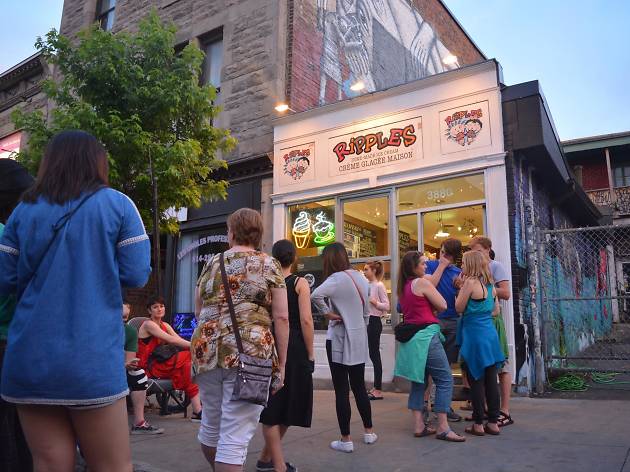 Photograph: @RipplesCremeGlaceeMaison
Though tiny, this 300 square foot mainstay on the Main has been making waves since 1984 with its variety of funky flavours. Favourites among some 30 choices include Halvah, a sesame-butter based cream marbled with chocolate and nougats and Kulfi, an Indian-inspired mix of cardamom and nuts. But it's staples like the Chocolate 6X and the award-winning French Vanilla that make the double scoop or return trip inevitable. The creamery also offers a fruity lineup of sorbets, two of which are spiked with real rum. In June, a second shop opened its doors a stone's throw from St-Viateur Bagel Shop in Mile End. Call it the Ripples effect.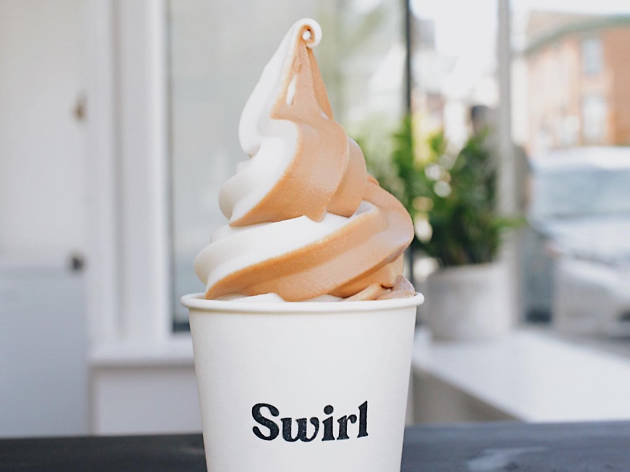 Photograph: @swirlmtl
This Plateau-based spot only opened its doors in May of 2019 across the street from its owners' former steamed-bun venture Hào, but Swirl's vegan soft serve has already roused a few swirling lines outside its takeout window. Minimalist in its approach, coconut milk-based flavours change seasonally from seabuckthorn and vanilla bean to hazelnut and dark chocolate. As the seasons churn, expect chill yet inventive options made from Asian-inspired ingredients, fresh fruit and herbs. Skip a visit if it's raining, the soft stuff's only served when the sun's out.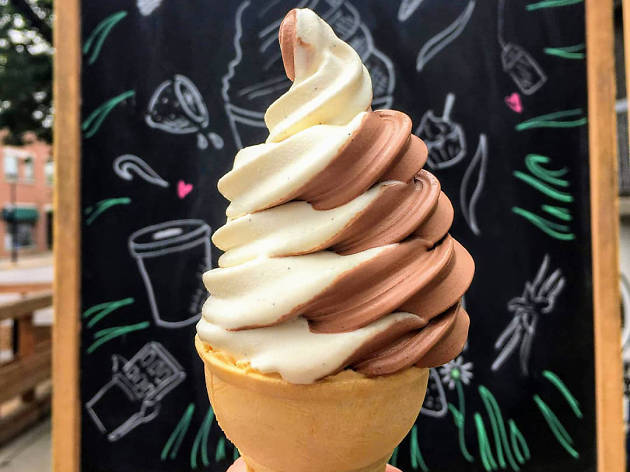 Photograph: @havreauxglaces
With its anchor outpost at Jean Talon Market year round and three other locations across the city, Havre aux Glace is a bona fide haven for cool treats in Montreal. Blood oranges, lulo, strawberries and other fruits are sourced directly from the market for flavours that are as rich and raw in texture as they are in flavour. In fact, passion for flavour is so deeply rooted with founders Robert and Richard Lachapelle that in 2009 they bought their own maple grove. Up to 24 sorbets and ice creams are available at any given time, but maple crème brûlée takes the cake as their pièce de résistance.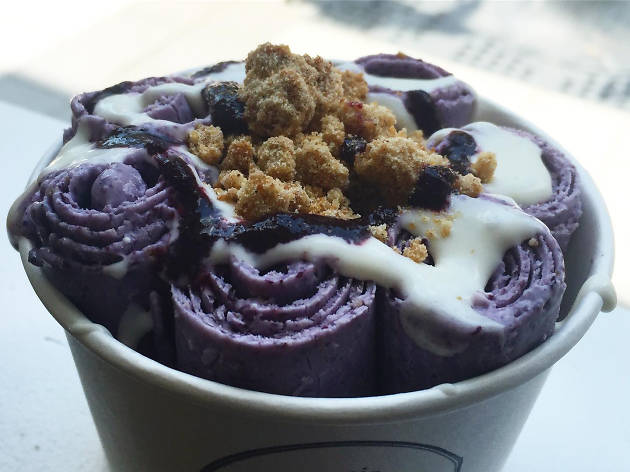 Photograph: Cremerie Pandan
Named for the fragrant green plant that's been dubbed the vanilla of Southeast Asia, Montreal's first Thai-style creamery rolls traditional techniques and local ingredients into one. This Saint-Henri creamery is one of few in the city that offers hand-rolled bowls, first by flattening slabs on an anti-griddle and then rolling them into frosty bundles. Fresh fruit, syrups, and crumbles transform the treats into parfait sundaes like the summery strawberry shortcake or the maple-drizzled take on traditional Quebecois pouding chômeur cake.
Photograph: Confetti Café & Glaces
11. Confetti Café & Glaces
From crème fraîche filled affogato to toasted sourdough ice cream, the confections at Confetti are as majestic as they are darling, which is fitting since its owners also happen to run similarly named establishments nearby on the Main. Ice creams can be enjoyed by the scoop, but it's worthwhile to pull up an antique chair and order one of acclaimed pastry chef Daniel Mongraw's creamy concoctions. Try, for instance, a picture-perfect ice cream sandwich made with cocoa cookies, 70 percent chocolate Bavarian ice cream and a gooey miso-caramel filling.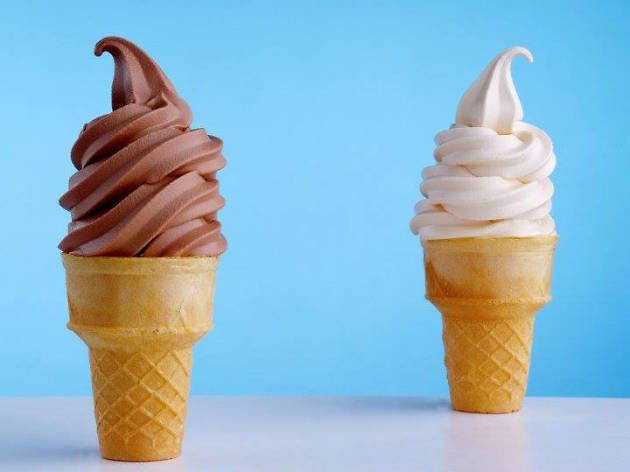 Photograph: Pizzeria Gema
While this Little Italy gem may be better known for slinging pies, the secret's out on its homemade frozen custard too. Served from a walk-up window, the rich and creamy treat is made in-house with dairy from Laiterie Chagnon in Waterloo, Quebec and offered in traditional flavours⁠—pistachio, vanilla, and chocolate⁠—that are switched up on the regular. The cherry on top? Toppings like macerated cherries, roasted nuts, and butterscotch or chocolate sauce can be added at little extra cost.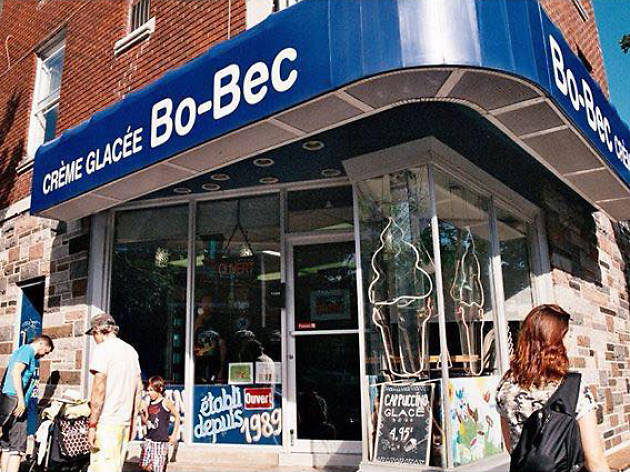 Photograph: Crèmerie Bo-Bec
Hidden away near Parc Laurier, this sweet spot has been keeping Plateau cool since 1989. Old fashioned soft serve, milkshakes, and slushies can be ordered over the counter, but owner Gilles Prudhomme's specialization in the hard stuff are the most recommended with more than 24 flavours stocked in the curved glass display counter. Scoops aren't skimpy here, but it may still be a good idea to go for two since it's a tough call between classics like bubblegum, cookie dough, espresso and creations like rosewater, hibiscus cranberry or crème brûlée.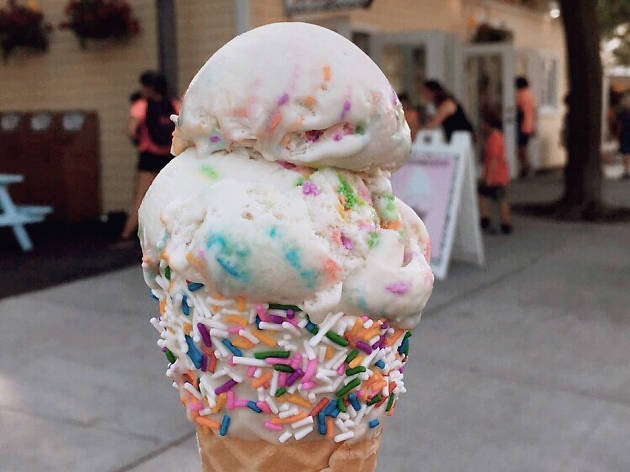 Photograph: Wild Willy's
Wrangle together a pack of friends and head west to Wild Willy's in Pointe-Claire to conquer the King Kong, 15 scoops of hard homemade ice cream. While that may sound like it'd get tiring, their 48 flavours on offer go from vanilla to donut, so pickings are anything but slim. Not to mention the froyo, hurricane blends, choco-dipped bananas, frozen tofu and more. Can't choose between hard and soft? The Zigamazoo cone has you covered with its mixed textures. Sweet-toothed canines are in luck too with puppy- and regular-sized treats on offer for furry friends.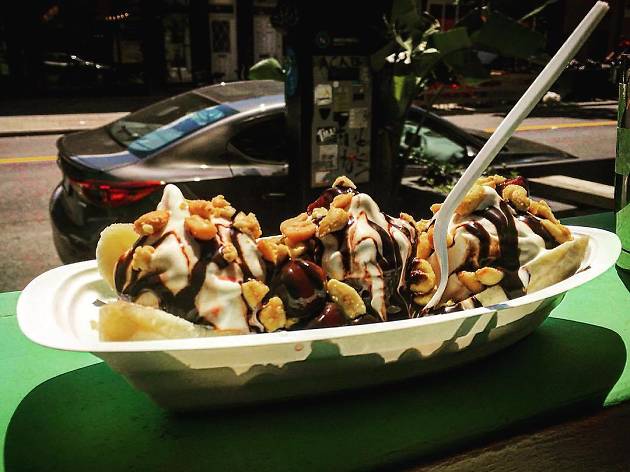 Photograph: Monsieur Crémeux
Since 2012, Monsieur Crémeux's white-and-teal truck has hit the streets with frozen treats, and in 2015 it obtained the keys to its permanent address in Little Italy. Specializing in soft serve, sandwiches and slushies, the restaurant Pastaga's side project prioritizes local and organic flavours with fruits in high variety. Instead of funky flavours, look for creativity in gourmet garnishes like ginger-spiked marmalade, caramelized pecans or a nutty caramel bretzel crumble.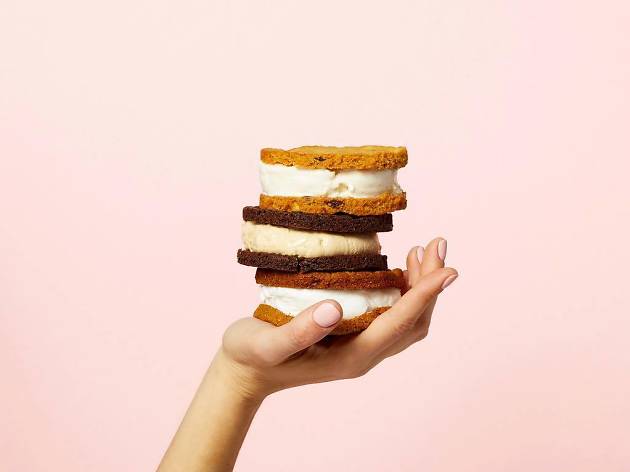 Photograph: @nicolas_berat
All ice cream makers are skilled at working in cool temperatures, but few hold an actual degree like L'Armoire à Glaces owner Valérie Campeau who studied at the Carpigiani Gelato University in Bologna, Italy. The counter at this Plaza Saint-Hubert establishment is a glassy cabinet of curiosities, with housemade confections that range from creamy fig and ricotta gelato to peppery carrot or mango-coriander sorbet (half of the selection is vegan). Ingredients are all-natural and kept in the Montreal family, with cookies from Sachère Desserts and coffee from Café 8 oz.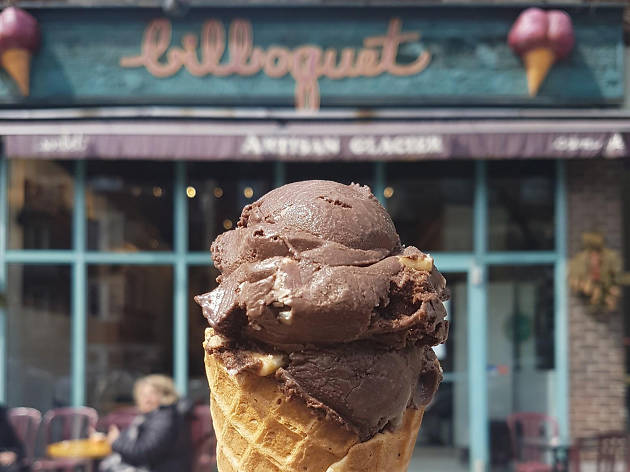 Photograph: Bilboquet
First founded in 1983, Bilboquet's original outpost in Outremont is now just the tip of the iceberg for this glacial franchise which dominates the city's cup and ball game with multiple locations and widespread distribution. Signature handmade flavours include the Moka Fouili with coffee, chocolate and crunchy caramel toffee, and the rowdy Brou Ha! Ha! made with vanilla, melted brownie chunks, caramel and shredded praline. Above all, its crème de la crème is the Maple Taffy, loaded with liquid gold and available in limited supply.
Satisfy your sweet tooth in Montreal
The best desserts in Montreal are found in the work from masterful pastry chefs and bakers to ice cream and donut shops.
Whether it's pastries, croissants or fresh bread you're after, it's all on the menu at the best bakeries in Montreal.
This is your eat-like-a-local bucket list for iconic Montreal food, beyond eating poutine, smoked meat and bagels.