Heads up! We're working hard to be accurate – but these are unusual times, so please always check before heading out.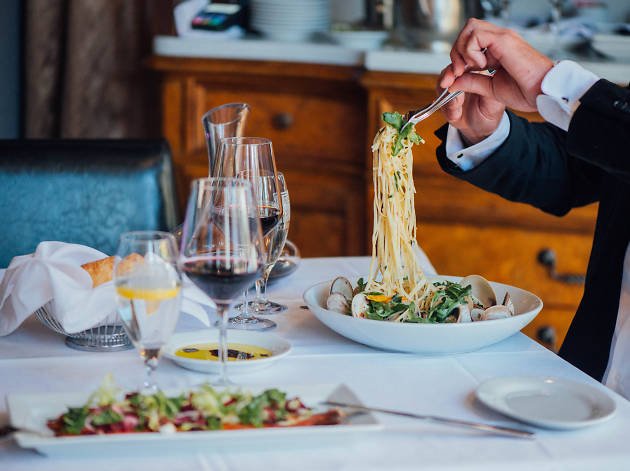 The best restaurants in Little Italy, Montreal
One of Montreal's most vibrant neighbourhoods, Little Italy's restaurants are a combo of what's classic and classy
Little Italy enclaves in cities are sometimes filled with more schtick than delicious food, but that's definitely not the case with Montreal. Italian restaurants that have historically served top quality food to the neighbourhood for decades are being joined by some first-class spots, from fine wine bars to Michelin star-caliber restaurants. A sunny day spent walking around for sightseeing or dining and drinking is life in Montreal at its best. Either snag a reservation at one of these smoking hot addresses or soak up the easygoing vibes with a cappuccino from one of the classic Italian cafés.
RECOMMENDED: Full guide to the best restaurants in Montreal
Best Little Italy restaurants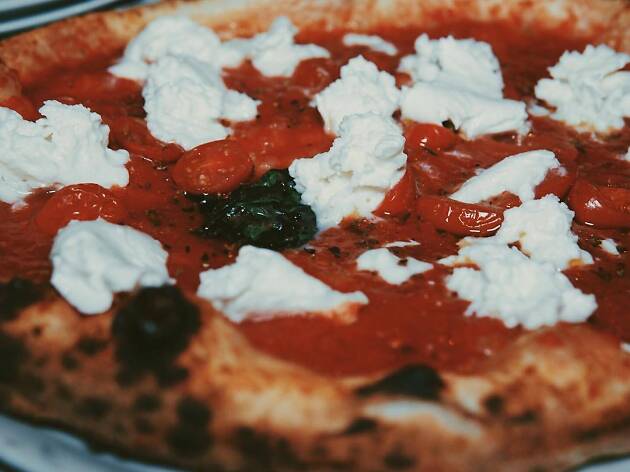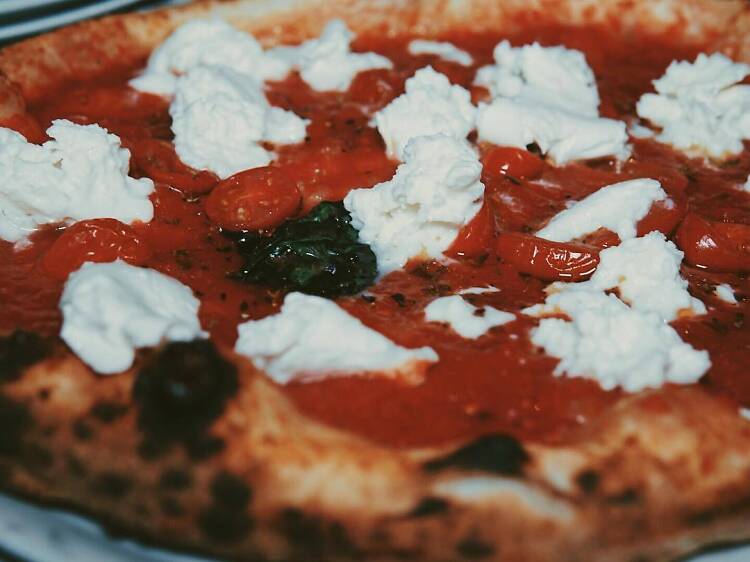 Photograph: Courtesy Bottega
Bottega is to Little Italy as L'Express is to the Plateau: A reliable stalwart that will always stay above the trend-chasing of its competitors. Back in 2006, the Covone brothers opened the restaurant and introduced real deal Neapolitan pizza to the city of Montreal. The pies here are cooked in a Vesuvius oven at a searing temperature of 900 degrees, producing the Leopard spot crust that is the hallmark of Neapolitan pizza. Don't forget to order a Negroni with your Margherita!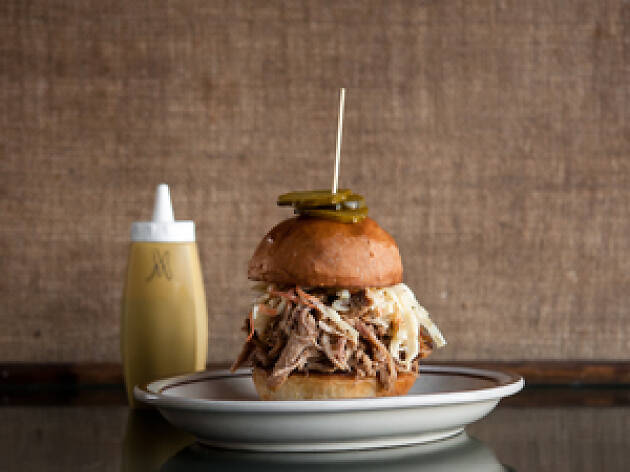 Courtesy Dinette Triple Crown
A mecca of fried chicken and bourbon in Montreal exists within the doors of Dinette Triple Crown. Headed up by a born and bred Kentuckian, Colin Perry, who grew up a couple of doors down from the Original Kentucky Fried Chicken, this restaurant nails not only the regional chicken style but also the sides and desserts. Those in the know take their chicken in a picnic basket to the park across the street to weather their resulting food comas.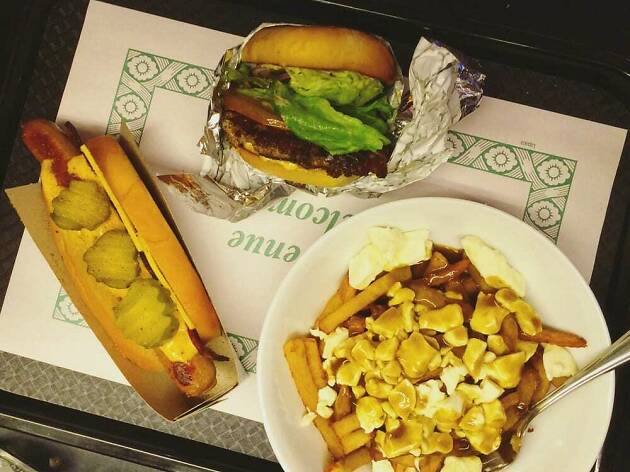 Photograph: Courtesy Yelp/Audrey Rose R.
One of the best aspects of life in Quebec is the venerable institution known as the casse-croûte, little rural shacks that are serving solid poutine, club sandwiches and burgers. Driven by a desire to deliver this with a chef's eye for quality, Stefano Faita and Michele Forgione concocted their dream version in Little Italy: The meat is ground in-house, the gravy is made from proper stock, and the donuts are perfection. All of it merits return visits time and again.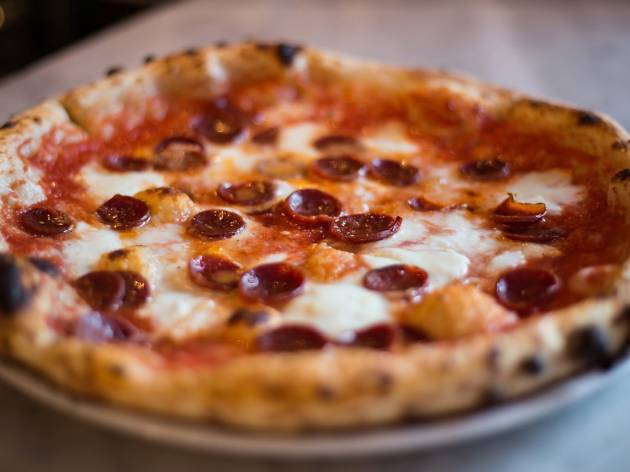 Photograph: Gema Pizzeria
Life in Little Italy revolves around Dante Street, and life on Dante Street revolves around Gema Pizzeria. Another product of the proud partnership between Stefano Faita and Michele Forgione, this particular restaurant's known for serving pizza alongside a large variety of fresh market starters and sides. Their pizza deviates a little from the woodfired trend as they use an electric deck oven, but it still creates an excellent crust. What really separates Gema Pizzeria from the rest of the pack is in the creativity and excellent quality of their toppings.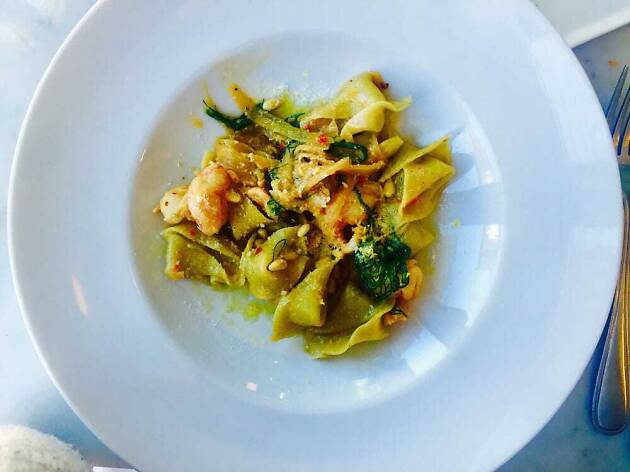 Photograph: Courtesy Yelp/Doris Z.
As Faita & Forgione go on to open more and more restaurants, their attention has turned away from Impasto to some degree. Thankfully for us hungry masses, they have left the restaurant in the most capable of hands: Aicia Colacci. Under her guidance, the menu has gone on to become the epitome of seasonal Italian cuisine in Montreal. The kitchen effortlessly carpets tables in platters of Gaspor porchetta, handmade pastas and exceptional desserts.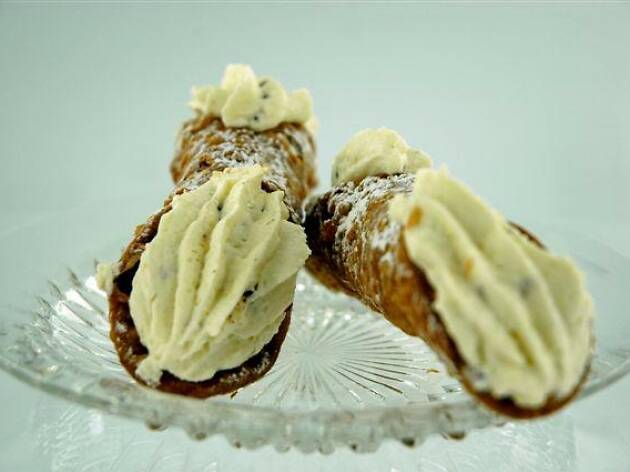 Photograph: Courtesy Alati-Caserta
6. Pasticceria Alati-Caserta
This bakery is one of the real lasting heartbeats of the Italian community in Little Italy, their towering window displays rivalling those of the biggest shops on Fifth Avenue in New York City. Once inside, it's all but impossible to submit to the pastry case laden with 30+ precious and satisfying pieces of sugary art. While the cannoli, sfogliatella and tiramisu are reason enough to visit this bakery, their lemon granita on a hot summer day can simply not be beaten.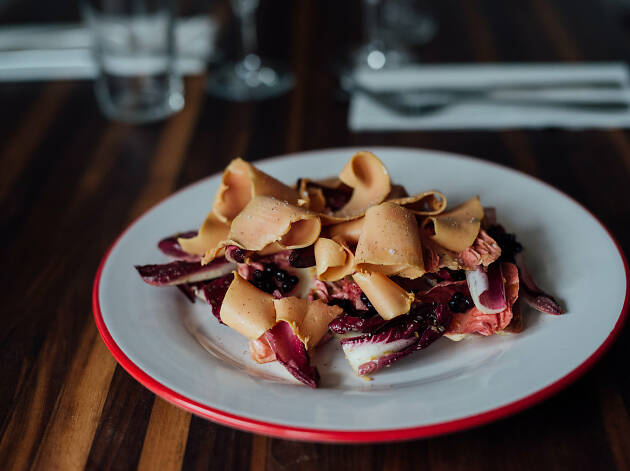 Photograph: Alison Slattery
After the success of Vin Papillon in Saint Henri, the team from Joe Beef struck out of their homebase of Little Burgundy to open this gem that features natural wines and small plates created by Jessica Noël (formerly of Liverpool House and Candide). This is their smallest restaurant to be opened thus far and the cozy interior vibe perfectly fits the area, full of amazing antiques they've squeezed into their tiny space. Remember that they don't take reservations, so the trick is arriving when the doors are unlocked for evening services.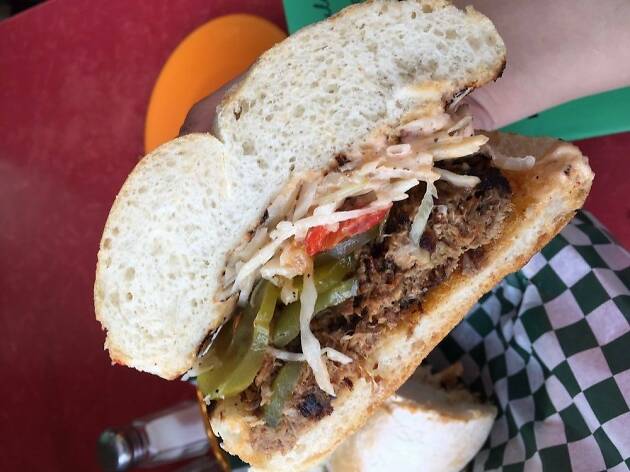 Photograph: Courtesy Yelp/Katie Z.
The depanneur is a proud Montreal institution, one in which all of your needs and wants are covered, whether it's just-before-midnight snacks, a pack of beer or bottle of cheap red. This restaurant takes it to the extreme, preparing some of the most well-crafted sandwiches in the city. They've made their name on their so-called 'fake pulled pork' that's expertly prepared with jackfruit in lieu of the real deal. If that doesn't fit your fancy, rest assured that the rest of their many other sandwiches are fantastic as well in addition to a mean breakfast.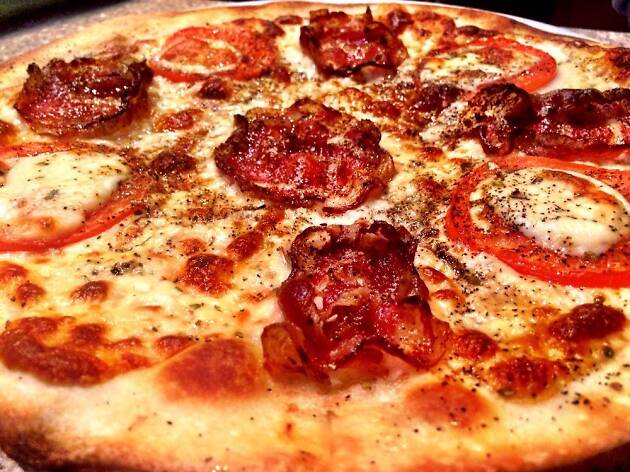 Photograph: Courtesy Yelp/Jack D.
Pizzeria Napoletana has been holding down the pizza game on Dante since 1948. The average night in the dining room of this fine establishment is plucked straight out of a scene from the Sopranos: Red sauce cascades over everything, pizza and pasta alike. In addition to the more than 40 options for pizza and pasta, they also perfectly execute the other Italian-American staples such as meatballs, salads and more. To some it might seem campy, but to us, this is home.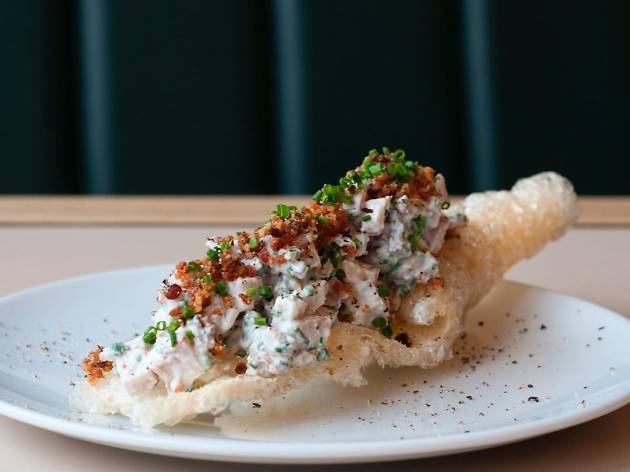 Photograph: Bar St-Denis / @mcstp
One of this year's new head-turners, this bar features a more-than-substantial menu to make it a restaurant in our eyes. Opened by two veterans of Au Pied du Cochon, one of the city's best restaurants, this place is intended to be a place to casual grab a drink or bite by early evening, or drop in for a party later at night. That said, the menu is the perfect merger of bar-based classics and the culinary background of chef Emily Homsy's Egyptian heritage, leading to a menu boasting a perfect bavette as well as kibbeh.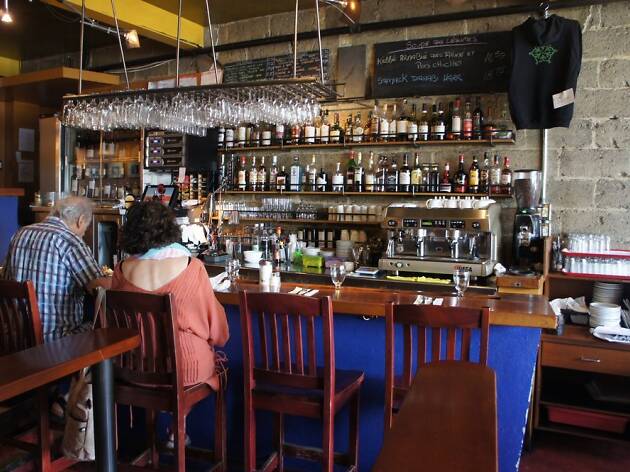 Photograph: Courtesy Yelp/Jonny M.
Petit Alep is, and has long been, a breath of fresh air in the wine bar scene in Montreal. Not only do they operate one of the best wine lists in the city, but they're also one of the city's more affordable options for choice bottles. They serve the exact food you want to be eating while drinking some of the world's best wines: Light and fresh Syrian and Armenian food such as grilled pitas, falafels and a formidable range of mezzes to choose from.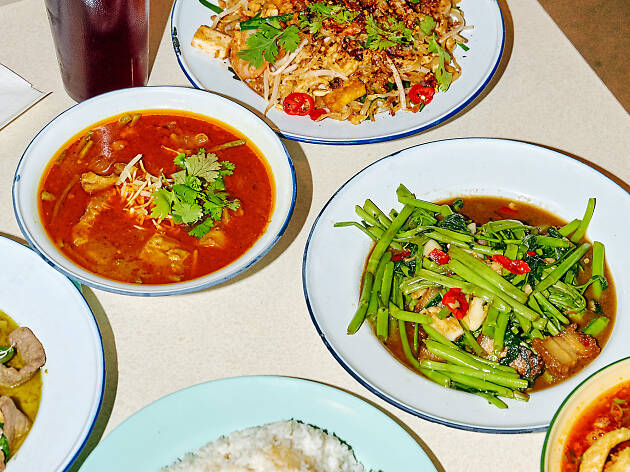 Courtesy Épicerie Pumpui
Next door to Bottega and across the street from Vin Mon Lapin is where you will find some of the best and spiciest Thai food in the city. Created by Jesse Mulder, who spent the bulk of his adult life living in Thailand learning how to make Thai classics, the shop itself is part depanneur and part curry counter with the food kept in hot tables. This snack shack's ability to layer the loud flavours of its cuisine is nothing short of phenomenal. If you're not one for something spicy, the crisp fried chicken and morning glory salads are worth a quick nosh.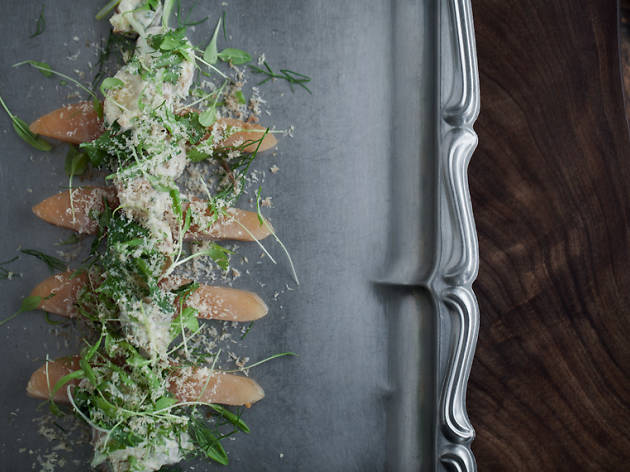 Photograph: Pastaga
This restaurant is interested in pushing the avant-garde forward, coming up with new creative flavour combinations to expand the scope of gastronomy in the city. Featuring the small plates-style that's currently in vogue with many of the city's restaurants, this restaurant's known for sporting a nicely curated wine list that matches a lot of the bold flavours featured in its food. Not just for dinner, take note that Pastaga also offers an excellent brunch service.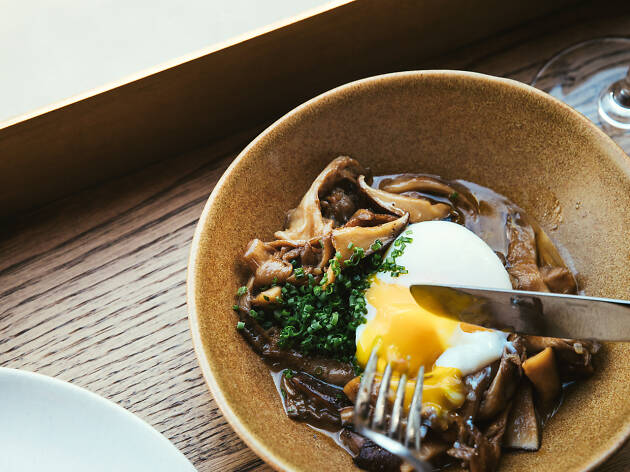 Photograph: Virginie Gosselin
Chef Mehdi Brunet-Benkritly worked his way up the ranks at Toqué!, the brewpub Réservoir and Au Pied de Cochon—with a couple New York establishments to boot—before opening up this picture perfect neighbourhood bistro. All of that experience culminates in food that's at once comforting while still not being too familiar. His prodigious cooking experience is best displayed in any of their offal preparations; get the sweetbreads if you see them on the menu, but small snacks alongside some savory snacks are equally encouraged.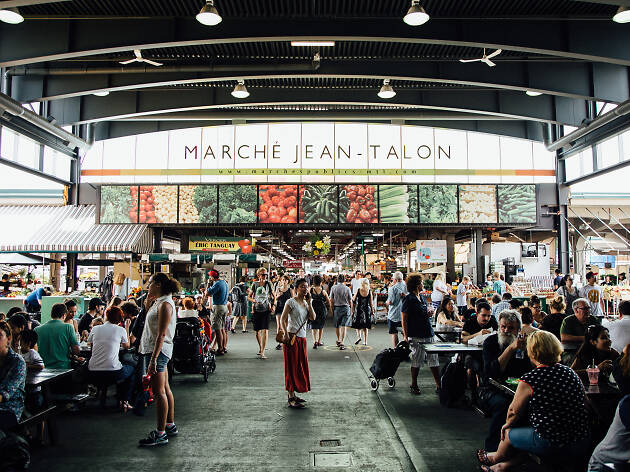 Photograph: Kelly Jacob
While most people go to the market to buy up seasonal selections of fruit and vegetables to enjoy outside and at home, there's more than enough reason to stay and eat at the market itself beyond freshly sliced samples from vendors. Start with a half-dozen oysters on the half shell at La Boite aux Huitres, move on to a few cochinita pibil tacos from El Rey del Taco and finish it all off with a butter and sugar crêpe courtesy of La Creperie du Marche. Don't forget to take breaks in between to buy up some choice charcuterie and cheeses.
Where to drink in Little Italy
The neighbourhood may be small, but the bars in Little Italy got it all, ranging from dive bars to wine bars.
More of the best things to do in Little Italy
There's more to the best things to do in Little Italy than just mangia this and mangia that—but we got that covered too.