Heads up! We're working hard to be accurate – but these are unusual times, so please always check before heading out.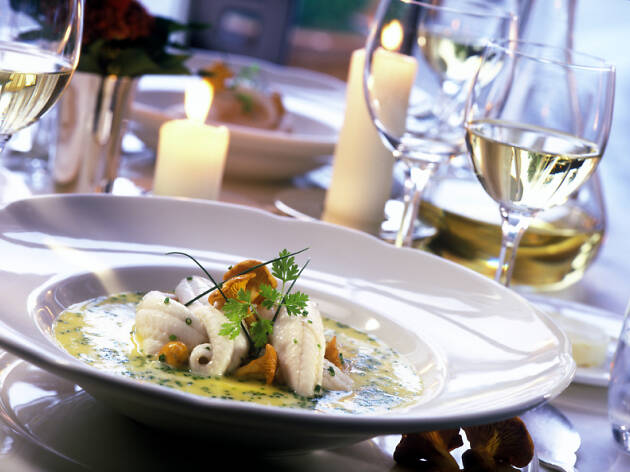 Michelin star-caliber restaurants in Montreal
If Montreal had the Michelin Guide, which restaurants would earn a spot on the list and what would their star rating be?
Despite all of the international attention it receives on the culinary stage, Canada has yet to receive ratings from the Michelin Guide. Until it arrives—and our guess is that it's only a matter of time until it does—the following are what we think would be Michelin star restaurants in Montreal. They're the city's top-notch institutions and groundbreakers, from our most romantic restaurants to quintessential Italian restaurants, that form the best of the best and make Montreal stand out as a cultural powerhouse.
RECOMMENDED: Full guide to the best restaurants in Montreal
Michelin star-worthy restaurants in Montreal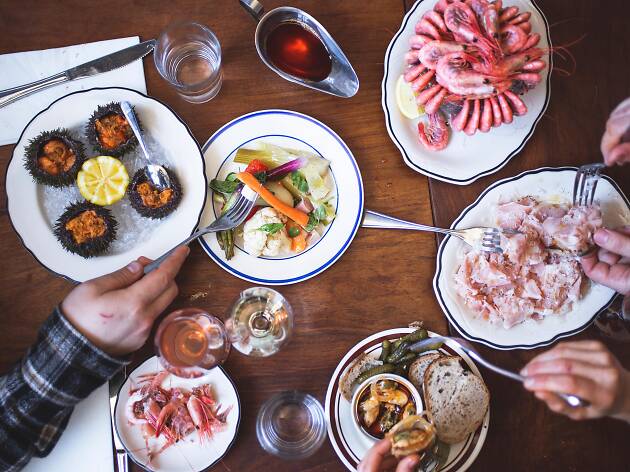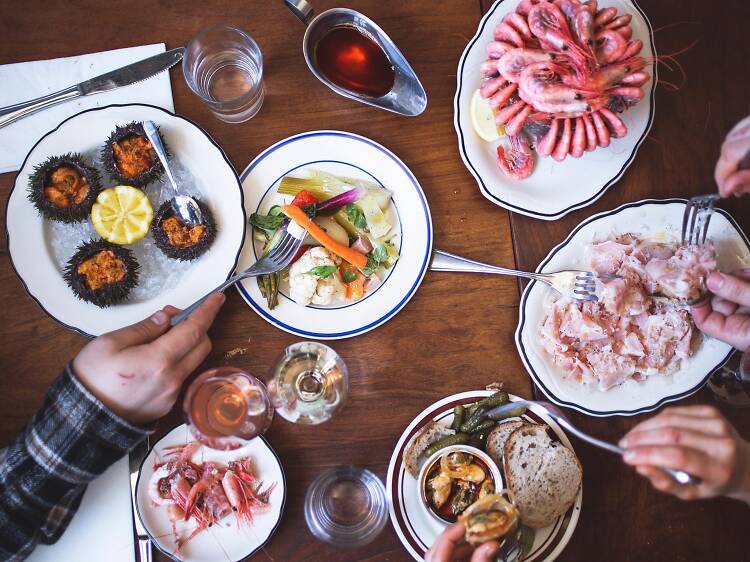 Photograph: Courtesy Joe Beef
A trailblazer of creative Canadian cuisine from Allison Cunningham, Fred Morin and David McMillan, this restaurant has been incalculably valuable to Montreal's status as a culinary champion ever since it was founded in 2005. If award-winning cookbooks, raising the barn for three other restaurants—all of which make this list—and heaps of accolades both national and international aren't enough to convince the uninitiated of their value? Experiencing their characteristically bombastic services replete with richly weighted dishes made from Quebecois terroir treated with deft techniques will.
Two stars
Photograph: Hans Laurendeau/Shoot Studio
We can thank this restaurant's chef-owner Normand Laprise for leading the city's pack when it comes to recognizing the quality of Quebec's ingredients, with Toqué! being known as a forebearer of the farm-to-table movement here. From seafood on the coast to the peak freshness of farms in the summer to preserves and hearty roots in the winter, the menus here shift seamlessly with the seasons in colorful curations of cultivation.
Two stars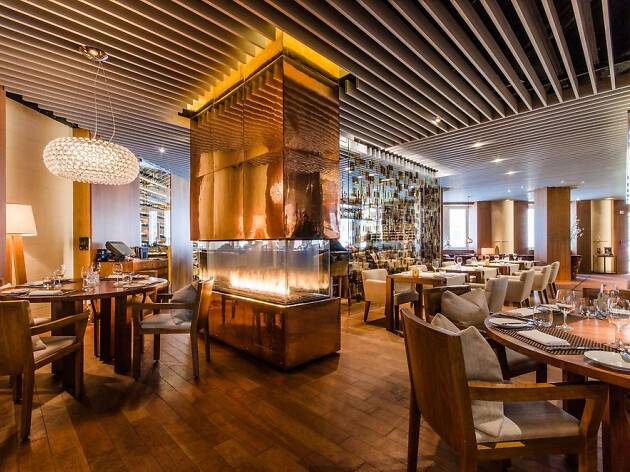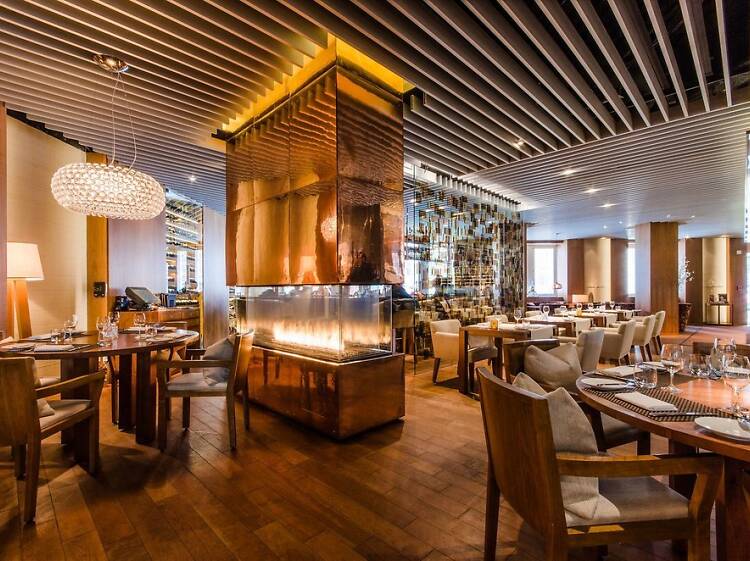 Photograph: Courtesy Yelp/Maison Boulud
New York City's one of the top stomping grounds in America for Michelin star restaurants, where chefs like Daniel Boulud maintain the gilded status of French cooking. Highly lauded specialties from there are found here, at this high-class restaurant located in the Ritz-Carleton hotel, from long tasting menus and French classics to humble yet elevated dishes of hamburgers and club sandwiches; all of it—and you, the diner—are given the most thorough of treatments.
One star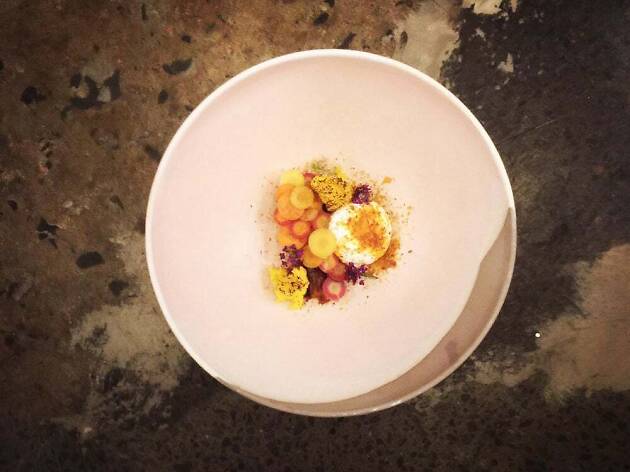 Photograph: Courtesy Yelp/Antonin M.
The meticulously conceived menus of chef Antonin Mousseau-Rivard and his team are the hallmark of both this and its sibling à la carte restaurant Le Petit Mousso next door. The work here is regarded as a Quebecois approach to New Nordic cuisine—using natural and seasonal ingredients to create new dishes—and any given plate on the table excels at surprising patrons: A spiced pig's blood cake with fermented apple gel; sea buckthorn berry juice that's refined down to the taste of a lemon; beet candy floss with chilled foie gras. It's all painstakingly creative here.
Two stars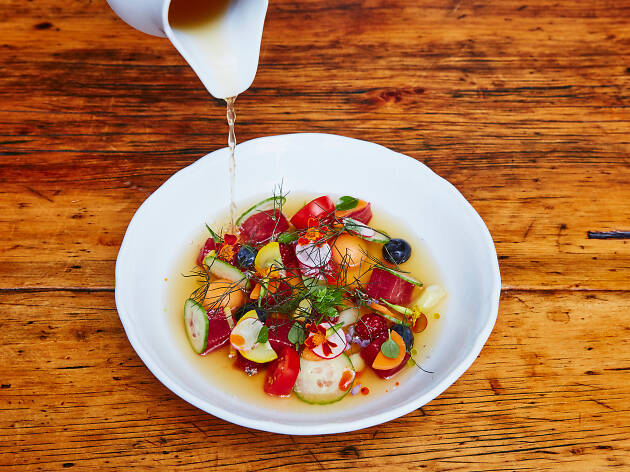 Photograph: Dominique Lafond
The work of chefs Charles-Antoine Crête and Cheryl Johnson are both outliers and essential reading when it comes to dining out in Montreal. Food, service and atmosphere—from conception to execution—is like no other when considering the chefs' high-wire balance of play and rigor: Names of commonplace dishes are merely placeholders for crazier work, like 'cannelloni' made with daikon or baloney or sashimi draped on the back of a plastic gorilla. If the food isn't enough to attract, come for the fever dream-like touches in its décor.
Two stars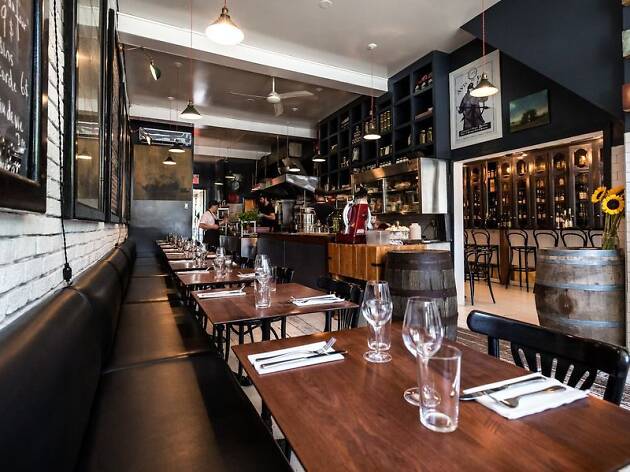 Photograph: Le Vin Papillon
The second sibling of the Joe Beef family of restaurants, this address holds a status as both an amazing wine bar and accomplished eatery in the city. Thanks to the combined efforts of sommelier Vanya Filipovic and chef Jesse Grasso, the vegetable-forward dishes and charcuterie of house cured meats and regional cheeses are blended seamlessly with pairings that turn any diner's whims from snacking to full dinners into tasting menu experiences.
One star
Photograph: Liverpool House
The fresh, local apple doesn't fall far from its tree: The first restaurant spurred from Joe Beef, this no-reservations location serves those who can't nab a table at the perpetually-packed Joe Beef next door. Here, chef Ariel Schor caters to local families and flâneurs with a menu that offers classics from the patriarch like lobster spaghetti alongside hearty proteins and an impeccable oyster bar. Lest we forget, the work of sommelier James Simpkins and barman Chris Morgan keep things lively with their boozy skills. Oh, and Obama and Trudeau once famously dined here.
One star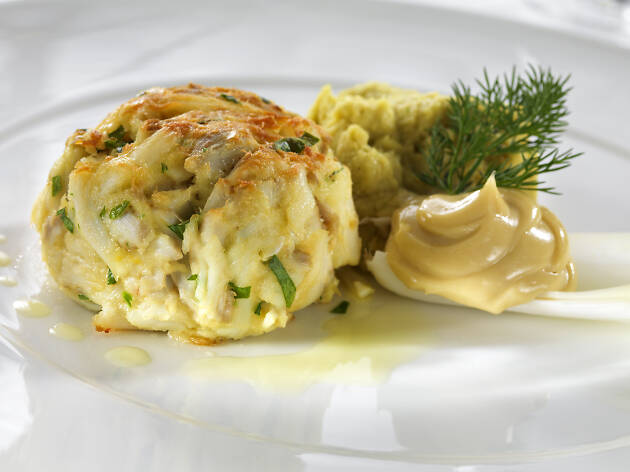 Photograph: Estiatorio Milos/Jeff Green
Its satellite locations in the cities of Athens, Miami, London, New York and Las Vegas—and soon ones in Los Cabos and Dubai—tend to fool outsiders, but make no mistake: This Montreal location started it all with a Greek taverna right here in 1979. Its current location is a chic representative of the Mediterranean diet, serving a tremendous array of fish and seafood fresh from market that's grilled or salt-baked to perfection alongside savory vegetable side dishes.
Two stars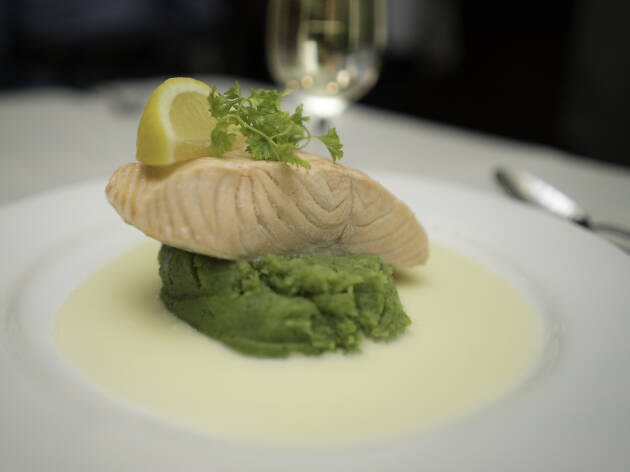 Photograph: Roger Gariepy
Were there one restaurant to cement the vision of Montreal as the Paris of North America, it would be here at this bistro reputed for local reliability and consistency. While chef Jean-François Vachon dishes out French classics like bone marrow, chicken liver mousse and saumon au cerfeuil with pinpoint accuracy, barman Claude Masson keeps the ship afloat with his lightning-quick service that bails out one satisfied customer to make room for the next. All that, and this one's been open from 8 a.m. to 3 a.m. daily since 1980. A level dedication seldom found elsewhere.
One star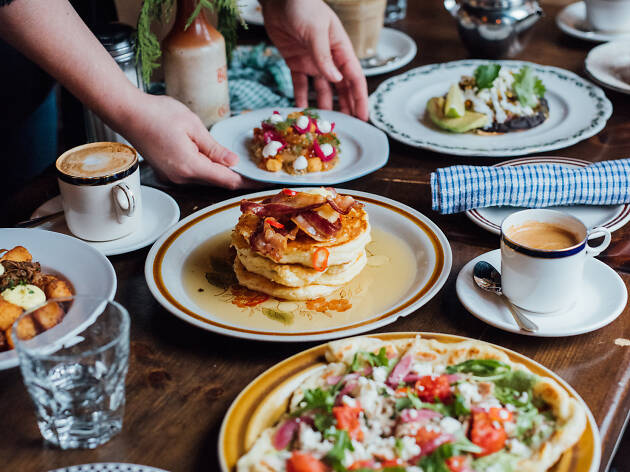 Photograph: Alison Slattery
Being a French city, the traditional English art of the gastropub isn't exactly commonplace in Montreal. Chef Derek Dammann's restaurant arguably brought it to the fore with this weathered-wood address, serving foundational European and Canadian dishes with inspired treatments. Walking in proffers an easygoing atmosphere, but a taste of its surf, turf and terra is anything but: From sumptuous offal-based plates to gooey Welsh rarebit, the experience here is as adventurous as it is a homecoming.
Two stars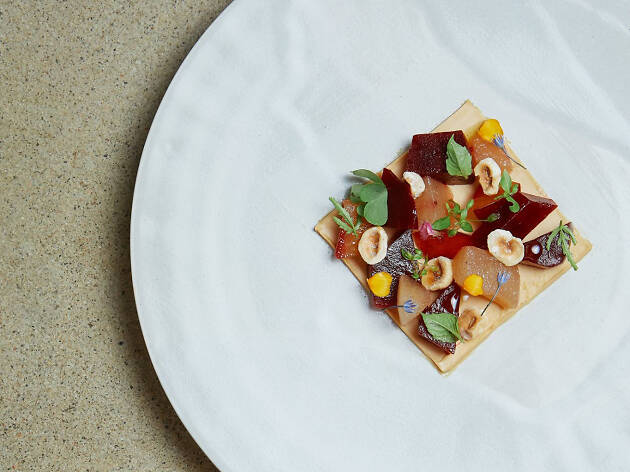 Photograph: Mickaël A. Bandassak
One year: That's all it took for frontman Kabir Kapoor and chef Jason Morris to gain a major amount of traction with this bright and airy location. With an inventive cuisine that defies any single descriptor—pulling from a variety of international influences to enhance local terrior—that's paired with top-notch wine lists and attentive service, it's little wonder that this place made waves when it first opened its doors. Scout the menu for dishes that play with cherished memories of food, like retooled smoked meat sandwiches and s'mores.
One star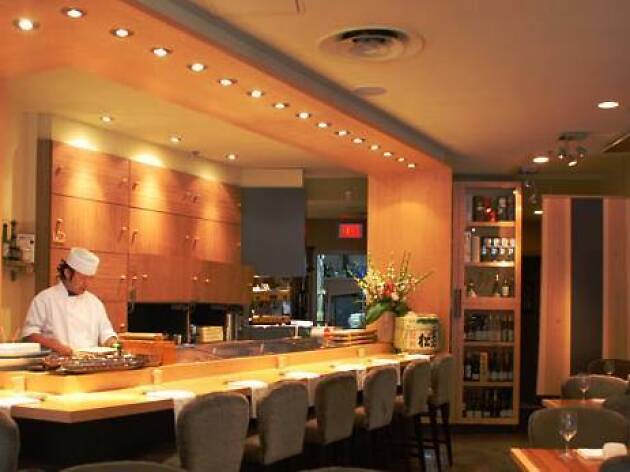 Photograph: Courtesy Jun I
Ask around for the best Japanese restaurant in Montreal, and it's this one from chef Junichi Ikematsu. While sushi is one of this restaurant's more recognized calling cards, don't disregard the menu's entrées that result from a cross-pollination with European techniques: Octopus with kombu salt that's grilled and set in a burnt celeriac purée, or arctic char with a pepper meringue and blood orange reduction. Whatever you visit for, it will impress.
One star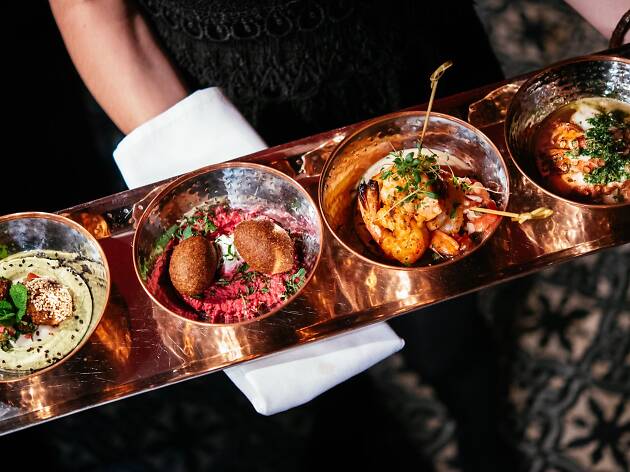 Photograph: Vesia Photography
To say the building blocks of Syrian cuisine's meze and main courses—earthbound fruits and vegetables, nuts and honey, grains and legumes, lamb and sheep, herbs and oils—are 'elevated' at chef-owner Fuad Alneirabeie's Damas runs dangerously close to being a disservice. The food here is amazingly fresh, robust and colorful, and the décor both plush and ornate. All of it conducts a mode of transportation for visiting diners to be whisked away on a culinary silk road.
Two stars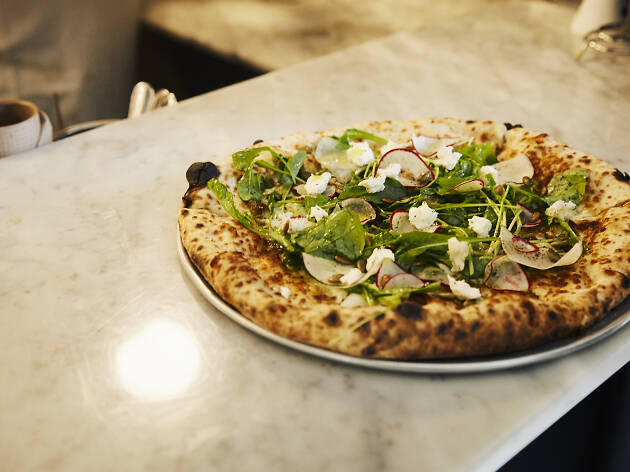 Photograph: Dominique Lafond
Following on the success of their Italian restaurant Nora Gray, a pizza-focused restaurant seemed to be a no-brainer in a city screaming for more choicely crafted Neapolitan style pies. Once this plush and sleek Italian modern eatery from Ryan Gray, Emma Cardarelli and Marley Sniatowsky opened, it stole the show: Their wood-burning oven turns pies into what many agree is the best in town—no small feat when considering how much Little Italy capitalized on the dish for the longest time. A combination of Gray's wine savvy, Cardarelli's recipes and seasonal coordination makes this location inimitably cool and accomplished.
One star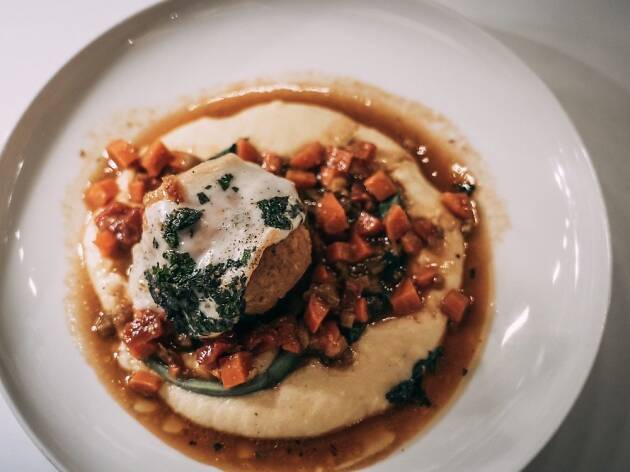 Photograph: Courtesy Yelp/Val L.
For several years Montrealers were wondering when this brasserie project from Jérémie and Richard Bastien would ever open, but any delays immediately became water under the bridge when doors were thrown open: An immaculate design full of windows and industrial textures inspired by New York City's Gramercy Tavern sets the stage for a menu that leans French with international applications. Food is both inspired and inventive while being reined in by solid technique, from tuna tartare with foie gras cream to roasted meats and seafood soups.
One star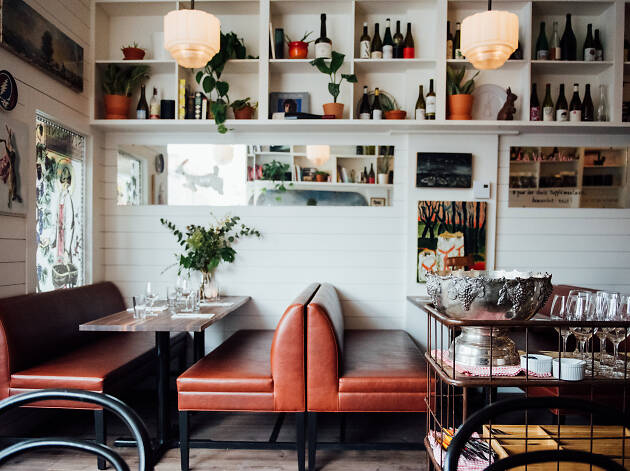 Photograph: Two Food Photographers
Market cuisine's a term that's bandied around so often that it runs the risk of tiring itself out, but this restaurant in Little Italy could be regarded as one that singlehandedly breathed some life back into it. Another homerun from the Joe Beef team: Chefs Marc-Oliver Frappier and Jessica Noël take Quebec's seasonal ingredients and spin gold à la minute with them while Vanya Filipovic expertly curates the wine cellar. No reservations at this tiny restaurant makes it democratic, but the dance of food and wine they provide makes it indelible.
One star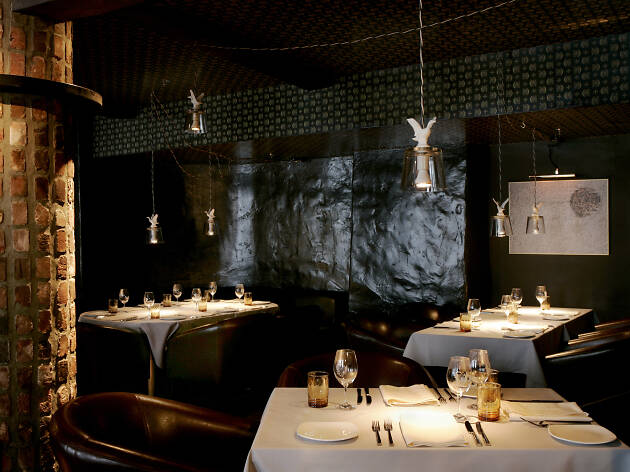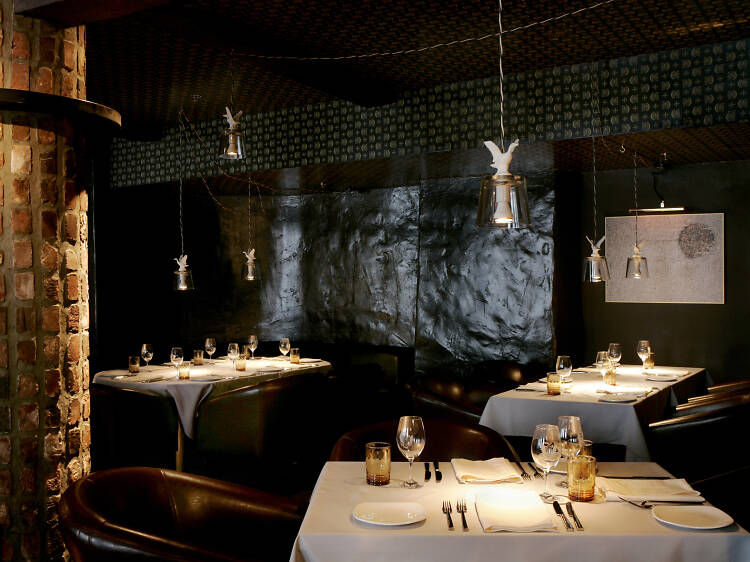 Photograph: Nicolas Ruel
17. Le Club Chasse et Pêche
There isn't an avid diner alive in Montreal who would deny the level of quality in chef Claude Pelletier and maitre d' Hubert Marsolais' restaurant in Old Montreal. Situated in an old stone château, this height of fine dining in the city is a combination of a dark and contemplative dining space and the Governor's Garden in the summer. But really, wherever and whatever you eat in its space, it's posh. Pelletier is said to be a quiet and reserved individual, saving oxygen for the kitchen where amazing food is made, food that Marsolais adeptly guides the hungry through with adept pairings to boot.
Two stars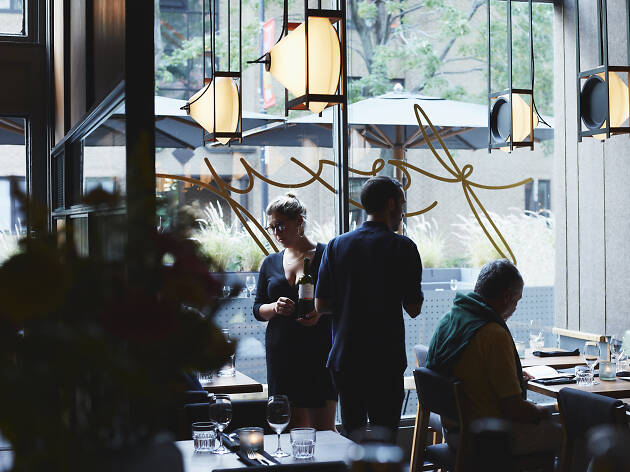 Photograph: Dominique Lafond
When this encore act to Dyan Solomon and Éric Girard's Olive et Gourmando opened, it seemed like there was little they couldn't successfully do. At the sexy black and gold restaurant Foxy, chef Leigh Roper uses open fires to their fullest with a wood-burning oven and Argentinian grill, where char and smoke infuse the menu with rich textures and flavours alongside fresh and flavorfully green counterparts. Just like its open flames, the atmosphere is hot and the service is warm, leaving diners in an embrace that lasts well into the night.
One star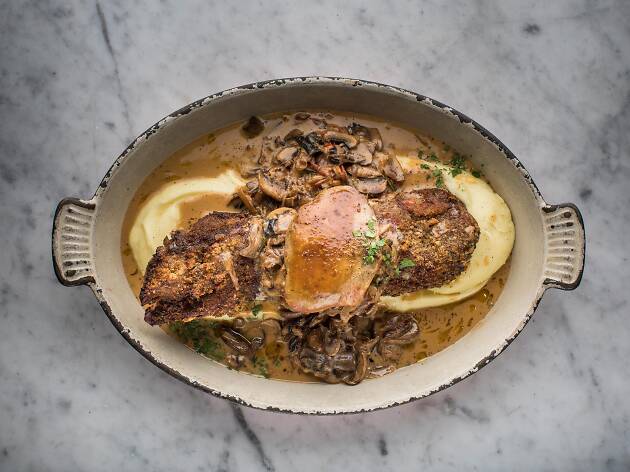 Photograph: André-Olivier Lyra
Before they were tackled by this restaurant's famous chef Martin Picard, Quebec's traditional and most iconic foods like poutine and pouding chômeur—while ceremoniously embraced by anyone from this province—weren't exactly showstoppers on the international scene. Rather than shun those recipes and traditions in lieu of time-honored European ones, Picard embraced them, enhanced them, and dug his feet in deeper to create this home to chaotically luxuriant food. Foie gras is scooped and shaved by the bucketful and maple syrup rains from the sky here. No one could better represent a wild and welcome treatment of Quebec classics than this man and his restaurant.
Two stars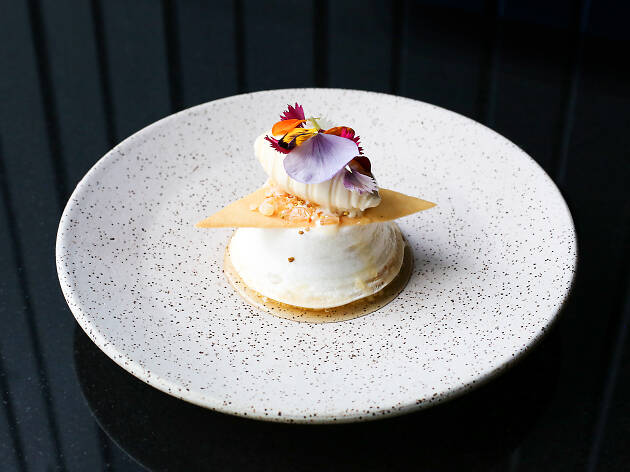 Photograph: Courtesy Île Flottante
Owners Nada Abou Younes and chef Sean Murray Smith first made names for themselves with the top restaurant in town on TripAdvisor, Les Deux Singes de Montarvie. Rather than rest on those laurels, they opted to reconstruct their business and identity from scratch, creating this excellently serviced and vegetable-heavy fine dining spot. The menu now gives elevated treatments to ingredients that make past traditions look demure: Last we checked, leeks were spun into spaghetti, jalapeños turned to jus and king oyster mushrooms were turned into Thanksgiving dinners. The variety of wine pairings matched with their multi-course menus make this one an exceptional young gun.
One star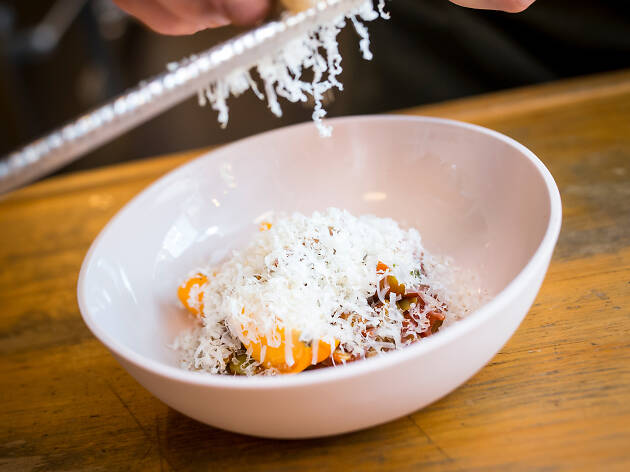 Photograph: Edouard Plante-Frechette
The work of chef John Winter Russell in this seminary-turned-restaurant is a masterclass in seasonal menus. Inspired by Voltaire's last lines of the novel of the same name, their dish compositions from farms and gardens are anything but garden variety. Even the wine list from Emily Campeau, numbering in around 100 bottles, is exploratory and refined. Maybe it's a residual effect of the building the restaurant is situated in, but the kitchen and front of house are so studious and attentive that dining here feels like in-depth research on the Perfect Experience.
One star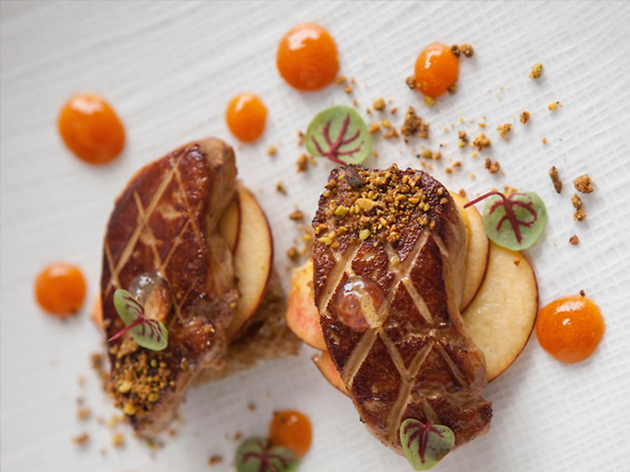 Photograph: Courtesy La Chronique
For a restaurant that excels in the field of high concepts in French cuisine, look no further than chef-owners Marc De Canck and Olivier de Montigny's restaurant. Rich and savory sauces, emulsions and foams flow easily alongside expertly cooked proteins, dishes that easily cater to anyone with a craving for a luscious meal. Wine too is a necessary experience here, as sommelier Jonathan Sitaras has a keen sense of good grapes. Together, they make the vaulted ceilings and eggshell white of their address a necessary stop on anyone's list.
One star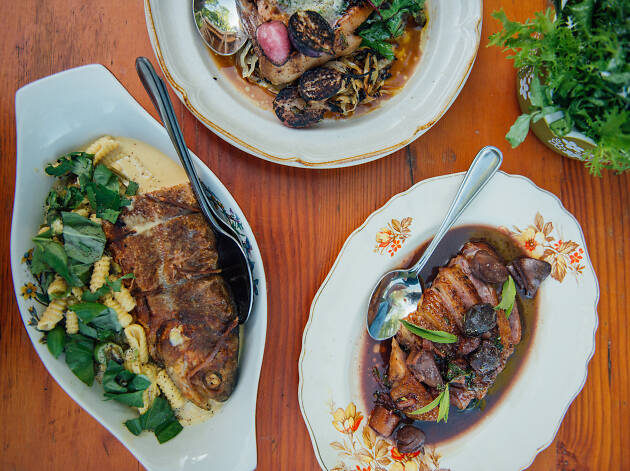 Photograph: Alison Slattery
The sugar shack, where the internationally coveted maple syrup of Quebec is made, is in itself a bucket list experience for anyone hoping to get at the heart of this province's culture. Many are endearing in their ramshackle and informal ways, blasting lively fiddle music as plates are mounded with portions coated in sweet amber. Enter chef Martin Picard with pastry chef Gabrielle Rivard-Hiller and sous-chef Vincent Dion-Lavallée, who took this in-the-bush tradition and raised it to dizzying heights with this destination where classic Quebec dishes are unbridled in creativity and guaranteed in their deliciousness. Whether it's tourtière, grand-pères or even pea soup, it'll be unforgettable.
Two stars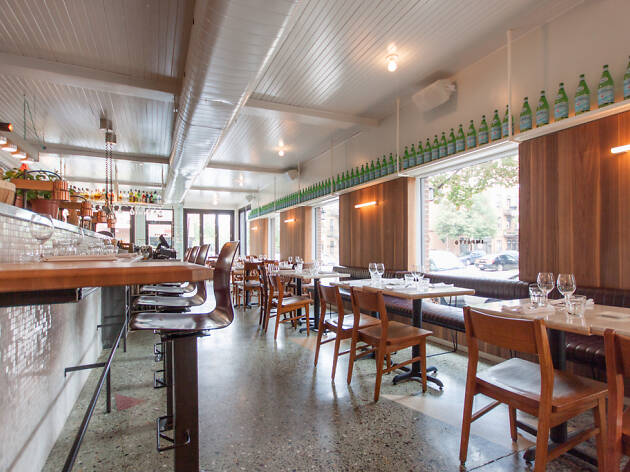 Photograph: Julie Perreault
Italian cuisine is hot in Montreal right now, but the first wave of this trend shouldn't be disregarded amongst all the press about what's new. This project in Little Italy from chefs Stefano Faita and Michele Forgione became a darling of its community in a short span of time, whether it was for fall-off-the-bone contorni or fresh pastas, all celebrations of regional Italian delicacies. It's now Aicia Colacci in the kitchen, and by her hand the menus are that much more wonderful and worth a trip.
One star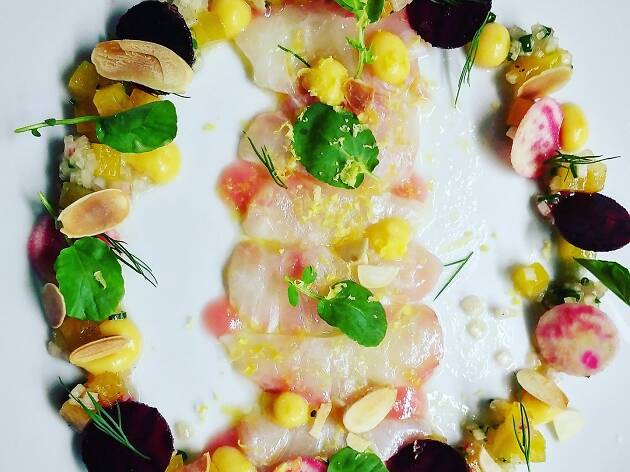 Photograph: Courtesy Provisions
One part chef-driven and the other market cuisine, the menu at this restaurant is one of the more curious experiences Montreal dining has to offer. Here, Hakim Rahal and Pablo Rojas opt to act as galley cooks that simply list the ingredients they'll be working with on a blackboard—hence the name—and take it from there. Diners are welcome to challenge the kitchen with combinations and restrictions on the fly, but whatever they dish out in requests, the chefs return the favor two times over. If anything, their mastery of combining concept with presentation deserves a reservation.
One star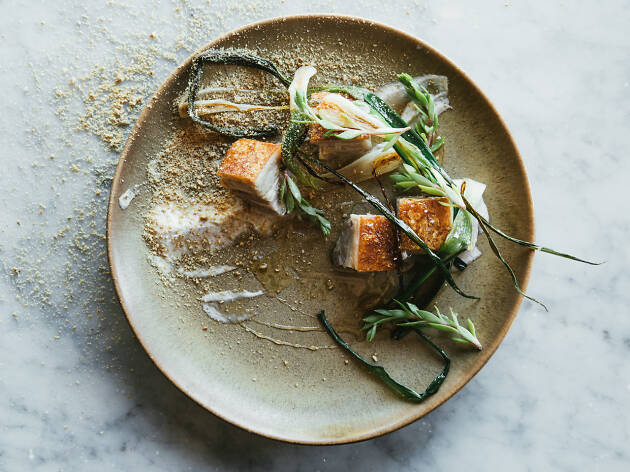 Photograph: Virginie Gosselin
Situated in a reclaimed depanneur (convenience store), this neighborhood restaurant from chef-owner Mehdi Brunet-Benkritly and partner Molly Superfine-Rivera is a formidable combination of bites and booze, respectively. Visiting diners are proffered either snacks or suppers according to their tastes as they enjoy the bottle and booze selections, making this a true-to-form combination of refinement and conviviality that Montreal's so well-known for. Whatever your preference, we recommend you run the full gamut while eating here and take one of everything.
One star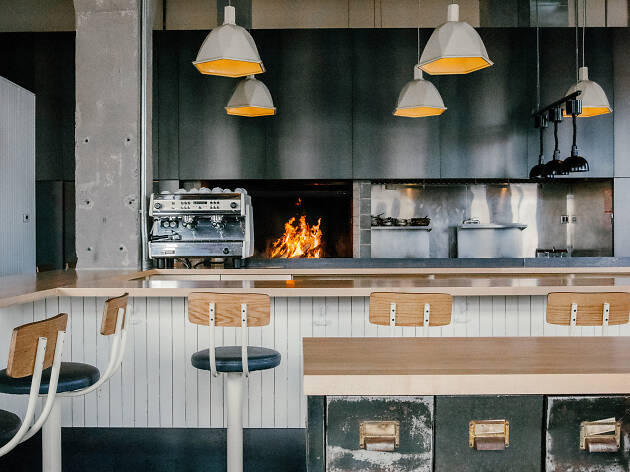 Photograph: Hoogan et Beaufort
Chef Marc-André Jetté and sommelier/partner in crime William Saulnier were the first to come together to offer a quintessential Canadian experience: Drinks around open flames. With a fire pit-driven menu and cocktail and bottles put to good use, evenings and nights in this renovated factory space are both cozy and edge-of-your-seat innovative. Be it a protein from the land or sea, it's grilled off and treated with artful presentations that sport thoughtful accompaniments. Everything here, even fresh pastas and plate-licking desserts, should be high on your list of what to eat.
One star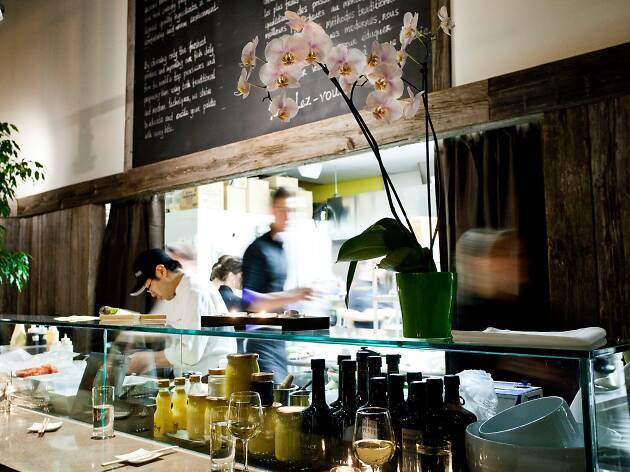 Photograph: Park
Antonio Park is a force to be reckoned with in this city. To be sure, this chef's mastery of sushi techniques is a major star of this restaurant's show—offering unbelievably fresh fish and seafood—but the hotter side of the menu is equally valuable. The chef's Korean-Argentinian background and cooking chops in countries like Japan and North America make eating here a real trip, whatever the temperature of the food: His speed and skill is seldom matched, and the experience of this restaurant's as fresh as his fish: Very.
One star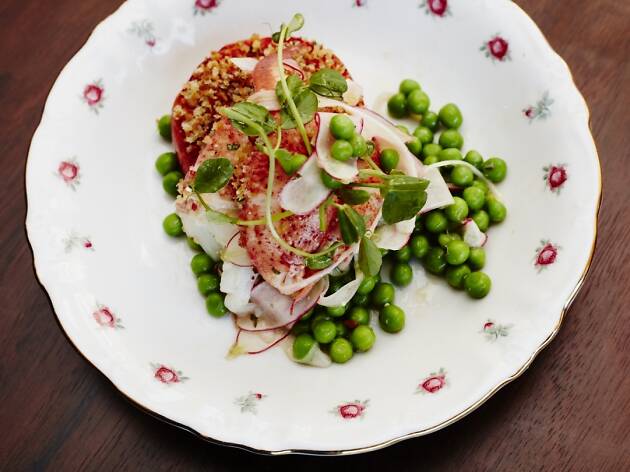 Photograph: Nora Gray
This intimate address is what put Ryan Gray and Emma Cardarelli on the map in Montreal, combining their respective skills in bottle selection and cooking fostered by Liverpool House into one formidable—and yet comforting—place to wine and dine. Shaped by the classic Italian procession of courses, it's all refined takes on what you'd find out the kitchen of either an accomplished ristorante or nonna herself, from primi right down to dolce. If not for the food, come for the ambiance at this jovial place.
One star
More of the best restaurants in Montreal
Welcome to the Time Out EAT list, our handpicked 'best of' selection of Montreal's culinary delights.