Heads up! We're working hard to be accurate – but these are unusual times, so please always check before heading out.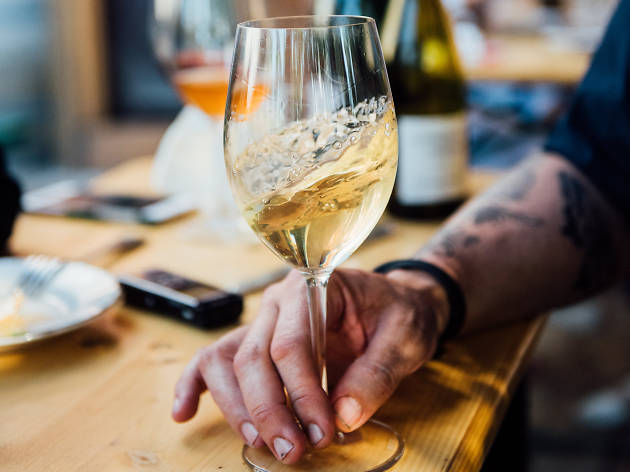 The best Little Italy bars you have to try
The neighbourhood may be small, but the bars in Little Italy got it all, ranging from dive bars to wine bars
While this popular neighbourhood gets its fair share of attention for having some of Montreal's best restaurants, Little Italy bars are equally deserving of some attention. It's a sturdy collection of spots that folks flock to from all corners of the city, one that includes some of the best wine bars and best beer in town. Whether you want to drop in for a pre- or post-drink to compliment your nightlife plans, or just to quickly duck in for a liquid nosh in between checking out some festivals, this area's got a full spectrum of watering holes that ranges from casual to swanky. Enjoy picking your poison!
RECOMMENDED: Full guide to the best bars in Montreal
Where to drink in Little Italy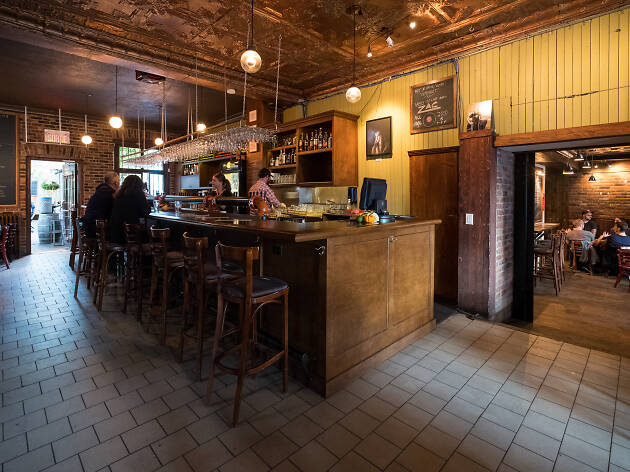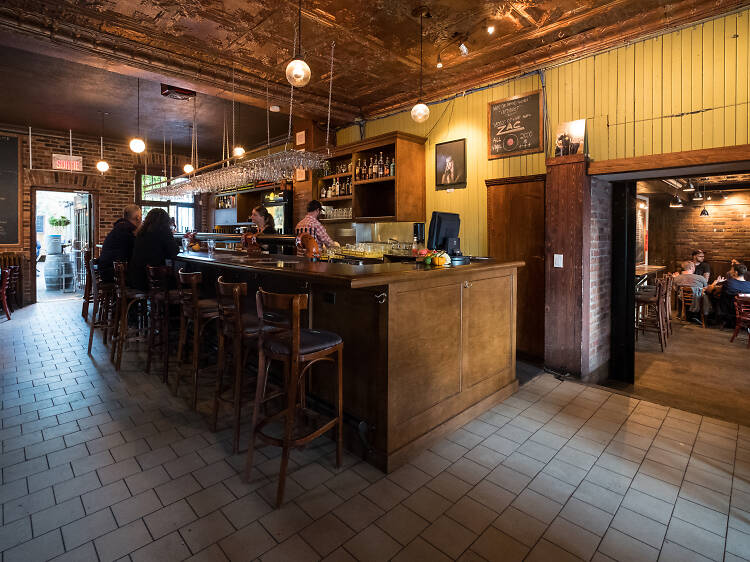 Photograph: Olivier Bourget
Easily one of the addresses you'll find the best beer in town at. The 40 taps here are stocked with some of Quebec's finest brews alongside with crafty stuff from around the country, plus wherever great beer is made in the world. They also sport a highly curated selection of bottled beers from the top-shelf breweries. Stop by any day of the week for a fresh pint, and check out one of their many tap takeovers where rare beer flows freely.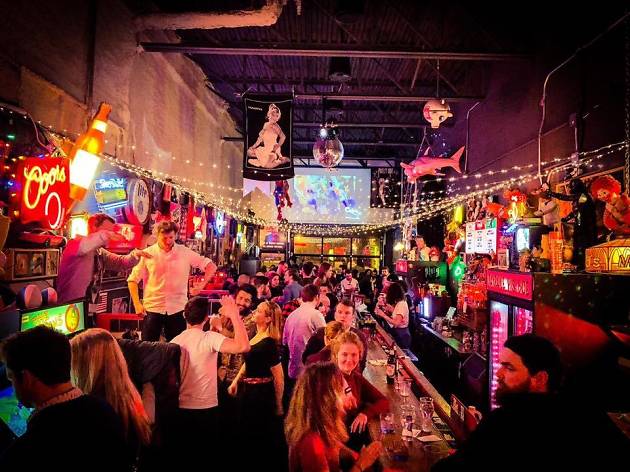 Photograph: Taverne Cobra
A modern dive bar stocked with cheap chug-worthy beers on tap, this is a beer and shot kind of spot. The vibe is that of a laid-back party: Do a few shots at the bar and then stagger over to the pinball machine or arcade games and get a few matches in before your next round. Just want to drink and chill? They have retro games and B movies up on the projector. Drunk enough to let everyone know how you almost made it onto Canadian Idol? They have karaoke too. Follow the neon snake and get swerved.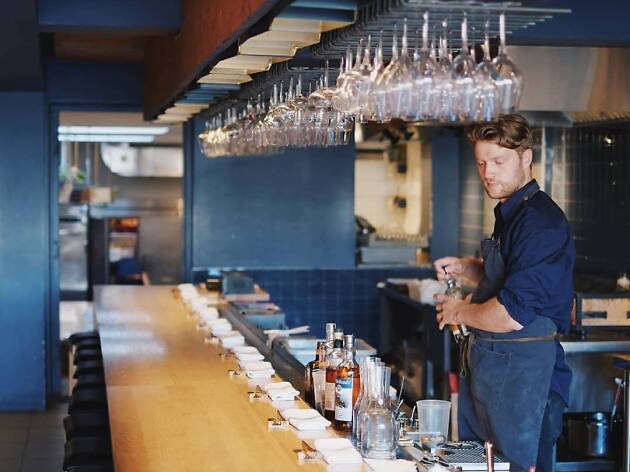 Photograph: Clayton Sandhu
Although officially billed as a restaurant, Le Diplomate is one of the rare restos in town with a bar license. They also have one of the deepest reaching wine lists in town, jampacked with incredible natural wines at some of the lowest prices we've seen anywhere. Wine is definitely the star here, but the team can whip up a great cocktail, and the beer and cider selection—although small—is well curated. Located across from the Home Depot on Beaubien, this might be one of Montreal's best-kept secrets.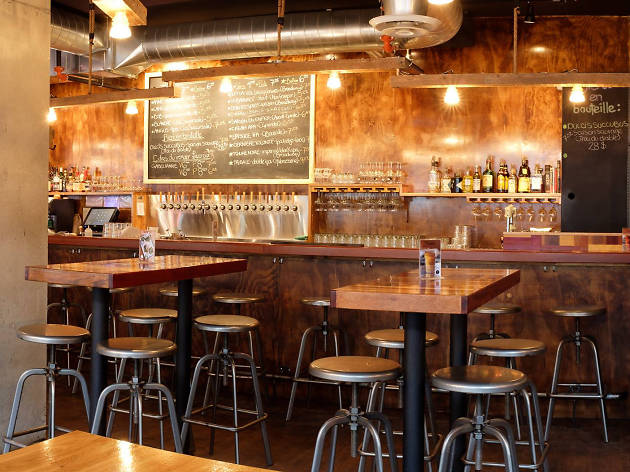 Photograph: Birra
A new beer bar in Litte Italy that focuses on slinging suds from breweries within the city, it's a industrial-minimalist space—think lots of concrete and wood—with an energy level that's vibrant and energetic. Birra is the kind of place you'd meet up with an old friend at, and if you're fresh to its scene, you'll likely make some new ones there. Grab a spot on the terrasse to enjoy a cold IPA and spend the time either reminiscing on the good times or making new ones.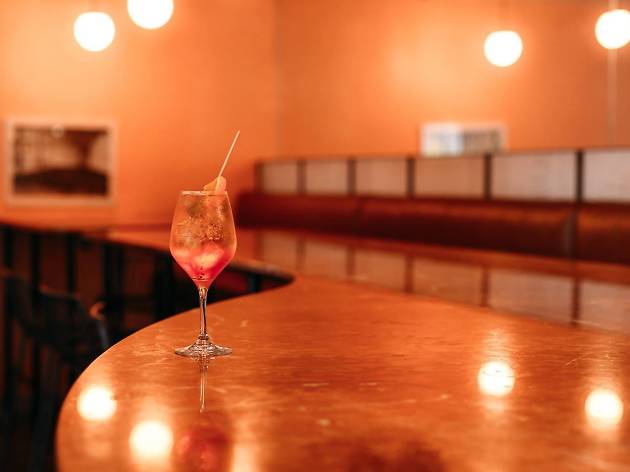 Photograph: Celia Spenard-Ko / @cicchetti.mtl
Cicchetti is like Matthew McConaughey: It's good-looking, suave and seemingly worldly on the outside, but on the inside? It likes to party. In the day time, we can't think of a better place to meet up with friends, down a couple of spritzes and snack on arancinis. At night however, switch to negronis as the music gets louder and the dancing picks up. The crowd is cool, good-looking and down to party—only thing is that, despite its geography. They're not blasting any Italo disco.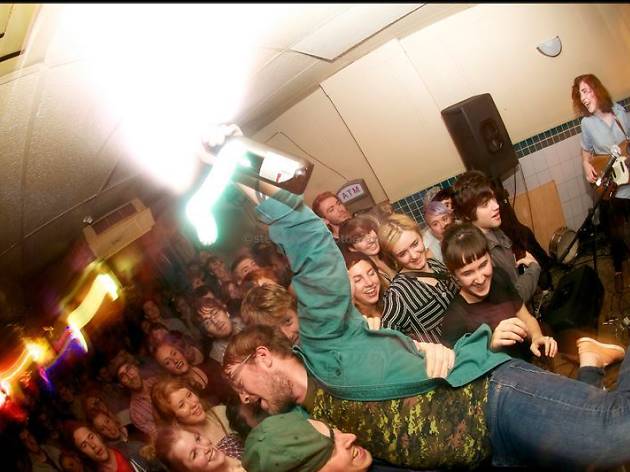 Photograph: Brasserie Beaubien
You don't come for the beer here, but they have plenty of it. You don't come for the ambiance either, but it's a proud dive. You come here because they host some of the best shows in the city. This super nondescript brick façade building on an otherwise fairly sleepy stretch of Beaubien's good for popping in on any given day of the week to catch a great performance by local or visiting bands looking for undercover and informal venues.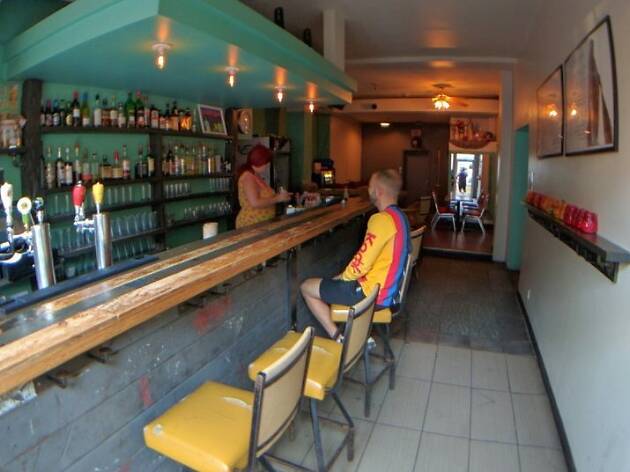 Photograph: Courtesy Yelp/Jonathan L.
7. Notre-Dame-des-Quilles
This dive bar with a bowling alley attachment is one of the city's best queer-friendly gay bars that is as great for drinks as it is for art shows, dance parties, and yes, bowling. It's a cool, welcoming space that works well for grabbing pints on the way to a show across the street or a place to hang out late into the night. Oh, they also serve some of the best pizza in the city as well with their in-house neighbour Pizza Bouquet.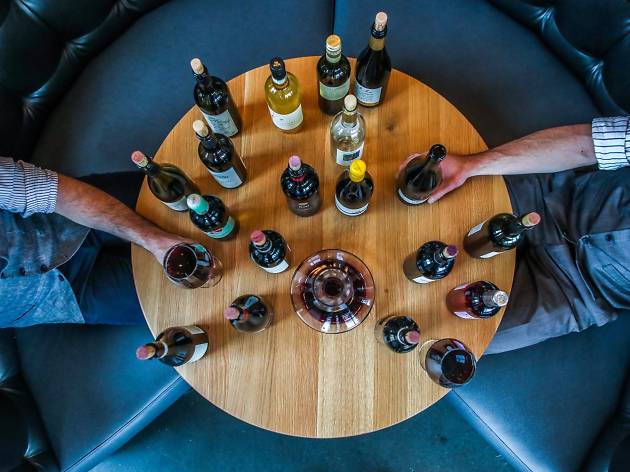 Photograph: Zachariah Hagy/Unsplash
The one and only VV Taverna's located between a mechanic and the hood's Canadian Tire outlet, where they've got great beer on tap, can do most classic cocktails, but surprisingly this bar—that looks like your grandma's basement—has an incredible wine list. Tear it up on the dancefloor where they cycle from Migos to Shania Twain and anything in between, and don't forget to give a shout out to the bar's matriarch Maude.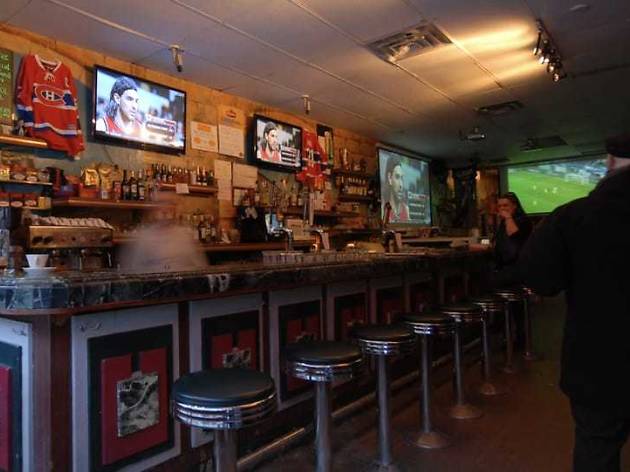 Photograph: Courtesy Yelp/Globeater M.
This one's a completely authentic, no-douches-allowed sports bar on Beaubien. The good name of the sports bar has been dragged through the mud by big corporate chains like Mikes and Scores, but trust us, Bruno is the real deal. They have beer, they make drinks and the games (whatever they are) are always on. Set yourself up at the bar so you can see the TV between the Habs jerseys and soccer pennants hanging off of every wall in the joint. Call it an oldie, call it a goodie; whatever you call it, it's just a great bar.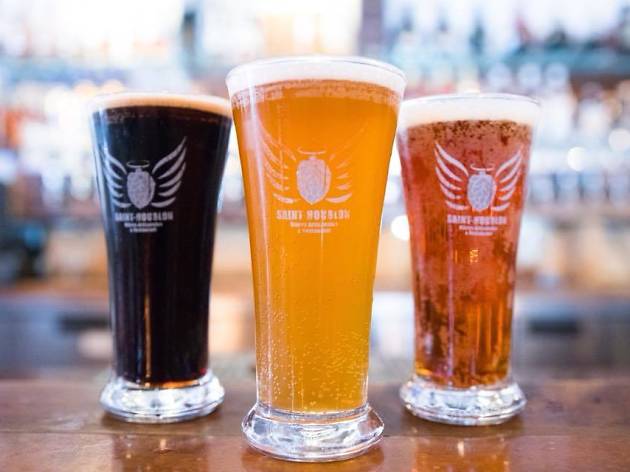 Photograph: Saint-Houblon
The newest location of the popular Latin Quarter brewpub, Saint-Houblon is a spot for beer drinkers. All their beers are brewed in-house and available uniquely at their bars, but the beer isn't the only great thing about this place. They also do great takes on bar food classics with some more eclectic choices like a mapo tofu poutine. They even went so far as to start their own farm to supply their kitchens with the best possible ingredients. Good beer and good food; what more can you ask for?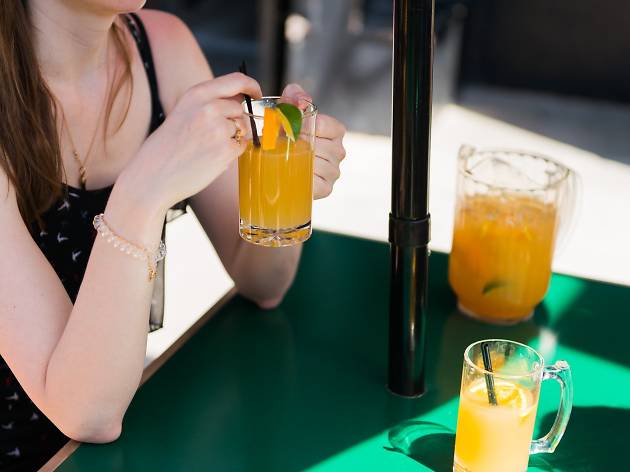 Photograph: Le Pourvoyeur
Quebec distilleries are having their hey-day right now, and among the spirits worth checking out, gin is taking up space at the top of the list. The best place to try them is at this Little Italy location where they number in at over a dozen—not to mention the dozens more of an international variety that includes anything from Scottish to Colombian and Austrian gins—that can be paired with an equally impressive collection of tonics. If cocktails are more your thing, they've got that base covered too. This ain't no bathtub joint; it's quality all the way.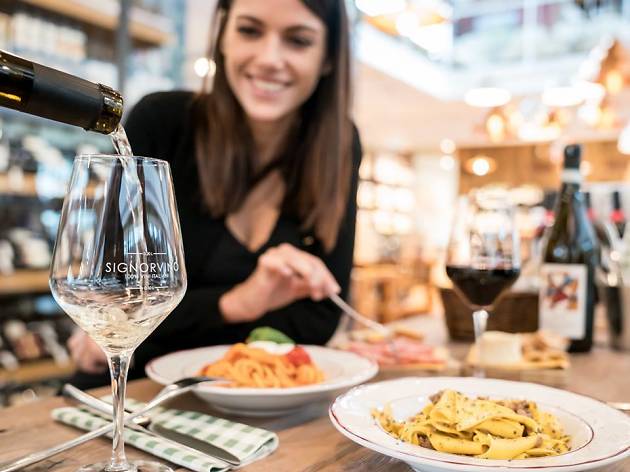 Photograph: Signorvino
This wine bar was set up for success when Marco Romanelli and Roberto Cardillo opened its doors in 2018. Having a private-import business of your very own to fuel a bar is a great way to ensure that the wine's always good. Enter Signorvino: Seat yourself at the bar or on their terrasse in the summer and let the staff take you on a trip through their wine list organized according to colour and region. If you get tipsy, the classic Italian fare here's none too shabby either, but you've got to smash that sobriety once more with a sip of their Grappa selection.
Something to eat before the booze?
One of Montreal's most vibrant neighbourhoods, Little Italy's restaurants are a combo of what's classic and classy.
More things to do in Little Italy
There's more to the best things to do in Little Italy than just mangia this and mangia that—but we got that covered too.