Heads up! We're working hard to be accurate – but these are unusual times, so please always check before heading out.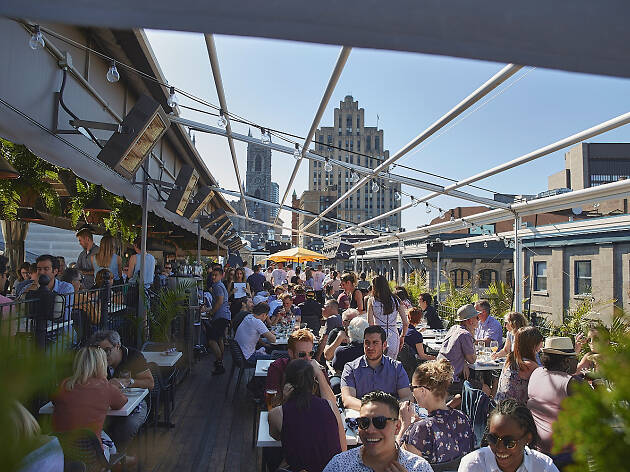 The 19 best rooftop bars in Montreal
Where you'll find the best in rooftop bars around the city, from high-rise hotel bars with pools, patios and terrasses
Montrealers have an obsession with drinking at the best rooftop bars. The moment that spring even thinks about springing, we'll be on one—we earned it after the long, hard winter—but throw in a rooftop and we'll be downright delighted. From afternoons spent basking in the sun to moonlit bistro dinners, we love them all. Whether it's a lofty brunch, the best cocktails or the best gay bars you're looking for, you'll find all that and more with our top terraces for joining the more aerial side of the city.
RECOMMENDED: Full guide to the best bars in Montreal
Best rooftop bars in Montreal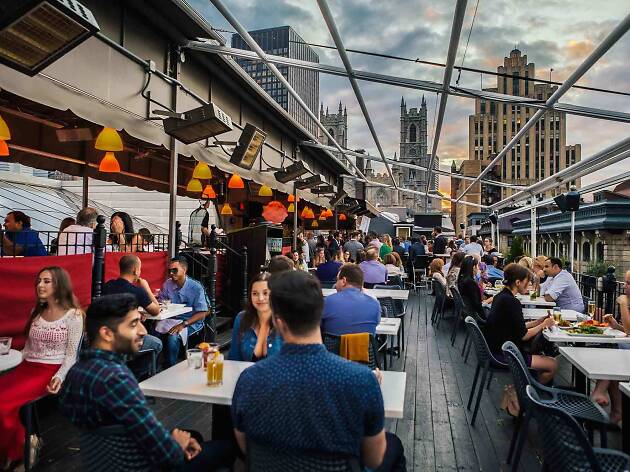 Photograph: Terrasse Nelligan
If there were a hierarchy in Old Port hotels, Nelligan would be at the top in terms of swank, but its rooftop terrace is all about fun. As the sun sets, dinner plates are replaced with bottles of Grey Goose and their usual accoutrements, which is when you might start wondering which is more sparkling: The Edison bulbs strung up above you or the fizzy pitchers of white sangria. What the space lacks in elevation it makes up for with an eye-level view of the Notre-Dame Basilica. Those begging forgiveness for overindulging the night before will appreciate return trips for brunches of benedicts and blackberry naan pizzas to go with watermelon mimosas.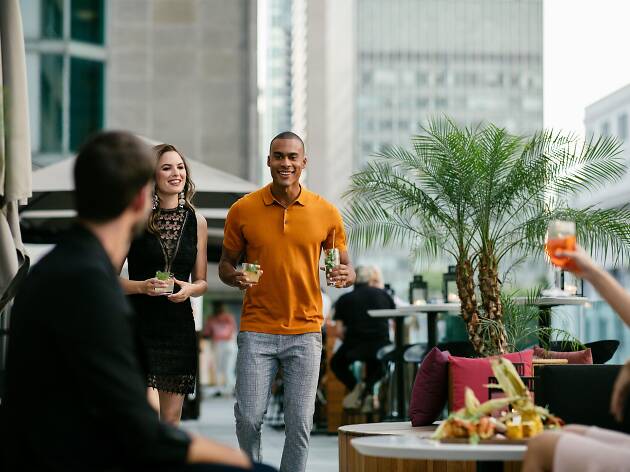 Photograph: Hubert Kang
When the sleek cocktail lounge in the renovated Fairmont The Queen Elizabeth Hotel announced in 2018 that it was going to run the third-floor terrace, the SAQ sold out of bourbon—alright, that's not true, but the number of Old Fashioneds made à la Fairmont with Woodford Reserve definitely skyrocketed when cocktail-lovers started flocking to the hotel's upper levels. Not into classics? No problem. The 28-page menu has a flavour wheel with 25 options from spicy to umami, sour, sweet and bitter.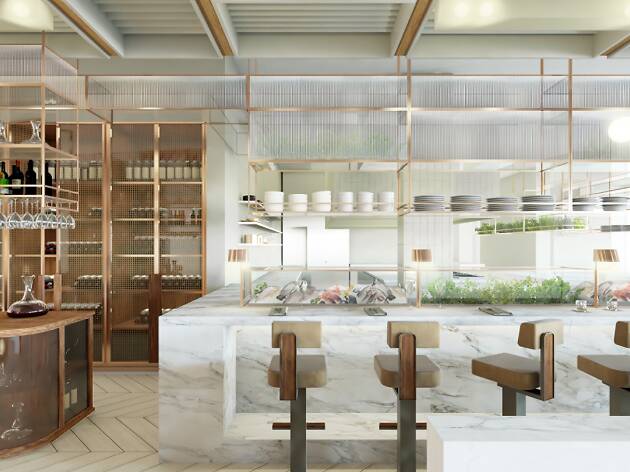 Photograph: Courtesy Four Seasons
3. Marcus at the Four Seasons
This highly anticipated restaurant opening of 2019 will come with a 100-person terrace, complete with a raw bar brimming with. While a railing of plants creates a border around this Zebulon Perron-designed covered patio—think sleek, white sofas and wooden tabletops—Chef Marcus Samuelson's brasserie menu breaks down the gastronomical walls between the places that make up his cultural heritage: New York, Ethiopia and Scandinavia. Expect it to be packed at breakfast, brunch, lunch and dinner.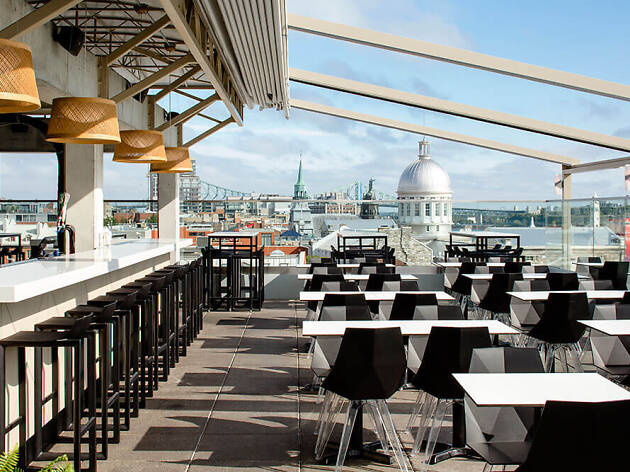 Photograph: Terrasse William Gray
It takes cajones to have two different rooftop bars in a single Montreal hotel, but since you used to have to fight tooth and nail to get a seat on the Old Port's William Gray Terrasse, many-a sigh of relief echoed like the Basilica's bells when the Perché Bar-Terrasse on the hotel's fourth floor rooftop opened. Hallelujah! Now you can sip an Ungava G&T in relative peace on the heated patio while enjoying a view of the Cirque du Soleil's big-top tent and, if it's a Wednesday or Saturday night in summer, maybe even some world-class fireworks.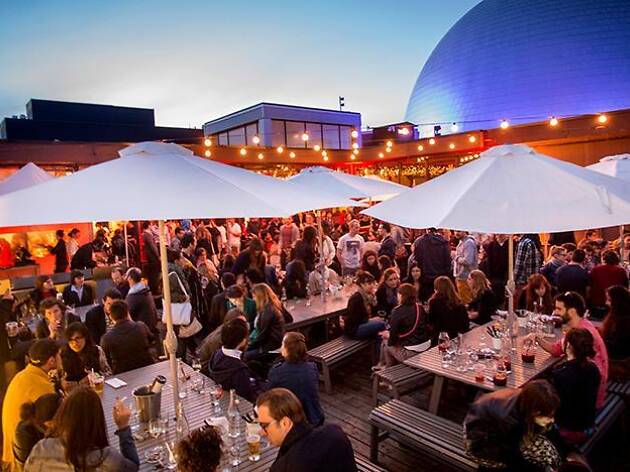 Photograph: Labo Culinaire Foodlab
5. Labo culinaire / Foodlab
Open from just 5 to 10 p.m., the communal tables at this hidden rooftop on top of the Société des Arts Technologiques are always in high demand and it's first come, first served. You'll want to get there early to join the after-work crowds sipping their way through a line-up of microbrews, natural wines and cocktails made with local liqueurs and seasonal fruit. Your soak in the sun and spirits can be accompanied by Chef Adrien Renaud's monthly changing menu that ranges from Mediterranean to Middle Eastern to barbecue and platters of Quebec cheeses.
Photograph: Hotel Bonaventure
What more do you need to know than there's a pool? Maybe that it's heated? Or that it was the first rooftop swimming pool in Canada? Turns out there are lots more things to know, including that the hotel was built for Expo 67, meaning it was going for the whole streamlined/modern look, with a koi pond and lush gardens – which, coincidentally, is the view from the rooftop and poolside bar.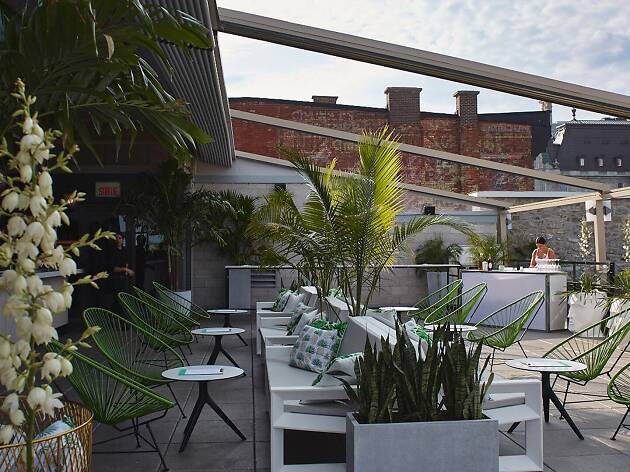 Photograph: Perché Bar Terrasse
This Californian lounge's got a stellar menu to go with its drinks, with poké bowls and ground duck and pork dumplings. Perché, the second terrace bar/restaurant at the William Gray Hotel, is an aloe-bedecked spot with a globetrotting wine list, summery cocktails and mocktails. A no-reservations policy after 4 p.m. gives you a better chance of snagging a seat.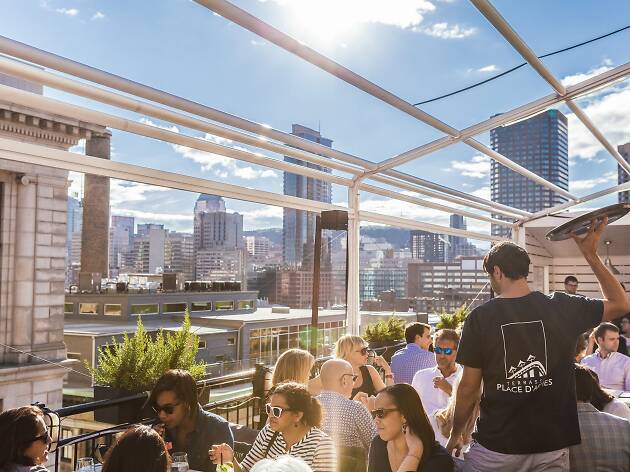 Photograph: Courtesy Terrasse Place d'Armes
8. Terrasse Place D'Armes
Owned by the same restaurant group as the Nelligan, this place is one of the buzziest 5 à 7 (happy hour) destinations in the Old Port, especially on Thursdays and Fridays when folks off the clock stick around for burgers and mushroom ravioli. They're to be joined later by a dressed-to-impress clientele sipping raspberry mojitos. Earlier in the day, lunches are meant for lingering over chorizo Caesar salads and pricey cocktails.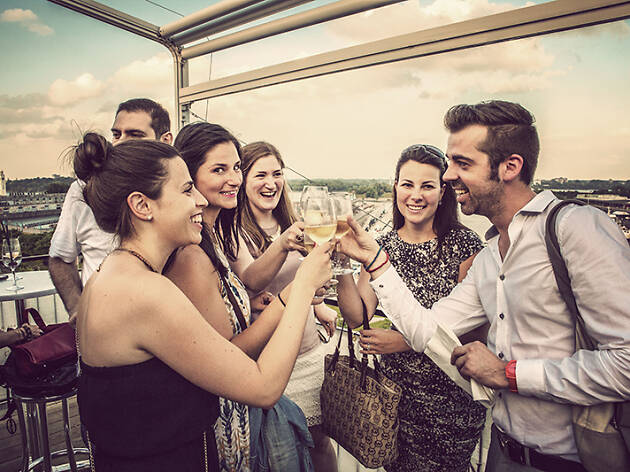 Photograph: Courtesy Terrasse sur L'Auberge
9. Terrasse sur L'Auberge
An unimpeded view across the Saint Lawrence River is the main draw of this rooftop bar and restaurant. After that, it's the pitchers of sangria. Put them together and you've got a great place to watch fireworks, especially if you're staying at the boutique hotel below–the fireworks nights entry fee is waived for guests.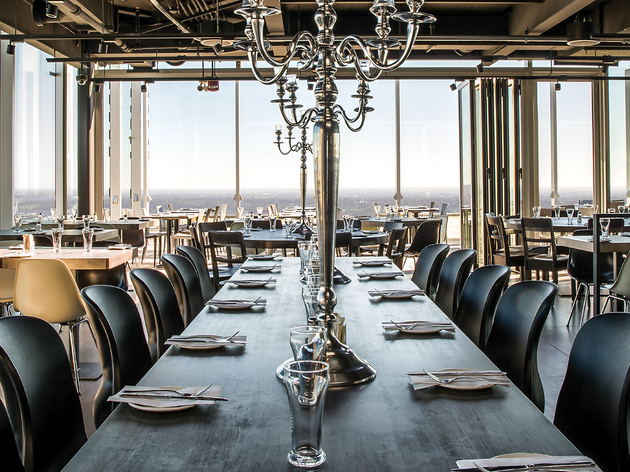 Photograph: Les Enfants Terribles
10. Les Enfants Terribles / Au Sommet Place Ville Marie
If you want to look down on Montreal from one of the highest points in town, you have three choices: Mount Royal, Portus 360 or Les Enfants Terribles Au Sommet. The first involves a hike up a large hill and the second is indoor-only, making the sky-high location of Les Enfants Terribles the only heart-pumping dining and drinking option. This high-rise outpost of the Outremont bistro is both a bar and restaurant, but you've got to eat if you want to sit outside. Ties loosen as a younger crowd, ready to party, converges around indoor cocktail tables later in the evening.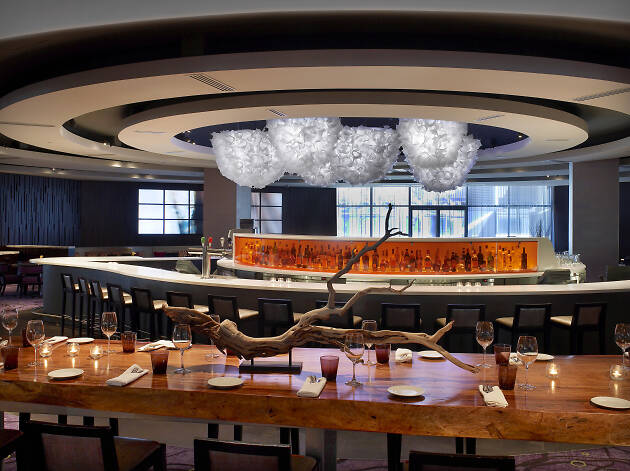 Photograph: Manny Favas
The SIX at the Hyatt overlooks the Place des Festivals and offers the best seats outside the house for the free outdoor music of the International Jazz Fest, Nuits d'Afrique and Francofolies. And if you can get in for them, the Just For Laughs parties that take over this terrace in July are the stuff of Montreal legend. The wraparound oasis is also handy for escaping the madness of the St. Catherine Street crowds below.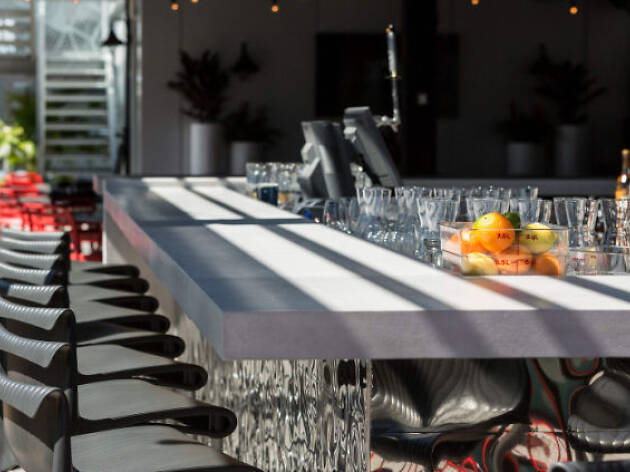 Photograph: Courtesy AIR Rooftop Terrace
This heated and covered patio atop the Renaissance Montreal Downtown Hotel is one of the rare rooftop bars that takes reservations, which is important when you want to schedule a date with its plunge pool. Open April to December, the terrace temperatures here are never too chilly for their mojito or too hot for their pulled pork poutine.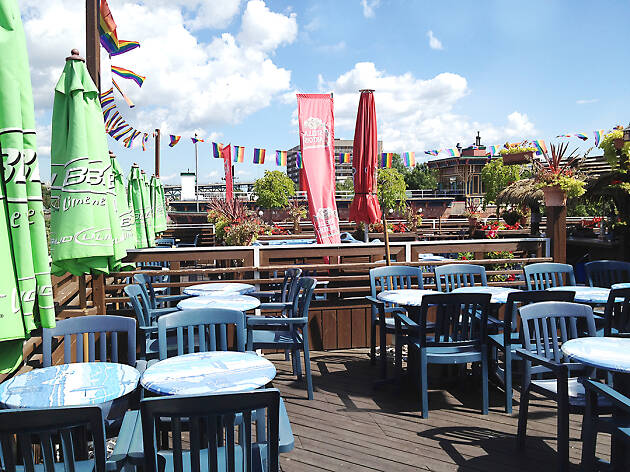 Photograph: Courtesy Sky Complexe
If you couldn't tell from the name, this Village four-floor LGBTQ-friendly dance club might be best known for its rooftop terrace. Good for drinking sangria while waiting for the cavernous downstairs dance floors to fill up, the patio is also handy for breaks once the crowd reaches capacity. There's also a pool and hot tub, but those are mostly for show.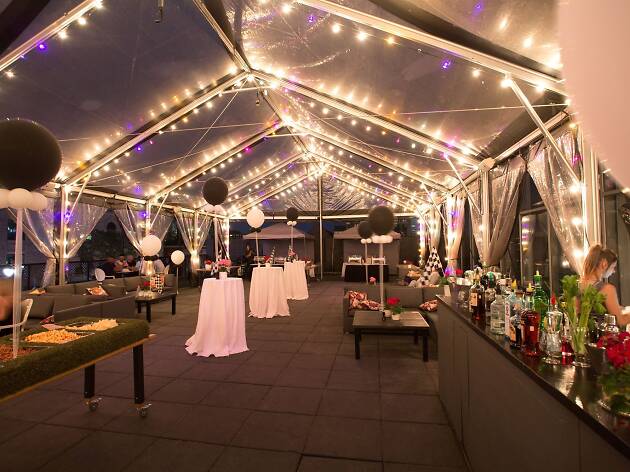 Photograph: Hotel 10
Located squarely on the corner of one of the city's major crossroads for nightlife—Sherbrooke Street and Saint-Laurent Boulevard—this open-air rooftop address connected to the boutique hotel Hotel 10 is one of the more exclusive clubbing locations in its immediate area. It also affords a spacious outdoor area where you can take in a view that's got the best of both worlds: The low-lying buildings of neighbourhoods of the Plateau and Quartier Latin, plus the towers of downtown. Expect a line-up to get in on hot summer nights, and wait it out at their wine bar Le Bar20.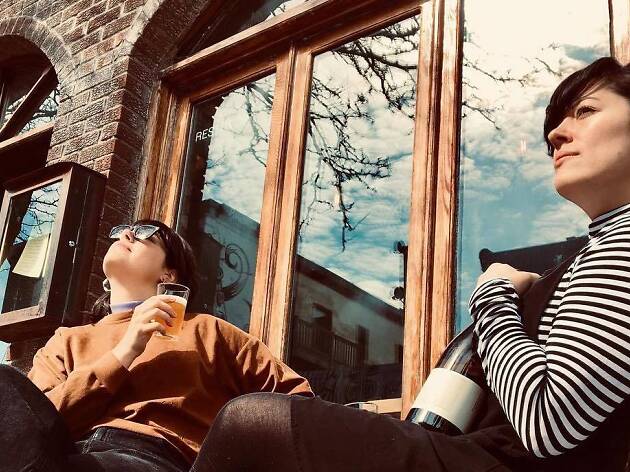 Photograph: Réservoir
It's no birds-eye view of the city, but this second floor terrace overlooking Duluth Avenue is the best rooftop brewpub in the city. Throw in a house-brewed IPA or Milk Stout and some former fine dining pros serving everything from glammed up grilled cheeses to seasonal small plates described as nothing more than "Endive / Rose / Sumac" and you've got yourself a perfect Montreal afternoon, evening or brunch. Don't miss the French toast.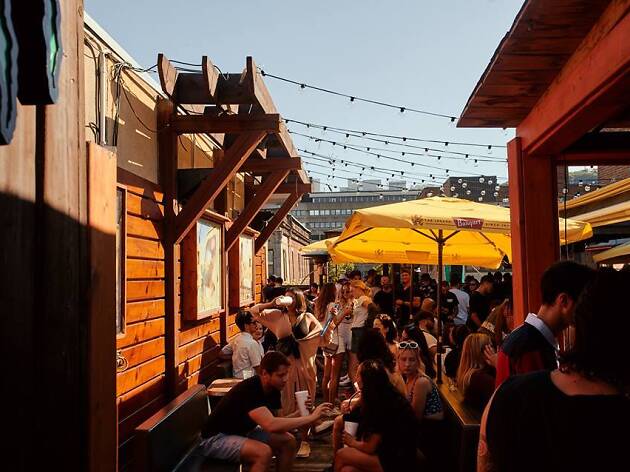 Photograph: Courtesy Tokyo Bar
Strings of lights above sofas and wooden benches make Tokyo's terrace the place to chill after dancing to the pounding hip-hop on their dance floor inside, but the party's in there is liable to spill out from time to time. While this Plateau nightclub doesn't have a killer view, it opens at 10 p.m., so you're not exactly there for the sunset. What you are here for are cheap drinks, a shot and coat check included in cover with a mostly younger crowd out to have a good time. No need to impress with your dress here.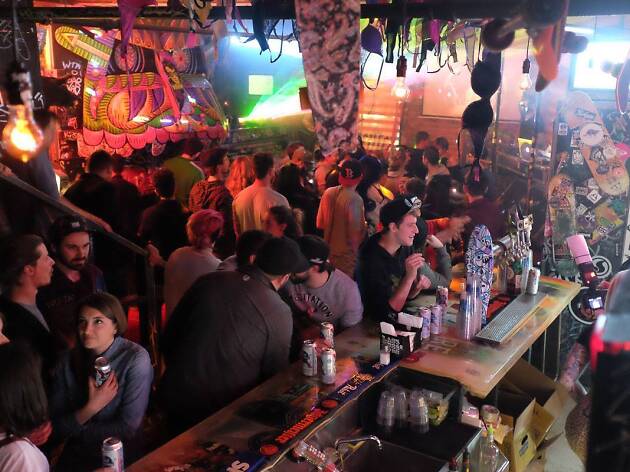 Photograph: TRH-Bar
Music lovers and skaters rejoiced when the former Sapphire night club's two-floor dance club received ramps and a bowl, becoming the city's premier skating bar. Lest we forget, this place sports a backdoor terrace, which feels like the apartment patio all Montrealers wish they had. It's all over the top and off the rails.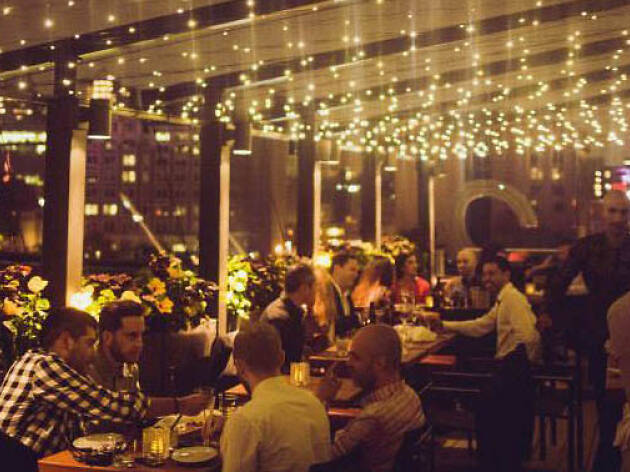 Photograph: Courtesy Pandore
If you're going to pop a $5,000 magnum of champagne on a rooftop, it should be probably be here. This fifth-floor nightclub overlooking the Quartier des Spectacles brings DJs from around the world to get your body moving like a cocktail shaker. With a dress code and a 350-person capacity, exclusivity is the name of the game here.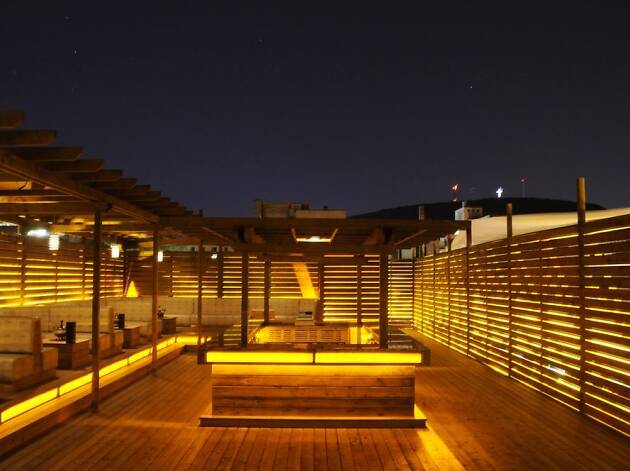 Photograph: Courtesy Yelp/Muzique
Muzique's location on St-Laurent and Sunday night industry parties spinning R&B, top 40 and club anthems from DJ Joseph Jr.—plus VIP treatment for ladies—have long made it the place for partying with bottle service. The best part is that there's spot to break off from the main party, a wooden rooftop patio with a sleek bar overlooking the street below.
For the best drinks in town: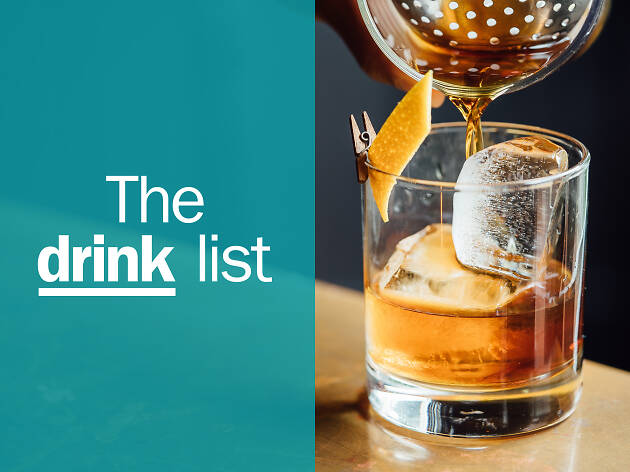 Whether it's wine, mixology or perfect pints you're after, use this list to find the best bars of Montreal.