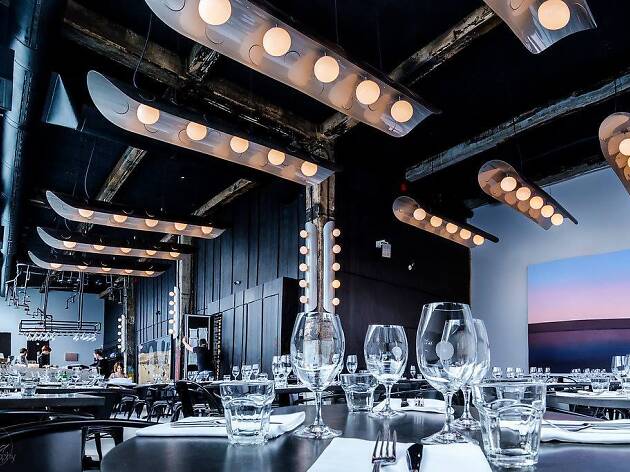 The 27 best Old Montreal restaurants
These Old Montreal restaurants are the finest of fine dining and the top casual options found in the city's historic hub
There's no doubt in our minds that Old Montreal restaurants hold firm footholds in the pantheon of best places to eat in town. A neighbourhood that's one half a tourist attraction and the other pricey condos and offices might not seem like it'd reach the top of anyone's list, but it's hard to deny the quality of food this area's wallet-gouging steakhouses, game-changing Italian restaurants and creative fine dining—so fine in fact that we'd deem some of them Michelin star-worthy. Even casual breakfast and brunch spots here are demanding of a taste. There's so many good places to tuck in that it might seem like there's too many to count, but taste, test and count 'em we did.
RECOMMENDED: Full guide to the best restaurants in Montreal
Best Old Montreal restaurants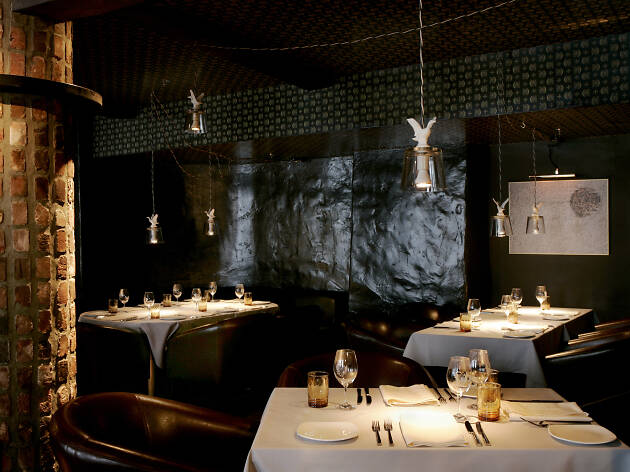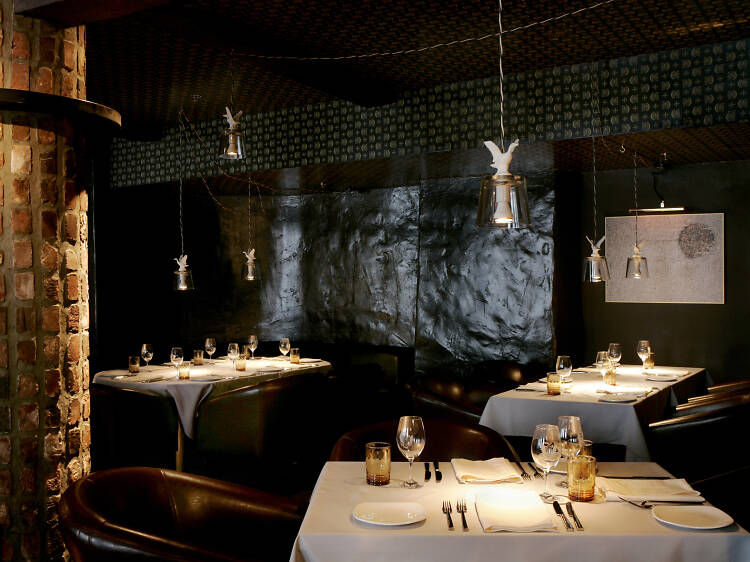 Photograph: Nicolas Ruel
1. Le Club Chasse et Pêche
Offering an unparalleled experience, Le Club Chasse et Pêche is one of Montreal's essential restaurants where you can expect classic French fare executed with the highest levels of finesse and precision. Stepping into the restaurant is transformative, making you feel a part of some prestigious society. Take a seat in the elegant dining room and choose from classics like seared foie gras with brioche and cherries or Halibut with asparagus, morels and béarnaise. A pricey bet to be sure, but a measly price to pay to be part of the club.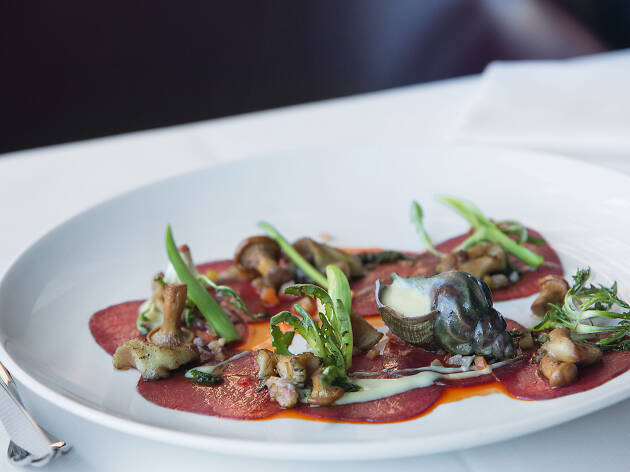 Photograph: Benedicte Brocard
You know how every restaurant in Montreal is proud of serving local products? Consider the restaurant that work the book on it. Toqué! and its chef Normand Laprise have turned fine dining on its head and reinvented the idea of what makes haute-cuisine since 1993. Laprise's tireless efforts in championing the terroir of Quebec has irrevocably changed the shape of Montreal's culinary scene for the better; it's among the finest restaurants in the city and has done its time as the best restaurant in the country.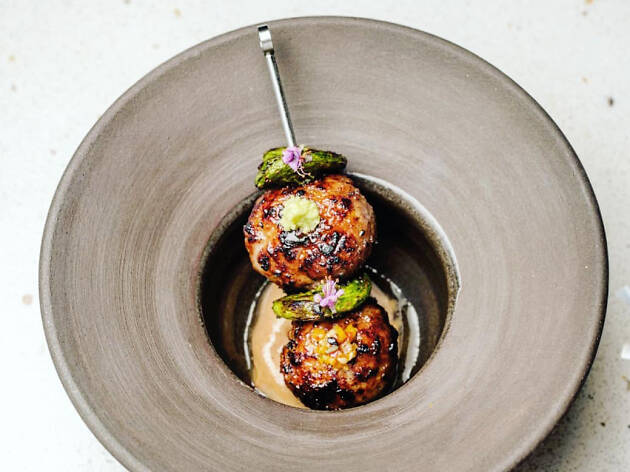 Photograph: Mickaël A. Bandassak
From the team behind Griffintown hotshot Le Fantôme comes Pastel, a tasting menu knock-out on McGill. Pastel combines a level of service and quality of food on par with the great restaurants of the world, delivered with the playfulness of a box of crayons. Chef Jason Morris is a master of combining flavours and textures with precision, but with a signature bit of whimsy. Fans of Le Fantôme will remember dinner there did for the dining scene, so imagine that kind of cooking turned up to 11.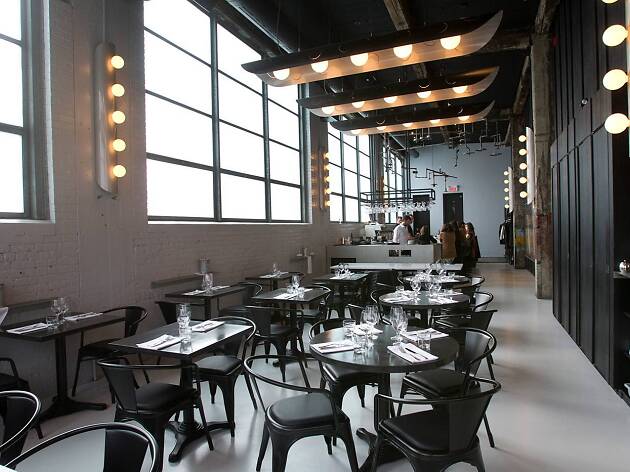 Photograph: Le Serpent
An Italian counterpart to Le Club Chasse et Pêche, you can expect the same quality of food and service but with a more Mediterranean palate. Taking its name from the s-shaped chimney at the neighbouring Darling Foundry, the stylish minimalist dining room serves up beautifully presented plates of contemporary Italian food with all the soul of the old country. Without a doubt, this is one of the best restaurants in town.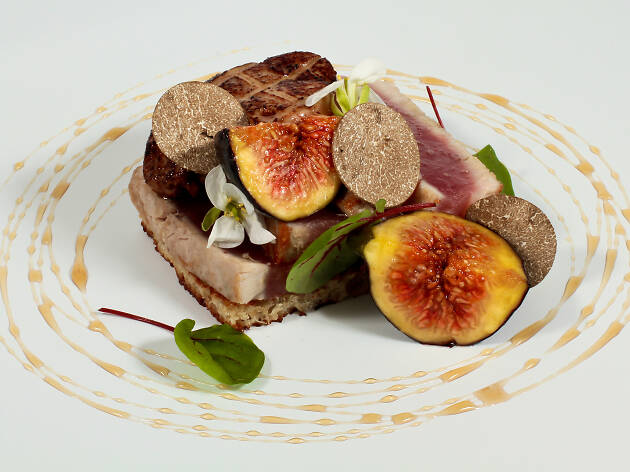 Photograph: XO Le Restaurant
For the utmost opulence, no other restaurant will do than XO Le Restaurant. Located inside the five-star Hotel Le St-James, this is an address with some serious Michelin star ambitions. It's all incredibly lavish décor with an iconoclastic menu to match: Try dishes like gnocchi with scallops and edamame or an escargot tart with apple gel and squash. What's more, if you've got the budget to boot beyond the plates, XO's got some of the rarest and most valuable wines in the city.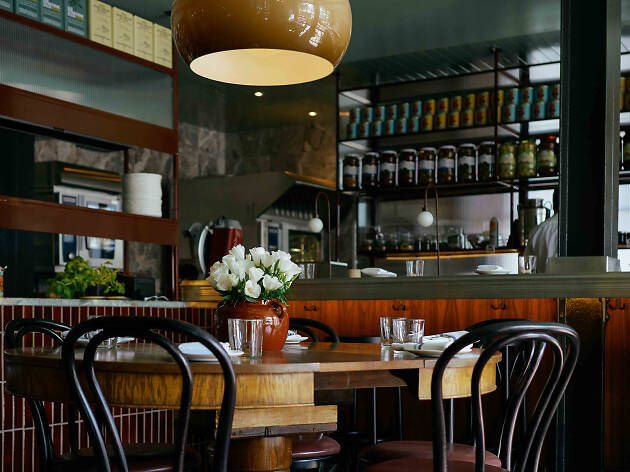 Photograph: Mickaël A. Bandassak
From the team behind the Old Montreal staple Olive et Gourmando and the Griffintown modern classic Foxy comes this Italian caffè. The small plates they serve on the waterfront street of Rue de la Commune is a welcome addition to the neighbourhood: Think regional Italian in a beautiful but comfortable room that does as good an espresso in the morning as they do a spritz when the sun goes down. As for food, everything here's worth a taste, but save some space for dessert. We'll take that to the bank.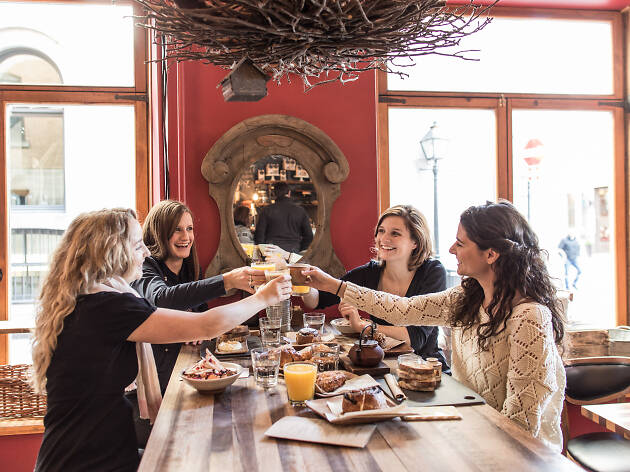 Photograph: Mathieu Dupuis
The daytime stand-by and probably the area's most beloved café. O+G has been slinging sandwiches since 1997, but the past 22 years have made this little Saint-Paul café a massive player in the city's restaurant scene. Stop by for a coffee and fresh pastry in the morning or a freshly pressed panini in the afternoon. It's exceedingly popular, so expect to wait a bit around lunchtime.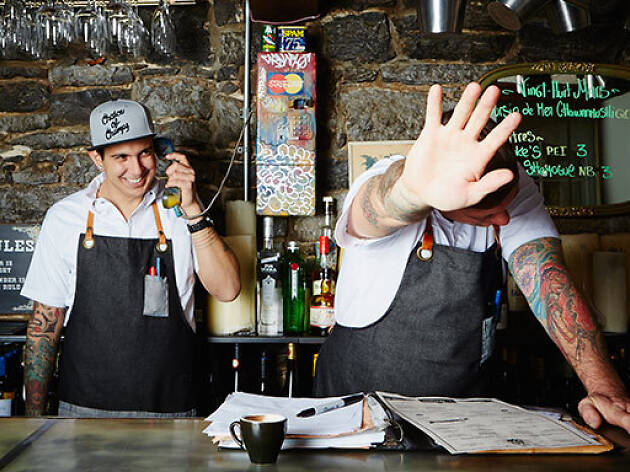 Photograph: Courtesy Le Bremner
Chuck Hughes and chef Danny Smiles teamed to deliver one of the city's most sought-after tables. The room is dark and cozy, but the vibe is boisterous and festive; with only 60 seats in the summer, Le Bremner packs clients in, so reserve way ahead and be prepared to eat within a two-hour window. It's all delicious, but special attention is paid to the seafood. Do it right and let the drinks flow freely along with the crab and lobster after all in this bon vivant paradise.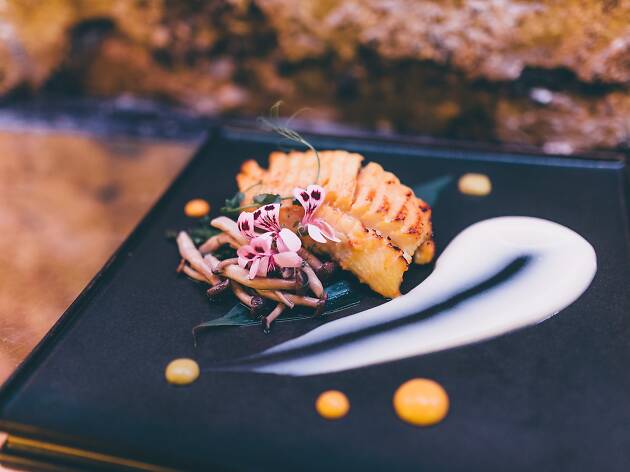 Photograph: Courtesy Flyjin
Open the subtly-marked door, walk down the narrow hallway and descend into this ultra-swanky, Japanese-influenced nightclub. The menu is an upmarket take on classic izakaya fare by way of local star chef Antonio Park (think tuna sashimi with Montreal steak spice and miso-marinated lobster). As the evening turns to night, Flyjin turns into a posh supper club, so stick around for great cocktails and one of the best Japanese whiskey collections in town.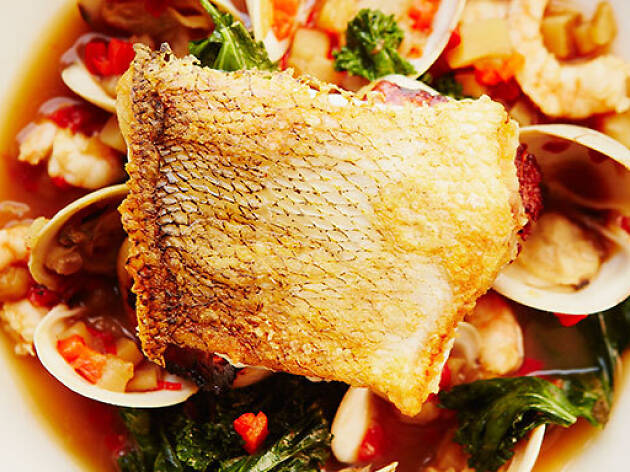 Photograph: Garde Manger
The restaurant that made the man: Chuck Hughes is one of Montreal's most beloved chefs and for good reason, as Garde Manger has been one of the Montreal's best restaurants since it opened in June 2006. An icon of the good food and good hospitality ethos that has come to define this city, Garde Manger invites you to not take things too seriously even when the calibre of food puts it in league with any of the city's best. A true testament to casual fine dining.
Photograph: Brit & Chips
A little chip-shop on McGill from the team at the Burgundy Lion, this no-frills fried fish counter serves five kinds of seafood, each in a batter designed to best accompany the selection. Recommendations include the Guinness-battered salmon or the Orange Crush-battered hake; grab a pint, a side of mushy peas and enjoy some of the best fried goods in the port.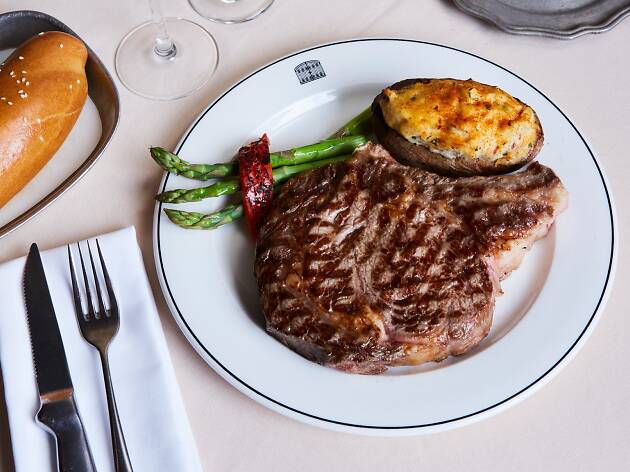 Photograph: Courtesy Gibbys Restaurant
A steakhouse in a former stable, this is the classic Montreal steakhouse that maintains a strong cult following. Get a wedge salad, get a shrimp cocktail, drink a martini, order a steak—go the whole mile while eating here. This might not be the kind of restaurant that put Montreal on the map, but it's a goddamned institution and they cook one of the meanest steaks around.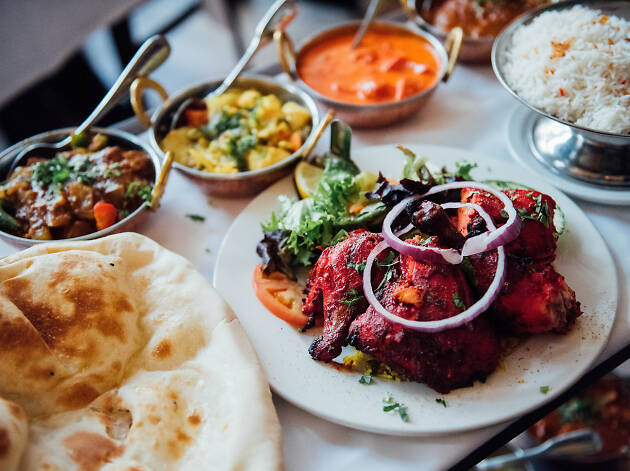 Photograph: Alison Slattery
The pristine white walls and starched tablecloths set this northern Indian restaurant apart from similar restaurants up in Parc-Ex's Little India farther north. Crisp papadams and chutneys await your arrival, but the star dishes are the curries: Try the lamb pasanda and the shrimp poori, or let your waiter order for you any one of the menu's spot-on options. This is the perfect balance of Little India cooking with Old Montreal-style service.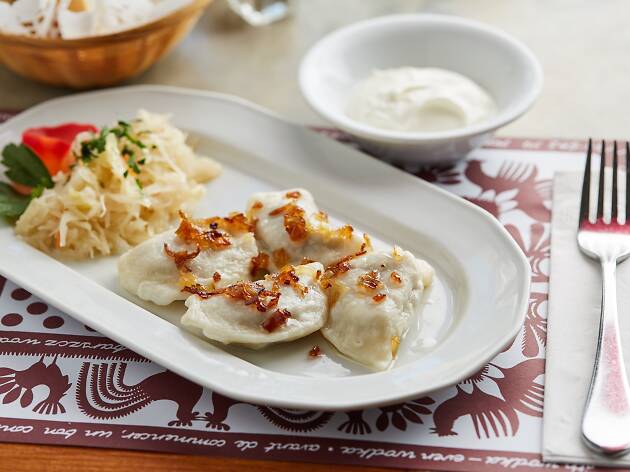 Courtesy Stash Café
A classic that's been serving authentic Polish food in Old Montreal for the past 30 years. The decor is rustic with its wooden tables, old stone walls and church pews and made charming with vintage Polish art posters and live piano music. Try the zurek, a sour rye soup with sausage, and move on to a warm bowl of hunter's stew (bigos) with cabbage and pork. The food may stick to your ribs, but nothing hits the spot come winter like some kielbasa, hot sauerkraut and a steaming plate of pierogis.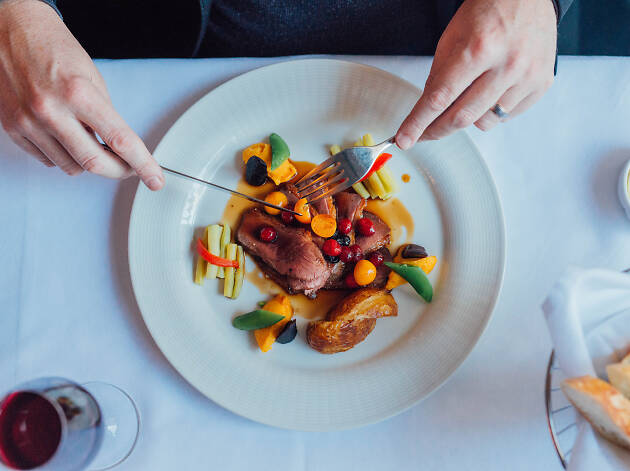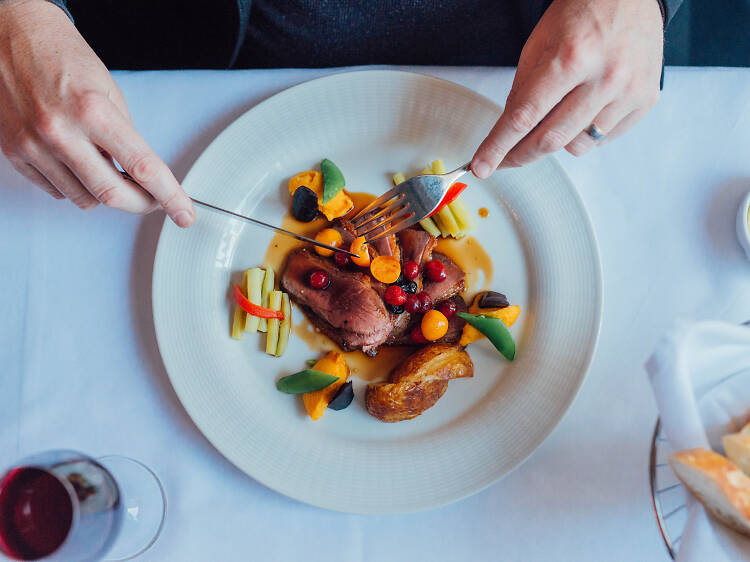 Photograph: Alison Slattery
An enduring Montreal restaurant, this is a bastion of the old guard. Bonaparte is an homage to French fine dining in a faster-paced world where trends come and go, and it remains to focus on perfecting the classics. Order the six-course tasting menu and allow the kitchen to guide you through an evening of fine French gastronomy; one trip here and you'll know that they call them classics for a reason.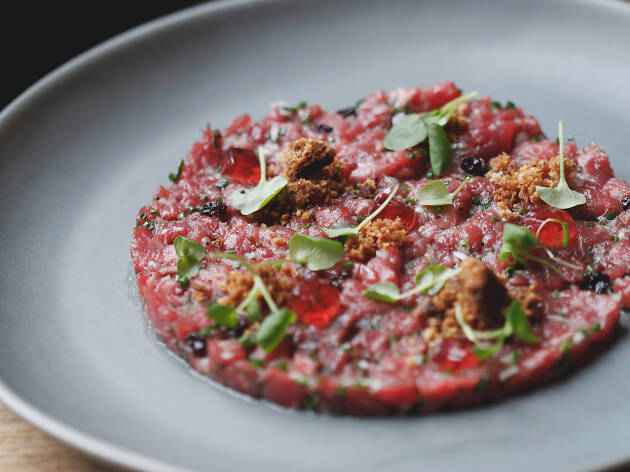 Photograph: L'Auberge Saint-Gabriel
16. L'Auberge Saint-Gabriel
The restaurant of this prestigious hotel offers pan-European cooking with tons of flair and technique to spare. During the summer, try and get a spot on their beautiful private terrasse where you'll start with oysters and champagne until the sun goes down and you proceed to go in on the aged rib steak for two.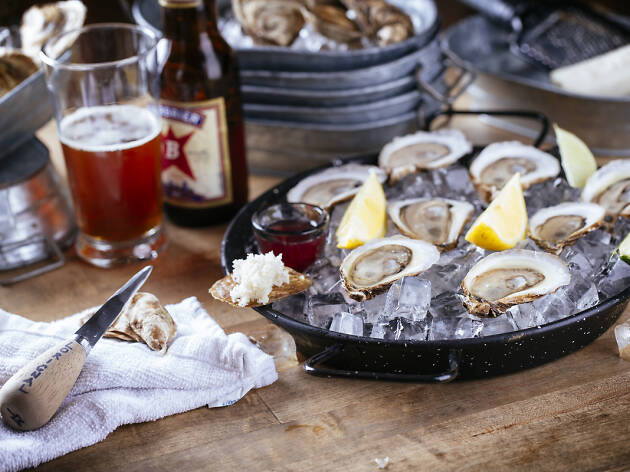 Photograph: Riccardo Cellere
Those in the know call it the Moose: It's unapologetic, it's boisterous and it's a party. Although the cottage country décor seems unassuming, this is one of the best places in town to slurp down oysters and gnaw at a big piece of meat. Grab a pint, some delicacies on the half-shell and follow it with a whole rabbit cooked with mustard and carrots. Watch out, though: If you make the right friends, the evening is sure to end in shots.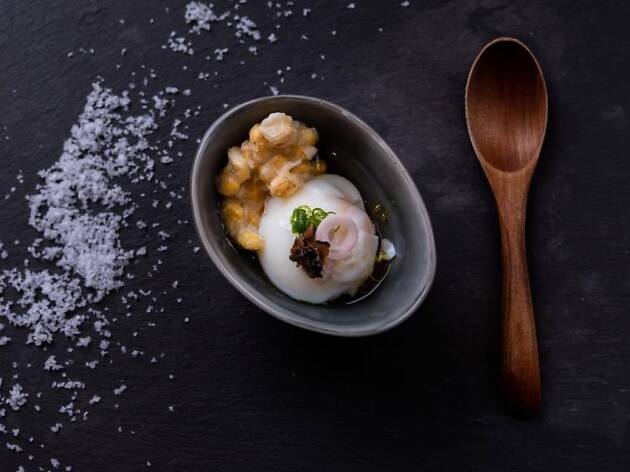 Photograph: Courtesy Marusan
This woodclad minimalist Japanese counter is an excellent one-stop-shop for Japanese cuisine in Old Montreal. As a former salesman for a Japanese food exporter, its principal Hideyuki Imaizumi visited the city and was unimpressed with Montreal's Japanese food scene, so he opened Marusan. Expect donburi and bento boxes at lunch alongside choice sushi and sashimi. The menu changes often but is always fresh, so take the omakase route and let Hide gives you what he likes best. You won't be disappointed.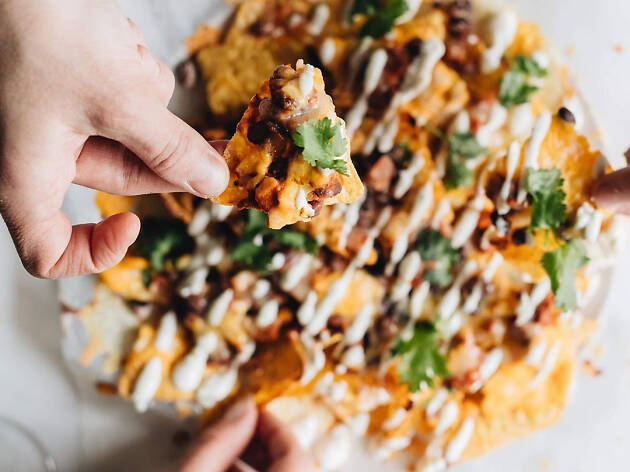 Photograph: @lovrestaurant
Local and organic-forward vegan restaurant LOV is proving that vegan food can be more than alfalfa sprouts and tempeh. Committed to serving sustainable products from local farms, LOV's principles extend from the food in the kitchen to the beers on tap and wines in the cellar. The food is beautiful and would look at home on most menus in the city, but you can feel extra good knowing that not only is the food good for you, but it's also good for the planet.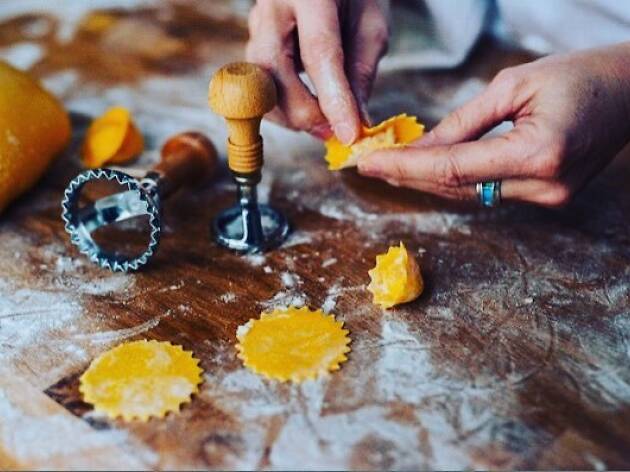 Photograph: Courtesy Graziella
Chef Graziella Battista's iconic restaurant strikes a perfect balance between the tradition and authenticity of the meals of her childhood in Italy and the upmarket dining experience of Old Montreal. More than just an Italian restaurant, a meal at Graziella is to be transported to Italy. The food is elegant and refined, but it retains all the big rustic flavours of a true Tuscan dinner.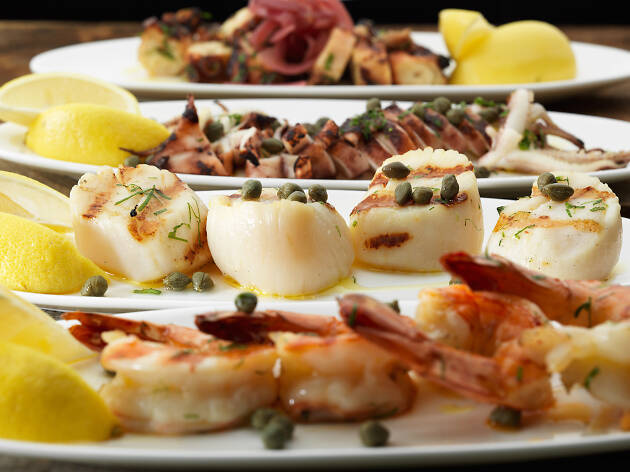 Photograph: Vadim Daniel
A bona fide trip to Greece. You want fish? They cook an exquisite sea bream. If you're hungry for squid, would you like it fried or grilled? More of a meat person, you say? Order up some of the lamb hot off the coals. Take a seat on their sun-drenched terrace, order a bottle of moschofilero and imagine yourself sitting by the Aegean Sea, living a slower, better life in the azure isles of the Mediterranean.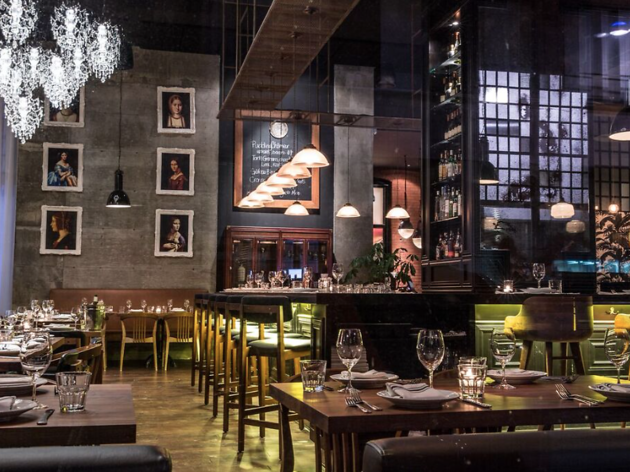 Photograph: Jellyfish
One of the swankiest dining rooms in town, Jellyfish is the kind of place that effortlessly combines elegance with being cool. Not shying away from a conceptual contrast, the menu's one of crudos and charcoal, meaning you're either eating raw or you're eating off the grill; in both cases, you're eating well. Start with a ceviche or two and finish with some Korean-style ribs off the grill.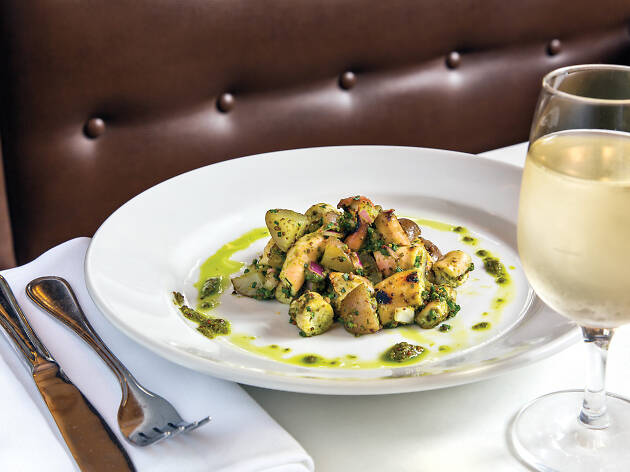 Photograph: Rodolf Noël / LMGCOM
A great brasserie in Old Montreal with something for everyone, dinner here is comprised of classic French bistro fare. Whoever said there's anything wrong with a great tartare or duck confit? Although the food hits the spot any time of day, brunch is the best bet: Holder hosts the kind of sun-kissed brunch service, full of mimosas and paper-thin crêpes, that's worth waking up for.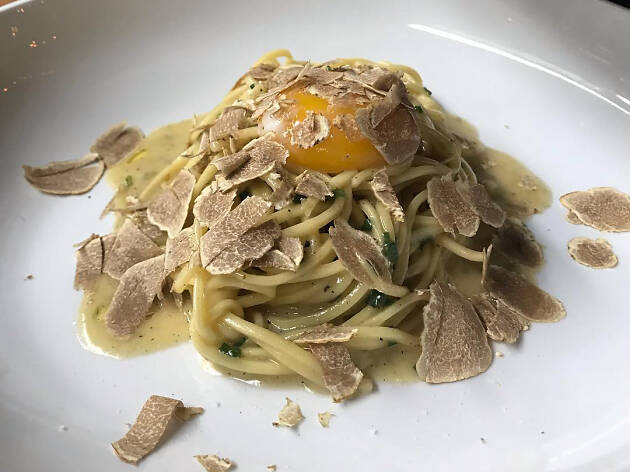 Photograph: Courtesy Barroco
An intimate basement spot in Old Montreal, the food and service at Barroco are on point with many of the restaurants in the area. What sets it apart is the incredible cocktail menu, which explains the prime status of places like Milky Way or Atwater Cocktail (both of which are sibling speakeasy establishments). This one is a especially great date spot—settle into a low-light banquette and share a few plates, then let the cocktails and conversation flow late into the evening.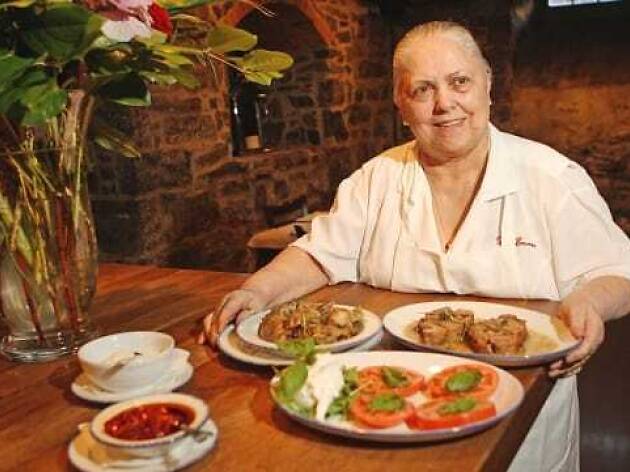 Photograph: Courtesy Da Emma
Consistency, consistency, consistency! Da Emma is one of the oldest and best Italian restaurants in the city. Owners Emma Risa and Lorenzo Aureli hail from Rome, and it shows on the plate. The restaurant may be as far away from modern as you can imagine, but it's as close to a Roman trattoria as you're likely to get. Despite the fact that the menu changes infrequently, the place is packed night after night after night.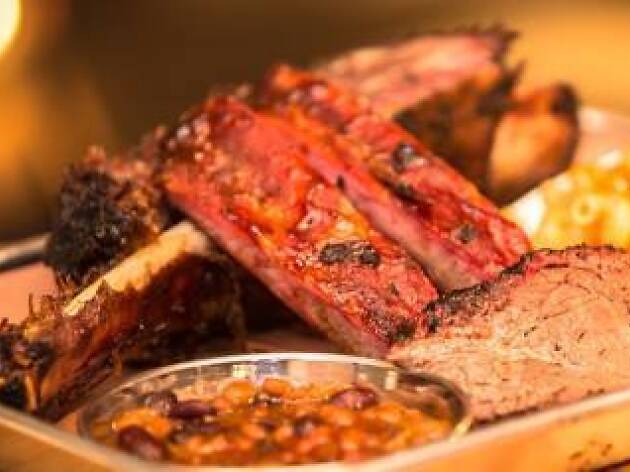 Photograph: Courtesy Lattuca Barbecue
While Montreal and the tradition of barbecue don't exactly seem like an obvious match, Lattuca Barbecue is making the case for reconsidering that notion. John Lattuca is the owner and pit master, but he's also the winner of the Jack Daniel's World Brisket Championship. Montrealers know a thing or two about brisket, but Lattuca does his Texas style, and the realest deal you'll find in town.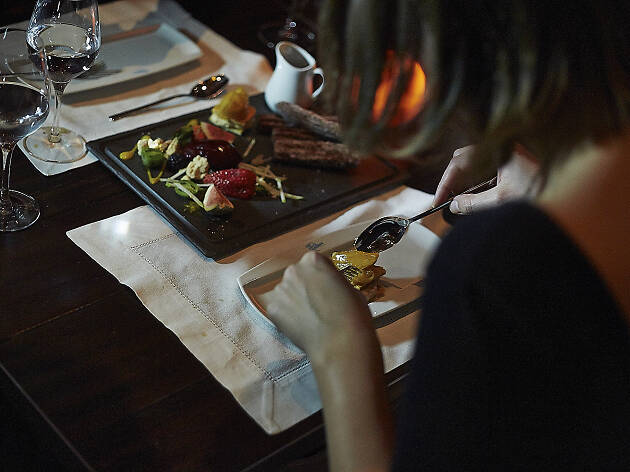 Photograph: Tourisme Montréal / Bruno Guérin
We like our Portuguese food in Montreal, but aside from the many charcoal rotisserie chicken spots, there's not as many options for upmarket Portuguese. Helena's among that smaller set, and they give it a good name, showing just how diverse and delicious Portuguese food can be: Go for the salt cod and grilled sardines—heck, go for anything that comes off the grill. This one's the poster child for authentic Portuguese in town and once you try it, you'll see why.
Something to drink instead?
Find all the swanky cocktails, old fashioned pubs and secretive hideaways you need with the best bars in Old Montreal.
More things to do in Old Montreal
Time to crawl the cobblestone streets of Old Montreal, our ground zero for some of the best attractions and activities.
Best selling Time Out Offers