The best seafood restaurants in Montreal
You'll find all of your happy hour oyster and fresh lobster needs satisfied by the best seafood restaurants in Montreal
Montreal's full of stellar seafood options, whether it's the best sushi this side of Quebec, the city's Greek and Portuguese communities, or the fine dining options in Old Montreal. From casual spots for fish and chips and lobster rolls to elegant platters of shucked oysters and European restaurants with cutting-edge cuisine, nearly everything from under the sea is easy to find in this city. Sure, there are excellent steakhouses and Italian restaurants to try, but this list is what you need when looking for the best of Montreal's seafood selection.
RECOMMENDED: Full guide to the best restaurants in Montreal
Best seafood in Montreal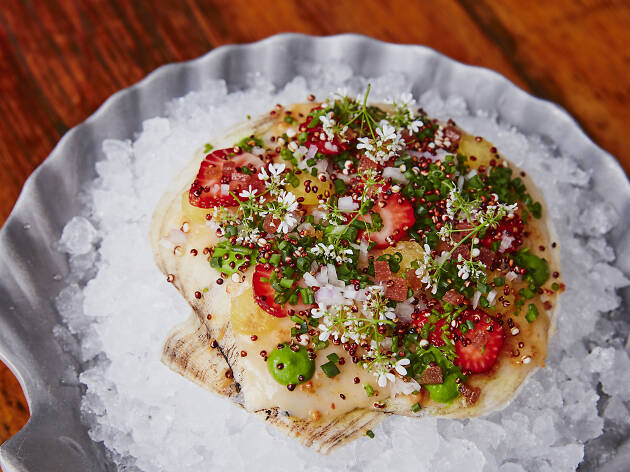 Photograph: Dominique Lafond
Recurrently sitting in the top 10 for Canada's best restaurants, this La Petite-Patrie spot in the Saint-Hubert Plaza is known for its eccentricity and a unique set of sharing plates. The menu here features some truly original dishes, and the kitchen's work with seafood is no exception. From whelk gratin with miso butter to Chinatown razor clams, confit salmon with an irresistible smoked cream to smoked sturgeon cream, it's all inventive, playful, adventurous and colourful on the plate here.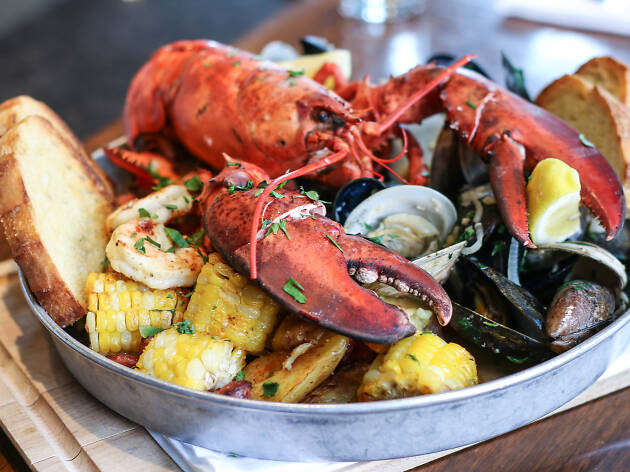 Photograph: Notkins
While this downtown restaurant does seafood of all kinds that ranges from lobster and calamari to coastal specialties like clam chowder, it's best known for its widely-acclaimed oyster bar. This is their area of expertise after all. Grab a counter spot, order up a seafood platter and suck back some oysters to make the most of this address; it'd be a sin to do otherwise.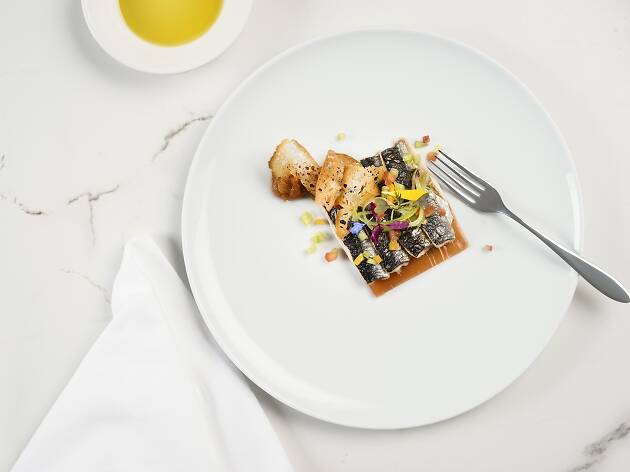 Photograph: Ferreira Café/Hans Laurendeau
This downtown restaurant from the Ferreira group prides itself on serving authentic Portuguese food, much of which incorporates specialties from under the sea. Roasted sardine filets, fish soup are among the dishes favoured by critics, while oysters raw and served Portuguese style (in a tomato and chorizo sauce with São Jorge gratiné) plus their fresh seafood casserole are the go-to dishes for newcomers. Visit them for their post-10 p.m. late-night menus to get a discounted taste of their fish and seafood bouillabaisse.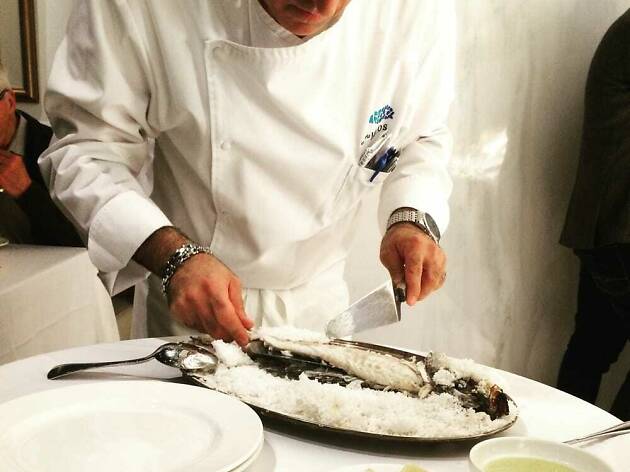 Photograph: Courtesy Yelp/Victoria X.
Another seafood-heavy Greek and Mediterranean restaurant in the Mile End, Milos is a critically acclaimed restaurant that's regularly regarded as among the country's best. Their menu includes a range of delectable seafood dishes like their lobster pasta, salt bakes and calamari while the restaurant's signature dish, the Milos Special, doesn't include fish at all: It's a stack of thin fried slices of zucchini and eggplant, topped with tzatziki and fried saganaki cheese.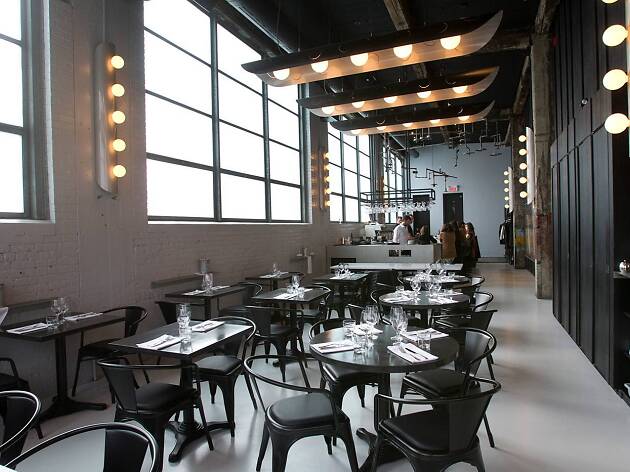 Photograph: Le Serpent
From the owners of the renowned Club Chasse et Pêche, Le Serpent could best be defined as a seafood-heavy Italian restaurant. Their menu includes a range of dishes in both categories while offering many items that incorporate elements of both: Lobster risotto, cod with caponata and fiore verde with nordic shrimp are but a few examples for your consideration. Le Serpent is on the fine dining end of the seafood restaurant spectrum, but if you're willing to spend a buck, the quality's well worth the trip. If anything, the effort involved in procuring a reservation will indicate its worth.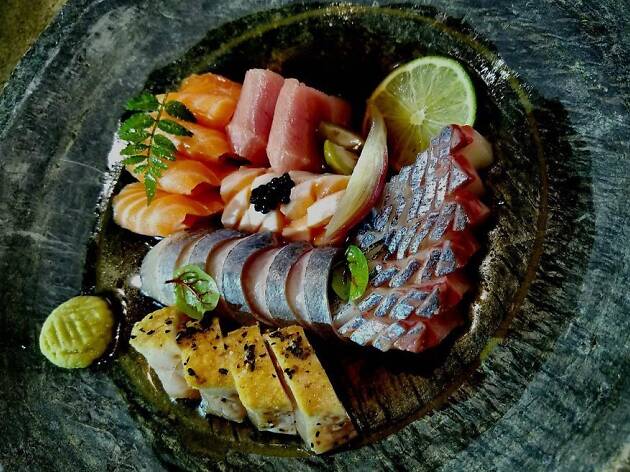 Photograph: Courtesy Yelp/Wil S.
This upscaled Asian fusion restaurant in Westmount from chef Antonio Park has a vast seafood-heavy menu that includes sushi either à la carte or in an omakase service, bowls and oysters that pull from both Park's Korean roots and his training in Japanese sushi techniques. Fish cut to specifications rarely gets fresher than at this restaurant, importing catches suspended with ikejime. It's their attention to detail that makes the chef and his kitchen revered both locally and internationally.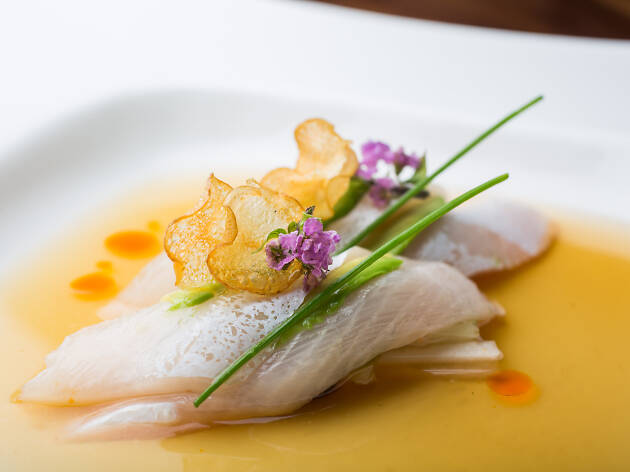 Photograph: Jatoba
This sleek and trendy downtown restaurant serves a range of small, beautifully plated seafood in a beautiful setting. An interior with features like exposed brick walls and hanging red lanterns makes this a great spot to wow colleagues, something made doubly easy with the restaurant's precision in dishes like salmon, cod and dumplings alongside its innovative cocktails. The restaurant and its chef Olivier Vigneault have received critical acclaim since opening in 2014, and enjoys a regular fandom from the more monied crowds of the city.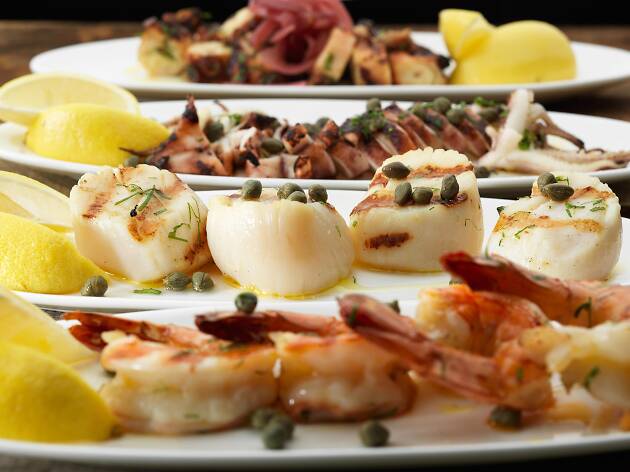 Photograph: Ikanos/Vadim Daniel
This Mediterranean restaurant with Greek leanings in Old Montreal offers a refined array of seafood dishes over the course of lunch and dinner services. Order from a list of dishes like arctic char with fava beans or snow crab with peach gazpacho, or put together your own platter of grilled seafood that can include shrimp, scallops, octopus, calamari and lobster. Note that during summer months, patrons have the option to dine on their elegant patio—if there's space on the popular seating option—which overlooks the bustling streets of the old city.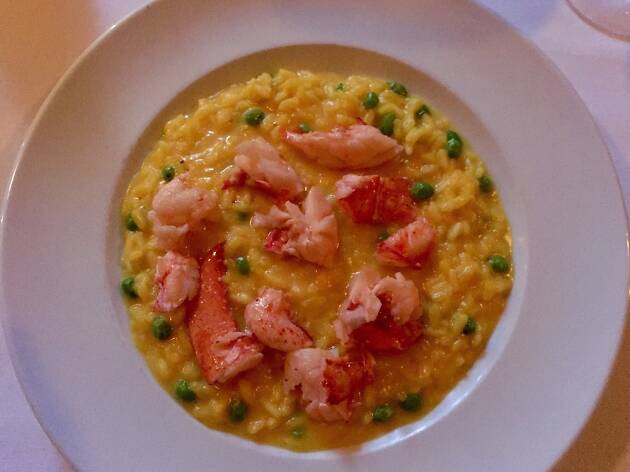 Photograph: Courtesy Yelp/Matt D.
This eclectic seafood restaurant from Chef Chuck Hughes—known best for starring on a range of Canadian television food shows—draws from American, European and Asian influences. While Hughes' fame is probably the first thing that makes this spot stand out, they're also unique for their range of raw dishes like tuna and oysters. Their lamb neck cavatelli is also a crowd favourite, but this is principally the address you want when looking for towers of crab legs, oysters, scallops and plump shrimp ornately served on crushed ice.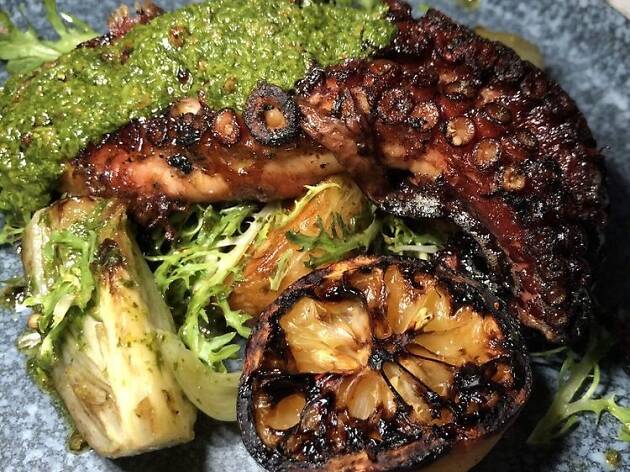 Photograph: Courtesy Yelp/Michelle V.
This trendy Little Burgundy restaurant is a relatively new option in the city, but one that's earned its stripes quickly. The menu's range of seafood to eat—octopus, lobster halibut, cod, mackerel and more—comes in a wild variety extending from fish burgers and salads to raw bar platters and risotto; essentially, if it's a notable dish in the realm of seafood, it's here. After a meal here, head downstairs to its velour and mirror-lined speakeasy King Crab for cocktails and dancing; if you work up an appetite again, there's wood-fired pizza by the slice.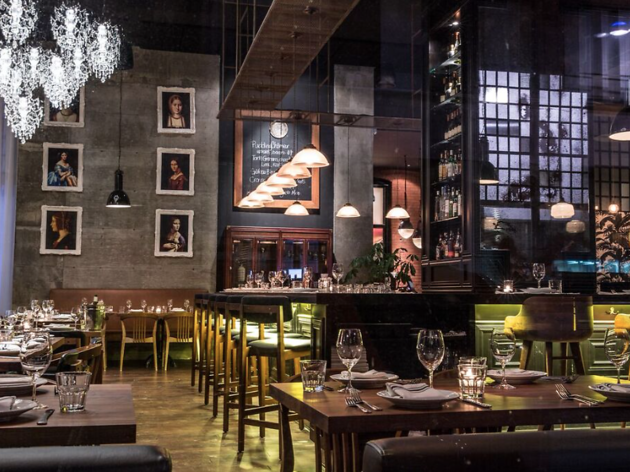 Photograph: Jellyfish
11. Jellyfish Crudo + Charbon
Jellyfish is a glamorous spot with floor-to-ceiling windows and glass chandeliers every which way serving eclectic seafood dishes with Asian and European influences. Among them is a shrimp ceviche, a salmon crudo, and an octopus tempura that are star players of the menu. Seafood lovers should feel free to bring along their fish-free friends as well, as there are several vegetarian dishes worth tasting, such as charcoal-grilled beets and heirloom carrots.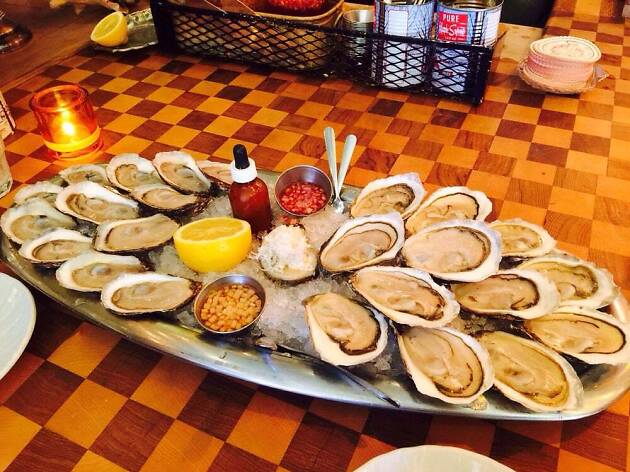 Photograph: Courtesy Yelp/Tiffany M.
Sitting snugly somewhere between a highly curated wine bar and an endlessly delicious late-night snack bar is this Plateau destination steered by chef Dominic Lalonde. Folks regularly have a lot of love for their bottle lists and a luxury hot dog, but it's the calibre of their shuckers that'll entrance just about any oyster lover who flirts with the idea of visiting. Better yet, visit during their happy hour to get your hands on half-shell quality for less than half the price and follow up with a 12-inch shrimp roll.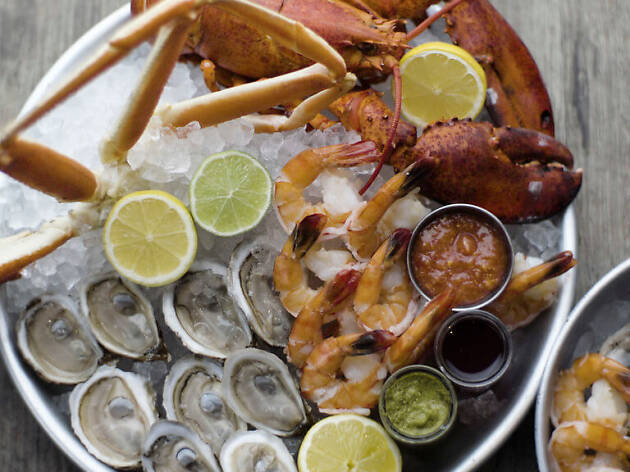 Photograph: Lucille's Oyster Dive
13. Lucille's Oyster Dive
This spot has become one of the most popular in its neighbourhood of NDG—if not the city at large—for its oysters since opening in 2009. Their raw bar changes regularly according to what's in season, but always includes an array of Canadian oysters from both sides of the country. Beyond their oyster selection, Lucille's serves up other crowd-pleaser seafood dishes like surf n' turf, calamari and fish tacos.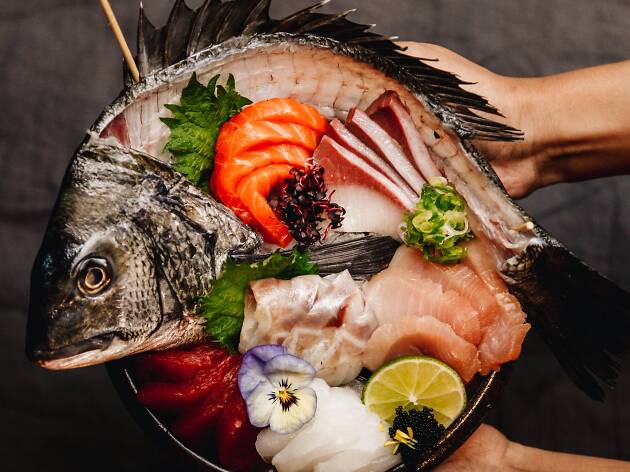 Photograph: Courtesy Ryu
This small sushi chain with locations in the Mile End, Downtown Montreal, Westmount, Laval and at the Pierre-Elliot Trudeau International Airport serves maki, nigiri, and shashimi with an amazing level of speed and accuracy. As opposed to being a cookie cutter franchise, menus vary by location, which means those looking for a bang for their buck should be seeking out each spot's unique specials and combos.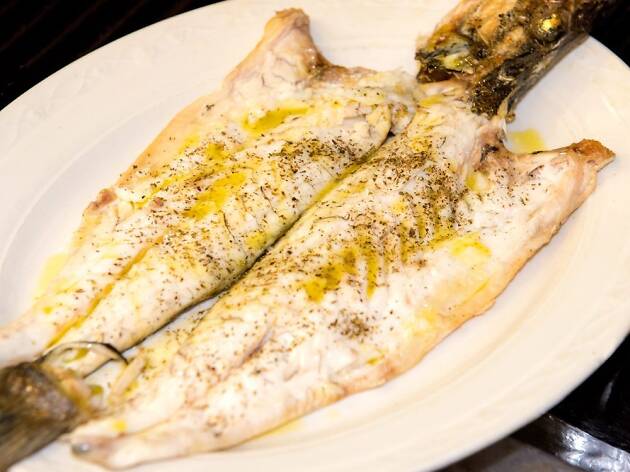 Photograph: Courtesy Yelp/Mythos Ouzeri
15. Mythos Ouzeri Estiatorio
At this sociable Mile End spot, you can dine on authentic Greek food alongside live music, friendly staff and a bustling atmosphere. Commonly-favoured items on their menu are the octopus and calamari dishes which you can eat alongside indulgences like fried feta cheese and loukoumades (Greek honey donuts). This is where you go for good times alongside your meal as well, as Mythos proudly features a lot of music to accompany dining out here.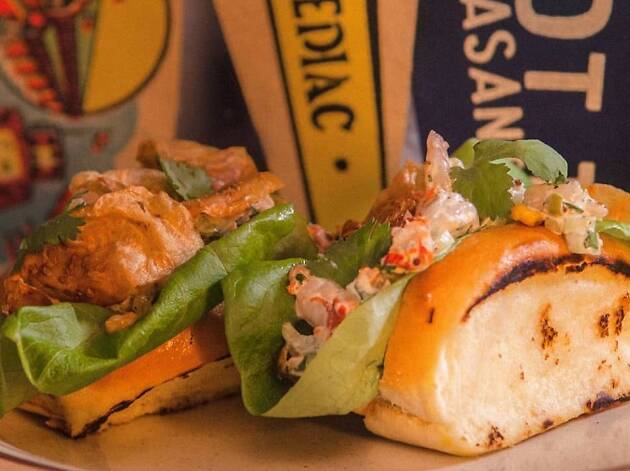 Photograph: Fannie Laurence/Le Fricot
Before this Little Burgundy address was opened in April 2019, Montreal was surprisingly lacking in representation for classic Acadian dishes like poutine râpée (potato dumplings filled with pork) and fricot stew, let alone the awesome traditions in seafood that the culture sports. Our money on this restaurant quickly becoming the city's most popular spot for lobster rolls accompanied by popcorn shrimp—and not just because it's attached to the popular watering hole Drinkerie Ste-Cunégonde.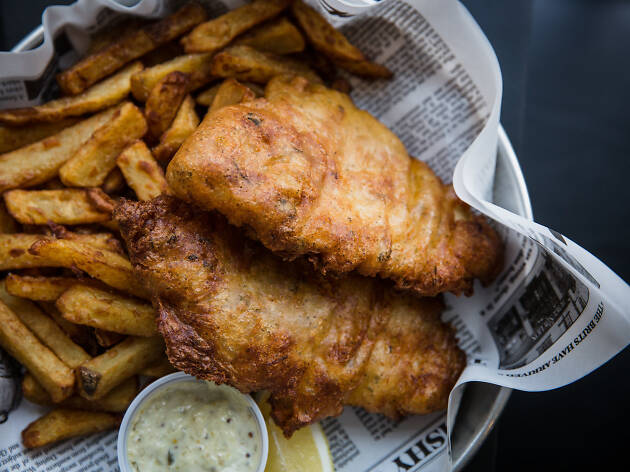 Photograph: Courtesy Brit & Chips
The team behind Little Burgundy's Burgundy Lion and Mile End's Bishop & Bagg absolutely nails the traditional British fast food dish with this family-friendly fish and chips spot. Fried food lovers will adore it all, from their classic fried fish and fries combo to excellent Scotch eggs, popcorn shrimp and battered cod cakes. The restaurant is also vegetarian-friendly with a smoked tofu alternative to pair with french fries.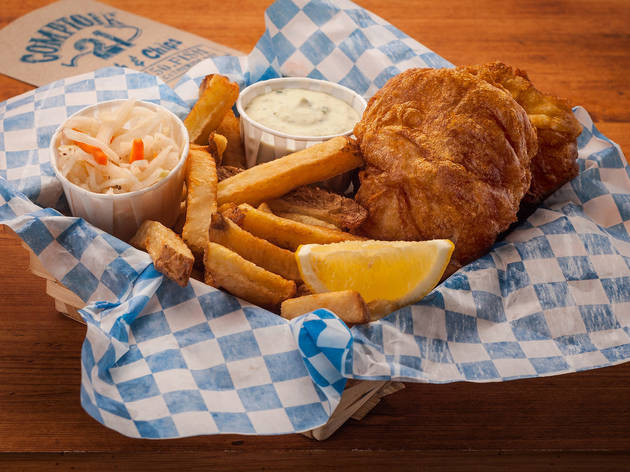 Photograph: Angel Montiel
A small fish n' chips chain with locations in the Plateau, Mile End and Verdun, Comptoir 21 is a casual and affordable spot for superb fried foods in a diner-style setting decked in prerequisite nautical decorations. Their fish n' chips are simple yet delicious with everything you want in a crisp-but-airy exterior around choice cuts of white fish. They also serve a number of casual fast food classics like hamburgers, poutines and hot dogs for a more turf-bound option.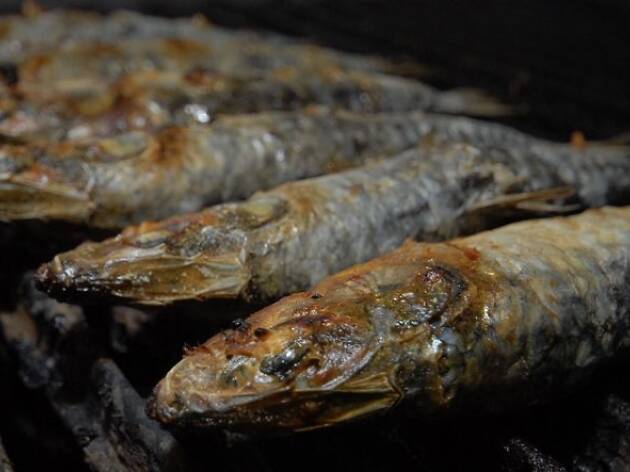 Photograph: Courtesy Yelp/Globeater M.
Located in a quaint stone building in Old Montreal, Porto Mar is one of the more down-to-earth Portuguese restaurants in town with its cozy ambiance. The menu includes a variety of fresh fish—shrimp, whelks and sardines—alongside a range of other types of meat like sirloin steak and calf liver. Whether you opt for surf or turf here, both are worth it, as fish and meat selections alike are equally revered among their diners. Above all, this spot earns a lot of bonus points for their uber-friendly service.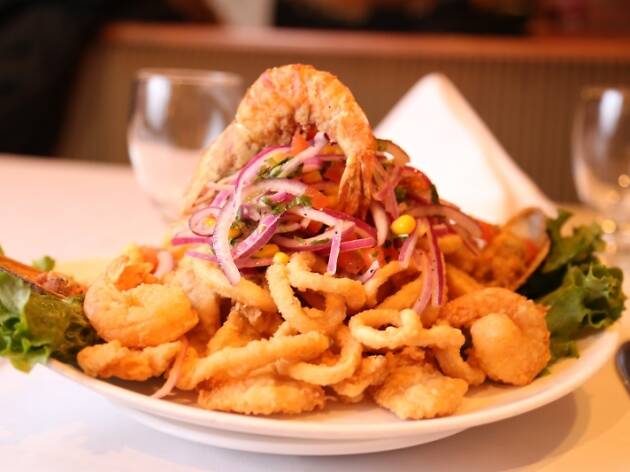 Photograph: Courtesy SolyMar
Located in La-Petite-Patrie, SolyMar is an expansive two-story restaurant that serves authentic Peruvian cuisine. Choose from a diverse range of seafood fishes, from calamari and fish and shrimp nuggets to clam chowder if you're looking for something familiar to North Americans, but it'd be a mistake to forego their dishes with hints of influence from across South America from ceviche to Chilean chorillana.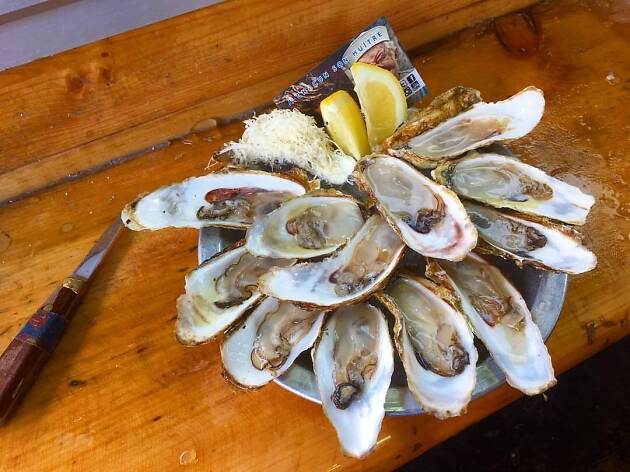 Photograph: La Boîte aux Huîtres
This humble spot takes up a mere corner of Little Italy's bustling Jean-Talon market, making it easy to miss if you're not looking for it, but it's known by locals for having some of the freshest oysters in the city at reasonable prices. They serve a range of flavours imported from the East and West coasts of Canada, America and Europe, all of which are served with the essential fixings of shaved horseradish and lemon. The best time of day to stop by is on a Tuesday when they serve oysters for a dollar a piece.
Looking for some turf to go with that surf?
From choice prime rib, cowboy and tomahawk cuts and beyond, you'll find it all in the best steakhouses of Montreal. We've scoured the whole island and have diligently trimmed the gristle to leave you with only the choicest morsels.
Best selling Time Out Offers