The best sushi in Montreal
These restaurants made the cut for best sushi in Montreal, from sit-down spots to delivery and all-you-can-eat addresses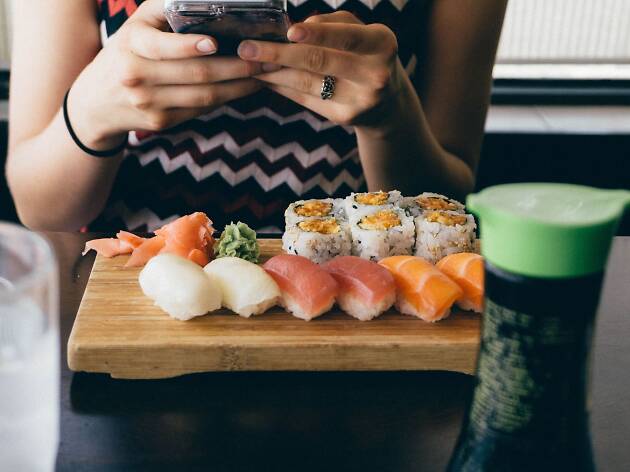 Montreal's Japanese dining options range widely, from soul-satisfying ramen to a booming izakaya scene which make up a solid portion of the city's best bars and restaurants. But like Jiro, we too dream of sushi. Options here range from the inexpensive and casual to the high-end and posh, traditional and skillful cuts to the innovative and unconventional. Whether you're looking for an elaborate omakase, sake for two with some rolls or just some good cheap eats, here's where you can find the absolute best sushi in Montreal.
RECOMMENDED: Full guide to the best restaurants in Montreal
Best sushi in Montreal
1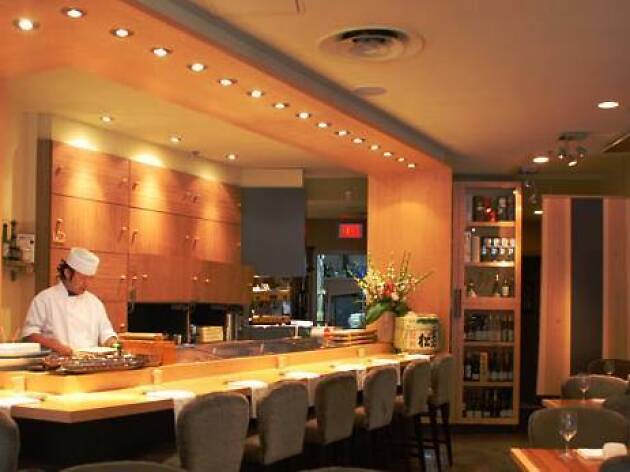 Photograph: Courtesy Jun I
Take a seat at Kyoto-born chef Junichi Ikematsu's eponymous sushi bar on Laurier Avenue and it won't take long to become accustomed to locals' admiration for the way he handcrafts every yellowtail, botan shrimp and organic salmon nigiri. There's plenty for non-sushi purists, too, including Cajun-spiced softshell crab, avocado, cucumber and soy caramel maki and plates of green tea-smoked Arctic char with shiso, apples and matcha cream.
2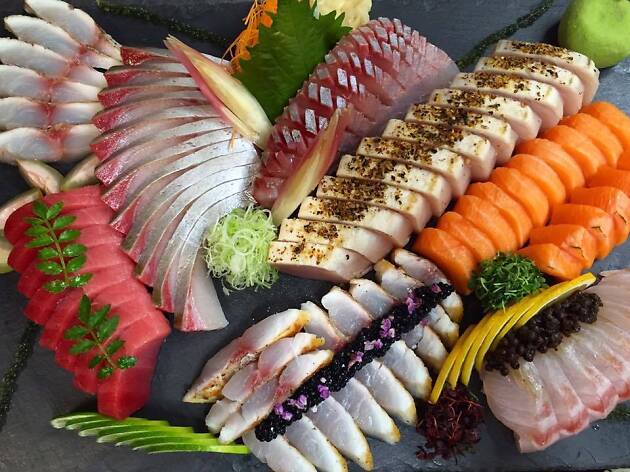 Photograph: Courtesy Restaurant Park
Wouldn't it be nice to have access to the best fish in Japan? Much of chef Antonio Park's fish, like his acupunctured kaimin tai snapper, comes directly from Tokyo's Tsukiji Market. Luxuries like that help to make a meal at his sushi bar the most high-end and varied omakase option in Quebec. For something more low-key (and easier on the pocketbook), don't miss the lunchtime bento boxes or hand-made noodle soup for brunches.
3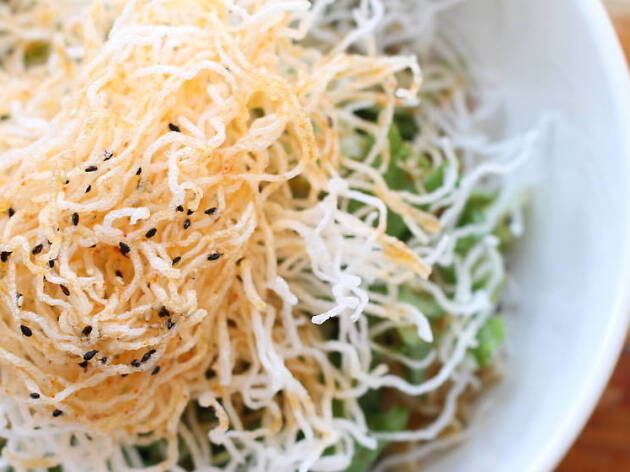 Photograph: Jonathan Patt
Those who snub their noses at waiting in the ever-present line to get into this shoebox of a restaurant don't know the value of homemade Japanese eats, or patience for that matter. From the flimsy yellow papers slapped up on walls listing the specials—don't miss the scallop sashimi if they've got it—to the sliced tuna sashimi plate, chef Kazuo Akutsu's affordable dishes are worth the wait.
4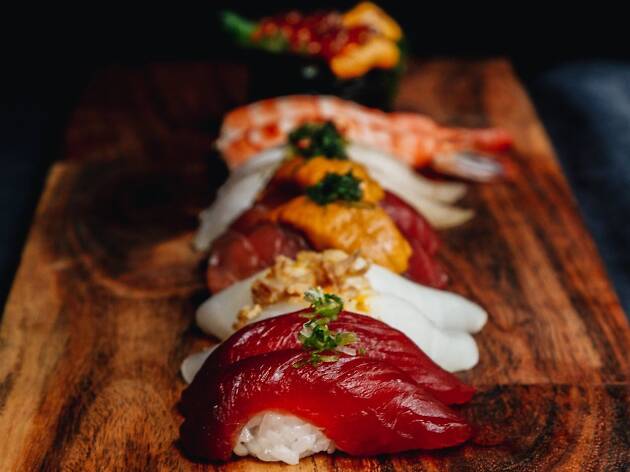 Photograph: Courtesy Ryu
What's that? Certified sustainable sushi in Montreal? Now you can feel good about ordering platters of King salmon, wild striped bass, yellowtail, albacore, scallop sea bream, cho-toro, o-toro and red snapper. With five locations, you'll have your choice of ambiance or convenience, from the lofty stone-metal-wood combination in Westmount to the airport's departure areas.
5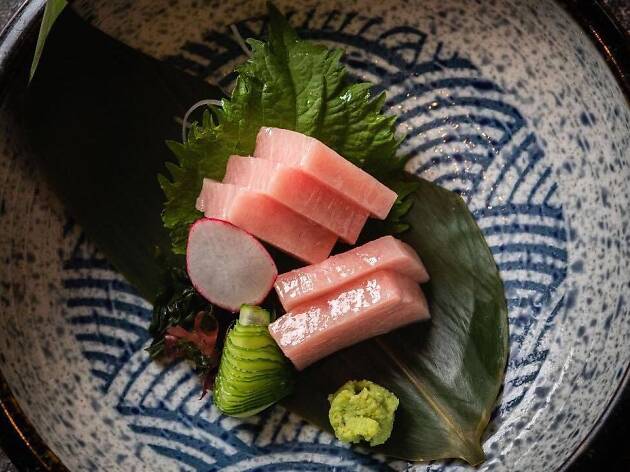 Photograph: Courtesy Marusan
Old Montreal lunch-goers love this place for its affordable fried chicken karaage bowls and beef gyudon with poached egg on rice, but sushi-lovers come back later for the daily omakase: $35 for six courses that includes sashimi and pressed and torched aburi sushi, as well as things like fried Japanese chicken wings and hanger steak, braised pork belly and beef tongue curry. Cross your fingers that the fatty tuna is in, which goes down easy with a yuzu sour or glass of the private import Masumi sake on tap.
6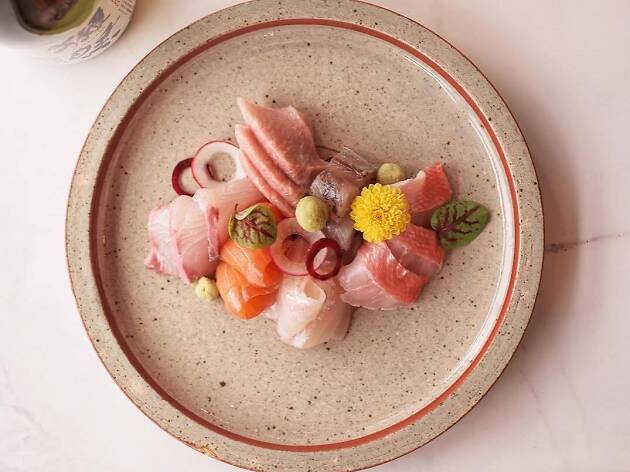 Photograph: Courtesy Otto Bistro
Co-owners Hanhak Kim and Hiroshi Kitano add a dash of French to their homestyle Japanese cuisine at Otto Bistro. The menu regular menu's filled with options like roasted duck salads, bone marrow with whipped soy butter or sake-steamed seafood sakamushi with white miso, sweet soy balsamic vinegar and cashews. The real off-menu secret, however, is sitting at the counter and letting Chef Kitano create your omakase meal in front of you with whatever's fresh that night, from katsuo bonito to Hokkaido uni.
7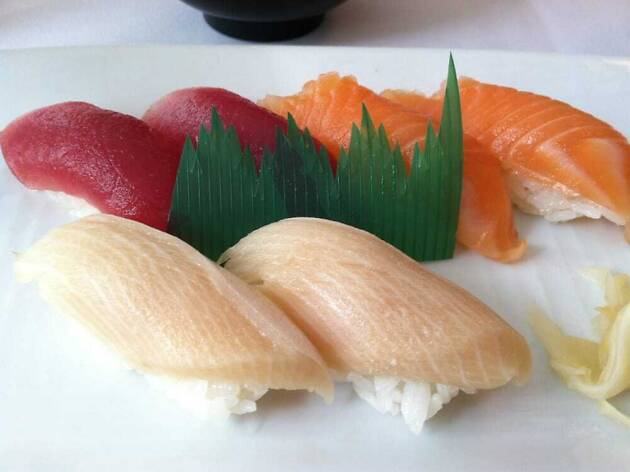 Photograph: Courtesy Yelp/Charles N.
This longstanding restaurant is the only place in Montreal offering a by-reservation-only kaiseki experience: A meal of up to 15 courses with sake, where the sequence of dishes and choice of dinnerware are as important as the quality and seasonality of the ingredients. If you don't remember to book it a week in advance, you'll still be able to order from one the city's most extensive nigiri and sashimi menus.
8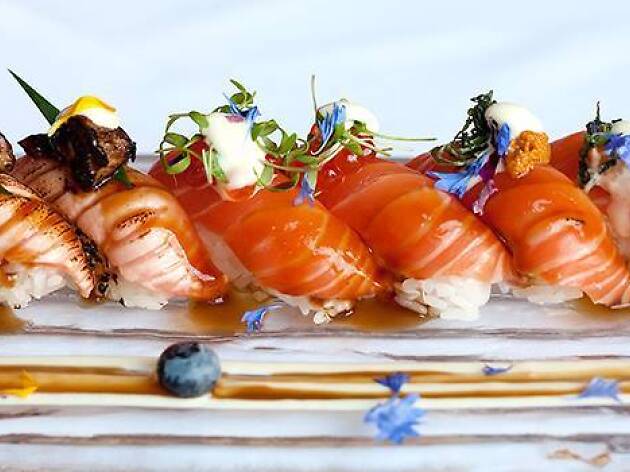 Photograph: Courtesy Maiko Sushi
Maiko is the West Island destination of choice for upscale nigiri, sashimi and maki fusion. The restaurant has been making artfully plated dishes that are heavy on umami for more than 20 years, including torched royal scallops draped across avocado maki with truffled mayo and sea urchin sauce; lobster sashimi with jalapeño, yuzu, pomelo, tobiko, raspberries and crispy rice; and pan-seared foie gras maki wrapped in soy paper rolls with grapes and crispy greens.
9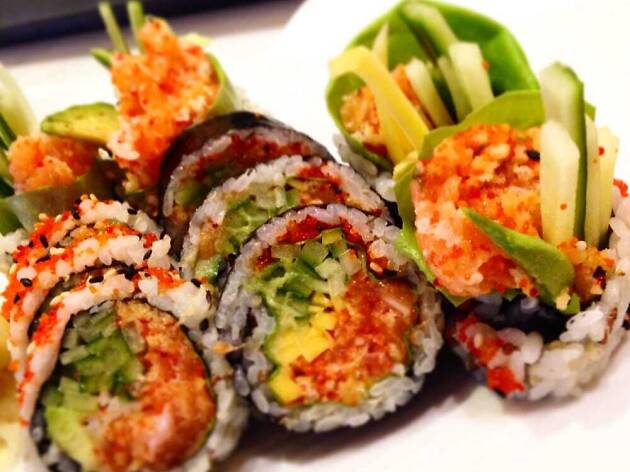 Photograph: Courtesy Yelp/Liz L.
Chef Trì Dư's much-loved fusion maki wouldn't exist if in 1979 the chef and four friends hadn't stolen a military boat in Vietnam and escaped to Canada via the Philippines. Dư then worked his way up the Montreal sushi restaurant ladder, eventually launching this eponymous upscale restaurant on Laurier Avenue. It's a vibrant interior heavy on wood elements and doubly beautiful food. Now his son has continued in the business with takeout-centric Le P'Tit Tri further north in La Petite Patrie.
10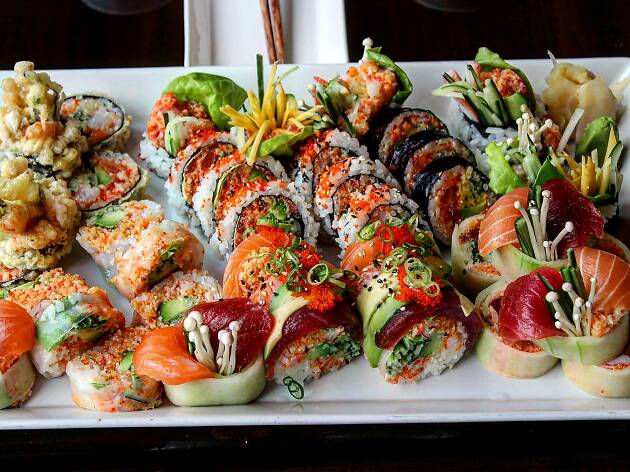 Photograph: Courtesy Saint Sushi
Ask most Plateau dwellers where they go for affordable sushi, and they'll say Saint Sushi. That's because since 2013, former Tri Express sous chef Saeng Outhipvongxay has been at its helm offering a more casual experience with the same focus on fusion rolls. He even honours his former teacher with a maki roll called the Sensei. Fun fact: It's the only roll not named after musicians. The other menu quirk? There's a whole lot of yogurt sauce involved. Don't knock it 'til you try it.
11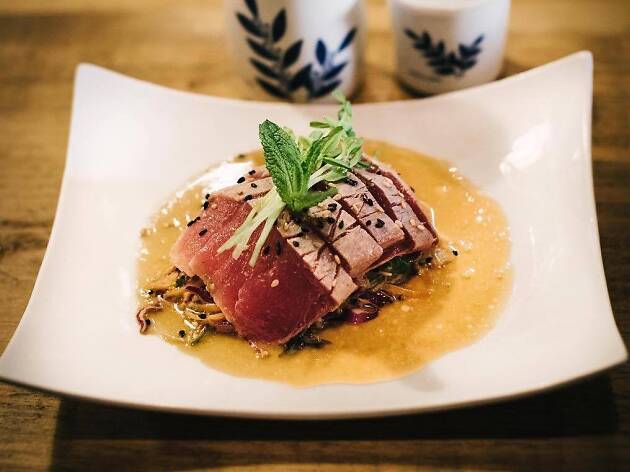 Photograph: Courtesy Sata Sushi
Stealing the show in the east end of the city, owner MJ Guertin's restaurant offers a vegetarian sushi menu that's just as formidable as the protein-laden one. Going beyond the usual cucumber and avocado rolls, the range of veggie ingredients go beyond the garden variety and extend as far as mock chicken and jerk beef poké bowls. Of course, there's undeniable skill in the cuts of fish and crustaceans as well, so there's really something for everyone here.
12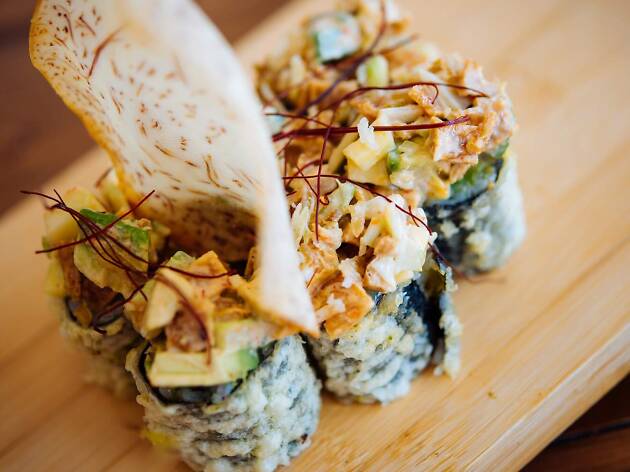 Photograph: Courtesy Sushi Momo
Who says vegan sushi is less exciting than its aquatic counterpart? Definitely not Sushi Momo owner Christian Ventura, who proves that maki rolls stuffed with sweet potato, mango, avocado, maple and yuzu can be just as delectable as fishier fare, especially when it comes in such pretty wrapping—both in terms of a zen brick and wood décor and the sushi itself—and with lists of natural wines, cocktails and sakés to boot.
13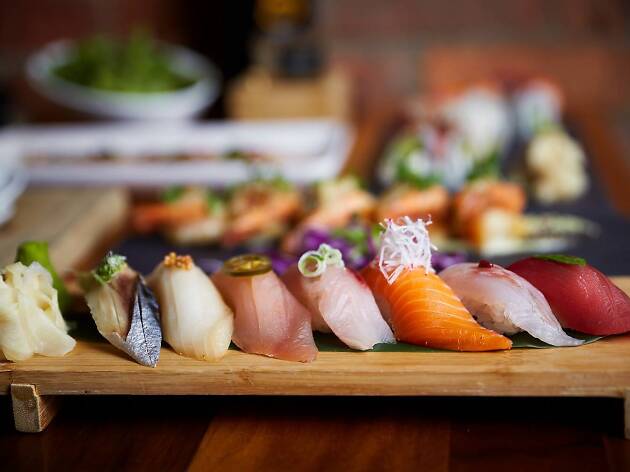 Photograph: Courtesy Kyo Bar Japonais
Come for the sushi, stay for the saké. That should be the motto of Kyo, where you can get everything from by-the-glass Toji No Banshaku honjozo (what the brewmasters of this Niigata brewery like to drink at the end of the day) to affordable bottles of Dassai 50 nigori (a high quality, cloudy sake) and Konteki "Pearls of Simplicity" Junmai Dai Ginjo. Whatever your poison, it all gets paired perfectly with a plate of their house specialty of fried maki.
14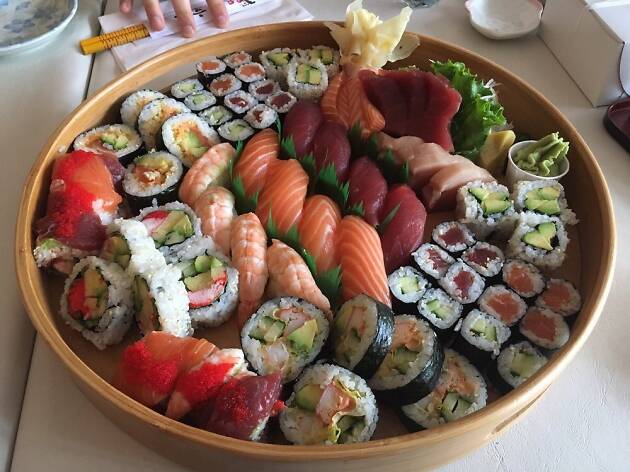 Photograph: Courtesy Yelp/Ivy L.
Located at one of the far ends of the orange line, this neighbourhood sushi restaurant fits right in with the motley crew of restaurants on Decarie Boulevard. There's tons of options around here, but this is where you go in the area for quality sushi at a fraction of the cost you'll find elsewhere. Make a reservation or plan to take your order of thick cut chu-toro, kamikaze rolls and tamago omelette nigiri to go.
15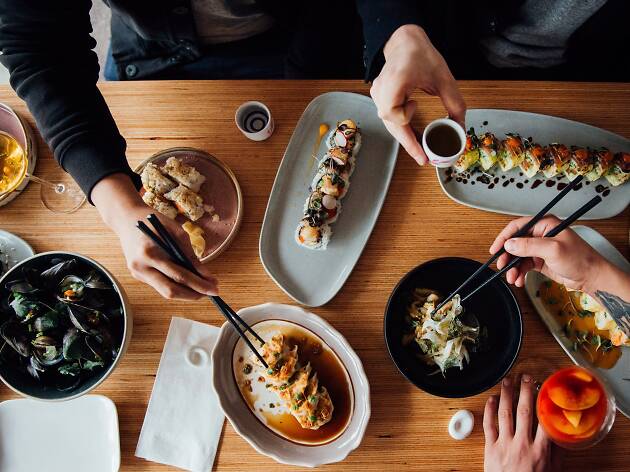 Photograph: Courtesy Le Blossom
Sit under the silk petals of their giant cherry blossom tree for simple hosomaki, or something more gussied up like the Bubba shrimp roll (tempura shrimp, scallop, avocado, cucumber, shiso, jalapeño, yuzu and unagi sauce) or the Fancy as Hell roll (tuna, mango, avocado, fried onions and foie gras). Whatever your choice, class it up with cocktails or the best by-the-glass saké selection in the city; servers are good about not making you feel like an idiot if you don't know your honjozos from your Genshus. For an affordable education, come Sunday when bottles are 50% off.
16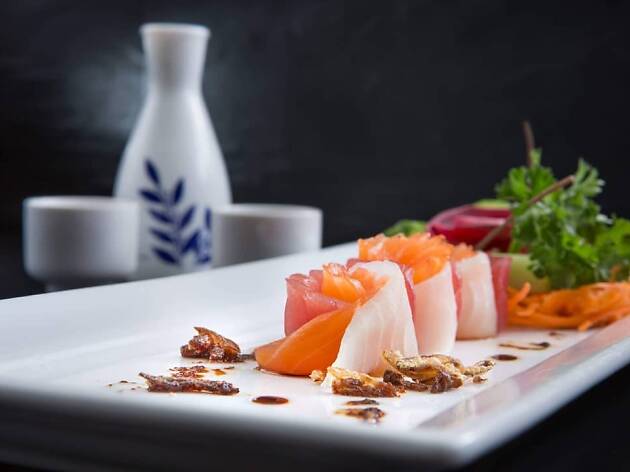 Photograph: Courtesy Aikawa
This restaurant is the brainchild of owner Madonna Bailey and her friends from downtown restaurant Shô-Dan, who figured that the West Island needed its first upscale sushi restaurant back in 2003. Ever since, people have been travelling for the ambiance—wood-panelled walls lined with art and a sushi counter coloured royal blue by the lights above—as much as they have for fusion rolls.
17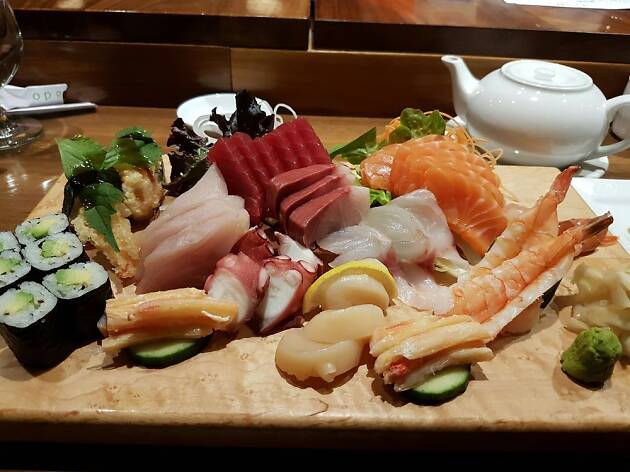 Photograph: Courtesy Yelp/Mary V.
First opened in 1987, Mikado was one of the original sushi restaurants in Montreal. Since then, it's expanded to three locations, each with its own perks: The Laurier spot has a tatami room, the Saint-Denis location has two private rooms and the Monkland outpost has a 12-seat summer patio. No matter which you pick, each of worth visiting to enjoy chef and owner Kimio Nguyen's six course omakase and sushi platters.
18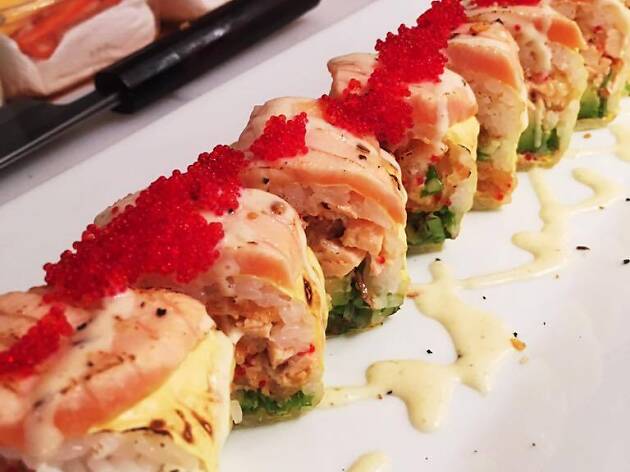 Photograph: Courtesy Tora Sushi Bar
This 15-seater is BYOB, but most opt for delivery and take-out anyway, which is really still BYOB since the owner encourages you to bring-your-own-bag. Besides, you can have whatever beer, wine or sake you want at home, but are you really going to make your own deep-fried smoked meat roll (pickles included)?
19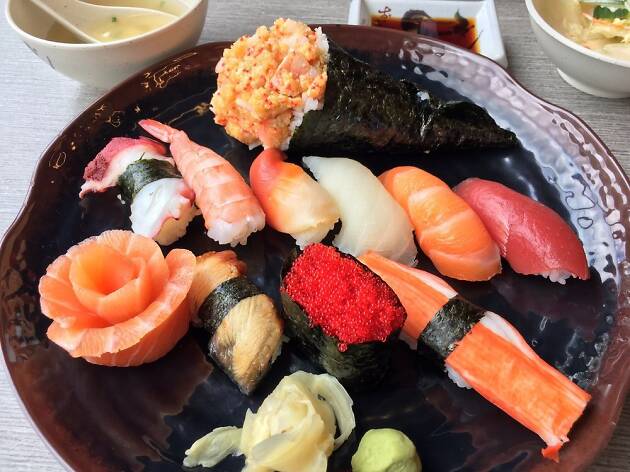 Photograph: Courtesy Yelp/Ran L.
It's all the usual suspects at this tiny sushi shop and Asian convenience store; California rolls, sushi pizzas and some of the cheapest nigiri around make up the eat-in menu. For better ambiance, though, join the line for takeout and don't forget to grab some pocky and mochi ice cream on your way out.
More of the best seafood in Montreal
You'll find all of your happy hour oyster and fresh lobster needs satisfied by the best seafood restaurants in Montreal.