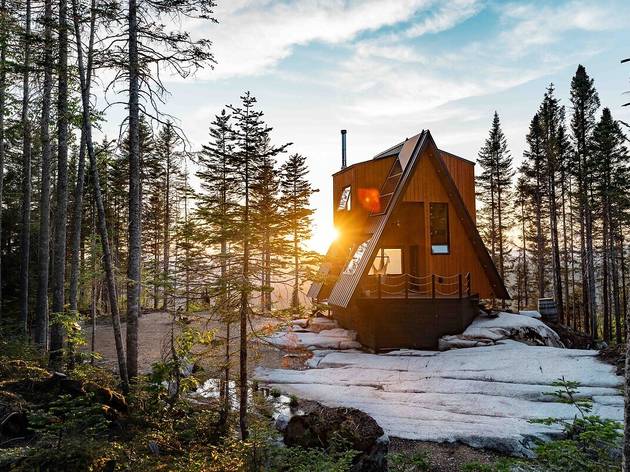 The best cabin Airbnbs near Montreal to get out into the wild
These cabin Airbnbs near Montreal are all you need for am escape into forests, onto mountainsides, by lakes and more
There's more than a lifetime's worth of things to do in the city, but sometimes you just want to get away from it all, so we've dug through the listings to find the very best cabin Airbnbs near Montreal. We're talking anything from rustic, woodsy getaways to glamorous spots that make any guest feel like a million bucks, plus everything in between for romance or good times with bigger groups. These destinations are best paired with scenic drives from Montreal, and—as they're all within reasonable drive times—can last anywhere from a weekend getaway to a long and pampered stay that's only rivaled by the best secluded Airbnbs near Montreal.
RECOMMENDED: Full guide to the best things to do in Montreal
Where to find the best cabin Airbnbs near Montreal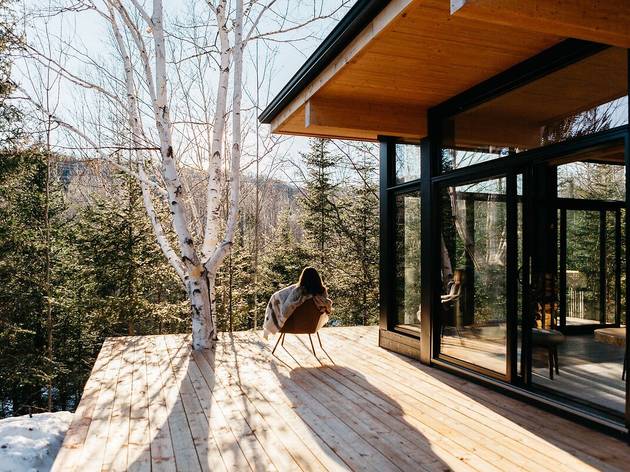 Photograph: Courtesy Airbnb
1. Lakefront Scandinavian Cabin in La Conception, Québec
1 hour 45 minutes from Montreal
Part of the hintercabin group, this cabin is fashioned in a Scandinavian style with a lot of sleek modern trimmings, perfectly positioned just-so on a hillside to take advantage of its windows on all sides. The views are great for a romantic escape, or just keeping it all to yourself; whichever route you take, get down its private dock for lake access and bookings here come with a 20% coupon to the thermal treatment at Spa Scandinave Tremblant or 15% off a massage. Score!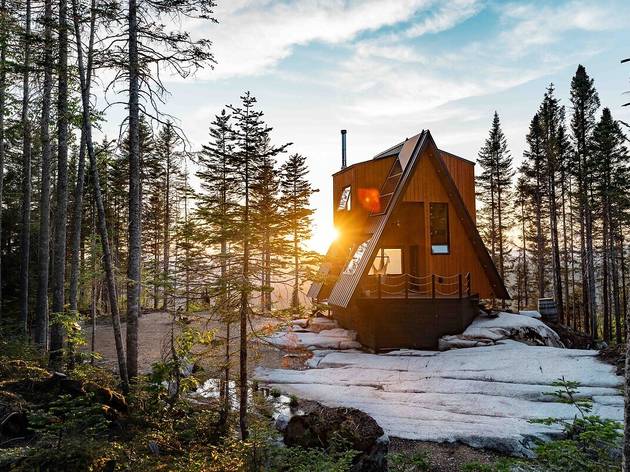 Photograph: Courtesy Airbnb
2. Mountain View Cabin in Lac-Beauport, Québec
3 hours from Montreal
The drive might seem a bit long, but all northward trips from the city tend to reveal better and better landscapes. The view from this cabin is no joke with the rolling mountains of the province in below you. It gives that feeling of being on top of the world, something further cemented by the rejeuvenation a stay here offers. The cabin's just as good for scenic lounging as it is for outdoor experiences; skip looking at your phone all weekend and hit the wealth of biking and hiking trails nearby.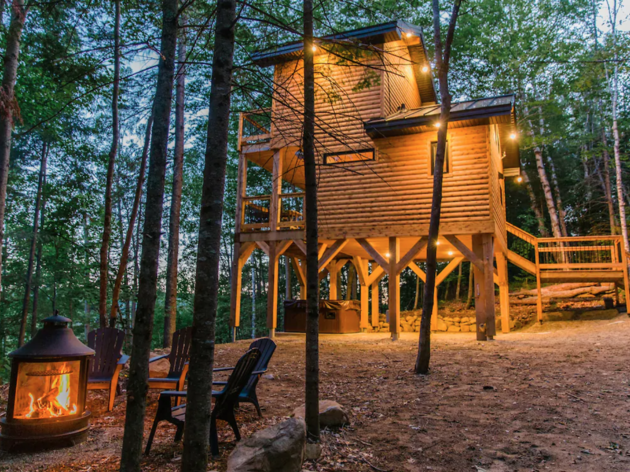 Photograph: Courtesy Airbnb
3. Perched Cabin in Sainte-Béatrix, Québec
1.5 hours from Montreal
Billed as a 'luxury micro-chalet', this mountainside cabin fashioned after a treehouse is positioned in such a way that gives a great panoramic view of the L'Assumption River alongside its surrounding hills. It can take up to four guests at a time, and there are a lot of creature comforts to enjoy like its raclette grill and Chinese fondue setup from the kitchen, its mountain-facing terrasses, a BBQ, a fire pit and a hot tub for those chillier nights.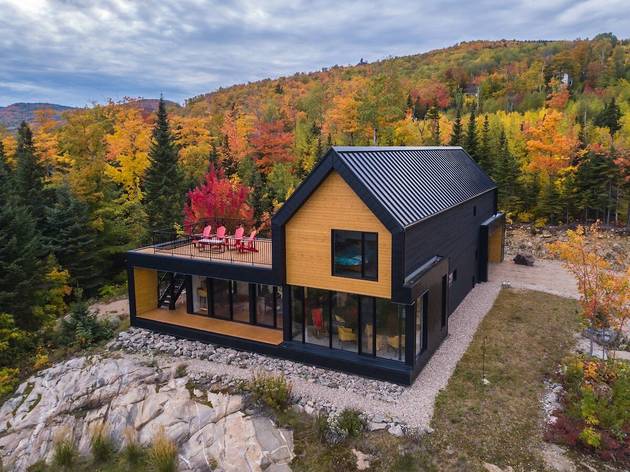 Photograph: Courtesy Airbnb
4. Chic Modern Cottage in Petite-Rivière-Saint-François, Québec
4 hours from Montreal
Looking for good group accommodations? This super modern cottage ought to do the trick. Take a roadtrip north to this huge spot that's got great views of the Saint-Lawrence River and a lot of private space to lounge on and around. It's fitted out with all the normal creature comforts of city life like wi-fi and A/C, but also comes equipped with cottage bonuses like fireplaces, a BBQ and a hot tub. If you want to go exploring, use this place as a homebase as you traverse the grandeur of Le Massif de Charlevoix nearby.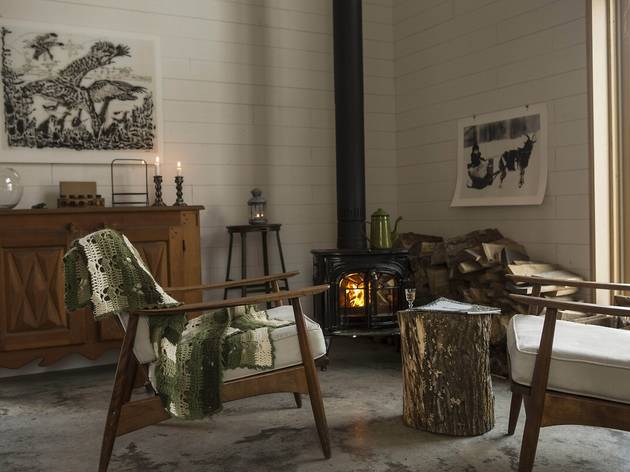 Photograph: Courtesy Airbnb
5. Sugar Shack Cabin in Saint-Casimir, Québec
2 hours from Montreal
One of the more unique cabin Airbnbs available near the city, this quaint wooden structure is surrounding by the maple farm of Larguer les samares, an agro-tourism company that welcomes guests with bottles of syrup. If you aren't interested in its communal areas, the cabins themselves are isloated for trips with friends and significant others alike. If you want to go during prime sugaring season, book a stay just as winter is ending, from February onwards.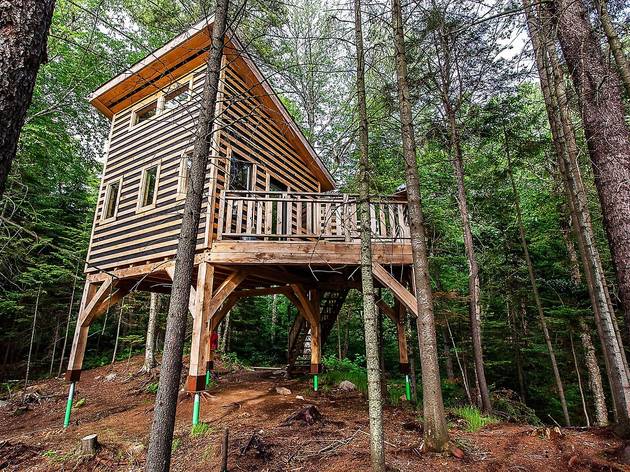 Photograph: Courtesy Airbnb
6. Mont-Tremblant Treehouses in Saint-Faustin-Lac-Carré, Québec
1.5 hours from Montreal
Located on the edge of Lac du Cordon, these all-season cabin treehouses are surrounding by 2,000 acres of protected lands and boast close proximity to 36km of walking andsnowshoe trails, as well as four more lakes plus wetlands. Swim in the nearby water, plan picnics in the forest, go fishing, hang out around the fire pit; whatever you do, you'll be reconnecting with nature in no time, provided you don't spend too much time enjoying features like wi-fi and a decent cell signal (then again, that makes this an awesome work-from-home setting too).
Photograph: Courtesy Airbnb
7. Spa Cabins in Val-des-Monts, Québec
2 hours 45 minutes from Montreal
For anyone looking for a complete restorative experience during a 'cabin' stay, these forested spas from HOM mini cottages are perfect: Relaxing rides and swims in the lake get coupled with dips in the hot tubs these spots got (even better during snowfalls in the winter), enjoy the peace and quiet of the trees and wildlife around you, and bliss out. That's it, that's all. It's not great for those looking for a more rustic experience in the woods, but it's hard to argue with this level of luxury.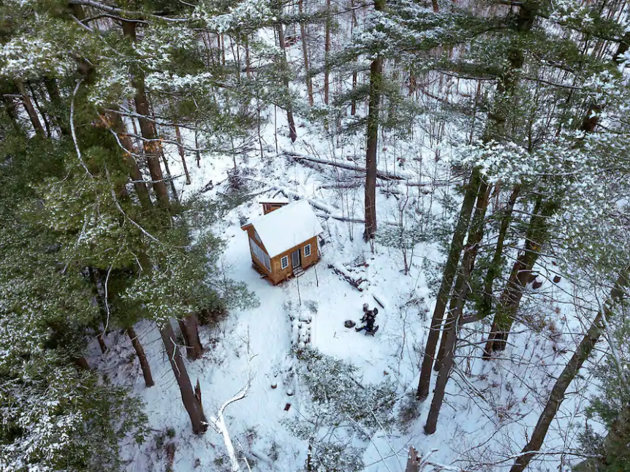 Photograph: Courtesy Airbnb
8. Cabin on the Bay in Cantley, Québec
2.5 hours from Montreal
Once you pull up to this secluded cabin spot, it'll be easy to forget that it's a mere 15 minutes away from Ottawa (and that's worth noting for those who like to get equipped with food and drink upon arrival). It's got beautiful views of the Gatineau River nearby, it's small but cozy for all months of the year, and it's a straightforward to arrive, set up and relax at. The river's current slows down to a crawl near here as well, so take dvantage by swimming or paddling around in a canoe during peaceful and misty mornings.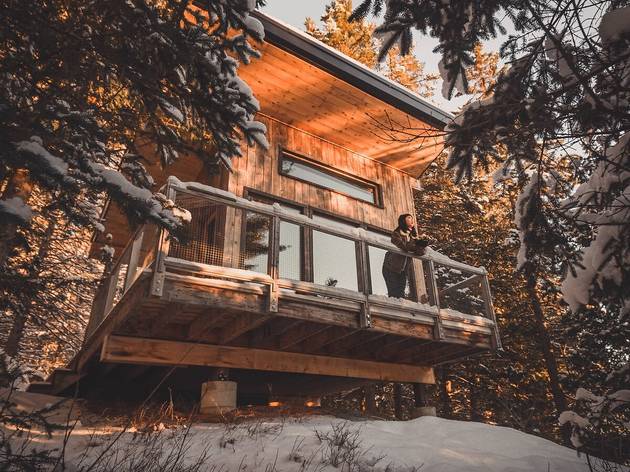 Photograph: Courtesy Airbnb
9. Cabin in the Woods in Labelle, Québec
2 hours from Montreal
Fully going off the grid and isolated by the surrounding forestry, this cabin is located on a 35-acre site that's bordered by the Red River. Expect the full rustic cabin experience by waking up with the sun and going to bed by firelight, perching yourself on its patio and listening to teeming wildlife, and take hike after hike among the paths winding through the forest floor around you. Aspiring home chefs should take advatage of its wood-fired grill for cooking as well with roasted meats and veggies and reconnect with those caveman roots.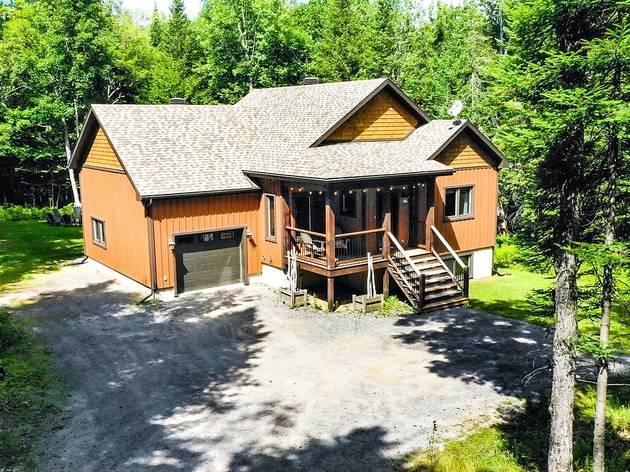 Photograph: Courtesy Airbnb
10. Luxury Cottage in Mont-Tremblant, Québec
1 hour 45 minutes from Montreal
Those looking for a decent cottage-chalet hybrid that's fit for luxuriating in would do well to book a stay at this spot. Far be it from us to judge anyone who wants the comforts of the city while escaping from it at the same time: It's got little distance between it and ski resorts, spas and other heavenly delights, but it's still situated deep enough in the forest to give you that cherished secluded feeling you want in its 1.5 acres of private land. The best part's its nearby beach in the summer and a full ice skating track in the winter.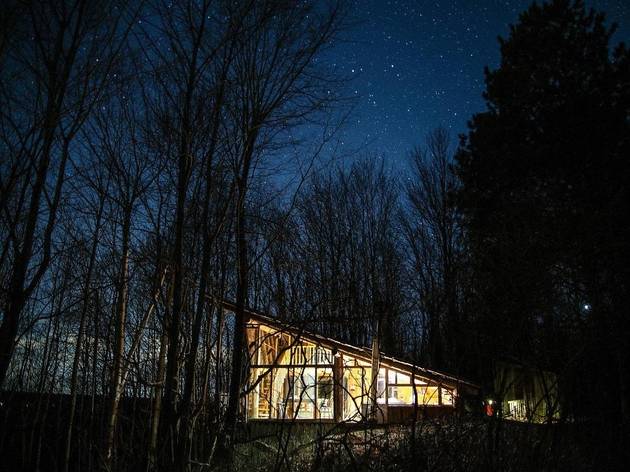 Photograph: Courtesy Airbnb
11. Perched Cabin in Plantagenet, Ontario
1.5 hours from Montreal
We're totally digging this glass-enclosed cabin situated on an escarpment that gives you the feeling of walking through treetops. Enjoy pulling up and backpacking 20 minutes into the forest to reach it, set yourself up and let the peace and quiet overcome you. Stays at this all-season spot give you just enough amneties like cooking equipment and a fireplace while still being bare bones enough to give that good ol' off-the-grid feeling cabins can excel at.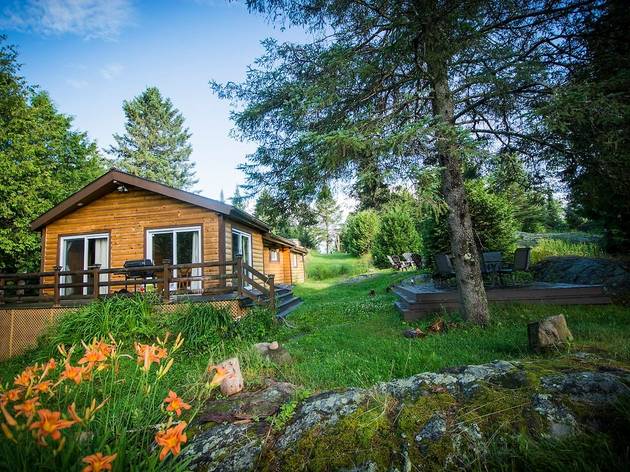 Photograph: Courtesy Airbnb
12. Rustic Wood Cabin in Boileau, Québec
2 hours from Montreal
Don't let the manicured exterior of the property fool you: Once you're lounging inside and enjoying all of its classic cabin interior decor of wood and plaid, only taking breaks for leisurely strolling throughout its five acres, you'll be enjoying the seclusion and tranquility it offers in no time. One feature about this that we're particularly digging here is the lazy river that run nearby, as the owners encourage summer-goers to float down it for 45 minutes until its private dock.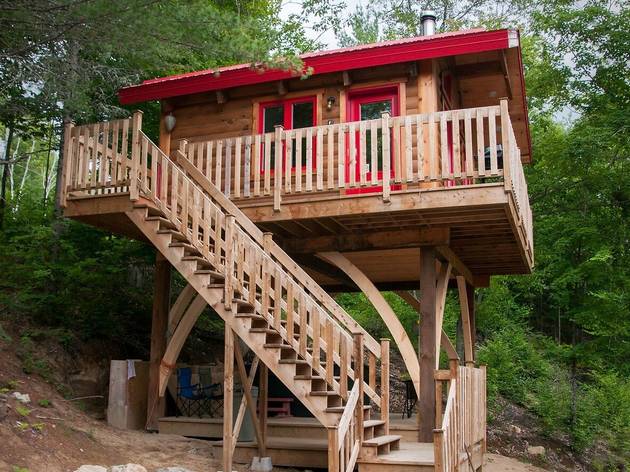 Photograph: Courtesy Airbnb
13. Treehouse Cabins in Saint-Jean-de-Matha, Québec
1.5 hours from Montreal
A treehouse-style cabin for views of treetops and the nearby L'Assomption River? Check. Personalized spa fixtures like hot tubs on their own separate patios, plus fireplaces? Check. A private environment? More than one property of its type to rent out? Hiking trails and easy access to water? Check, check and check. Sure, it's a more luxurious setup than your average proper cabin, but hey! You're worth it. This one's particularly good for a romantic trip into the woods.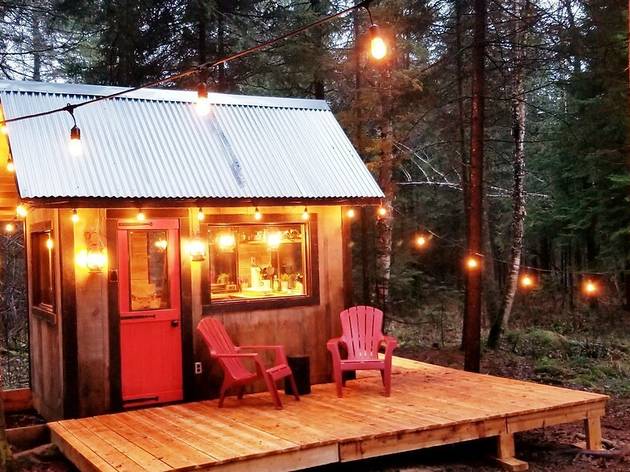 Photograph: Courtesy Airbnb
14. Tiny Cabin in Mont-Tremblant, Québec
1 hour 45 minutes from Montreal
We're listing this spot for how well it fits into a weekend getaway format. Pull up and set up real easy, and what it lacks in space it makes up for in simplicity. The real point is spend the majority of your time here by the fire pit or on its patio, walking the forest floor (all 10 acres of it around you!), and packing picnics for trips to the nearby sandy beach that run along a lake. Spend time outdoors when booking here, not indoors; that why you're looking for woodsy escapes, isn't it?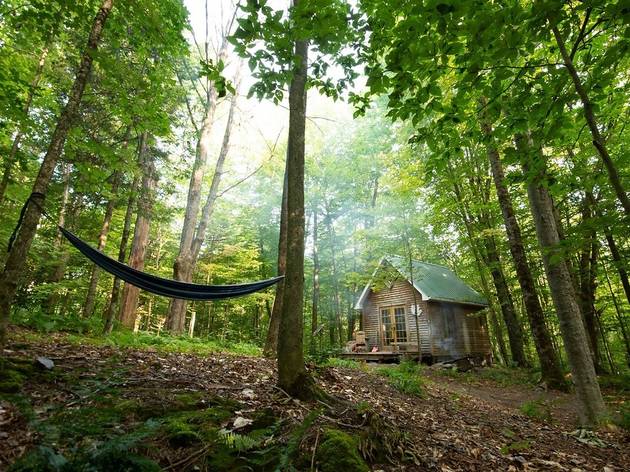 Photograph: Courtesy Airbnb
15. Forest Refuge in Cookshire-Eaton, Québec
2 hours from Montreal
This one goes out to anyone who wants the real cabin experience: No electricity, no running water, no wi-fi. Just relaxing and cooking by the fire, listening to birdsong in the morning and watching the stars glow overhead at night, go hiking or swing from side to side with a good book in its hammock. Some of the best cabin stays are just that simplistic, and for good reason. Skip anything that smacks of city life and get yourself a true escape from it all here.
More travel ideas from Montreal