Heads up! We're working hard to be accurate – but these are unusual times, so please always check before heading out.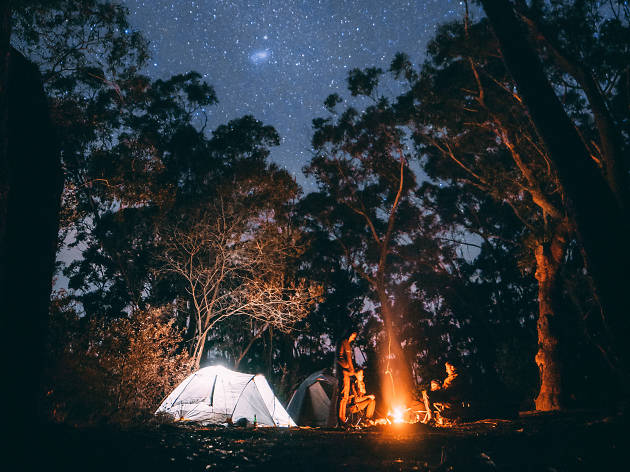 The best places for camping Montreal has to offer
Campfires, exploring nature and outdoor activities abound when checking out the options for camping Montreal has nearby
The back woods, mountains, rivers and lakes of Québec and the Northeast make for excellent camping near Montreal. Whether you're looking for an easy-going full-service RV experience or a rugged adventure off the beaten path, these campgrounds are your best bet. All offer access to some form of (rugged) rest and relaxation, from the best beaches in the region and great opportunities for hiking to outdoor activities like canoeing, fishing, cross-country skiing and snowshoeing. These spots are all within a four-hour drive, with some being easier to get to than others. If you're looking for other ways to skip town, the best day trips or weekend getaways within Montreal's orbit are where it's at.
RECOMMENDED: Full guide to the best things to do in Montreal
Where to go camping near Montreal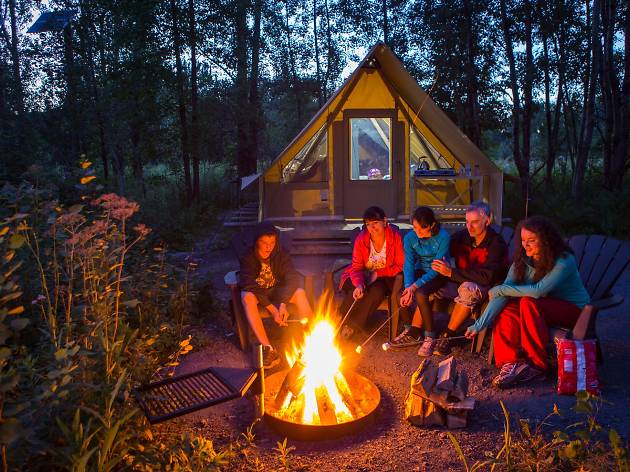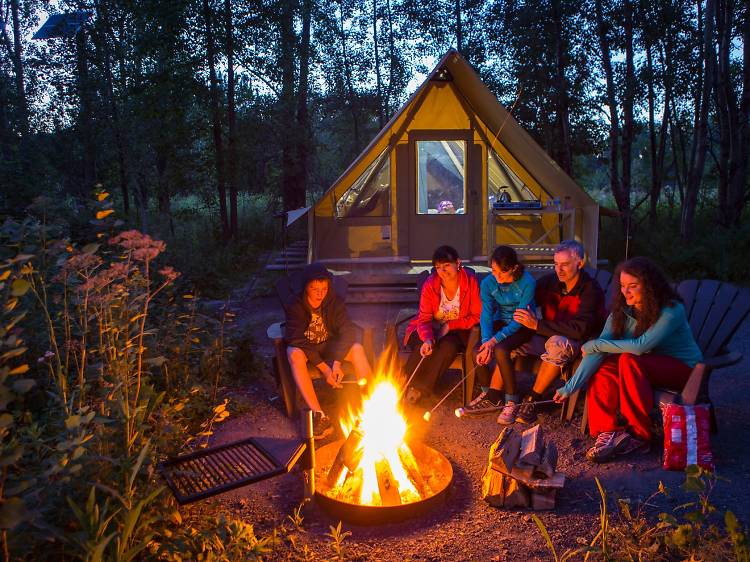 Photograph: Mathieu Dupuis
1. Parc national des Îles-de-Boucherville
If you don't have access to a car or you don't feel like a long drive, the Îles-de-Boucherville offers campsites in the closest provincial park to Downtown Montreal. Camping facilities are located on Grosbois Island, the northernmost of the park's five islands in the Saint-Lawrence River. Access to the park is possible by ferry or by public bus from Montreal, Longueuil or Boucherville from June to September. If you feel up to it, you can reach it by bike and keep your heart rate up along the park's 21km-long network of trails. Canoeing, kayaking, beach volleyball, pedal boats and fishing are just some of the many outdoor activities available here.
Driving time from Montreal: 30 minutes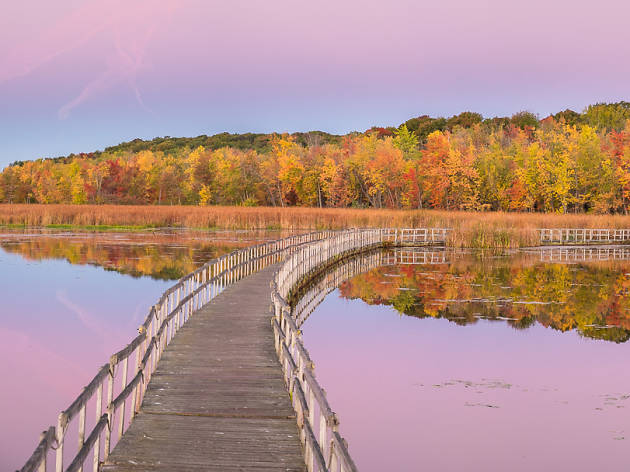 Photograph: Courtesy Flickr/CC/Denis Grenier
This provincial park in Oka just west of Montreal is the perfect spot for beach camping without leaving the Montreal metropolitan area. Aside from swimming at one of the best beaches near Montreal, activities in Oka include canoeing, kayaking, pedal boats, sailing and cycling. You can also check out the Calvaire d'Oka pilgrimage site which dates back to 1740. There are several options for camping here: You can opt for a more rugged experience, an RV site or a ready-to-camp fully furnished tent rental, some of which are dog-friendly.
Driving time from Montreal: 1 hour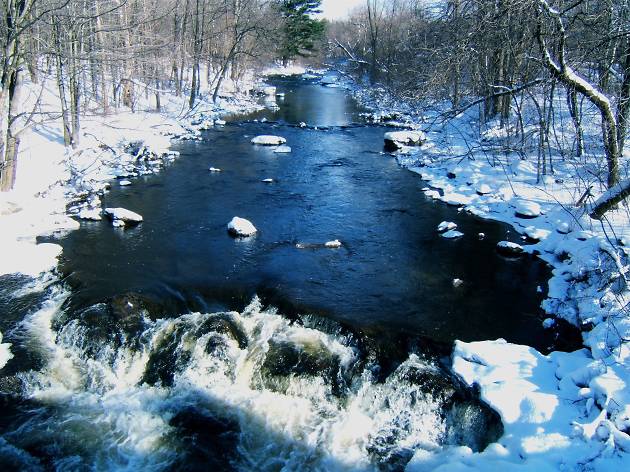 Photograph: Courtesy Flickr/CC/marcel lemieux
3. Parc national de la Yamaska
The Parc national de la Yamaska surrounds the Choinière reservoir, an artificial lake perfect for boating activities built on the North Yamaska River near Granby in the Eastern Townships. The campground here has 147 sites, including ready-to-camp tent rental, sites with water and electricity and more rustic sites for canoe camping and bicycle camping. You can also comfortably camp here in the wintertime by renting one of five nature cabins or a rustic shelter located near snowshoeing and cross-country ski trails.
Driving time from Montreal: 1.5 hours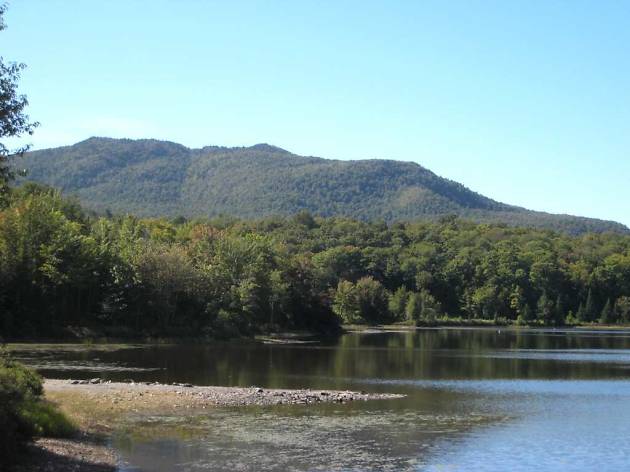 Photograph: Courtesy Flickr/CC/BrotherM
This park offers some of the best hiking in the Montreal area, with over 80km of trails offering beautiful views of the Eastern Townships. There are 275 campsites here, as well as nature cabins, huts and an architecturally inspiring EXP cabin—located in a sugar bush for maple syrup production—for all-season accommodations. Two beaches make for great lake swimming and there are also facilities for boating, rock climbing and winter sports. Mont-Orford is a natural habitat for the Great Blue Heron, the white-tailed deer and many other species, so wildlife-watchers in particular will have their hands full of binoculars here.
Driving time from Montreal: 1.5 hours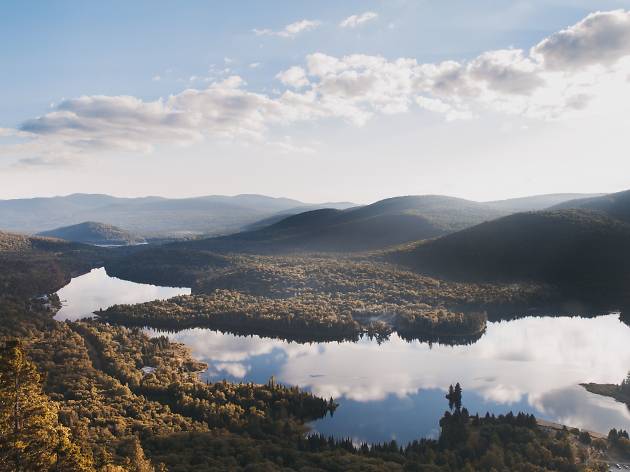 Photograph: Jamshed Khedri
5. Parc National du Mont-Tremblant
Mont-Tremblant isn't just a ski resort. While the skiing here is undeniably appreciated, camping in the largest and oldest provincial park in Quebec offers a unique access to the Laurentian mountains, a range containing over 400 rivers, lakes and streams. There are just under 900 campsites here, from well-serviced sites near the park entrance to rustic canoe-camping sites deep in the back woods only accessible on foot. Great for family-friendly trips with some canoeing or biking on the side just as much as it is for more intimate backcountry expeditions on old forest roads and waterways, this park has it all. Hikers should check out the Via Ferrata Du Diable, a path winding along the Vache Noire rock face.
Driving time from Montreal: 2 hours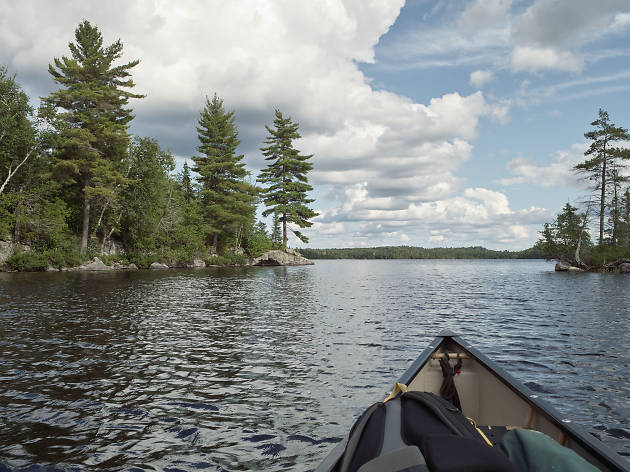 Photograph: Courtesy Flickr/CC/Povl Abrahamsen
6. La Vérendrye Wildlife Reserve
La Vérendrye is Québec's largest nature reserve, offering a more rustic experience than the provincial park network, a veritable paradise for those who want to dive into the wilderness. Over 1250 campsites are spread over this immense territory, including 40 rustic campsites and 39 cabins for up to 8 people. Some campsites and cabins are set up for fishing, whether you want to rent a boat or park your own. Licensed hunters can also purchase day-hunting passes for small game. Other activities here include hiking, berry-picking and snowmobiling come winter.
Driving time from Montreal: 4 hours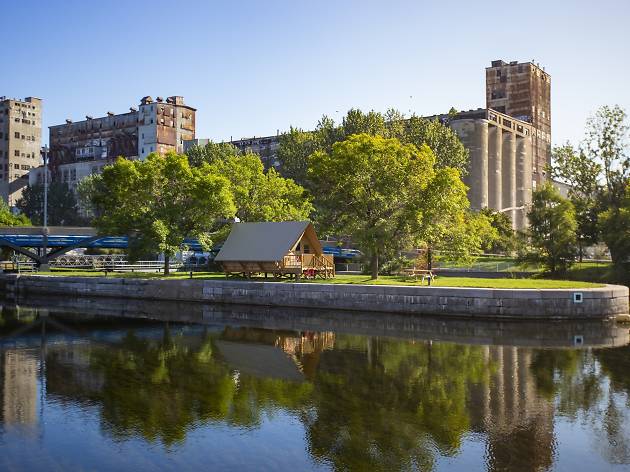 Photograph: Canal de Lachine - Parcs Canada
You don't have to put on bugspray and head into the back woods to go camping — you don't even have to leave town. Parks Canada offers a ready-to-camp tents in the heart of the city at their oTENTik site on the Lachine Canal from June to September. Each of the seven tents offer cooking equipment which can be used at the kitchen shelter on site, but hey, you could also head to one of the best restaurants in Montreal before crashing here or bring back takeout and create your perfect urban glamping experience.
Driving time from Montreal: What car?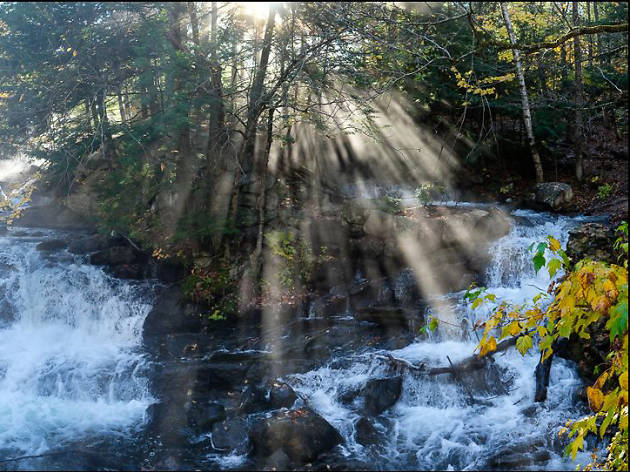 Photograph: Courtesy Flickr/CC/Mike Alexander
This large conservation park just outside downtown Ottawa-Gatineau offers year-round camping, ranging from ordinary tent camping to RV sites, canoe-camping sites and ready-to-camp units which include yurts, tents and cabins. The campgrounds also offer nature interpreters during the summer and fall if you want to learn more about the local flora and fauna. Coming here means you will also have access to a full gamut of activities including hiking, cycling, swimming, boating, rock climbing and fishing.
Driving time from Montreal: 2.5 hours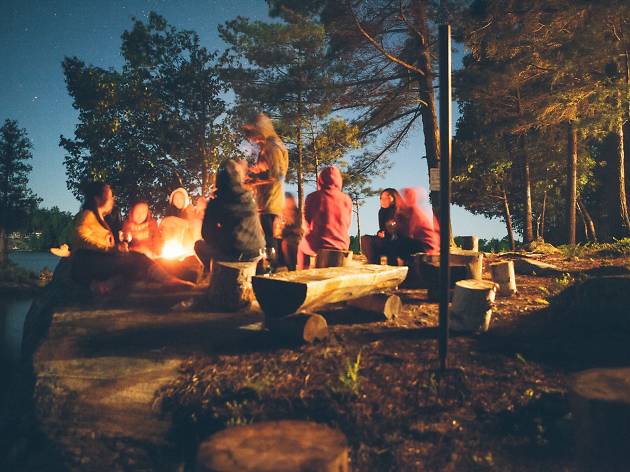 Photograph: Tegan Mierle
Near the Sommet Morin Heights ski resort in the Laurentians is one of the more well-equipped camping facilities near Montreal, with tent camping, log cabins and RV sites. Camping here also gives you a convenient access to ski slopes in the winter, as well as a children's amusement park, mini-golf, a water park and a treetop zipline in the summer.
Driving time from Montreal: 1.5 hours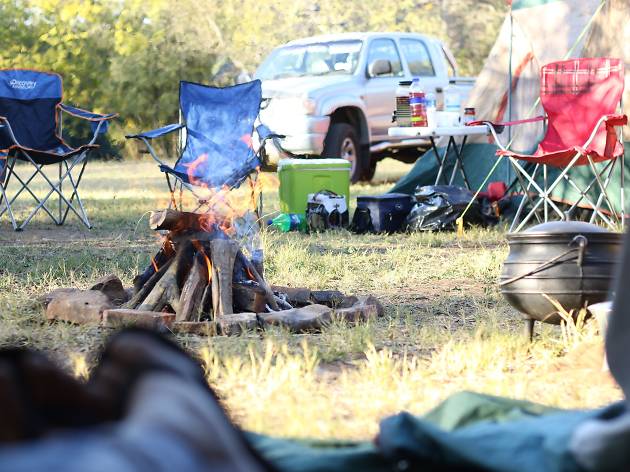 Photograph: The Digital Marketing Collaboration
Just outside of Val-David is another great Laurentian camping experience. This is one is ideal if you're looking for a less wild experience with more creature comforts: You will find fully-equipped sites for tent and RV camping with access to a casse-croûte, public washrooms, laundry facilities, firewood, washrooms and showers. They also offer WiFi and have an area reserved for seniors and retirees looking for a quieter experience. All of this is within a stone's throw of great mountain hiking and canoeing on the Rivière du Nord.
Driving time from Montreal: 1.5 hours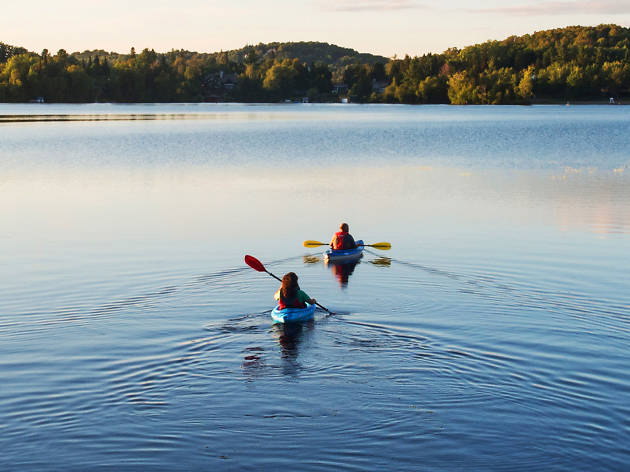 Photograph: Camping Ste-Agathe des Monts / campingsteagathe.com
11. Parc des Campeurs de Ste-Agathe des Monts
This campground is located just outside the quaint Laurentian village of Ste-Agathe-des-Monts. Ideal for family vacations, there is a recreation centre on site for mini-golf, pétanque (bocce), tennis, badminton, billiards, ping-pong, basketball and more, as well as a large beach with boat rentals. You'll feel like a kid at summer camp. There are sites for tent and RV camping here as well in addition to rustic chalet rentals.
Driving time from Montreal: 1.5 hours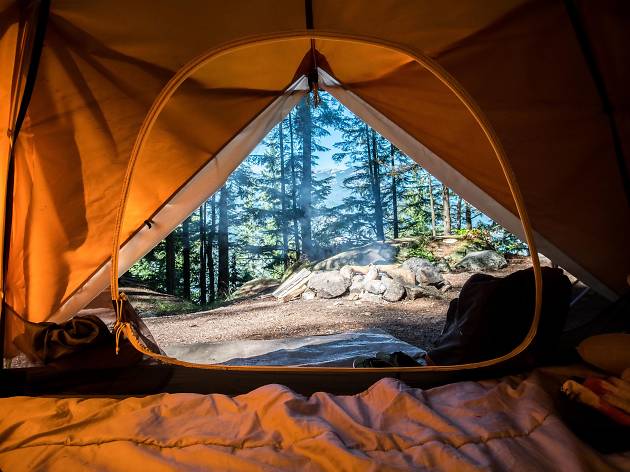 Photograph: Scott Goodwill
You don't have to leave Québec to get a taste of the White Mountains. Mount Gosford is one of the highest peaks in Southern Québec, located in the Eastern Townships near the border with Maine and New Hampshire. Camping facilities are available for all seasons and include backwoods sites, full-service camping platforms, lean-tos and various sizes of cabins. Hiking, hunting, fishing, dogsledding, cross-country skiing and birdwatching are all prime activities here.
Driving time from Montreal: 3 hours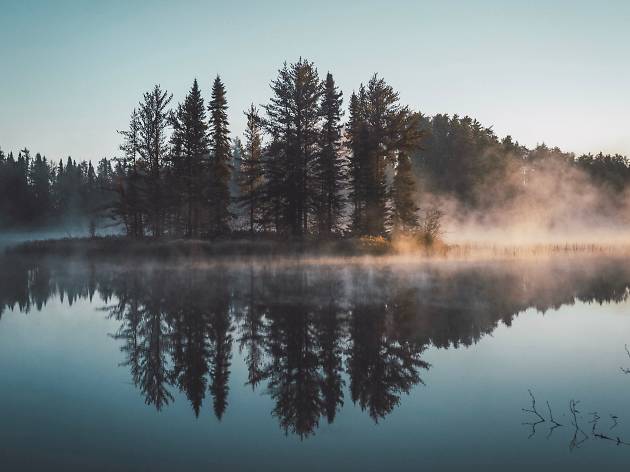 Photograph: Juan Davila
13. Remote Island camping on Lake Champlain, Vermont
You've tried canoe camping, beach camping and backwoods camping. Why not try your hand at remote island camping in one of Vermont's three state parks? Knight Island and Woods Island can only be accessed by water taxi (from North Hero Village or Kamp Kill Kare) or by private boat. Alternatively, the Island Runner ferry will take you to Burton Island. These tiny islands have very limited services, so you'll be roughing it — bring your own drinking water and be prepared to carry equipment on foot, but it's perfect for those looking for a new kind of outdoor adventure.
Driving time from Montreal: 1.5 hours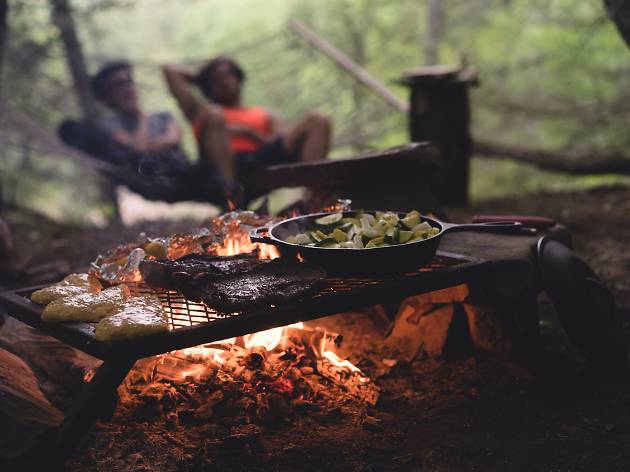 Photograph: Myles Tan
14. Cumberland Bay State Park, New York
Just north of Plattsburgh on Lake Champlain is a wonderful park for a casual beach camping experience. Located alongside a large natural sand beach (one of the best beaches near Montreal), this campground can accommodate tent camping or RV-camping. Children's playgrounds, picnic tables, showers and grills are all available on site, and you're not too far from amenities back in town if you need them.
Driving time from Montreal: 1.5 hours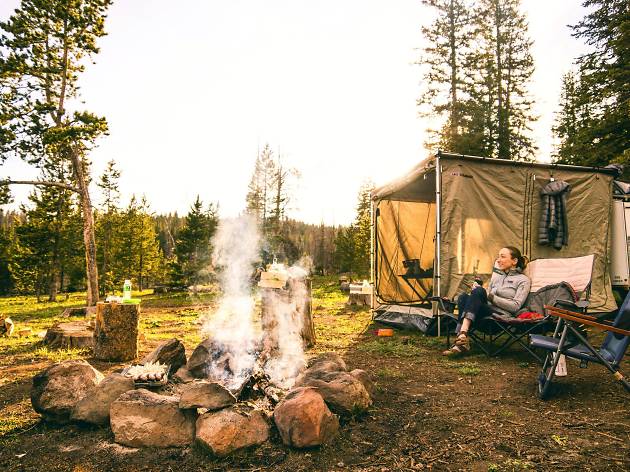 Photograph: Chris Holder
15. Wilmington Notch Campground, New York
The Adirondacks are northern New York's mountain playground, and this campground just outside of Lake Placid, New York will give you a good taste of the area while being a minimal distance from Montreal. The neighbouring Whiteface Mountain is one of the highest in the area, so hikers and climbers should have more than enough to keep them preoccupied. Visitors can also go fishing nearby in Ausable River or check out the Lake Placid Olympic Village during their stay.
Driving time from Montreal: 2 hours
Go beyond the city limits
Hit the road, take a hike, visit small-town gems or bask in some big city glory with the best day trips from Montreal.
Get the lowdown on exploring the forested grandeur of Canada by using this guide to the best hiking near Montreal.
It's crazy what a 48-hour escape from the city can do—time to hit the road with our curated guide to the best weekend getaways from Montreal.