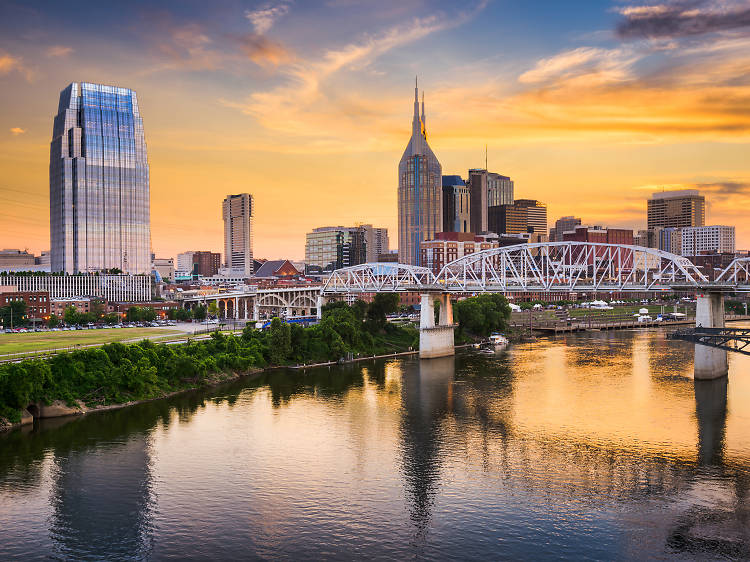 Photograph: Shutterstock
Downtown is Nashville's economic and tourism hub, as well as the geographic center and home to Lower Broad. This is where you'll find the honky-tonks, belting out Western swing music al­most any hour of the day. But this area isn't just for partiers; in addition to some of the biggest attrac­tions, Downtown is home to swanky hotels, restaurants, and enviable views of the Cumberland River. This location appeals to tourists who want a walkable stay in Music City, no car needed.
EAT: Fifth + Broadway's Assembly Food Hall is a collection of small eateries from the city's best restaurants. Want hot chicken? Chinese comfort food? Red-velvet tacos? Kurdish food? Check, check, check, and check. It is all here at affordable prices, with amazing views of the Ryman Auditorium and Broadway. Free live music is an ongoing perk.
DRINK: As discussed, there are many honky-tonk-style bars in downtown Nashville. Locals love Robert's Western World because the owners hire great musicians to play world-class Western swing and country music ... and because they sell cheap beer.
DO: Head to the second floor of the Nashville Public Library. That is where the Civil Rights Room details the most significant events of the 1960s student-led sit-in protests that happened here and helped to desegregate the entire country.
STAY: With a minimalist 1970s décor and a decidedly 2020s approach to service and amenities, The Fairlane Hotel is one of the best spots in town. Head here to lounge in velvety opulence, and take in city views from guest rooms with floor-to-ceiling windows. Grab breakfast from the Bagelshop downstairs before heading out to explore.
If you do just one thing... Catch a show at the Ryman Auditorium. Seriously, it doesn't matter who's playing, you just want to experience the sacredness and fabulous acoustics of the space. If you can't snag tickets, do a daytime tour to see the backstage magic.