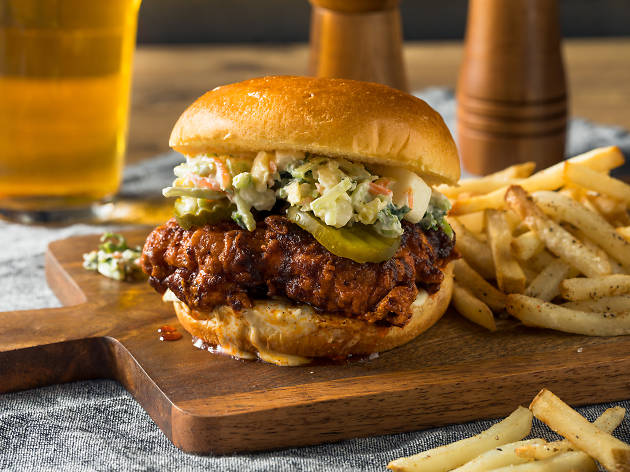 Nashville hot chicken: 14 best spots serving the delicacy
Learn about the origins of Nashville hot chicken while indulging in the local culinary delicacy at these top restaurants
Nashville hot chicken is much more than a local delicacy.
First off, a bit of history: it was the 1930s and a woman whose identity is lost to the ages wasn't thrilled about her boyfriend, as they say in the South, "stepping out on her." Her revenge on the cheating man? Cooking him a too-hot-to-handle variation of his favorite fried chicken recipe, with blistering peppers and extra spices. Unfortunately for her (but fortunately for us), her erstwhile paramour Thornton Prince liked it hot—and then some.
The relationship ended but Prince's family ran with the idea: Prince's hot chicken, now referred to as Nashville hot chicken, was born.
In recent years, as the dish has gained even more popularity, chefs across city restaurants have developed their own interpretations of the signature dish. And, just like Prince, most of them keep their recipes closely guarded—making a culinary trip around Nashville's hot chicken scene one of the very best things to do in town, an attraction in its own right.
If you want to try an authentic take on the stuff, expect an open-faced white bread sandwich, bone-in with a pickle on top. Traditionally, the bird is pan-fried at varying levels of spiciness: the darker the spice mix, the hotter the fare.
On our list, you'll find both traditional and more jazzed up versions of the delicacy, but one rule holds true across them all: it is milk only (not water, not beer and certainly not a frozen cocktail) that will settle down the intensity of the spice in your mouth—so have some handy at all times.
RECOMMENDED: Full guide to the best Nashville restaurants
Nashville hot chicken
The first, the original and, according to many, the very best, Prince's Hot Chicken is a national treasure. An accident shuttered its main North side location early in 2019, but the South side venue is holding strong, frying six days a week. There's also a Prince's food truck stationed in the 6th and Peabody moonshine park south of downtown, with yet another outpost opening in the airport in the near future.
2. Bolton's Hot Chicken & Fish
After Prince's, Bolton's is the next OG hot chicken purveyor, frying it up from a small cinder-block building on Main Street in East Nashville. Bolton's was opened in the 1980s, shuttered in the 1990s and reopened in 1997. The authentic, multi-spice options are created with a dry rub. Bolton's also fries up hot fish, catfish and sells ribs and wings.
Photograph: Joseph Woodley
3. Hattie B's Hot Chicken
There's probably a line outside of Hattie B's Hot Chicken right now. Purists bemoan the fact that this isn't the authentic hot chicken experience, but the recipes are delicious—the Shut the Cluck Up spice level is legit—and the selection of sides, beers and air conditioning while waiting ain't too shabby either.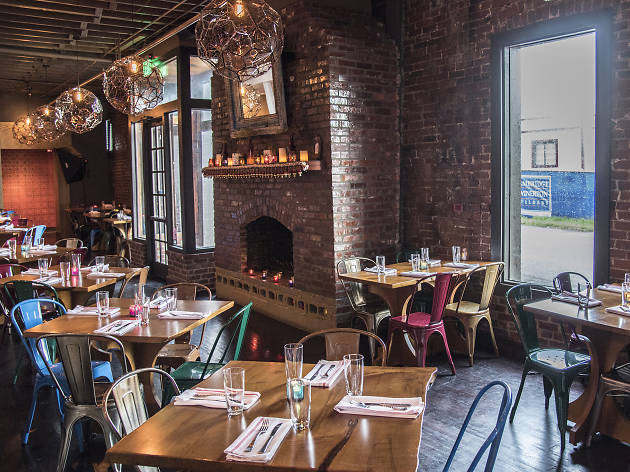 Photograph: Chauhan Ale & Masala House
4. Chauhan Ale & Masala House
Maneet Chauhan came to Nashville to start her restaurant empire after her celebrity turn on Chopped, bringing her take on Indian cooking to Music City. Today, she owns four restaurants and also designs jewelry but it is the hot chicken pakoras that she serves at her flagship eatery that will likely have you salivate. A combination of Indian and Nashville traditions, they are seasoned with chat masala, orange peel, cayenne and more.
Photograph: Pepperfire
With seven spice levels, large tables for communal seating, and both a pepperjack grilled cheese sandwich and a green chili mac and cheese for those who want the kick but not the chicken, Pepperfire is a fun (and delicious) go-to for groups. Make use of the call-ahead option, so your poultry can get frying before you even get there. In addition to the standard side dishes, indulge in some more eclectic options, like fried okra.
6. Earnest Bar & Hideaway
A popular bar in Wedgewood Houston, Earnest (formerly called Hemingway's) combines two great Southern loves on its lunch menu: your crispy hot chicken will be served on a creamy bed of mac and cheese. Unlike some other cocktail bars, Earnest opens early in the day, so you can order a spirit with your lunch and your spicy/cheesy goodness.
Located in suburban Madison—once home to many old-school country music stars as well as Colonel Tom Parker, Elvis Presley's manager—Slow Burn Hot Chicken serves poultry and fish at ten different levels of spiciness. Here for breakfast? Order the hot chicken bowl, served over eggs.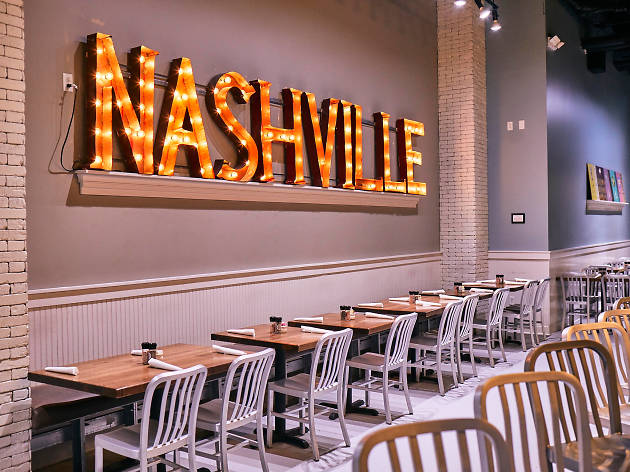 Photograph: Emily Dorio
You'll want to get up early to try this one. The uber-popular Biscuit Love began as a food truck and now boasts two locations—one in The Gulch and the other in Hillsboro Village—where folks line up for a perfectly flaky buttermilk biscuit. The bright minds at Biscuit Love put a twist on hot chicken, layering a spicy thigh on said biscuit, serving it with a pickle, mustard and honey and calling it the Princess.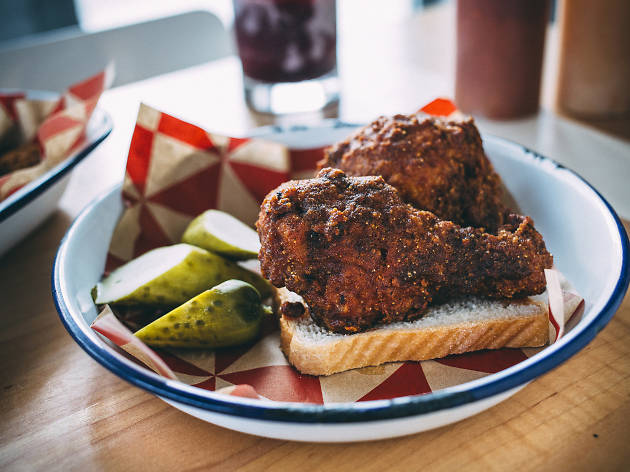 Photograph: Clayton Hauck
9. Parson's Chicken and Fish
Some might think of this Chicago transplant inclusion as heresy. But the hot chicken recipe cooked at Parson's Chicken and Fish is thoughtful, not derivative, and because it is deep-fried (rather than pan fried, as is most common) you won't grow old waiting for your food. The on-point frozen drinks and baked mac and cheese add to the experience.
One of the few traditionalists in town willing to share recipes, 400 Degrees uses seasoned flour to get started. Spices include cayenne, cumin, paprika, garlic and onion, with different dried peppers—such as habanero or ghost pepper—in the mix depending on the eater's spiciness preferences. The owner of this Clarksville Pike eatery was a fan of Prince's growing up—at one point, she ate it daily—and her deep-fried, thicker skin recipe is her take on the classic.
Photograph: Andrea Behrends
They call East Nashville's Dino's the city's oldest dive bar. It changed hands in 2014 and was cleaned up a tiny bit, but kept the vibe from the 1970s. Everyone always talks about the spot's burger (and, yes, it is good) and the frito pie (perfect late-night, pre-hangover food) but it is Joe's hot chicken that is certainly worth ordering—just spicy enough.
Located in Music Valley near the Gaylord Opryland resort, Scoreboard has a big menu, live music, late-night hours and a casual, tourist-friendly vibe. In addition to the traditional white-bread-with-a-pickle-prep, options include a hot chicken salad, nuggets, wings, and hot chicken and waffles, all available at varying levels of spiciness. Music Valley isn't exactly a destination for locals, but the hot chicken at Scoreboard is, indeed, the exception.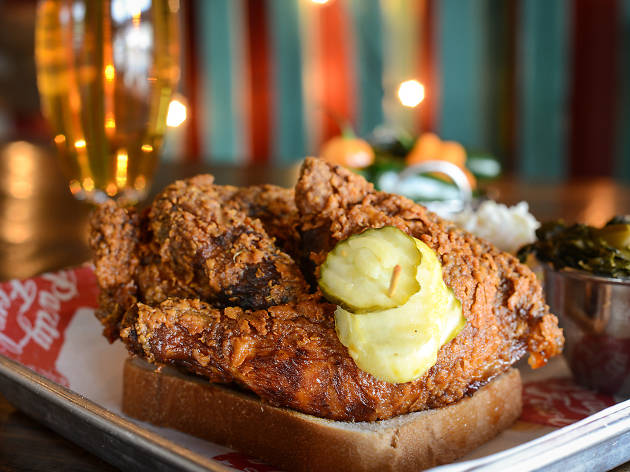 Photograph: Courtesy bread & Butter
The name pretty much says it all. It's a good time here, where your hot chicken can be served with a beer or a frozen alcohol concoction. You can also try hot chicken poutine, nachos, po' boy or even a hot chicken Cuban sandwich (with chimichurri and buttered bread). Party Fowl is a full-service eatery, with an option for reservations at three different locations around town.
To be clear, this is technically not chicken. But vegetarians should be able to get in on the craze as well, right? This East Nashville plant-based bistro and bar serves its own interpretation of the dish, one that involves frying tempeh in traditional hot spices in a cast-iron pan. Get it on a sandwich (either a baguette or a biscuit) for the hot "chicken"-like experience or on a salad if you want to go gluten-free.
Feeling very thirsty?
Whether you want to sample some Tennessee whiskey or just grab a cold beer while you listen to the live music that made this city famous, the best Nashville bars are sure to deliver.