The 20 spots serving the best breakfast in New Orleans
No matter where you choose to eat the best breakfast in New Orleans, expect loads of biscuits and Louisiana staples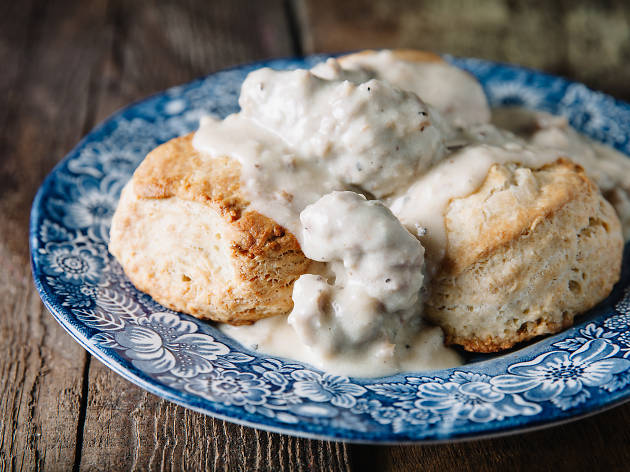 There is much to say about the best breakfast in New Orleans. Let's start with the food you'll indulge in: from biscuits—everyone's favorite and always on the menu—to chicken and waffles, Southern comfort food reigns supreme just about anywhere in town.
If it is something more ethnic that you're craving, visit the local restaurants currently embracing distinctly Latin flavors.
But if your night of revelry at the top bars in town has left you starving very early in the morning, you're in luck: plenty of foodie destinations stay open all night, making it easy for club hoppers to fill up before going to bed.
Ready to eat?
RECOMMENDED: Full guide to the best restaurants in New Orleans
Best breakfast in New Orleans
Toast originated on Laurel Street, in the Uptown neighborhood, in 2014. Today, three locations all over town (on Gentilly, near the racetrack, and on Decatur in the French Quarter) dish up savory and sweet breakfast delights. The spot is known for its aebleskivers, round Danish puffed pancakes that are smothered in voluptuous sauces, so make sure to have some. Pick your favorite sauce—lemon curd, caramel, jam, chocolate, maple syrup or Nutella, among others—and indulge. Also try the savory or sweet crepes, omelettes or the toast, which comes in all sorts of variations, including avocado (obviously).
Mother's has been making breakfast all day on the corner of Poydras and Tchoupitoulas in the CBD since 1938—and it shows no signs of ever stopping. Start off with "the world's best baked ham" (as their sign claims) and pair it with eggs, grits, waffles or pancakes for one of the most delectable meals you'll ever sink your teeth into. Expect a very casual place: line up, order, find a table (look in the back room, it is huge) and soon you'll be in hog heaven. Also try the crawfish étouffée omelette and be sure to have a buttermilk biscuit to top things off.
Restaurants, Creole/Cajun
For an elegant start to the day, Brennan's on Royal Street can't be beat. This steadfast, elegant French Quarter eatery has been an integral part of the neighborhood's high-end restaurant scene since 1946, with a breakfast that rolls straight into the lunch hour. Try the two-course prix-fixe brekkie menu for a real indulgence or order á la carte, starting with a Cajun Bloody Mary. Dishes to consider: the famous eggs sardou, the crawfish scramble or the amazing baked apple. Feeling really decadent? Order the bananas foster dessert, which was invented here.
Horn's is a family-run spot in the Marigny that's been serving breakfast to hungry locals for over 50 years. How have they stayed in business for so long? The breakfast Martini certainly helps, as do the convivial outdoor tables that make the corner of Dauphine and Touro streets Horn's central. Of course, the signature dishes—grits and crawfish étouffée, the Guatemalan (eggs, plantains, avocado, black beans, salsa)—are what keep people coming back. Try the carrot waffle, too, for a sweet treat. Gluten-free? Worry not: order the gluten-free potato waffles.
Surrey's Cafe and Juice Bar
The oldest organic juice bar in New Orleans, Surrey's Cafe and Juice Bar obviously serves some of the best fresh-squeezed juices in town (orange! Carrot! Apple! Grapefruit!). But that's just the beginning: biscuits, bagels and buns are house-made at both Magazine Street locations. FThe oldest organic juice bar in New Orleans, Surrey's Cafe and Juice Bar obviously serves some of the best fresh-squeezed juices in town (orange! Carrot! Apple! Grapefruit!). But that's just the beginning: biscuits, bagels and buns are house-made at both Magazine Street locations. For a serious morning sugar fix, opt for the bananas Foster French toast, or go for the Costa Rican breakfast with eggs, rice, pico de gallo, avocado, chorizo or boudin for a protein-heavy start.
The Ruby Slipper Cafe opened in Mid-City on South Broad St. in 2008, immediately zooming to the top of NOLA's breakfast class with innovative signature Benedict dishes like decadent eggs cochon (a buttermilk biscuit smothered with apple-braised pork debris, topped with two poached eggs and Hollandaise sauce) and hot-smoked salmon on a biscuit with two eggs, dill Hollandaise and fried capers. The genius menu was created by owners Jennifer and Erich Weishaupt, and it's not being served at six locations across New Orleans Parish plus five more nearby.
All you have to say to have people stampede into Elizabeth's Restaurant is praline bacon, a local favorite. Nestled in the Bywater since 1998 and helmed by chef Bryon Peck, the eatery makes everything from scratch, including redneck eggs (fried green tomatoes, poached eggs, Hollandaise) and the French toast burrito. Pro tip: add hash browns as a side dish to anything you choose.
A true breakfast/lunch spot, Slim Goodies Diner is an edge-of-the-Garden-District favorite on Magazine Street serving both classic comfort food and vegetarian and gluten-free choices. Everyone loves the slammers: hash browns slathered in something delicious—think crawfish étouffée or chili, bacon and cheddar cheese—but the top draw are the sweet potato pancakes. Drool.
Head to Lakeview's lakefront for a pretty water view and incredible breakfast dishes served all day. No one can resist the sweet potato beignets or the andouille and sage grit cakes smothered in an herb butter. The two delectable appetizers function as the ideal introduction to pecan waffles, jumbo shrimp and grits and more belt-loosening delights. But Russell's has been a local hangout for 35 years (surviving Katrina's wrath that hit Lakeview hard), so healthy options are also on the menu, for one cannot live on pancakes alone... even in NOLA.
Red Gravy Cafe is what happens when an Italian gal from New Jersey falls in love with New Orleans. Roseann Melisi Rosetoker felt the call of the Big Easy, moved south and in 2010 opened her café to serve unexpected breakfast and lunch tasty treats. The polpetta, an omelette filled with a meatball and ricotta cheese smothered in red gravy, propelled her to fame—and for good reason. But don't stop there: try the breakfast spaghetti or the zeppole stuffed with raspberry jam. There's, of course, a bagel on the menu as well: the NJ Turnpike.
At Bearcat Café Uptown, your mood determines just how healthy your meal will be. Are you a "good cat" or a "bad cat" today? The former enjoys vegan tofu scrambles or house-made yogurt while the latter indulges in gluten-free chai pancakes smothered in candied pecans and folded in with pumpkin cream cheese.
12
If you're in Mid-City or Uptown and craving a belly-warming breakfast, Wakin' Bakin' is the place. Open from 7am-2pm, the two casual outposts serve breakfast bowls filled with eggs, bacon confit, cheddar and whatever else you'd like to throw in. Or go for a gooey sandwich: an avocado toast, the "chronic" (grilled ham, egg, caramelized onion and Brie) or the BST (bacon, spinach, tomato). Wash it all down with fresh orange juice or a bottomless cup of coffee.
Tucked back in the Marigny to the east of Elysian Fields is Who Dat Coffee Cafe. You'll have to sleep for a few hours after the Frenchmen Street clubs shut down (it opens at 7am) before enjoying the signature Cajun breakfast dishes. Sit inside or outdoors and enjoy the Not Yo Mama's Corn Cakes, piled high with a mess of creamy egg sauce, bacon bits, cheddar cheese and more; or go all in for Da Crabby Bené, crab cakes smothered in poached eggs and a Creole hollandaise sauce. Whatever you order, know there's going to be a Cajun spice in the mix.
New Orleans Cake Cafe and Bakery
Ever feel like having a cupcake for breakfast? Head to the Cake Cafe. This Marigny eatery and bakery offers a cupcake add-on with any breakfast for a buck, so go ahead and indulge. Before your tasty dessert lagniappe, try out the house specialties like the local catfish and eggs or the melt-in-your-mouth, house-made corned beef hash. Vegetarians will find lots of choices here, including the Costa Rican breakfast, which features sesame-crusted black beans and guacamole.
Ready to properly explore the city?
Don't be surprised when a mere scroll through our list of best New Orleans attractions will convince you to extend your trip to the Big Easy. There is plenty to see and do here, after all: from traditional tourist destinations to oddball spots that will leave a mark on your visit.