The 16 best bars in New Orleans
Some of the best bars in New Orleans are inside fancy hotels, others offer a more dive-like vibe and all are excellent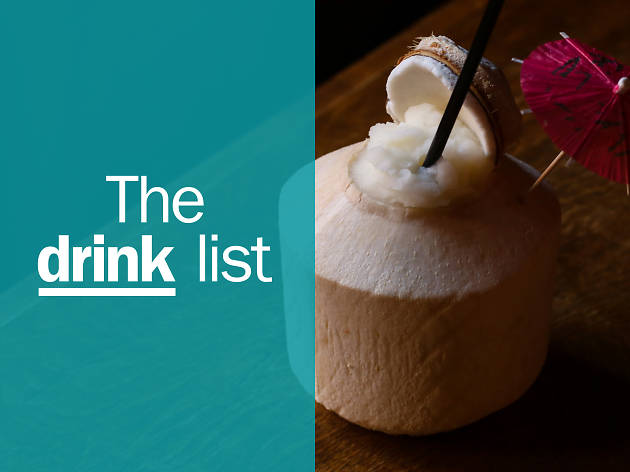 The most defining characteristic of the best bars in New Orleans is their flouting of national norms and embrace of to-go drinks and non-stop partying (here, venues can stay open 24 hours a day!).
The city, a former French and Spanish colony at the bottom of the Mississippi River, boasts a distinct history as a Caribbean port and pirate hangout, a destination fed by African and Haitian traditions. It should come as no surprise, then, for the city to be a hotbed of standout characters that end up peppering New Orleans' drinking scene, local events, festivals and even some renowned restaurants.
The bar culture specifically is defined by celebrations and human interactions: neighborhood joints form community nexus and sometimes even host wedding parties. Put on your drinking cap, it's time to explore the city like a local imbiber.
Best bars in New Orleans
Sazerac Bar at The Roosevelt
This landmark, named after the city's official drink, exhibits qualities that define a classic New Orleans bar: grandeur, service and cocktails interlaced with local history. Ease into a seat at the lengthy wooden bar and order the signature sazerac, which legend holds was invented in the early 1800s by Creole apothecary Antoine Peychaud. The white-coat-clad bartenders can also shake up a frothy delicacy: the Ramos Gin Fizz. The drink, favored by storied Louisiana Governor Huey P. Long, is like cake in a glass. It does, however, require some heavy lifting, so be sure to tip your bartender accordingly.
2
Photograph: Bacchanal
Tucked into the furthest reaches of the trendy Bywater neighborhood, Bacchanal offers a curated selection of wines and cheeses in a casual backyard setting filled with mismatched chairs, flickering tiki torches and acoustic jazz. The once-hidden oasis has grown in popularity, so your best best is to visit during the daytime or a weeknight, especially when going with a group. Be sure to order a cheese plate and settle into a seat under the twinkle-lit trees.
Offering house-made ingredients and masterful mixology, Sylvain serves tasty classic cocktails but truly shines when crafting its own inventions. If you're looking for a complex drink to sip and savor, Sylvain is a must. Though at the forefront of drinking culture, the bar and restaurant exude a historic ambiance given the location in a former carriage house in the heart of the French Quarter.
This Uptown beer mecca is worth a pilgrimage, especially if you're a beer geek or whiskey devotee. The two-story pub on busy St. Charles Avenue houses a world-renowned collection of brews stacked with Belgian-style beers and rarities from around the world, along with specialty ales from Louisiana craft breweries. Connoisseurs will appreciate the bar's whiskey list, especially the bourbons. The pub's balcony offers a scenic view of New Orleans' downtown until late at night, and the first floor remains open 24/7.
Loa at International House Hotel
Elegant, earthy and candle-lit, Loa serves sophisticated cocktails bursting with floral and fruit flavors, spices, peppers and herbs. The bar is named after Loa, the spirits, also referred to as the "mystéres," of Haitian and Louisiana voodoo. Expect a blend of ingredients plucked from the soil and mixed with rum and other spirits, like the Light in August cocktails, made with Jasmine cordial, yellow chartreuse and banana peppers. Yes, there is a voodoo altar in the hotel lobby.
The Elysian Bar at Hotel Peter and Paul
The Elysian Bar, another venture by the Bacchanal team, opened in the fall of 2018 inside Hotel Peter and Paul and has swiftly drawn acclaim for its lush and original design coupled with a drink menu that features French, Spanish and Italian vermouths, amaros and other aperitif wines, many mixed into cocktails. The space radiates a warm pink glow and forms part of the restoration of a historic church complex in the artsy Marigny neighborhood.
Lafitte's Blacksmith Shop
Lafitte's Blacksmith Shop is a treasure. It's one of the oldest structures in the city (it survived two major fires!) and is said to be the New Orleans base for privateer brothers Jean and Pierre Lafitte. Is it touristy? Yes. Is it haunted? Maybe. And if the outlaw tales aren't enough to capture your interest, it's worth visiting to see the building's French Creole architectural style, briquette-entre-poteaux (brick-between-posts), and enjoy the romantic setting.
Inviting and stylish, Longway Tavern offers a quiet respite from the raucous party at the center of the French Quarter. The drink list includes standard cocktails done well, along with a few inventions, like the Greeña Colada. Owned by the same folks that are behind Sylvain, Longway Tavern boasts a calming interior with sleek wood furnishings. The courtyard allows visitors to drink amidst welcome greenery, wrought-iron balconies and street lamps.
9
Another unique New Orleans attraction, the Hotel Monteleone's Carousel Bar features a rotating wheel of seats decorated with tigers, monkeys and other traditional circus animals. The bar, celebrating its 70th year, is not just a sideshow: bartenders know how to make a lengthy list of classic cocktails, including local specials like the Vieux Carre, Sazerac and the Monteleone.
10
Photograph: Joanne Drummond
This 50-year-old Bywater hangout is a quintessential New Orleans neighborhood music dive, with barstools worn in by longtime patrons, regular pot-luck-type meals, and—fairly often—a collection of sleepy dogs lying outside near the cypress-stump tables as their owners catch up on gossip. The barroom includes a jukebox stacked with local tunes and spacious floor for dancing, making Vaughan's a great after-party spot for a group of friends. Thursday nights, trombonist Corey Henry and the Treme Funktet set the place aflame, but any night will be fun here.
Like many Irish pubs, Molly's at the Market serves as a community hub: a starting point for smaller French Quarter parades, a watering hole for journalists and a refuge for service-industry workers. Its walls are festooned with yellowing newspaper articles and first-responder patches from across the country. The bar gives off a Cheers-like vibe, inviting locals and tourists to have a seat, sip a frozen Irish coffee and gaze out of the wide front windows for some prime people-watching action.
12
The Domino opened its doors in June 2019, adding a "wine dive" to the Bywater neighborhood. The new spot features a large U-shaped bar and lots of tables. Under the tutelage of the same owner as popular Mid-City dive Twelve Mile Limit, this venue has a similar goal: to offer upscale drinks at cheaper prices amid a casual setting. The Domino's twist: a games menu, so guests can play Settlers of Catan while sipping that pinot noir.
Whiskey & Sticks, a lounge serving both fine liquors and cigars, is one of the newer businesses to line Bayou Road in the 7th Ward. The lounge, painted a rich orange-red and filled with leather cigar chairs, offers a good selection of high-end whiskeys and other spirits in a relaxed setting. The bar hosts regular events, from live comedy to cigar-rolling classes, and when done sipping or smoking, visitors can check out nearby shops, including record and book stores home to super-cool local buys.
With its expansive patio and various drinks on tap, Wrong Iron caters to a cross-section of New Orleanians who often roll up from the nearby Lafitte Greenway bicycle path. The Mid-City spot, a relatively new one, boasts a wide selection on tap: 50 beers (including local craft brews), along with wines, cocktails and frozen drinks. During cold months, grab a woven blanket from the bar and sip wine by a fire pit. In the summer, enjoy a light beer or strawberry frosé in the shade.
15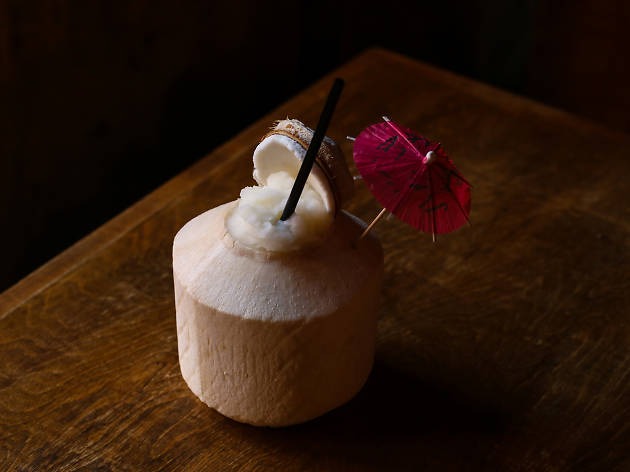 Photograph: Cane & Table
Don't let the term "proto-tiki" scare you away from Cane & Table's festive, carefully crafted tropical sippers. The concept plays on Caribbean drinks that preceded the tiki movement sparked by Don the Beachcomber. What you can expect to find: fresh, complex takes on tiki standards and tropical variations on classic cocktails. Aged brick walls and the greenery-lined courtyard are visual reminders of New Orleans' connection to the Caribbean.
The only nano-brewery in the city, Courtyard gives visitors a small-batch sample of New Orleans' commercial craft beer scene. The brewery offers a constantly changing selection of ales, including experimental batches and collaborations with other brewers, as well as craft options from across the country. The rustic Lower Garden District spot boasts a fun atmosphere, complete with vinyl parties and food trucks, and sits near two other breweries, making it easy for beer nerds to get their fill.
Need to update your wardrobe?
Before going shopping in New Orleans, you'll have to understand the city's stylistic ethos: it's accepting, unique, fearless yet conservative—just like the town itself.