Heads up! We're working hard to be accurate – but these are unusual times, so please always check before heading out.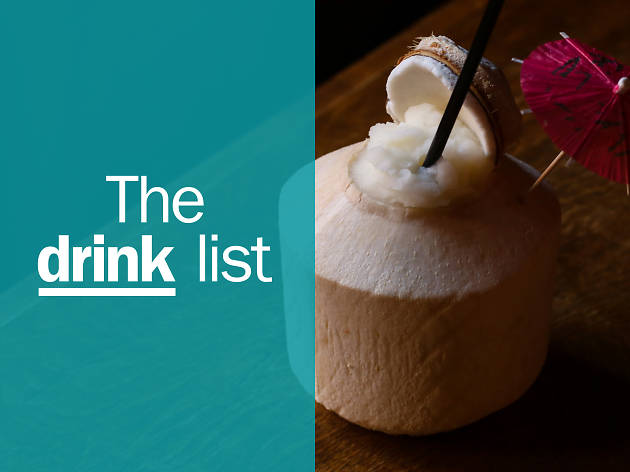 The 15 best bars in New Orleans
The best bars in New Orleans go beyond the French Quarter and cater to all sorts of drinkers
For a relatively small city, the Big Easy offers an immersive nightlife scene that caters to every kind of crowd and the best bars in New Orleans are a showcase of that diversity.
Bourbon Street and the surrounding French Quarter continue to draw the largest crowds, and while the quality-to-volume ratio is low, there are still plenty of cool bars worth checking out in the area. The Marigny and Bywater remain hot for nightlife, though a surge in Airbnbs and out-of-towners has reduced the neighborhoods' appeal to many locals.
Regardless of your background or sensibilities, you'll want to check out the bars that remain vital to the city's world-famous drinking culture. With every sip of your drink of choice, appreciate that you're drinking in one of the most legendary towns for booze in the world. After all, New Orleans is the official home of the Sazerac, America's first cocktail.
When nursing that hangover (yes, it's inevitable), check out the best brunch spots in town or opt to stuff your face with the city's iconic beignets.
Cheers!
Best bars in New Orleans
1. Sazerac Bar at The Roosevelt
This landmark, named after the city's official drink, exhibits qualities that define a classic New Orleans bar: grandeur, service and cocktails interlaced with local history. Ease into a seat at the lengthy wooden bar and order the signature sazerac, which legend holds was invented in the early 1800s by Creole apothecary Antoine Peychaud. The white-coat-clad bartenders can also shake up a frothy delicacy: the Ramos Gin Fizz. The drink, favored by storied Louisiana Governor Huey P. Long, is like cake in a glass. It does, however, require some heavy lifting, so be sure to tip your bartender accordingly.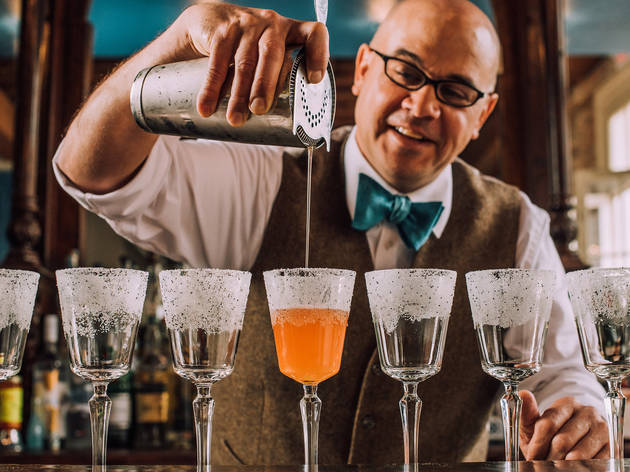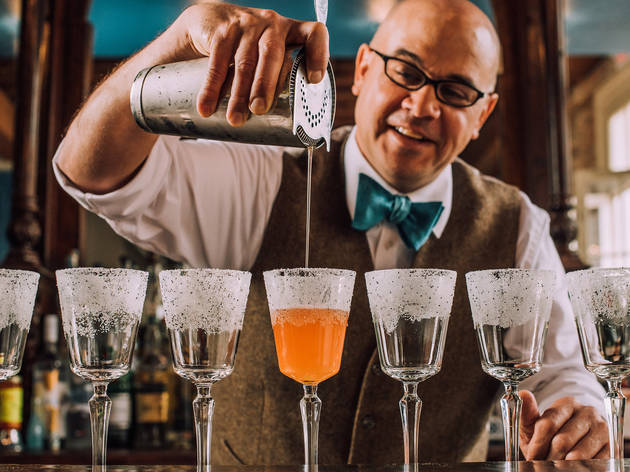 Photograph: Denny Culbert, Courtesy Jewel of the South
Opened by Chris Hannah, one of the city's most esteemed bartenders (formerly of the French 75 bar), this modern cocktail destination is tucked into a Creole cottage that dates back to the 1830s. It's named for a restaurant that was opened by Joseph Santini, inventor of the Brandy Crusta. Hannah has revived this largely forgotten but influential drink—it was the first cocktail to incorporate fresh citrus juice—and has made it the bar's signature offering, alongside skillful interpretations of the classics.
Offering house-made ingredients and masterful mixology, Sylvain serves tasty classic cocktails but truly shines when crafting its own inventions. If you're looking for a complex drink to sip and savor, Sylvain is a must. Though at the forefront of drinking culture, the bar and restaurant exude a historic ambiance given the location in a former carriage house in the heart of the French Quarter.
This Uptown beer mecca is worth a pilgrimage, especially if you're a beer geek or whiskey devotee. The two-story pub on busy St. Charles Avenue houses a world-renowned collection of brews stacked with Belgian-style beers and rarities from around the world, along with specialty ales from Louisiana craft breweries. Connoisseurs will appreciate the bar's whiskey list, especially the bourbons. The pub's balcony offers a scenic view of New Orleans' downtown until late at night, and the first floor remains open 24/7.
5. The Elysian Bar at Hotel Peter and Paul
The Elysian Bar, another venture by the Bacchanal team, opened in the fall of 2018 inside Hotel Peter and Paul and has swiftly drawn acclaim for its lush and original design coupled with a drink menu that features French, Spanish and Italian vermouths, amaros and other aperitif wines, many mixed into cocktails. The space radiates a warm pink glow and forms part of the restoration of a historic church complex in the artsy Marigny neighborhood.
6. Lafitte's Blacksmith Shop
Lafitte's Blacksmith Shop is a treasure. It's one of the oldest structures in the city (it survived two major fires!) and is said to be the New Orleans base for privateer brothers Jean and Pierre Lafitte. Is it touristy? Yes. Is it haunted? Maybe. And if the outlaw tales aren't enough to capture your interest, it's worth visiting to see the building's French Creole architectural style, briquette-entre-poteaux (brick-between-posts), and enjoy the romantic setting.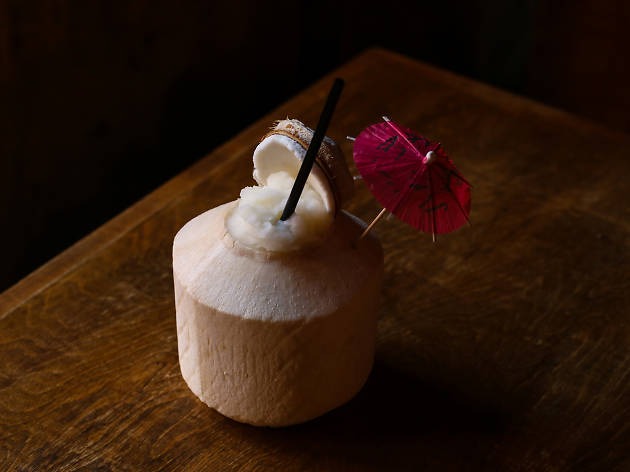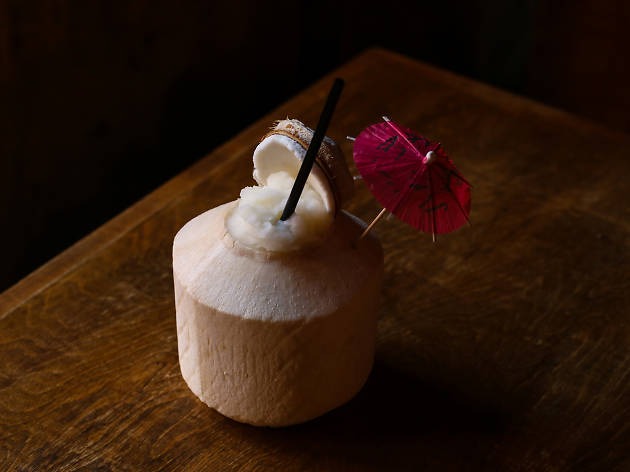 Photograph: Cane & Table
Don't let the term "proto-tiki" scare you away from Cane & Table's festive, carefully crafted tropical sippers. The concept plays on Caribbean drinks that preceded the tiki movement sparked by Don the Beachcomber. What you can expect to find: fresh, complex takes on tiki standards and tropical variations on classic cocktails. Aged brick walls and the greenery-lined courtyard are visual reminders of New Orleans' connection to the Caribbean.
Inviting and stylish, Longway Tavern offers a quiet respite from the raucous party at the center of the French Quarter. The drink list includes standard cocktails done well, along with a few inventions, like the Greeña Colada. Owned by the same folks that are behind Sylvain, Longway Tavern boasts a calming interior with sleek wood furnishings. The courtyard allows visitors to drink amidst welcome greenery, wrought-iron balconies and street lamps.
Another unique New Orleans attraction, the Hotel Monteleone's Carousel Bar features a rotating wheel of seats decorated with tigers, monkeys and other traditional circus animals. The bar, celebrating its 70th year, is not just a sideshow: bartenders know how to make a lengthy list of classic cocktails, including local specials like the Vieux Carre, Sazerac and the Monteleone.
This former dive bar still retains its welcoming vibe, delighting the neighborhood crowds who stop in for high-quality cocktails. Sip on concoctions like the Minerva Mink (vodka, grapefruit liqueur, Cocchi Rosa, lime) while playing video poker or kick back in the outdoor area with a PBR—all are welcome here.
Photograph: Bacchanal
Tucked into the furthest reaches of the trendy Bywater neighborhood, Bacchanal offers a curated selection of wines and cheeses in a casual backyard setting filled with mismatched chairs, flickering tiki torches and acoustic jazz. The once-hidden oasis has grown in popularity, so your best best is to visit during the daytime or a weeknight, especially when going with a group. Be sure to order a cheese plate and settle into a seat under the twinkle-lit trees.
Photograph: Joanne Drummond
This 50-year-old Bywater hangout is a quintessential New Orleans neighborhood music dive, with barstools worn in by longtime patrons, regular pot-luck-type meals, and—fairly often—a collection of sleepy dogs lying outside near the cypress-stump tables as their owners catch up on gossip. The barroom includes a jukebox stacked with local tunes and spacious floor for dancing, making Vaughan's a great after-party spot for a group of friends. Thursday nights, trombonist Corey Henry and the Treme Funktet set the place aflame, but any night will be fun here.
This sophisticated, Euro-accented bar dazzles with its sultry decor and creative cocktails. Attached to the Maison de Luz, the space is accessed from the hotel through a faux bookcase. Sidle up to the bar or settle into a cozy chair and enjoy cocktails such as the Modern Muse, featuring vodka, Pineau des Charentes (a French aperitif), verjus, pepita orgeat and mint.
14. Molly's at the Market
Like many Irish pubs, Molly's at the Market serves as a community hub: a starting point for smaller French Quarter parades, a watering hole for journalists and a refuge for service-industry workers. Its walls are festooned with yellowing newspaper articles and first-responder patches from across the country. The bar gives off a Cheers-like vibe, inviting locals and tourists to have a seat, sip a frozen Irish coffee and gaze out of the wide front windows for some prime people-watching action.
With its expansive patio and various drinks on tap, Wrong Iron caters to a cross-section of New Orleanians who often roll up from the nearby Lafitte Greenway bicycle path. The Mid-City spot, a relatively new one, boasts a wide selection on tap: 50 beers (including local craft brews), along with wines, cocktails and frozen drinks. During cold months, grab a woven blanket from the bar and sip wine by a fire pit. In the summer, enjoy a light beer or strawberry frosé in the shade.
Need to update your wardrobe?
Before going shopping in New Orleans, you'll have to understand the city's stylistic ethos: it's accepting, unique, fearless yet conservative—just like the town itself.