Heads up! We're working hard to be accurate – but these are unusual times, so please always check before heading out.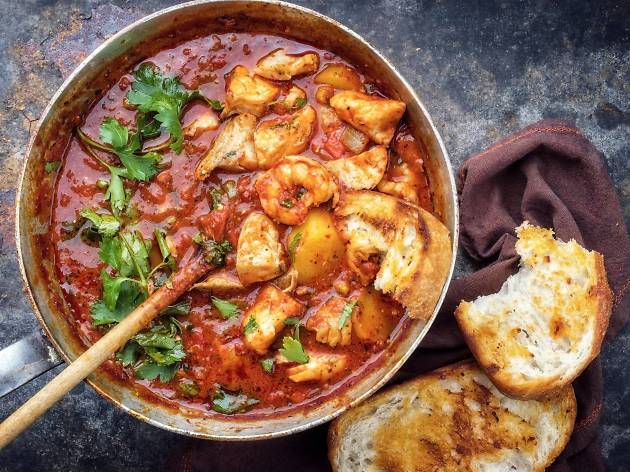 15 spots for the best brunch in New Orleans
When indulging in the best brunch in New Orleans, expect loads of Creole food and bottomless drinks
Like just about anything else in town, the best brunch in New Orleans is an amalgamation of cultures filled with decadent food, great music, bottomless drinks and a whole lot of fun.
Of course, the city is known for its devotion to Creole food. But no two Creole dishes are created the same: chefs highlight their own takes on the cuisine across all local restaurants, serving the stuff for breakfast, lunch, dinner and—of course—brunch, the most sought-after meal of the day.
And in case Creole is just not your thing, worry not! We've got you covered with options that celebrate a variety of other cuisines, from American to Italian and everything in-between. So, forget your diet, it's time to indulge.
RECOMMENDED: Full guide to the best restaurants in New Orleans
Best brunch in New Orleans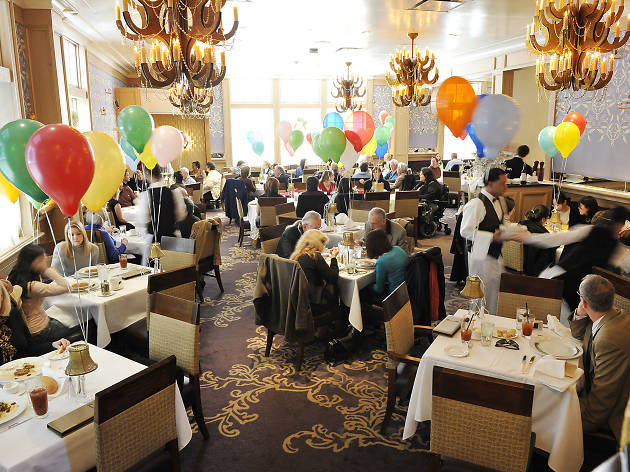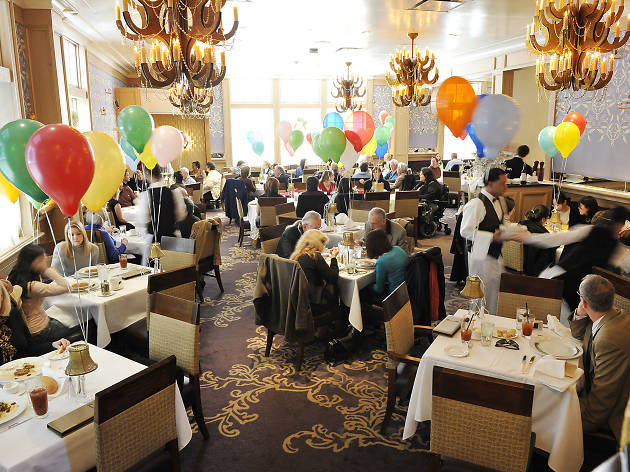 Photograph: Commander's Palace
A legendary New Orleans institution in the heart of the Garden District serving elevated Creole cuisine and exceptional service, it goes without saying that Commander's Palace's weekend jazz brunch is as New Orleans as it gets. While many menu items transition with the seasons, some timeless ones remain permanent fixtures year-around, like the shrimp and tasso henican, cochon de lait eggs Benedict and the Creole bread pudding soufflé. Brunch is complete with a jazz band circumnavigating through each of the dining rooms. Those in the know request a table in the Garden Room: a great place to be eye level with the tips of the Garden District's oak trees and the who's who of the city. Don't forget to snap a photo underneath the iconic sign on the way out.
Photograph: Courtesy Neil Alexander
Go to Jack Rose for the bottomless Veuve Clicquot and Chambongs, stay for basically anything else. Housed inside the Ponchartrain Hotel, Jack Rose took over the Caribbean Room, a vestige of yesteryear, and transformed the space with eclectic décor, vibrant art and a modern menu. Bottomless Veuve is available during Friday lunch and Sunday brunch, but definitely don't forget to balance it out with some great food options, like the royal red shrimp in squid ink pampanelle, Murder Point oysters, or shrimp and grits. At some point, try a Chambong, which is basically the adult, classy version of the beer bong. Don't be intimidated by your first try, you'll get better with each round. End the meal with the iconic mile high pie, then head over to the Living Room or the hotel's rooftop bar, Hot Tin, for a drink and the best view of New Orleans.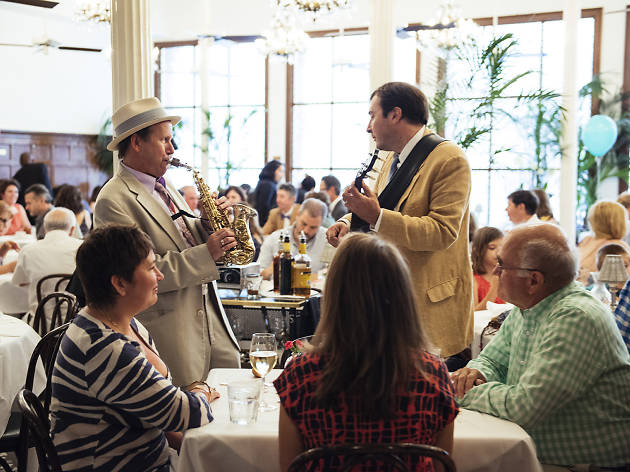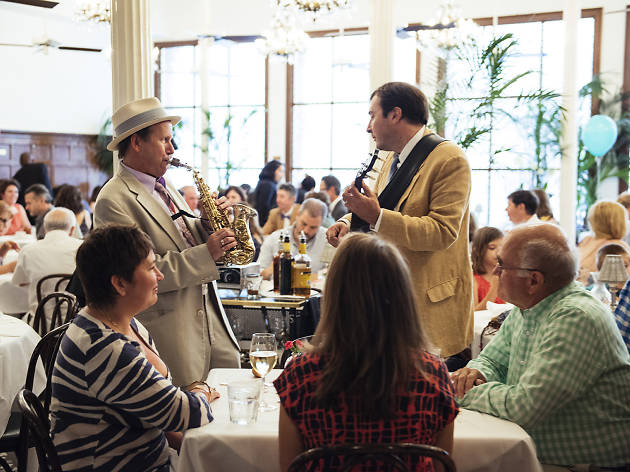 Photograph: Arnaud's/W Rush Jagoe V
Arnaud's may be one of the oldest and largest restaurants in the city, but its elegant main dining room still feels intimate. Sunday brunch here is of the quintessential French Quarter kind, complete with a Creole menu that stays true to the classics and a jazz trio orbiting around the tables, taking requests (beware: asking for "Sweet Caroline" might result in a dining room sing-along). Arnaud's is where locals go to celebrate holidays and life's milestones, eat the legendary Gulf fish Meunier (top it with crab, because that's what's up), and sip on a French 75. Order bananas foster for dessert for an added New Orleans experience and indulgent end to the meal. It's flambéed tableside.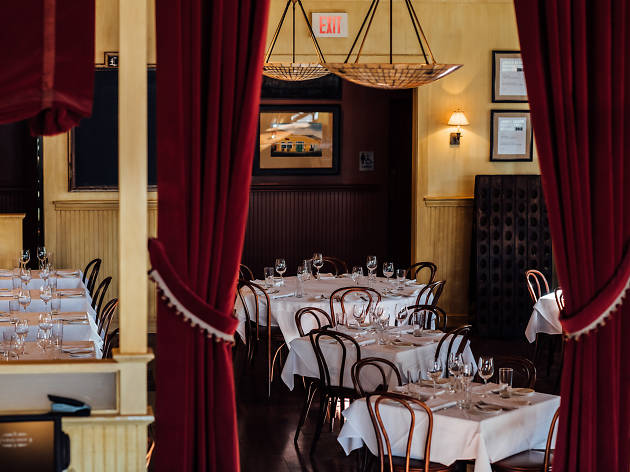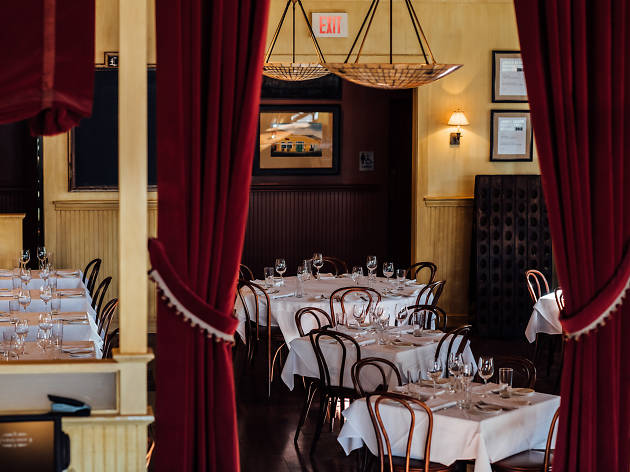 Photograph: Denny Culbert
La Petite Grocery, housed inside an old corner store that has evolved with the Uptown neighborhood over the past 100 years, pays homage to the French influences of the city. The menu includes Gulf shrimp and grits, cured pork loin and eggs, hot iron buttermilk waffles and the LPG burger—arguably, one of the best burgers in the city. Make sure to kick things off with blue crab beignets and a big red hammer Bloody Mary, garnished with poached shrimp, blue crab and pickled vegetables. You'll figure out how to make room for the rest of your meal later.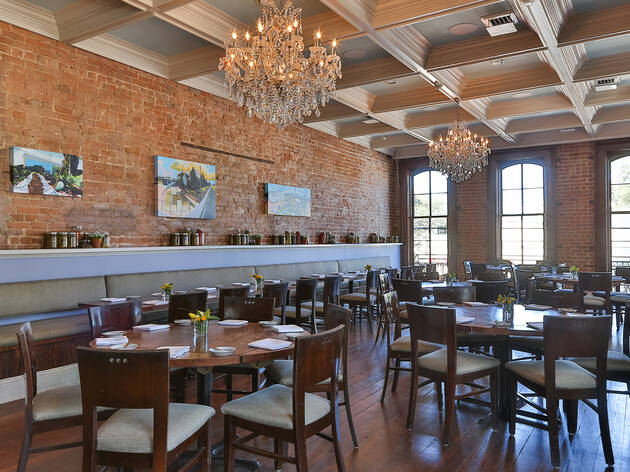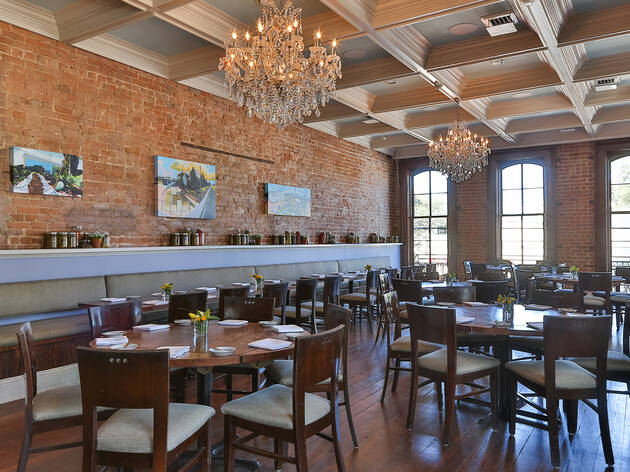 Photograph: Courtesy Coquette
We bet you never thought the best fried chicken in New Orleans would come on a silver platter and not out of a cardboard box. Think again: the fried chicken platter from Coquette, which is only offered during weekend brunch and on special occasions, comes with deviled eggs, buttermilk ranch, pickles made in-house and sharable sides like mashed potatoes (what else?). Because this is fine dining, wash it down with some champagne. Then, try to name a better pairing.
Photograph: The Country Club
Two words: drag brunch. The Country Club in New Orleans' funky Bywater neighborhood is the most fun brunch scene in town. Even with two seatings on Saturdays (11am and 1pm), the restaurant is always booked, so plan ahead and make a reservation. The music is loud, the costumes are dazzling, the drinks are bottomless for $20 and the food is drool-worthy. Want to continue the party? Lounge by the pool after brunch. The tropical oasis makes you forget that you are in the middle of the city.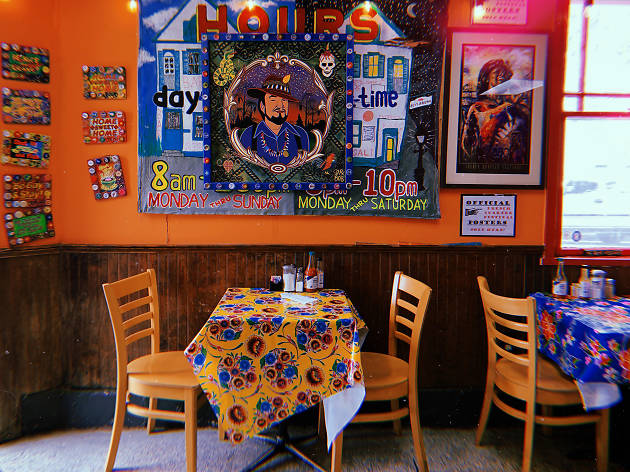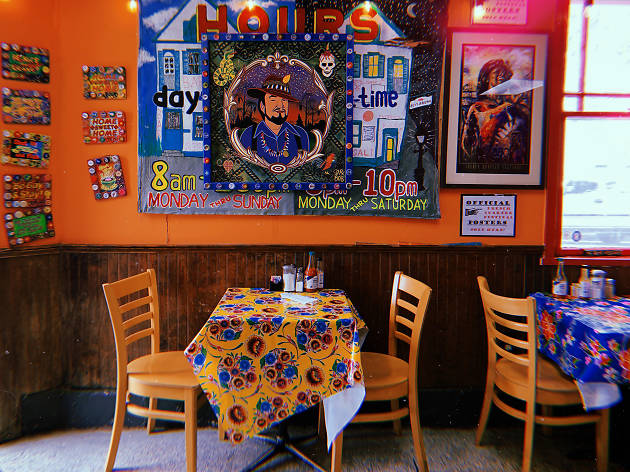 Photograph: Elizabeth's Restaurant
7. Elizabeth's Restaurant
Elizabeth's is the place to go for reliable comfort food. It doesn't matter what you order here: it is all delicious. Word to the wise: whatever it is that you go for, make sure to include a praline bacon in your order. Eat it as an appetizer, a side dish, sprinkle it on your food, bring some home, moisturize with it—whatever. It's life changing. Additionally, the shrimp and grits have been known to cure hangovers, but the French toast burrito, the red neck eggs with fried green tomatoes and the chicken and waffles are worth a try, too. Elizabeth's is in the Bywater, and the decor is just as eclectic as the neighborhood itself, with local art from Dr. Bob cluttering the walls and bright, floral plastic tablecloths covering the tables. Brunch starts at 8am and ends at 2:30pm. It's first-come, first-serve so be prepared for a wait or head to the bar for a Bloody Mary or Brandy milk punch to make the time pass.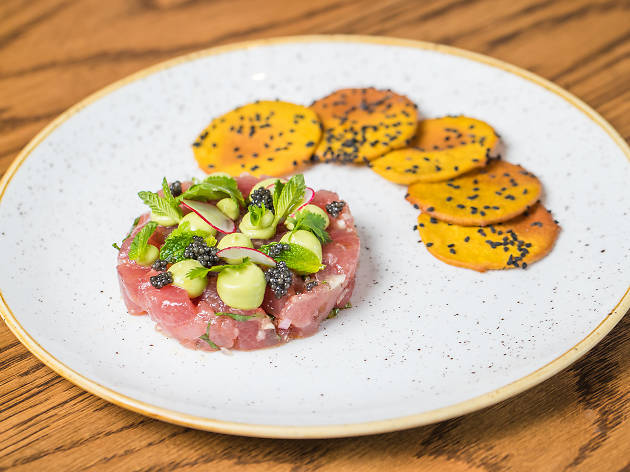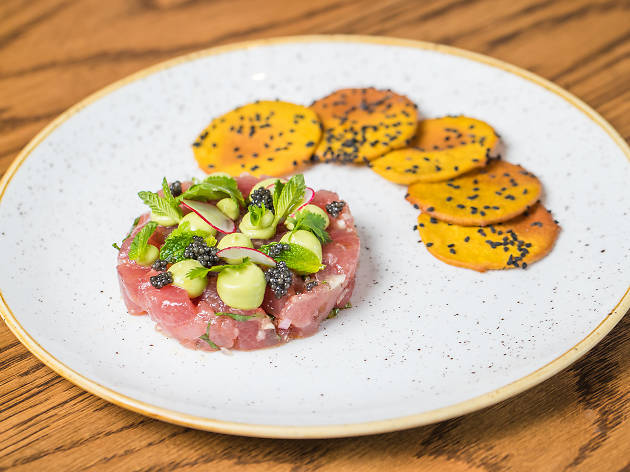 Photograph: Compère Lapin
Compère Lapin was one of the first eateries in New Orleans to make the hotel restaurant great again. No longer just a requisite for guests, Compère Lapin attracts people from all over the city to its restaurant and bar housed inside of downtown's Old No. 77 Hotel. It should also be mentioned that owner and chef Nina Compton was voted fan favorite on Bravo's Top Chef and was recognized as Best Chef: South by the James Beard Foundation in 2018. Chef Compton brings Caribbean influences to the menu, creating food that can't be reverse engineered. Even the scrambled eggs are hard to replicate. Go for the goat Bolognese, chilled shrimp with coconut curry, and a not-so-basic avocado toast. As an added bonus, each meal starts with warm biscuits and the butter du jour, which is made in-house, of course.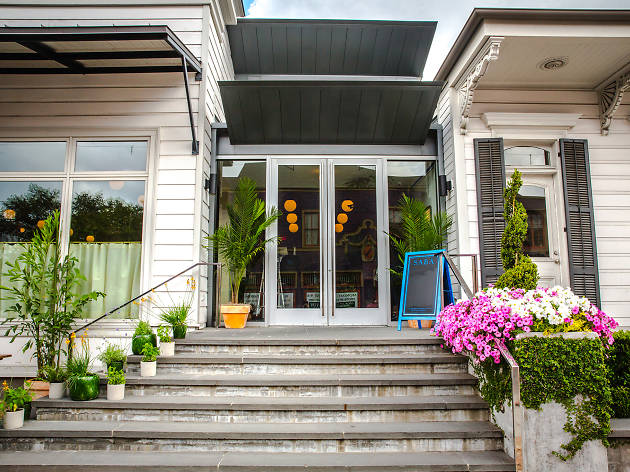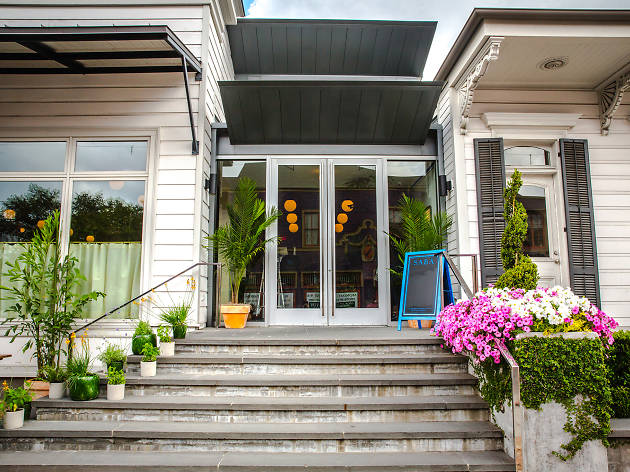 Photograph: Saba
It may seem a little unexpected to include an Israeli restaurant on a New Orleans brunch list, but trust us. The hummus will make you swear off all other imposters, because theirs raises the bar significantly. The Brussels sprout hummus is one of the best things on the menu, just make sure to keep the pita bread coming—it's prepared fresh-to-order in a wood-burning oven. But don't stop there. Saba's modern Mediterranean menu incorporates flavors from New Orleans in dishes like the oyster schnitzel—fried oysters curry, and pickles packed into a warm pocket of pita. The green shakshuka, the falafel and any variation of items from the "salatim" menu are to-die-for. The best seats are part of the living room tables or outside on the patio, when the weather calls for it.
Perched on the corner of Magazine and Foucher Streets, between antique stores and boutiques, is a large, Victorian mansion with a wraparound porch and patio. It's not an enviable residence, but a restaurant called Cavan. The interior marries together the history of the century-old house and the modernity of a new New Orleans, with its soaring ceilings, a grand staircase, glamorous chandelier and contemporary menu and cocktails. It's nice to dine inside and pretend like the space could be your home (one of the restrooms even has a clawfoot tub). Brunch options include the BBQ crawfish pain perdu with tabasco cane syrup and crab fat whipped cream, and Creole spiced shrimp with sweet corn grits.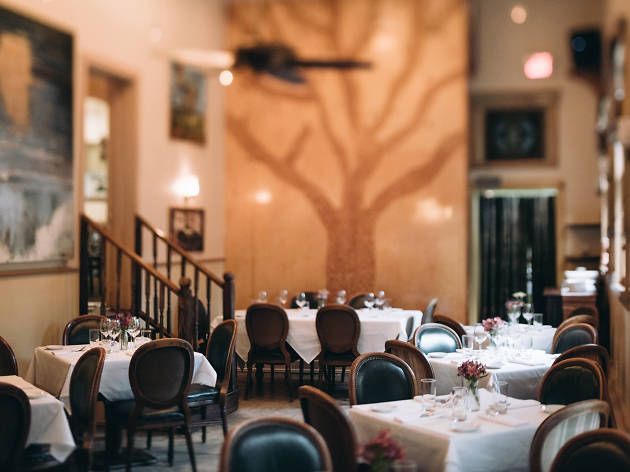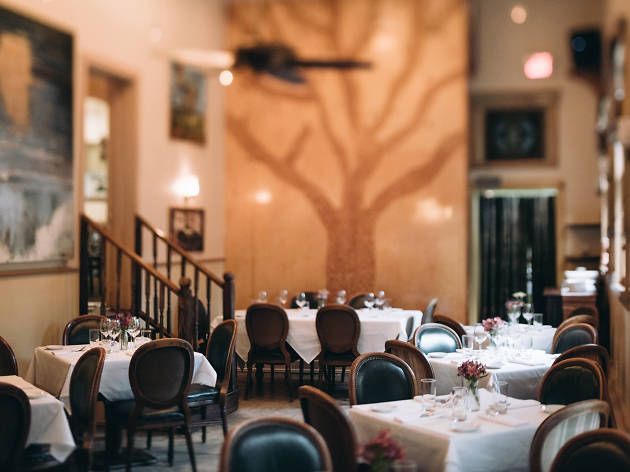 Photograph: Atchafalaya Restaurant
11. Atchafalaya Restaurant
Atchafalaya Restaurant, housed inside a small Creole cottage in a residential Uptown neighborhood, might seem unsuspecting at first. However, the bold menu says otherwise. The fried green tomatoes, cream cheese grits and cinnamon bacon are a great place to start, then try basically anything else: the biscuit pain perdu or boudin Benedict made with brown butter hollandaise and Bloody Mary stewed greens. Speaking of Bloody Marys, try your hand at the exclusive bar, where you can pick your vodka and add all the spice and garnish your heart desires. Bonus points: live music on the weekends and brunch service starting Thursdays, for those who want to get a head start on the weekend culinary festivities.
Photograph: Denny Culbert
Unlike the heavier, richer items featured at most New Orleans restaurants, Justine keeps some of the offerings on the lighter side. Don't confuse that with an expectation for less food or an unsatisfactory meal. The steak tartare, oysters, moules-frites, omelette topped with shrimp and leeks, and the root vegetable hash are a perfect, refreshing change from the fried and sauce-drenched Creole flavors found elsewhere. Those ready to annihilate brunch shouldn't worry: the pepper-encrusted Justine burger, pain perdu (French toast) with rum caramel and the croque monsieur might be more your speed. The restaurant has three dining rooms, each with its own vibe, but request to sit in the front, café section for brunch. The floor-to-ceiling windows drench the room in natural light and offer a front-row seat ideal for people watching in the French Quarter.
Bearcat, a café located Uptown near the universities, offers options for both your inner indulge-prone kid and inner aspirational health nut. The chicken and gravy biscuit or the cherry pistachio pancake will delight but so will the vegan ranchero. Take note of the unique tea and cold brew options, as well as organic, seasonal kombucha (fermented, slightly alcoholic sweetened tea) and flavored lemonades. It's BYOB.
Sometimes, all you need for brunch is a no-frills meal at a diner counter with greasy food, friendly staff and quick turnaround. Enter Camellia Grill, in the Riverbend area. There's usually a wait as it is only counter service, but it moves pretty quickly. We recommend the chili cheese omelette the size of the plate with fries, pecan waffle or a cheeseburger with grilled onions. Wash it down with a chocolate freeze, or regret it forever.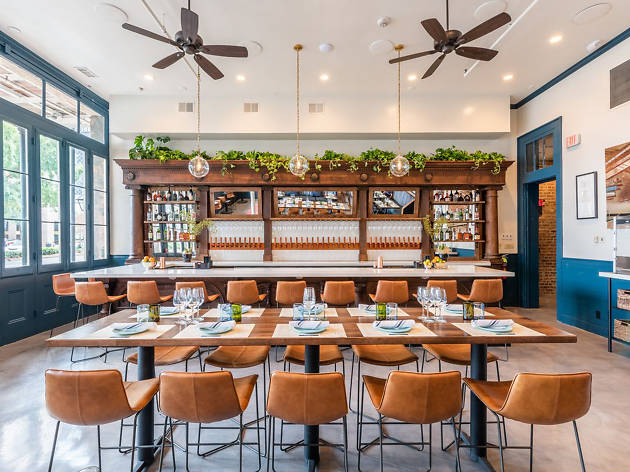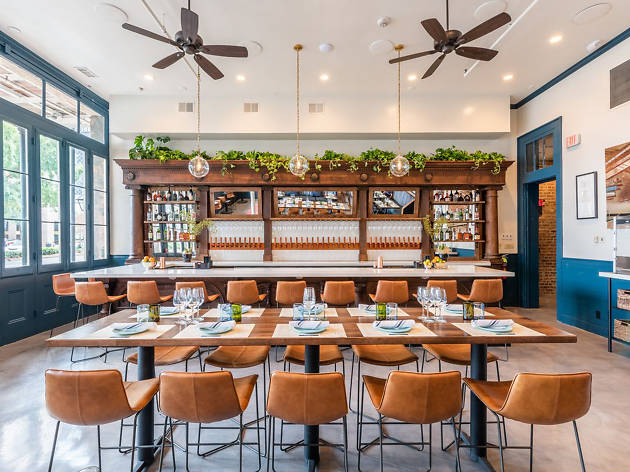 It's a wine bar and it's in the middle of the central business district. Ask for the $20 bottomless mimosas and rosé and pair them with the crab deviled eggs, chicken fried duck with cornbread waffle, mushroom pasta topped with a poached egg or the Dutch baby pancake—a deceiving name given its thickness. The restaurant is equidistant from the Mercedes-Benz Superdome and the French Quarter, so it's a great place to fuel up before a Saints game or a stroll through the neighborhood. In fact, we do suggest some sort of physical activity to digest such a filling tasty meal. Pro advice: request a table in the courtyard or on the balcony overlooking the Downtown action.
What locals love
Put simply, beignets are French pastries consisting of deep-fried dough sprinkled with confectioners' sugar. Yes, they're as delicious as they sound.