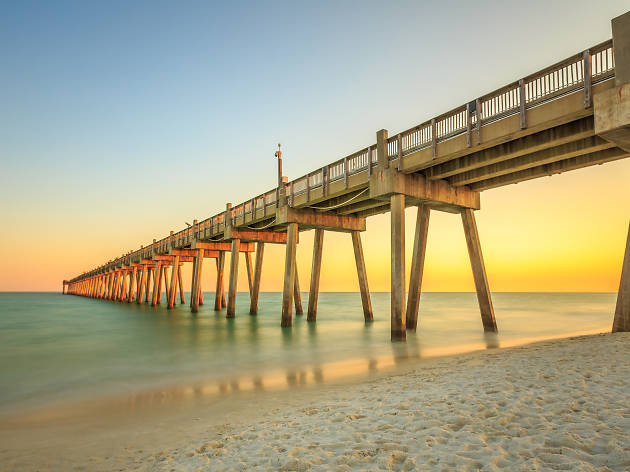 The 10 best New Orleans beaches
Although famed Pontchartrain Beach closed back in the '80s, the best New Orleans beaches still deliver—and then some
One of the grandest things about the Big Easy is its proximity to other states, which makes trekking out to the best New Orleans beaches an opportunity to explore nearby towns.
Although Pontchartrain Beach on the Southshore of Lake Pontchartrain, once a destination preferred by locals, closed in the early 1980s due to declining attendance, New Orleanians actually have access to many beaches along the Gulf Coast, within a few hours drive for a quick day trip or a holiday weekend getaway. Many locals own beach houses as close as Pass Christian, Mississippi, or as far as Highway 30A in Florida. However, the closer destinations, within a three-hour radius, are some of the best in the Gulf, and are all unique and known to have their own special characteristics.
So when you're done exploring the city's top attractions, are through with all the (delicious) eating at the best restaurants in town and are opting out of a day of bar hopping, head to these awesome beaches for a fun day in the sun.
RECOMMENDED: Full guide to the best things to do in New Orleans
Best New Orleans beaches
Where: Kenner, Louisiana
New Orleans might be surrounded by water with no sand, but there is a place where you can find sand and beach volleyball. Coconut Beach Sand Sports Complex is a manmade attractions developed exclusively for the pleasure of beach volleyball fans. There are 22 courts, a bar and grill on premises, in addition to organized volleyball leagues and tournaments. The best part? It's in Kenner, so you can get a tan, a full body workout and then make it back to the city within 15 minutes.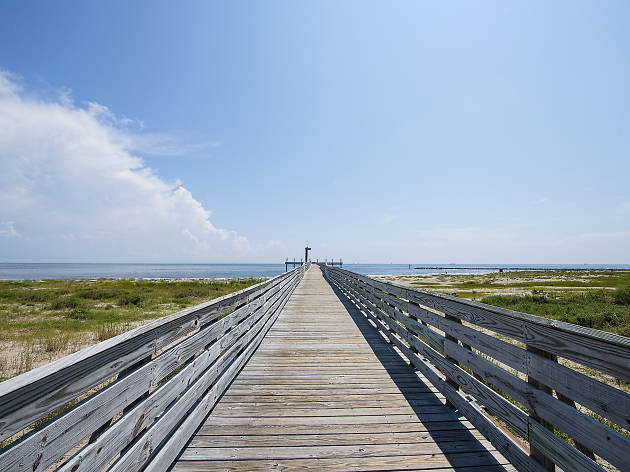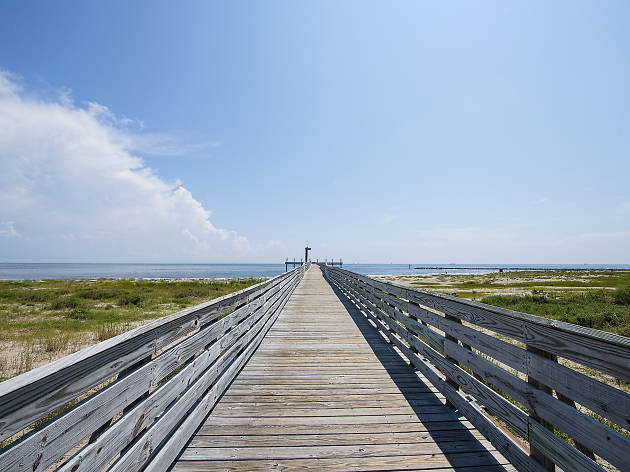 Photograph: Shutterstock
Where: Grand Isle, Louisiana
It's not recommended that you actually go swimming in Grand Isle, but it's great for sun bathing and it has some of the best fishing in Louisiana. In the springtime, there's a migratory bird festival, where spectators can observe a variety of birds on their journey across the Gulf Coast. Surprisingly, it's the best place to catch different species. And, because you're so close to where most of Louisiana's seafood is caught, definitely check out one of the area's local seafood restaurants to get the freshest fish.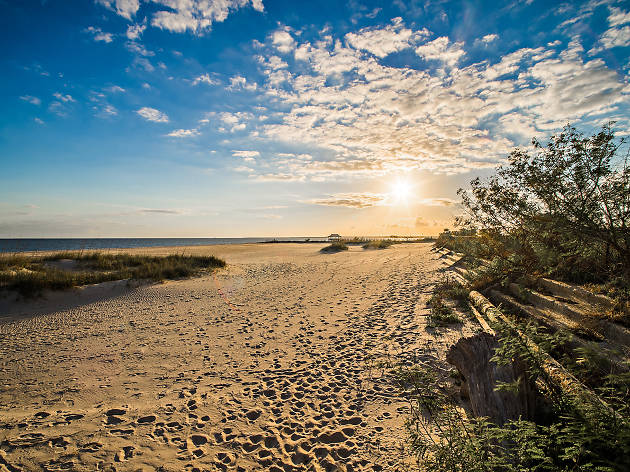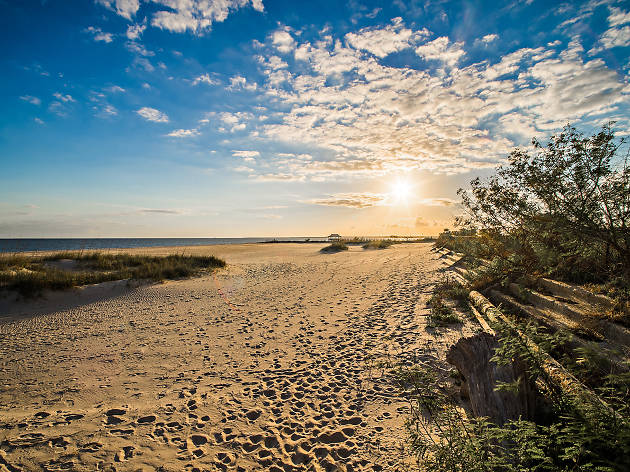 Photograph: Shutterstock
Where: Pass Christian, Mississippi
Are you even a New Orleanian if you haven't driven to Pass Christian at some point in high school, stayed at a friend's family beach house or spent an Easter weekend there? The water isn't the clearest (or clear at all), but it's the quintessential southern beach town. The houses along the coast are magnificent, and the town is adorable. The Whisky Hotel in the "downtown" area is a charming boutique destination with a steakhouse underneath, a handful of shops and a quaint coffee/book shop—all right across the street from the beach. It's just an hour away from New Orleans' city limits, clearly a gem for those looking for a quick getaway.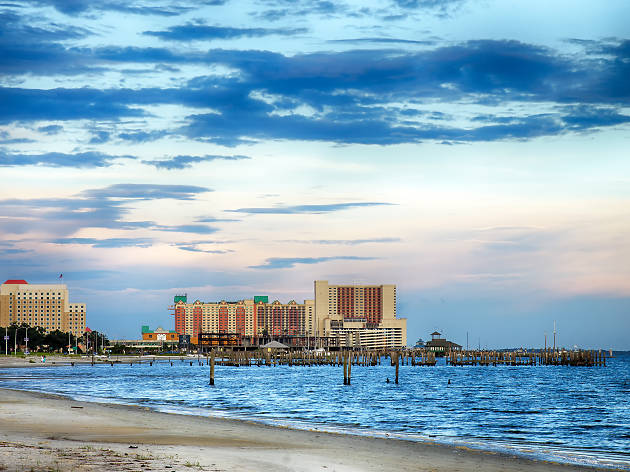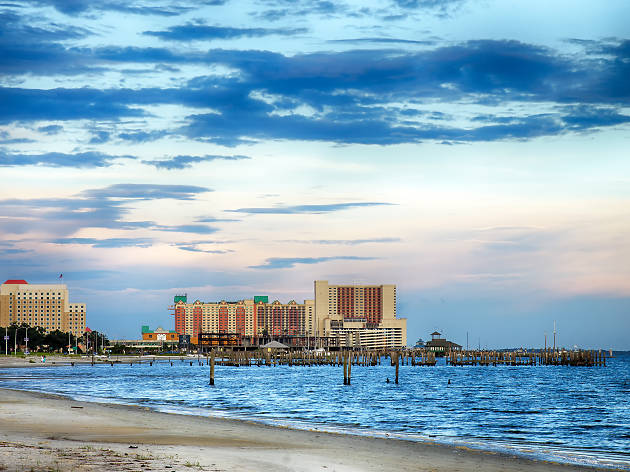 Photograph: Shutterstock
Where: Biloxi Beach, Mississippi
Biloxi Beach is just under an hour-and-a-half away from New Orleans, and about 30 minutes past Pass Christian. The muddy waters are the same, but Biloxi has more resort life and action than the peaceful strip of Pass Christian. If you're up for a livelier weekend, stay at the Beau Rivage Casino or the Hard Rock Hotel and Casino for a bit of a different vibe. Both resorts offer live entertainment, pool scenes, casinos and, of course, buffets.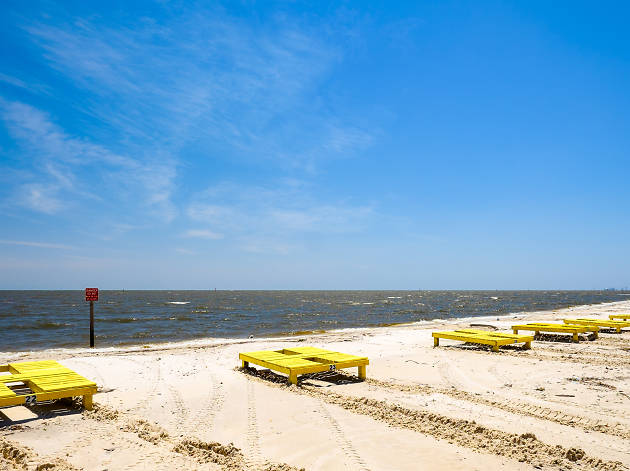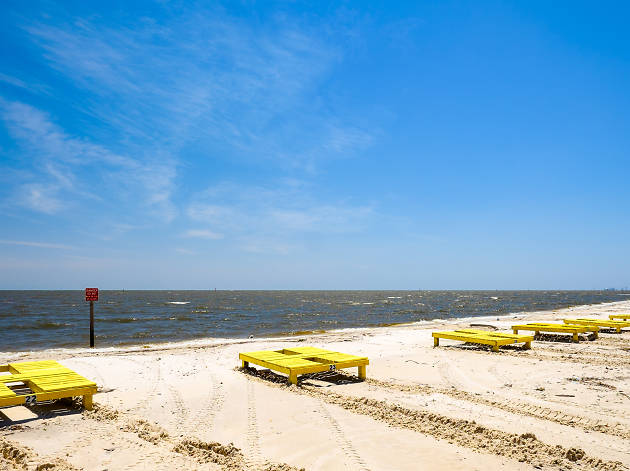 Photograph: Shutterstock
Where: Gulfport, Mississippi
Gulfport shares the beach with Biloxi, but the second to largest city in Mississippi offers a lot of other things to do besides lounging by the pool and setting up shop by the slot machines. Expect a lot of family-friendly options aside from the beach activities: a walk through the Mississippi Coast Model Railroad museum, the Lynn Meadows Discovery Center for children, Chandeleur Brewing Company (might not be apt for the whole family) and Gulfport Premium Outlets. It's only about an hour-and-a-half from New Orleans but can seem like a world away, especially when in dire need of a weekend out of town.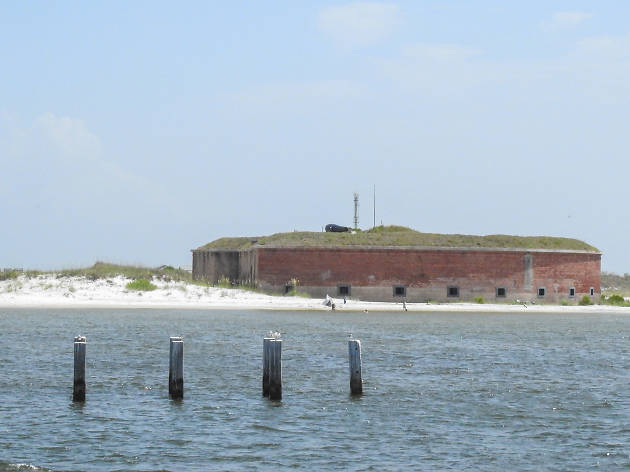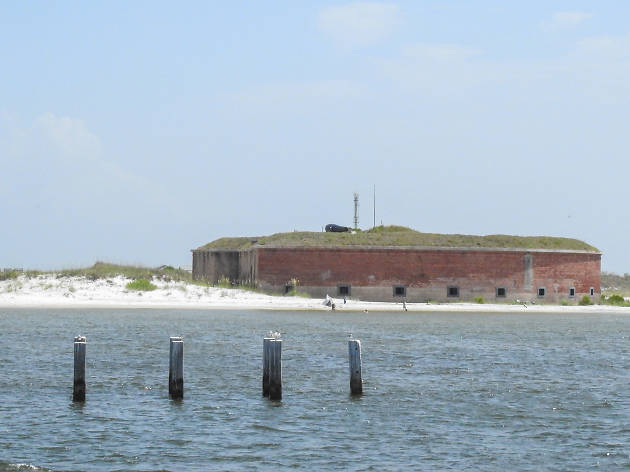 Photograph: Shutterstock
Where: Ship Island, Mississippi
Ship Island, which is actually two separate islands, is a gem 11 miles off the coast of Gulfport, Mississippi, only accessible by boat and ferry. Visit West Ship Island for better beaches and an old fort that's open for exploring. It's one of the few barrier islands in the United States that has been left undeveloped and is still in its natural state. You can book your spot on the ferry or also coordinate other excursions for a day on the island.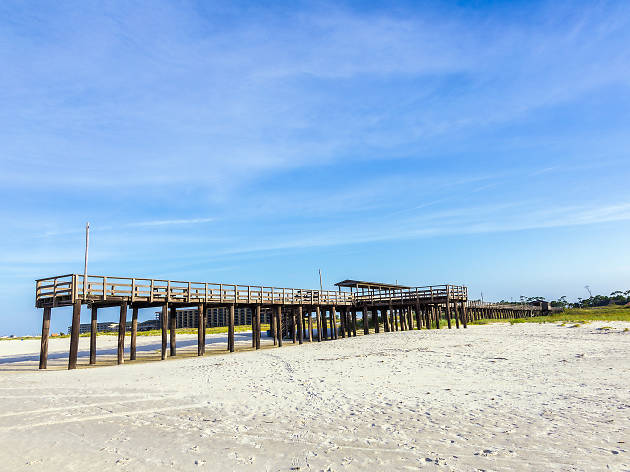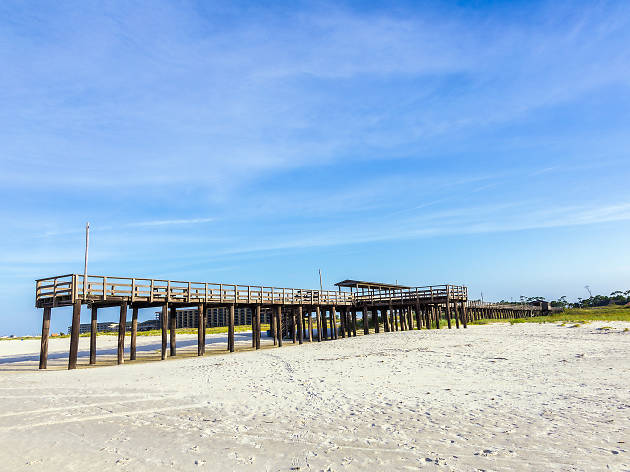 Photograph: Shutterstock
Where: Dauphin Island, Alabama
Just two hours away from New Orleans, Dauphin Island is a barrier island located three miles south of Mobile Bay, accessible by ferry or the bridge connected to the Alabama mainland. The entire island is 14 miles long and narrow and, with only about 1,200 residents, it's a quaint vacation spot with lots of activity options. Besides the long stretches of public beach with clear water and powdery sand, there are ocean adventures at the Dauphin Island marina, an aquarium and estuarium, and a preserved archeological site called Shell Mound Park.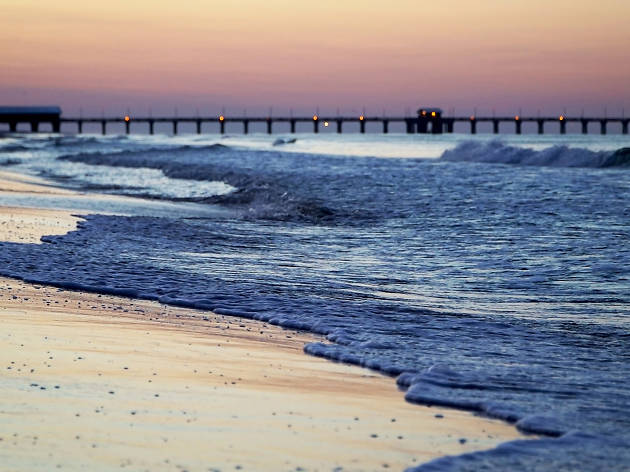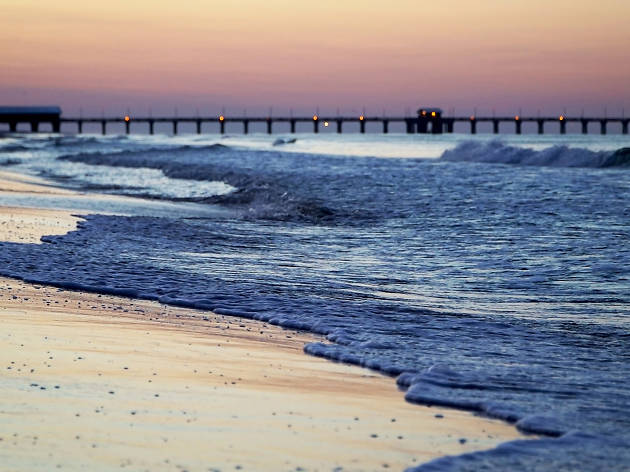 Photograph: Shutterstock
Where: Gulf Shores, Alabama
Between the condominium buildings, resorts and plenty of beachside bars and grills, tourism plays a major role in the Gulf Shore's economy so there's plenty to do at the family-friendly Alabama beach town. Charter a boat for a sunset cruise, dolphin watching, fishing and water sports, or visit one of the top-rated golf resorts. For the family, there's the Alabama Coast Zoo and Waterville USA amusement and water park. In the springtime, Hangout Fest takes over, a music festival that takes place right on the beach.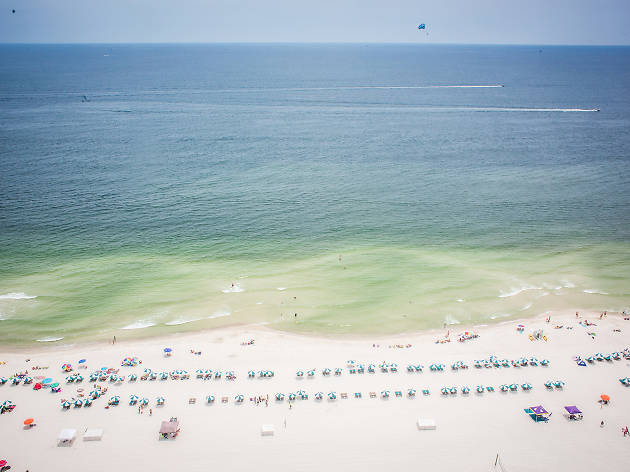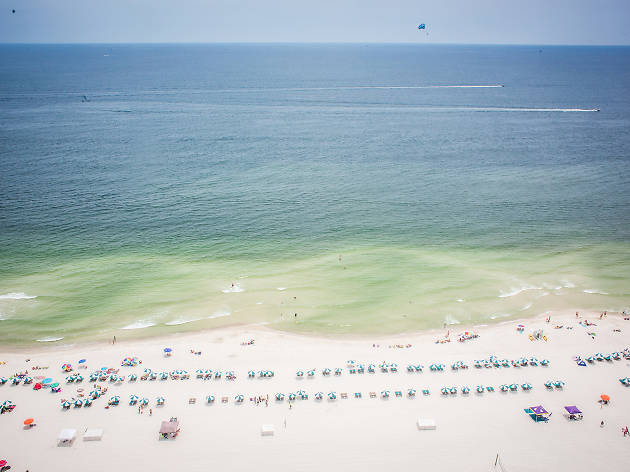 Photograph: Shutterstock
Where: Orange Beach, Alabama
Orange Beach is the last stop before crossing over to Florida, so make sure to visit the Flora-Bama Lounge and Package on the Florida/Alabama state line. The beachfront bar and grill has been called a "cultural landmark" of the Gulf Coast, but it's definitely a rite of passage for New Orleanians who visit frequently. What began as a spring break destination has now become the place you escape to during family vacations. If you don't indulge in the obligatory Bushwacker, then did you even go?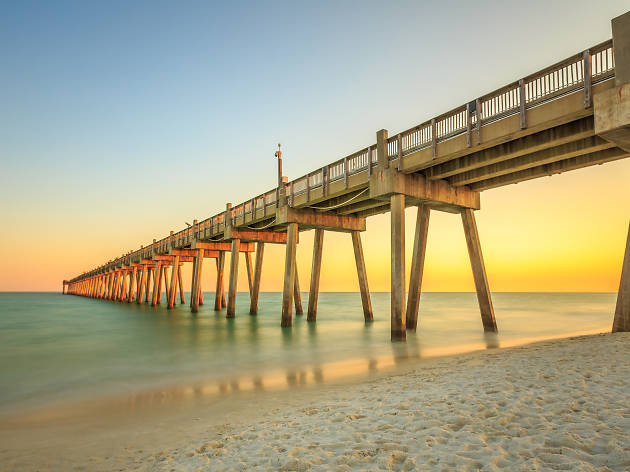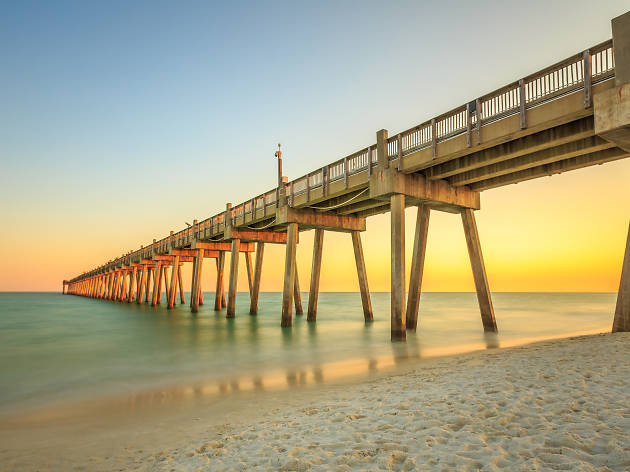 Photograph: Shutterstock
Where: Pensacola, Florida
Every New Orleanian knows the thrill of seeing the bright, colorful Pensacola sign, just after the Waffle House and right before crossing the bridge over to the beach. It's only three hours away from the city, with clear blue waters that rival Highway 30A beaches and Miami within only a fraction of the distance. It's a huge tourist destination in the South, yet a little more peaceful than the larger beach towns the likes of Destin, also in Florida. There's plenty to do here: long strips of beaches, delectable meals at restaurants and family-friendly entertainment. Visit the Pensacola Boardwalk or Peg Leg Pete's for a quintessential beach town experience with the family.
Ready for some local fun?
These are spectacles of fun filled with wigs, crazy hats and costumes, experiences that no other city has been able to authentically recreate.